"Minneapolis is the most fun city in America," concluded a survey commissioned by the maker the Cranium board games. For many years, the Twin Cities of Minneapolis and St. Paul have been at the top of Money Magazine's "Best Places to Live" annual survey. If there was a civic award for the best cross country ski town in the United States, the Twin Cities would give all competition a run for their money .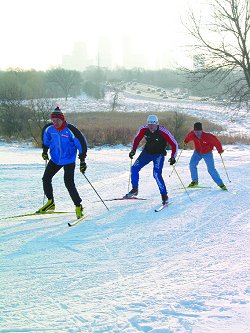 Bruce Adelsman, who operates www.skinnyski.com, a web site filled with local trail, snow condition and race event information, is one of the people who makes the Twin Cities good for cross country skiers. For Nordic enthusiasts, his website is a daily "must-visit" resource.
"The Twin Cities provides the combination of a great skier population base, excellent trail systems and a number of wonderful support shops," commented Adelsman. "It's kind of 'perfect storm' for cross country skiing."
The North Star Ski Touring Club, with 1,100 members, is the largest ski club in the United States. "Cross country skiing is part of our lifestyle here. It seems like it's in our genes," said Bruce Jacobson, President and
22-year member of the North Star Ski Touring Club. The club offers dryland training classes in the fall, skating and diagonal striding technique classes in winter and waxing clinics, while on the side donating time and money to cross country ski-related causes. During the winter, the club's website and hotline promote day trips, weekend events and longer ski oriented vacations including a trip to Norway this year.
"One thing we have no shortage of is excellent trails," Jacobson reinforced Adelsman's comment about the Twin Cities ski environment. "We're been very lucky here. We've developed an outstanding system of trails in the county and regional parks."
Within the city limits, parks in Minneapolis and St. Paul offer trails and facilities minutes from home. In Minneapolis, generations of winter enthusiasts have learned to ski at the Theodore Wirth Winter Recreation area. Just a few miles from the downtown sky line, Wirth Park has 7.25 miles of groomed trails for skiers of all abilities with ski rentals and lessons also available.
In the last ten years, park improvements and upgrades have fallen victim to other city budget considerations. To revitalize the area, the City of Lakes Nordic Ski Foundation is working with the Minneapolis Park Board and other contributors to add lighted trails and snowmaking capabilities to the park. To raise awareness about the park's trails, the 2nd Annual City of Lakes Loppet will stage its starting line in the park.
St. Paul grooms trails at four locations. The popular Como Ski Center has five kilometers of groomed classical and skate style trails for intermediate to advanced skiers. Beginners can practice their technique on a lighted 1.7 km loop that stays open until 11 p.m.
The regional Three Rivers Park District manages more than 27,000 acres of park reserve that surround the Twin Cities metropolitan areas. Eight parks offer over 70 miles of groomed trails. Skiers from beginners to experts can find a variety of choices of terrain and trail lengths at the parks. Four of the parks offer lighted trails, prompting thousands of diehard skiers to use the trails from 5:30 a.m. to sunrise and from sunset to 10 p.m. Snowmaking capabilities have also been added to the Elm Creek Park Reserve.
Tom McDowell, Three Rivers Park District director of program and facility services, is proud of the district's cross country skiing programs. "We were one of the first park agencies in the country to provide ski rental equipment," McDowell explained. "We have stayed in the forefront of the cross country ski business going back to the 70s."
Responding to the growing interest in skate skiing was the next step. "To accommodate that we recognized that we needed different grooming equipment and wider trails," McDowell continued. "We committed the dollars to adapt to the sport with the first lighted trails added in 1987. Just because we have shorter daylight hours in the winter, people don't stop going outside."
Snowmaking was the logical next step to take advantage of cold temperatures and get a jump on the ski season. "It's early in December, and we have a 2.5 kilometer loop trail in the Elm Creek Park reserve that is snow-covered, groomed and in use," McDowell said.
Three Rivers Park District statistical research records 78,000 "skier occasions" occurring in an average winter. "With snowmaking and lighted trails, it's added a real shot in the arm for cross country skiing community," commented McDowell on the addition of 40 more ski days to the average winter. Three Rivers Park District offers a full range of cross country skiing lessons for adults, children and families for traditional stride or ski skating. The Park district also has five trails dedicated for skijoring and dog sledding.
To offset a portion of operating expenses incurred in providing the quality of services, the park district sells a ski pass. A Minnesota Ski Pass is also required to ski in Three Rivers Park District.
"We recognize our goal is to provide day to day training opportunities for beginning and intermediate skiers. The strength of the park district is the convenient location for ski enthusiasts. Our goal is to provide the best groomed trails available in the metro area," described McDowell.
Like many snow belt areas, the Twin Cities has experienced a series of low snow winters. After months of anticipation, bare ground in January can be a frustrating sight. Bruce Adelsman of www.skinnyski.com calls snowmaking a significant change in the Twin Cities trail system. "Over the past five years, man-made snow operations have provided a stabilizing force for cross country skiers. The continued development of trails provides consistent opportunities for skiing especially with man-made snow, "Adelsman said.
Contrary to Three Rivers Park District, the North Star Ski Touring Club has a more low tech method of dealing with no snow conditions. "When the snow is lacking, we have a network of people who find out where the snow is. Word passes person to person or over the Internet, and we'll be there," Jacobson said.
When the snow conditions are right and the trails are groomed to perfection, Nordic skiers in the Twin Cities also have the support of a dedicated group of cross country ski shops like Finn Sisu, Hoigaard's and Midwest Mountaineering. Jan Guenther, owner of Gear West, has a local reputation for a deep selection of cross country skis. "We have a strong mail order business so our selection of skis is broad and deep," Guenther explained.
To add to its offerings for the past seven years, Gear West hosts Wednesday night training clinics. Guenther along with six other coaches teach classic and skate techniques to help beginners learn basic techniques. "I love to work with someone who is trying to learn to skate," Guenther said. "You can't learn it in just one lesson." For intermediate skiers, the coaches focus on improvement while they prepare experienced racers for the American Birkebeiner event across the border in Wisconsin.
Minneapolis Mayor R.T. Rybak, who has been instrumental in launching and promoting the 35 km City of Lakes Loppet event hopes to increase winter tourism in the city. "This will be a major urban cross country ski event," Rybak said. "We're hoping people will come and spend a few extra days here visiting Minneapolis."
Someday, maybe the Twin Cities will add the title of "The Best Nordic Ski Town" to its list of civic awards.
For more information:
Twin Cities Nordic Information www.skinnyski.com
Ski Touring Centers:
Como Ski Center www.ci.stpaul.mn.us/depts/parks/comopark
North Star Ski Touring Club www.north-stars.org or 952/924-9922
Theodore Wirth Park www.minneapolisparks.org
Three Rivers Park District www.ThreeRiversParkDistrict.org or 763/559-9000
Cross Country Shops:
Finn Sisu www.finnsisu.com or 888/FINNSISU
Gear West www.gearwest.com or 877/473-GEAR
Hoigaard's www.hoigaards.com or 800/266-8157
Midwest Mountaineering www.midwestmtn.com or 888/999-1077
Cross Country Event:
City of Lakes Loppet www.cityoflakesloppet.com or 612/715-1479

"Coming into office, I set off on a campaign to get Minneapolis recognized as the most active city in America," said Mayor R.T. Rybak. Events such as the summer Lifetime Triathlon and autumn Twin Cities Marathon give credence to his statement, but Rybak wanted more. "We really needed to be the first city to a have a major urban cross country ski race," he declared.
A citizen Nordic racer for the past five years, Mayor Rybak received the initial inspiration for an urban race while skiing the Birkebeiner in Cable, Wisconsin. "I did the Birkie on a lark with some used equipment." Finishing the race in Hayward, his friends asked how his feet felt having worn classic boots with skating skis. "I did it," remembered Rybak, "and fell in love with it." The experience prompted Rybak to purchase new equipment and enter several races each year.
At races, Rybak met Minneapolis cross country skiing residents and wondered if it was possible to have such an event closer to home. "Minneapolis has the greatest urban park system in America," explained Mayor Rybak. "The jewel in the system is Theodore Wirth Park where you could be in what feels like the deep woods and come out to see the view of the skyline. Wouldn't it be great to have a race in a place like this?"
Apparently, many locals agreed. "When we got the idea that we could do a 35 km race right in the heart of the city," stated Rybak, "the idea became magic."
Thus launched the City of Lakes Loppet. Organizing began with the creation of the City of Lakes Nordic Ski Foundation with John Munger acting as president and race director. Now, an eight-member board including Rybak supports a dedicated group of 30 core volunteers who manage logistics,
sponsorships, course preparations, registration and everything else involved in producing the event.
According to Munger, recruiting first year financial sponsors was a challenge. "They would ask, 'What the hell is a loppet?'" In spite of its odd name, Munger and the organizers garnered a long list of well-known Minneapolis companies to support the first City of Lakes Loppet.
With a group of enthusiastic organizers and the financial backing of sponsors, the only remaining variable was the weather. "In the weeks prior to the event when there was absolutely no snow, people stayed positive and focused," recalled Rybak. "The Mora Vasoloppet people helped out by loaning us their ice churning machine. We just thought the event was going to happen—snow or no snow."
Race day arrived—cold, sunny and without snow. Because the show must go on, organizers shifted the course to the ice-covered Lake Calhoun and Lake of the Isles. Over 100 kids showed up for the Minne-Loppet Friday night followed by over 750 skiers in the Family Tour and 35-kilometer event Saturday morning.
"The night before the race we had no idea how many people would show up," recalled Rybak. "It was like those old corny movies when the kids put on a play and the crowds come out of nowhere. We thought there might be a couple hundred, but we had to close the registration at 1,000. I don't think I could have smiled any bigger."
"We faced the decision the first year between balancing the big idea and doing what's practical," Rybak added. "At several pivotal points, there was the option of scaling the race down to a smaller event. I credit the board and organizers for staying committed to the big idea. The sponsors, volunteers and skiers really came through."
Despite the lack of snow, the response was so enthusiastic, planning for the second annual City of Lakes Loppet started almost immediately. "If no one had signed up last year, it would have been a lot harder to put together sponsors this year," Munger reflected, "but we absolutely planned an annual event."
Shifting the finish area to Minneapolis' trendy Uptown district, the 2004 event will better suit sponsors, racers and viewers. "Spectators can watch from a coffee shop or jump out for a minute to cheer finishers," Munger explained. In true mayoral fashion, Rybak lauded this year's course plans, "The moment when the skiers come off the lake and on to the street will be the most significant moment in human evolution since the dinosaurs came out of the ocean and took that first step on land."
Accommodating the change costs money. "Creating the finish area in Uptown is one of the event's biggest expenses," admitted Munger. "We will be putting at least a kilometer of snow on the street a foot deep, 20 feet wide. That's quite a bit of snow."
The Loppet is expected to draw competitors from all over the world along with the Fischer and Rossignol Factory teams. "We're expecting the best skiers in the country who aren't competing in World Cup events to be here," said Munger. "They are very interested in the media attention they can get here."
Scheduled this winter for Friday and Saturday, January 30-31, the 2nd Annual City of Lakes Loppet will expand its races. It includes an Elite Sprint competition, Minne-Loppet kids' event, 10 km family tour, a 35 km classic and a 35 km freestyle race main event.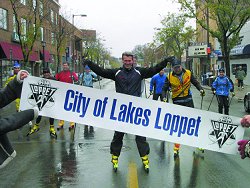 "We're sending the message that the Loppet is a race for elite skiers as well as families. The course and city are big enough for both," Rybak said. Registration forms show off their sense of humor with entry categories such as Speed Demon, Racer, Enjoy Skiing and Point-me-in-the-Right-Direction.
While tour and Loppet finishers receive medals, the male and female skate race winners receive a free trip to Norway to ski in the Holmenkollmarsjen, Oslo's urban ski race. Acknowledging the citizen racer, the Loppet will also reward with a free Norway trip the person who finishes exactly in the middle of the freestyle race pack.
When the race is over, Minneapolis Mayor R.T. Rybak and City of Lakes Loppet President John Munger hope for a long lasting legacy. "One of the most important results of the race is visually explaining how great the sport of cross country skiing really is," stated Rybak. "We have the greatest urban park system in America. Instead of sitting on the couch playing a video game, a kid in winter in Minneapolis can ski. We're trying to make that a reality." In support of that goal, the Minneapolis Park Board has agreed to groom the entire trail throughout the winter with the help of high school cross country teams.
In his infectious enthusiasm for the event, Mayor Rybak purchased roller skis to practice off-season for the City of Lakes Loppet. Armed with freshly stone-ground and waxed Peltonen skis, the Mayor is training for Minneapolis' Loppet and a full Birkebeiner later in the winter. When asked how he'll do, Rybak commented, "It just depends on how much time I have to train…which is one of the little problems of being the mayor."
For more information about the City of Lakes Loppet, visit www.cityoflakesloppet.com or call (612) 715-1479.