Jackson, Wyoming, is called a skier's paradise. Mix snowfall that comes early and stays late with world class accommodations and natural beauty. This simple formula makes Jackson Hole live up to its reputation.
Annually, from all over the world, over a half million skiers descend on Jackson's alpine resorts—Jackson Hole Mountain Resort, Grand Targhee and Snow King. Although most of the skiers visiting Jackson are alpine enthusiasts seeking to challenge North America's finest downhill faces, cross country skiers are finding their way to this scenic valley to ski. Nordic options abound at the alpine resorts, along the Snake River and in Grand Teton National Park.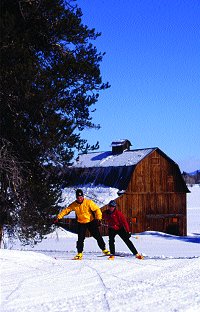 Rob Macal, a manager at Skinny Skis, a Nordic specialty shop in Jackson, reports that interest in cross country skiing is growing, especially skate skiing. "Sales of skate skis have been growing for years. Alpine skiers at the resorts see people skate skiing and start asking about lessons," Macal said. "Watching a skilled cross country skier moving along the tracks in a fast fluid motion is a real attraction." He believes that variety in skiing and the amount of Nordic trails offered attracts new skiers. "Although skiers come here to ski alpine, they discover Nordic," Macal added.
Tom Windle, a Skinny Ski employee and former Nordic instructor and guide, invites skiers to explore the possibilities. "You can come to Jackson to backcountry ski, telemark or skate ski on the groomed trails. Every direction you turn will be beautiful and scenic," he said. Windle recommends renting skis for a tour in Grand Teton National Park, especially on National Park Service regularly groomed roads. "The four mile route on Jenny Lake Road is a great way to see the park and the Tetons," he explained.
"Many winter enthusiasts come to Skinny Skis looking for something else to do," Windle reported. "If you're here for a week, I can send you on a different cross country tour every day." To accommodate skiers, many local ski centers also offer shuttle services to outlying areas and trails. "Pace yourself, carry good maps and stay hydrated when you're out skiing," suggested Windle.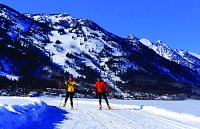 While the major alpine ski resorts offer groomed Nordic trails, experienced instructors and proximity to accommodations, local skiers talk with pride about the public ski trails available in the Jackson Valley, particularly Teton Valley Trails and Pathway (TVTAP). A community-funded trail network, the TVTAP relies on volunteers to maintain the multi-use systems. "We started our grooming program two winters ago, in late 2001. It seemed a natural extension of our bike and pedestrian advocacy work, since we live in a place where there's snow on the ground at least half the year," said John Borstelmann, TVTAP executive director.
A Teton Valley resident for 25 years, Borstelmann knows skiing. "The valley has great terrain and a wonderful climate for Nordic skiing. It has the best backcountry skiing in the lower 48 with nice long winters for serious skiers," he said.
Snow starts accumulating on the valley floor in mid-November and lasts until April or even May in some years. On the opposite side of the mountains, Targhee averages about 550 inches of snow each winter; Teton Canyon receives about the same snowfall depth as Targhee, but the other valley locations get less. "We typically get a foot or two of snow almost every week of winter, except for sunny cold spells," explained Borstelmann.
Despite Jackson Hole's reputation as an alpine paradise, interest in cross country skiing is increasing rapidly. Borstelmann reported, "Consistent, high quality grooming of ski trails in the valley has produced a real boom in Nordic skiing, with lots of locals buying ski gear and learning to skate. Local shops are really excited about the trend." Last Christmas, Borstelmann remembered Peaked Sports, a local ski shop, telling him that they sold 40 pairs of Nordic skis compared to only two pairs of alpine skis. An increase in cross country skiers is also substantiated by the United State Forest Service. Last winter, their count at Teton Canyon added up to 5,600 user days, an average of 150 skiers per day, with peak day use at almost 400 skiers.
The Teton Valley Trails and Pathway grooms approximately 40 kilometers of trails in four different locations around the valley. Trails are groomed from mid-November until early April. "Our goal is to provide good skiing close to where people live, so skiers can get out at lunch hour, after work or school," Borstelmann said.
The most popular Nordic location is Teton Canyon in the Targhee National Forest. The gently rolling trail ends at the Jed Smith Wilderness boundary and offers skiers great views of Teton's peaks.
The TVTAP also grooms trails in the communities of Alta, Driggs and Victor and expects to add as much as 20 kilometers of new trails this winter as part of the Victor trail system, working with a new golf-course-centered real estate development called Teton Springs. "Teton Springs has helped fund our equipment purchases through their foundation, and we look forward to grooming ski trails on their property since they've made a commitment to allow the public to ski on these trails for free—a central part of our philosophy. We've been able to support the program entirely through user donations, foundation grants and volunteer efforts," Borstelmann stated.
The program is almost entirely supported by user donations, supplemented by contract grooming for Teton County, Wyoming Parks and Recreation and through grants written by TVTAP staff. With future growth, Borstelmann hopes that Jackson Valley could some day be comparable to Methow Valley in Washington or Sun Valley in Idaho. "Teton Valley can be as good a destination for Nordic skiing as those places. That's our goal. It complements the great alpine skiing in Jackson," he explained.
Borstelmann has always felt like "a member of a tiny minority." But now, he's excited to see the growth in cross country skiing. He credits grooming trails with generating more enthusiasm for Nordic skiing than anything else he's done in the last 20 years, "including teaching, coaching and guiding."
With organizations such as TVTAP and abundant snow, Jackson Valley may soon find its cross country skiing rivaling its alpine reputation. As Borstelmann concluded, "Groom it, and they will come."
Contacts:
Jackson Hole Chamber of Commerce307/733-3316, www.jacksonholechamber.com
Skinny SkisLocated in downtown Jackson offers full line a Nordic and backcountry ski gear and apparel. Staffed by experienced Nordic enthusiasts. Call and ask for a copy of the Trailhead Cross Country Ski Guide. 307/733-6094, www.skinnyskis.com
Teton Pines ResortLocated five miles south of the Jackson Hole Mountain Resort, Teton Pines Resort has a 14 kilometer Nordic trail system and cross country ski center. The tracks are machine-groomed with wide skating lanes. The Cross Country Ski Center offers a P.S.I.A certified ski school. Rentals and a nice selection of gear and apparel are available in the shop.
307/733-1005, www.tetonpines.com
Grand Targhee Nordic CenterLocated near Alta, Wyoming, the Grand Targhee Nordic Center features 15 kilometers of machine groomed trails. Experienced instructors offer lessons ranging from beginner to expert in skating, classic or telemark disciplines. Rentals are available as well as guided tours in the nearby Targhee National Forest. 800/TARGHEE
Spring Creek Resort Nordic CenterLocated five minutes from Jackson, Spring Creek has 15 kilometers of groomed track with skating lanes. Lessons, rentals and guided tours in Grand Teton Park are available.
307/733-1004
Yellowstone National ParkGuided and unguided tours are available in the park. Over 100 miles of cross country tracks are maintained in Yellowstone. 307/344-7381
Jackson Hole Nordic Center at
Saddlehorn Activity CenterLocated at Teton Village, the Jackson Hole Nordic Center has 22 kilometers of groomed track. Individual and group lessons are offered in classic, skating and telemark techniques. Your alpine lift ticket is valid on the Nordic trails. Ski rentals are available, and the center has a 5 km track where you can ski with your dog. Guided ski tours in the Grand Teton National Park are offered. For the more skilled and adventurous skier, guided backcountry telemark tours in Grand Teton National Park and Bridger Teton National Forest can be arranged. Contact Jackson Hole Mountain Resort. (307) 733-2292 or (888) DEEP-SNO.
Jackson Area Public Nordic Ski Trails:
Cache Creek Canyon Trail
Located at the east end of Jackson, the Cache Creek Canyon Trail is rated for beginners. The snowmobile packed trail gradually gains elevation as you near the canyon. For a longer tour, skiers can connect with the Game Creek Canyon trail.
Game Creek Trail
Groomed by the park and recreation department three times a week, the three-mile long route follows the Game Creek drainage. Since it's so close to Jackson, it's a popular trail for an afternoon diversion.
Snake River Dike
Located five miles west of Jackson, the trail parallels the Snake River. The northeast side is groomed by the parks and recreation department for touring and skate skiing. The Snake River Dike is a flat trail offering skiers a glimpse of moose and deer brousing in the area. Local guidebooks call it a birdwatcher's heaven.

It's a mid-January Saturday afternoon in the New Hampshire White Mountain village of Jackson. Scotsman Rod MacKenzie is just warming up for aprés ski at the local watering hole. After a day out on the tracks of Jackson Ski Touring Foundation's 154-kilometer trail network, cross country skiers descend on the Wildcat Inn and Tavern. The seasoned, 50-something MacKenzie knows how to work the crowd, opening with a few pickled one-liners about President Bush, before launching into Crosby, Stills and Nash and vintage Bad Company. Cross country skiers of various ages belly up to the bar or the two-sided fireplace, relaxing with the local brew, Tuckerman's Pale Ale.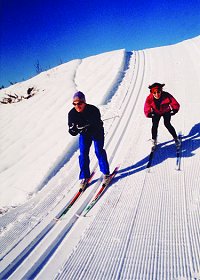 Located a three-hour drive north of Boston, MA, Mt. Washington Valley is home to six ski touring centers, seven alpine ski areas, four ice climbing schools, an indoor ice arena and more. From ungroomed forest trails in the surrounding 776,000-acre White Mountain National Forest, to the 450 kilometers of track- and skate-groomed trails at Jackson and the region's other touring centers, Mt. Washington Valley has no equal when it comes to superb cross country skiing. Founded in 1972, Jackson Ski Touring Foundation (JSTF), in particular, serves up extensive inn-to-inn skiing.
Bartender Phil Sawyer, a towering former Wildcat Mountain Ski Patroller, and fellow barkeep John Brennan, also an ardent skier, serve up the beers. Together they preside over an apres-ski tradition that goes back to the 1930s, when Carroll Reed's Eastern Slope Ski School, one of the first alpine ski schools in the country, was founded there in a shop that is now part of the inn.
The back of the bar is adorned with photos from the thirties of nearby Tuckerman Ravine, Mt. Washington's spring skiing bowl. Photographs taken by the Pigs on the Hill, a dedicated group of ski bums, show off the region's extreme backcountry trails and ski touring terrain.
As MacKenzie works the crowd, Thom Perkins walks in. MacKenzie fires a
perfunctory verbal shot at Perkins, the executive director of Jackson Ski Touring Foundation for well over two decades. He follows by offering him a stint on the stage, which Perkins declines.
Perkins and his staff of groomers take an artistic approach to ensuring that the trails are groomed to the hilt, no matter what New England's notorious winters throw at them. "The grooming is what sets us apart. We really do take pride in it, and it shows," said Perkins. "Our inn-to-inn skiing also is unique. We've got a variety of terrain. It can be slosh down here in the lower elevations, and all snow in the higher terrain."
The trail system offers terrain for all abilities, from steep mountain trails to intermediate routes with more gentle hills. Relatively flat riverside trails and golf course terrain for beginners round out the menu. Jackson's meticulously-groomed trails interlace Jackson Village, connecting shops and inns to rolling meadows and low forests. Some trails climb to the high mountains surrounding the village. Many of the country inns are located trailside, offering lodging and skiing package plans. Some of the trails are located on the White Mountain National Forest; others are located on private land, accessed through easements worked out by the JSTF over the years. To reach major trailheads, the JSTF offers a free shuttle, weekends and holidays.
The hub of Jackson's touring center is a 7,000-square foot lodge in the village heart. Denise Perkins, a key member of the JSTF staff, is often the friendly face greeting skiers at the center's front desk. Having set the consecutive-day ski record for the past two winters, skiing 80-plus days both seasons, Denise is typical of the locals who share their enthusiasm for skiing. The lodge offers a place to warm up by the fireplace and enjoy a snack with friends. It also houses showers, locker rooms, a waxing area, a retail and rental shop, and ski school. For those in need of instruction, the ski school offers learn-to-ski packages for beginners as well as a series of on-snow club workshops for skiers of all ability levels.
For thrill-seekers, the Wildcat Valley Trail is a true test of a skier's mettle, dropping some 2,900 vertical feet from the 4,062-foot summit of Wildcat Mountain Ski Area in the White Mountain National Forest to Jackson Village. Skiers usually use two vehicles to make the journey, parking one car at the finish in Carter Notch and driving the other north on Route 16 to Wildcat Mountain.
Host to several collegiate and international ski races over the years, including the 1990 World Nordic Disabled Championships, Jackson prides itself on special events. Last February, the Wildcat Valley Trail hosted the first-ever Wildcat Valley Inferno from the summit to Carter Notch. The brainchild of Perkins, the 8-kilometer course began at the summit of Wildcat. Fifteen men and one woman huddled at the start area as they lined up to depart at one-minute intervals. Equipment choices varied–everything from skate skis and telemark backcountry skis to waxless recreational boards.
Triathlete Dave Lamb, 43, a part-time Jacksonite and FAA air traffic controller, won the backcountry race with a best overall time of 20:47.7. Claiming first place in the female division and 14th place overall was 24-year-old Meghan Simone of North Conway, a local TV host for Resort Sports Network and young ski movie filmmaker, who finished with a time of 37:59.1. Look for the race to return in 2004.
Asked for his reason for calling Jackson home, champion Lamb said, "The mountains. I love it up here. The terrain at Jackson is incredible. I love to skate ski, especially on trails like The Wave. You can't go wrong."
You need not be a triathlete like David Lamb to enjoy the rolling tracks of Jackson and Mt. Washington Valley's five other nearby touring centers. For a fun route, try Lamb's favorite, The Wave, an excellent choice for skate skiing enthusiasts. Fun for classic skiers can be found on Betty Whitney Trail or the Graustein Loop. Offering a challenging loop and sensational mountain views, East Pasture above the village is an all-time favorite for those who like climbs and dips. The Ellis is preferred for beginners, a trail following the banks of the Ellis River.
Snowshoe enthusiasts are accommodated with rentals and mapped, designated trails. You can even ski with your bow-wowser in a designated area for dog lovers. Last season, JSTF introduced a reduced senior rate: older skiers may ski for half price any day. For a break on the pocketbook, the JSTF, in partnership with several participating lodges, offers free midweek skiing on non-holiday weeks.
For a hearty breakfast or lunch, The Village Bistro, located across from the touring center, is renowned for its homemade soups and sandwiches. Their Steaming Carter Dome stacks roast turkey, pastrami, Swiss cheese and homemade cole slaw on rye.
In addition to the Bistro, village breakfast and lunch choices include Yesterday's or As You Like It. For the best pizza and conversation, check out the Mulkern family's Shannon Door Pub and get a Freeman Pizza. It's not on the menu, but be sure to ask about it!
In addition to the Wildcat, other fine dining choices include the Thompson House Eatery where Chef Larry Baima and Hoke Wilson's seafood and pasta dishes are legendary. Other establishments include the Wentworth, Whitney's Village Inn' Christmas Farm Inn and Dana Place. Eagle Mountain House and newly relocated Red Fox Pub are especially known for their Sunday brunches, and the Red Fox also wood-fires their pizzas.
Lodging is plentiful, ranging from bed-and-breakfasts and motels to large inns. Set to re-open in December, for example, is the rebuilt Inn at Thorn Hill, a luxurious trailside resort offering a spa, dining room and extensive wine collection. Fire damaged the gambrel-roofed, 1890s-built inn in fall 2002, but owners Jim and Ibby Cooper have rebuilt it in grand style, retaining its turn-of-the-century ambience.
Other lodging possibilities include the Wildcat Inn and the new Snowflake Inn. Also in the heart of the village are Whitney's' Village Inn at Black Mountain Ski Resort, the Ellis River House, and Eagle Mountain House, a rambling resort located across from The Wave. With names exuding their ambience, the adjacent Carter Notch Inn, the Currier and Ives-styled Nestlenook Farm and Resort, the Crow's Nest, Jackson Village House, the Bernerhof, the Motel on the River, the Red Apple Inn, and the Covered Bridge Motel offer options in all price ranges.
Antique stores, galleries, a ski shop and a general store line the village streets. Nearby, North Conway's 100-plus name-brand factory outlets attract shoppers looking for bargains with New Hampshire's lack of a sales tax. When the legs need a break from skiing, Nestlenook Farm carts guests a step back in time on a sleigh ride in a Victorian setting.
In the Wildcat Tavern three nights later, Perkins returns, guitar in hand, for its widely popular Hoot Night, also hosted by MacKenzie. Relaxed and inviting, like the tavern, it's one of the best ways to spend a winter night. At Hoot, MacKenzie and Perkins team up to play a Perkins' original, "She Knows Me Better Than I Know Myself," penned about his wife, Denise. The song goes over well, and Perkins–attired in a black beret and vest–looks more like his hero, Welsh folk guitarist Richard Thompson, than the director of one of the world's top ski touring complexes.
And, who knows? In addition to packing your skis when you come to Jackson, you might also want to bring your guitar–Perkins and MacKenzie just might ask you to join them on stage for a Hoot session or two.
Information: (800)XC-SNOWS
Lodging Information:
Jackson Area Chamber of Commerce, (800)866-3334www.jacksonxc.com
Mt. Washington Valley Chamber of Commerce, (800)367-3364www.mtwashingtonvalley.org
Nearby ski touring areas:
Bear Notch Ski Touring, (603)374-2277, a 60 km network along the Saco River in nearby Bartlett
Bretton Woods Ski Touring, (603)278-3322, a 100 km system located on the grounds of the grand, 1902-built Mount Washington Hotel in Bretton Woods
Great Glen Trails Outdoor Center, (603)466-2333, 40 km trails at the base of Mt. Washington in Pinkham Notch
King Pine Cross Country Center, (603)367-8896, a 20 km touring complex at King Pine Family Ski Resort in East Madison, just south of Conway
Mt. Washington Valley Ski Touring and Snowshoe Center, (603)356-9920, 60 km level skate skiing terrain
Tom Eastman is an award-winning ski journalist based in Conway, N.H., who frequents the trails of Mt. Washington Valley, NH whenever he can.