By GREG FANGEL
Do you dream of kicking and gliding down those perfect tracks and of skating and floating up that hill this coming winter? Would you like to see cooler temperatures during the summer?
Three Minnesota men have a vision that could make cross-country skiing a year 'round activity in the Minneapolis/St. Paul area. Ahvo Taipale, Jerry Slater and Greg Fangel pooled their ideas and resources to form Minnesota Metro Ski Tunnel, Inc. (MMST) in April of 2000. Their dream is to build North America's first indoor cross country
ski facility that will allow cross country skiing, on snow all year.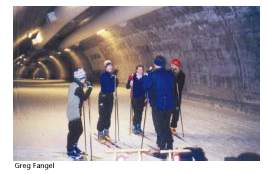 In April of 2000, they traveled to Vuokatti, Finland to gather information on the only other indoor XC ski facility in the world. The Vuokatti facility is made of poured concrete, tunnel shaped, below ground, refrigerated to 10-25 degrees F and is 1.2KM long with two sets of classical tracks and a skating lane in the middle. Skiers from all over Europe travel to Vuokatti, which is 350 miles north of Helsinki, to ski in the tunnel.
After the meager snow winter of 2000, Fangel approached Taipale, who had already been talking to Slater about the possibility of building such a facility in Minnesota. Before long, a corporation was formed and research was started on the feasibility of building a ski tunnel in the Minneapolis/St. Paul Area.
Fangel's background is in construction, so his contacts were valuable in the preliminary design and budgeting stage. Fangel is also president of the North Star Ski Touring Club, the largest ski club in North America. Taipale owns Finn Sisu Ski shop in St. Paul and he runs a large cross-country ski training program for local skiers. His contacts in Finland helped the trio to gather information on the construction of the tunnel in Finland. Slater is a CPA, entrepreneur and an attorney, and brings his business expertise to the table. During the summer of 2000, MMST, Inc hired Vesa-Pekka Sarparanta, the Director of the Training Center (Ski Tunnel) in Vuokatti, Finland to be a consultant on their project. Vesa was the man that took 6 years to convince the local community in Finland that he wasn't crazy and that they needed a ski tunnel. The tunnel in Finland was completed in 1998 and has over 15,000 visitors a year.
To date, MMST, Inc. has done much research on the proposed facility in the Twin Cities, including enlisting the services of an architect, engineers and contractors to provide preliminary construction costs. The project is estimated to cost between $10 and $15 million dollars, without the land for the 1.5KM tunnel. Over the past year, sites have been explored in Minneapolis, St. Paul, and some of the first and second tier suburbs of the Twin Cities. " We would like to keep our proposed ski tunnel within 30 minutes of the International airport in Minneapolis," says Ahvo Taipale. "We will be getting skiers from all over the world." Ahvo, Greg and Jerry met with officials from Ramsey County and the City of St. Paul this past Spring. Representatives from both entities were excited about the possibility of having the ski tunnel in their communities. Research is continuing to nail down a site, so that final construction costs can be estimated. "Location, location, location is the key to this facility," said Fangel. "In addition to the destination type skiers, we expect to have a very healthy day use crowd." Fees will most likely be modeled after health clubs and hockey arenas, where yearly memberships are sold, in addition to day use fees. Time will be reserved for open use and team or reserved use.
"It took six years to build the tunnel in Finland," says Taipale. "We're continuing to move forward to reach our goal."
For more information, visit http://www.xcskitunnel.com