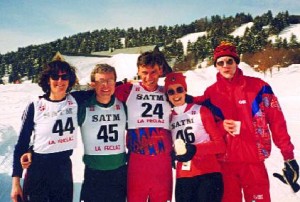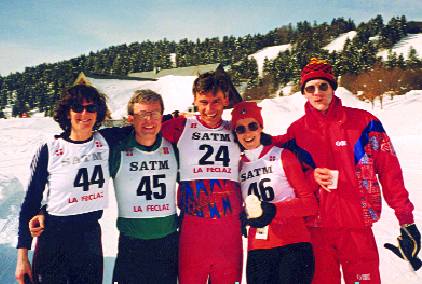 By Therasa Paul
The UK is not known for its kilometers of loipe cut into deep crisp snow; in fact only a handful of people would think you sane if you started talking of grip waxes. Yet there are several cross country ski clubs in the UK despite little snow. The largest and perhaps one of the most active of these, the London Region Nordic Ski Club (LRNSC), was formed in November 1981 by a small band of skiing fanatics. With initial membership around 30 people, ranks soon rose to 250 members scattered around England's southeast. In spite of very little white stuff falling in our region, many of our members spend several weeks a year on snow.
An active group internationally, one of our club members is also the chairman of the British Masters Cross Country Ski Association, which sends racers to compete with over a thousand of the world's best skiers in the Masters World Cup—last year held in Lillehammer, Norway. Another member keen on ski-orienteering participated in the World Masters Championships in Vuokatti, Finland. Other club members attended the British biathlon championships at Ruhpolding, Germany. One club member even crossed the Atlantic and won the Gran Travers in Michigan this year as well as finishing 5th in both the American Vasa and the Traverse de Queyras.
Other members—even just ordinary skiers—travel to races such as the Dolomitenlauf in Austria or Germany's Koenig Ludwig Lauf and are enthusiastic participants in the Worldloppet race series. As members take advantage of the many cheap European flights offered by budget airlines, airports become places of joyful reunions during the wint

er season. Recently, one of the club's founding members and a past chairman who frequently serves as the FIS Technical Director at Worldloppet events led a party of club members to the inaugural Chinese Vasaloppet. Part of the Changchun Ice and Snow Festival, the event included races of 50 km, 25 km and 15 km distances.
As with many clubs, monthly meetings and newsletters fill the business agenda. Held in London, meetings feature guest speakers and slide shows. One of last year's highlights included Patrick Winterton, the Eurosport commentator and former captain of the British Nordic Team at the Calgary Olympics. On other evenings, members tote their own slides along to entertain with stories of their exploits during the ski season. With video clips, interactive CD and films, some of the best ski skaters in the world demonstrate cross country skiing techniques.
To reach the entire membership, the club publishes a quarterly newsletter detailing upcoming events, training tips, trip accounts, and race finishes. A benefit for members, subscriptions are also available for "Ski Nordic," now in its eleventh year and Britain's answer to "Cross Country Skier." The club also offers roller ski and Nordic skiing trips to areas where the less energetic can simply walk in the beautiful countryside. For those missing hard training, ski-ganging is the order of the day.
To make up for the lack of snow, the club arranges alternative training opportunities. Weekly roller skiing sessions are held year round, a major part of training for temperate zones. An army driver training circuit, a quiet one-mile traffic free loop with good tarmac, provides perfect roller skiing terrain. Occasionally, we share the site with the army, with soldiers camouflaged in surrounding bushes! With the added attraction of being close to several members' homes, track workouts follow with tea and cakes mixed with lengthy discussions of past and future trips spicing our après ski sessions. Club members are always on the lookout for traffic-free roller ski routes. A 13-mile off-road route, an old railway line links two historic cities in the southwest, Bristol and Bath. An old railway carriage at the headquarters of the preserved Avon Valley Steam Railway at Bitton provides a good lunch stop. In August, the club sponsors an annual trip to Holland for roller skiing along quiet flat roads and cycle ways through the Dutch countryside. Recently, the LRNSC organized a trip over a bank holiday weekend to Brittany in northern France. Using roller skis, in-line skates and cycles, we trained on a 52-km car-free road along a disused railway track, the Voie Verte, from Mauron to Questembert. This event capped off with a rather chilly swim in the sea!
A smaller tour, but of immense popularity, is the roller ski tour of Richmond Park, London. Complete with its herds of deer, this December festive event includes a lavish supply of mince pies and gluhwein. Thank goodness there haven't been any major accidents!
On the competitive side, the club organizes roller ski races as a part of the British Roller Ski Championship Series. It also produces a triathlon with a leg for roller skiing, cycling, and running. To prepare for these events, visiting elite skiers provide educational training, such as Peter Moysey, a former national cross country ski champion of New Zealand, who now competes on the European biathlon circuit. He demonstrated training exercises to build ski strength and endurance and coached individuals in their roller skiing. He also presented a slide show about his time competing on the World Cup circuit.
Encouraging training to be coaches on roller skis and on snow, the LRNSC sponsors participation in a variety of ski education programs. Snowsport England's Nordic training courses attract many members with top coaches, such as Patrick Winterton, Andy Stewart and Olympic biathlete Mike Dixon. Held last year in Norway during March, the event awarded successful participants with a Snowsport England Nordic Coaching Award. The Telemark Foundation Course is also held on snow, but in England at an indoor center with real snow.
For those needing more than what one club offers, other cross country clubs fill the niche. Popular tours sponsored by other clubs include the Yorkshire Dales Club's roller ski tour of the English Peak District and the Lakeland Cross Country Ski Club's tour of the North Wales coast.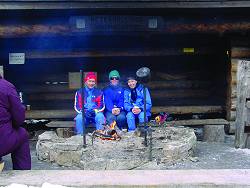 One of the highlights of the year, British Nordic Week was held for many years in Le Feclaz in the French Savoy Alps. This beautiful village provides access to 100 kilometers of tracks, groomed for both classic and skate techniques. In addition to ski instruction, introduction to snowshoeing, biathlon and ski-orienteering as well as ski touring, this week contains a full social program. In an atmosphere of fun, serious training and competition, the week finishes with a ski race, La Savoyarde. Quite often the British Army and Royal Air Force participate. The British Ladies' and Men's Championship races and the British Masters Championships also take place during the week, determining a male and female British Champion. Despite the lack of snow in recent years, the London Region Nordic Ski Club continues to cater for the small, but highly enthusiastic band of cross country skiers based in the south east of England. Indeed, some started on roller skis and have become proficient skiers before ever venturing onto snow!
© Cross Country Skier: February 2005, Vol. 24 Issue 4