By Rich Landers
"I didn't want to say anything in front of the group," one mom said after our pre-trip meeting to explain the itinerary and menu. "But my daughter won't eat any of the food you plan to bring, including the spaghetti or tacos."
Such are the challenges in taking eight young girls on their first backcountry ski experience. "This is pretty adventurous," another mom noted while staring at the wall beyond me. "They could be sweet as syrup, or they could eat you alive."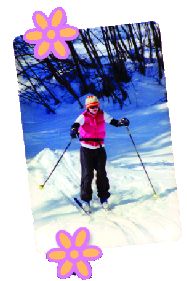 Two moms brought up the potential for girls of this age to have their first you-know-what while in the charge of two dads six miles from the nearest road and 12 miles from the nearest women's restroom with a vending machine on the wall. "It always happens in a situation like this," my wife agreed.
A bit shaken by these mothers presenting situations not covered in our Boy Scout manuals, the other dad and I pored over the possibilities and came to the only sensible conclusion.
"We won't ask the moms for any more advice," I said. Agreed.
They looked like ordinary girls. Braids and ponytails, short-cropped hair and mops of curls. Painted toenails and the occasional glitter of orthodontia. One wore piggy slippers. A few had stuffed animals poking out of their sleeping bags. The scene resembled a typical slumber party, with one notable exception. The bedtime enactment of the "Cremation of Sam McGee" ended to light applause and a few muffled "Goodnights," as the headlamps flickered out. In the time the two dads needed to crawl down from the loft, the cabin became as quiet as the winter woods outside. "That might be a world's record for getting eight girls to sleep," I whispered. No wonder. The girls, ages 10 to 12, had drawn the shades on a 15-hour day that included a six-mile uphill ski trek, not to mention a dozen side trips to follow the stories written in the snow by wintering wildlife.
They greeted the steepest uphills that day with songs. The fastest downhills were spiced with screams. Lunches emerged from their packs as they snuggled together for warmth on drifted snow high above Washington's Methow Valley.
They had started in a wet snowfall that was only one degree from a drizzle—unusual weather for this usually sunny skiing Mecca on the east slopes of the Cascades. Adults at the trailhead wore expensive Gore-Tex parkas to ward off the elements.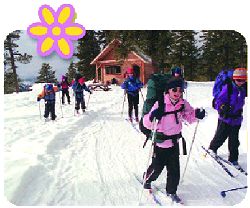 The girls donned garbage bags.
Some adults were understandably grumpy about the weather they had drawn for their three-day weekend. But with seven girls skittering along the trail, beaming, singing and chattering under the burden of weather and packs, older skiers had little option but to cheer up.
"They are the only sunshine I've seen all weekend," one lady said.
Cross country skiing is one of the best lessons a parent can pass on to a kid. It's as close as a sport can come to real life. Rewards are preceded by determined uphill efforts.
The girls learned to moderate their pace and peel off layers of clothing to cope with the exertion of the climb. The rules were simple: try not to sweat too much, focus on fun not speed, and wait for the entire group at every trail junction. They solved every problem as a group, whether it was reading the maps or taking turns to trade skis with the girl who was having troubles with grip and glide.
And upon reaching their destination, their giggling and sheer enthusiasm warmed the inside temperature of the simple home-away-from home by 10 degrees before a fire could be kindled in the wood stove.
The cooking group did all the work creating exotic hors d'oeuvres and dinner, although the two dads broke into sweats as they watched Shannon wield an eight-inch blade to slice veggies while simultaneously carrying on two different conversations–over her shoulder.
Dousing any doubts their mothers might have had about their picky home eating habits, the girls consumed spaghetti at the rate of an N.F.L. football squad. The clean-up group came up with a chorus line of song and dance as they washed the dishes with melted snow.
Then, with the tiniest bit of encouragement, they stepped into their skis again. Gliding off under the stars, they left the groomed trail to soar off natural jumps and squeal like coyotes in the light of a full moon. The cabin was dank that night with the odor of wet mittens, socks and sweaters hanging from the walls and rafters.
For most of them, it had been the longest skiing day of their young lives, yet they woke the next morning ready for anything winter could deliver–including the outhouse at temperatures in the teens.
Perhaps no single lesson convinces a girl that she can carry her own weight in life. But a backcountry ski trip can help. With a little advance preparation, virtually all kids will thrive on the road less-traveled. Their self-reliance will improve as well as their self-confidence.
Many states have backcountry cabins that are perfect for this rite of passage. I've been to several in Montana, Idaho and Canada. Rendezvous Outfitters, a small operation based in Winthrop, Washington, provides perfect destinations for indoctrinating new skiers to the backcountry, whether they're young or old. Rendezvous maintains a series of five cabins along 50 kilometers of a high, remote trail system groomed by the Methow Valley Sport Trails Association.
Groomed trails eliminate the gamble a group would have to take with the normal vagaries of backcountry snow conditions. Cabins are the carrot that lures a kid from the parking lot and relieves the doubts her parents might have in letting her go.
Groups can enjoy these cabins for bargain rates. In Montana, I've stayed at Forest Service cabins for as little as $35 a night. Although the Rendezvous huts cost more, you have the luxury of a groomed trail system and the option to have a snowmobile haul your gear. The cabins are equipped with sleeping pads, pots, dinnerware and utensils, plus a woodstove, a gas stove and lights.
"The type of people who are willing to work a little harder and get away from the luxuries and enjoy this experience are a pleasure to accommodate," said outfitter Phil Heitman. These customers are not a helpless or litigious bunch, he said. "We'd don't advertise. We exist by word of mouth. We could be commercialized, but something we've got here would be lost if we did that."
One must wonder, then, why a surprisingly small portion of the guests are kids. Fewer yet are girls.
The parents of the girls who went to the Methow regulate how much time their kids will spend in shopping malls, riding chairlifts, watching television, practicing music and playing organized ball sports. But for a portion of their winter, they carved time to be with their kids on cross country skis. These girls, at least for now, have found pleasure in skiing the hard way. The rewards are as delicious as hand-cranked ice cream.
In four days, they learned to hang their hats and mittens in one spot where they could dry and be found. They may have forgotten this bit of discipline the moment they walked back into their homes, but the world now knows they can do it if they must.
On the second night, they sounded like a small Mardi Gras as they skied in small groups searching for clues in a scavenger hunt through the dark forest. Togetherness came easily by this time. They happily squished together at the dinner table, where spills were considered to be somebody's second helping. They even went to the outhouse as a group, sometimes assisting with moral support and clothing exchanges in quarters too tight to change their minds.
The biggest challenge, however, was left for last. For three days the girls had been whipping themselves up for the ski out on a notoriously wild downhill route while carrying all the remaining gear back to the trailhead on their backs. To say they were eager is an understatement. Some of the girls raced out to buckle into their packs even as others were doing the finishing touches on sweeping the cabin.
No one groaned as the weight settled on hips and shoulders. They shot down the trail like wild hares. Later, the girls paused a moment to regroup before plunging with their bulky packs into the fast downhill section of the trails. Chelsea caught up and said, "This is the tiredest my legs have ever been." When asked if she wanted someone to take a little of her load, she confidently said, "No thanks, I'm fine." And she was.
For more info: Methow Valley Central Reservations 800/422-3048 or www.methow.com/huts
© Cross Country Skier: December 2004, Vol. 24 Issue 2