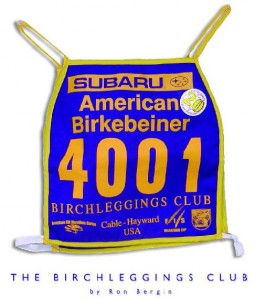 Ski clubs abound across the snowbelt of North America. We feature one such club in every issue of Cross Country Skier, but the Birchleggings Club is a ski club of a different color. Most members don't live in the same community or, for that matter, even know one another. They do have one thing in common: all covet the color purple and have completed at least 20 American Birkebeiner ski marathons.
Skiing one 50-plus kilometer marathon is an accomplishment. Skiing 20 is the realization of a life-long dedication and passion for cross country skiing. Most who achieve this prestigious goal have no ambition of victory or delusions of age class awards; they do it "because it is there." And having completed it once, they keep coming back for more—for the camaraderie, the sense of accomplishment and the feeling of belonging they get from being a part of one of the most unique fraternities in the Nordic skiing world.
Now in its 32nd season, the American Birkebeiner started with a modest group of 54 skiers in 1973. Over the course of its first 10 editions, nine skiers participated every year without missing a single event. This group was dubbed as "Founders" by Birkebeiner creator Tony Wise—in recognition of their dedication to the event. The years passed, and while more and more skiers racked up Birkies, most of the original Founders still did not miss a single event. In 1992, the American Birkebeiner celebrated its twentieth birthday as the first skiers notched their twentieth Birkie. Other skiers also deserved recognition: George Hovland (profiled in our December issue), for example, who missed the inaugural American Birkebeiner, but had skied every one to date.
Following the twentieth anniversary celebration, John Kotar, one of the original nine founders, had an idea: Why not create a club to recognize those who had skied 20 or more Birkies? After all, recognition should follow such a significant accomplishment. Kotar approached the American Birkebeiner Ski Foundation's board of directors, and the Birchleggings Club was born—the name taken from the Birkebeiner legend referring to the birch bark leggings worn by the Norwegian warriors who rescued the infant Prince Haakon Haakonson in 1206 during Norway's civil war. Not funded by the Foundation, the club functions as an independent entity with its own membership dues, officers, newsletter and apparel. However, the two organizations do work closely together.
Creation of this "society" of 20-year participants finally recognized a special accomplishment. In recognition of their long-standing participation, Birchleggings Club members receive a purple race bib assigned only to those with 20 or more Birkies under their belt. Recently, an annual sticker denoting the actual number of races completed was added. Upon induction into the club, members also receive an attractive award—a brushed gold coin with a multilevel image of the Birchleggings' logo embedded on a 4 1/2-inch by 5 1/2-inch clear acrylic plate. Each member's chronological order of completion of his/her twentieth race is silk screened on the walnut base that includes the member's name and year of their twentieth finish. While initially they also received a one-wave bump in their race seeding, which was later rescinded, members do receive an extended early-bird registration period for the race. In addition to the Birchleggings Club awards, the Foundation also presents a 20-year pin.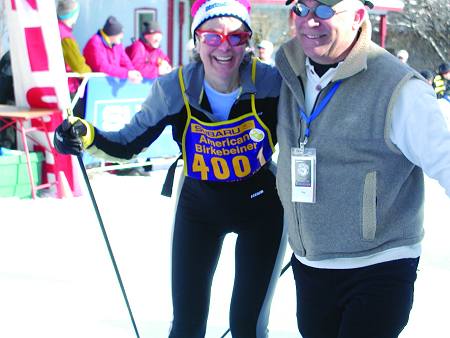 Each year on Sunday morning following the Birkie, the Birchleggers get together for an annual breakfast and awards presentation. Since 1993, the Birchleggings Club has swollen to over 500 members. Unofficial Birchlegger stats since 1974 show that 108,254 skiers have started the Birkie with 99,750 finishing. Among these, approximately 26,000 different people finished the American Birkebeiner. The current Birchleggings Club enrollment represents about two percent of all Birkebeiner skiers.
Within the ranks of the Birchleggers, only three have skied every single Birkie: John Kotar, Dave Landgraf and Ernie St. Germaine. New inductees now annually include over 100 new Birchleggers. The Birchleggings Club is not a male-exclusive club either. Thirty-two of the 534 Birchleggers are women. And though not necessarily all still active, five members are in their 80s, with the largest percent in their early 50s. As you might imagine, Birchleggers hail predominantly from Wisconsin and Minnesota, with members from Illinois, Michigan, California, Iowa, Montana, New Hampshire, Oregon, Utah and Ontario. A few even live in the less likely states of Florida, Maryland, Ohio and Virginia.
For those who have fallen victim to the renowned "Birkie Fever," skiing 20 or more Birkies has become the benchmark goal. Some will ski many more. Indeed, the number of Birchleggers with 21 to 25 Birkies averages about 60 in each group.
As they ski down the trail, spectators frequently shout "Hey, Birchlegger!" a tip of the hat in respect for their accomplishment. For the rest of us, attaining the honor to be a Birchlegger is incentive to keep on skiing in hopes of one day being able to wear the purple bib.
"All I want is that purple bib," said my wife Kathy prior to each of the three or four Birkebeiners leading up to the 2004 race. The 2004 American Birkebeiner was a landmark event for Kathy, a member the Cross Country Skier magazine family. It marked her twentieth American Birkebeiner and therefore induction into the Birchleggings Club and the right to wear the purple bib. And last year, she finally got it.
She first started skiing the Birkie 23 years ago, missing one due to illness (the only time she was ever eligible for the first wave) and skied her tenth in 1992, only two weeks out of a cast from a broken ankle. She also skied two Kortelopets. To make her race day special, I conspired with Kathy's daughter Molly who had come home from Minneapolis to watch this momentous occasion. In the snow at the race's midpoint at Highway OO in Seeley, Molly stuck a sign I had made that said, "Go Kathy! 20th Birkie." After Kathy passed the midpoint and when I finished my race, Molly slipped me the sign which I rolled up and stuck in a backpack.
After downing a couple of cups of hot soup and changing my ski clothes, I walked the four blocks back down Hayward's Main Street as finishers continued to stream in. With the sign in my pack, I donned my skis, heading out onto Lake Hayward to meet Kathy. Half way across the lake, I ran into her.
To help block the wind, I skied in front of her, but she said I was skiing too slow and passed me (I thought it was a good pace). Now skiing behind her, like an archer drawing an arrow from his quiver, I removed the sign from my pack. As we approached each new encampment of spectators strewn across the lake, I flashed the sign. Their response was what I had hoped: "Go Kathy, go Kathy!" She later remarked, "I didn't know those people. I wonder how they knew my name?" Replacing the sign in my pack, we skied the remaining kilometer on the lake and began the approach to the finish.
If you've never skied the Birkie or seen the finish on Hayward's Main Street, let me set the stage. In many ways, it is a typical Midwestern main street, lined with businesses and restaurants, wide enough for two lanes of traffic and parking on both sides. For the race, the street is covered curb to curb with snow about a foot deep and lined with fencing. Flags and banners drape everywhere including giant pennants representing the Worldloppet nations. Music plays, and the announcer calls out every finisher's name as they ski their final 300 meters.
As we entered the Main Street canyon, I tucked my poles under my arm and again unfurled the sign, still unbeknownst to Kathy. Flashing it left and then right to the spectators lining the first block of Main Street, the crowd erupted into a huge, out-of-the-park homerun size cheer, calling her name and bringing her home. It couldn't have worked better! The crowd continued to roar as if she were sprinting for the win as we skied the next couple blocks. I pulled off the course 100 meters before the finish while cheers took Kathy under the finish banner. Molly stood beyond the finish chutes with 20 purple irises.
Twenty Birkies and finally, the purple bib. Congratulations, Kathy!
© Cross Country Skier: February 2005, Vol. 24 Issue 4