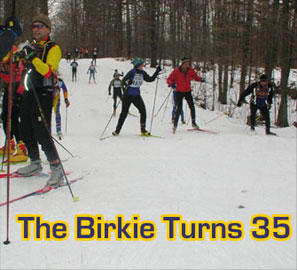 By Ron Bergin
As anniversaries go, the 35th of anything does not engender a lot of passion or excitement (except perhaps for a wedding anniversary). Who even knows what precious metal or stone is used to signify the 35th?
On February 23, 2008, the American Birkebiener will, in fact, celebrate its 35th annual running. However, there is indeed a lot of passion for this largest of cross country ski events in North America. It started in 1973 with only 53 skiers, including those who participated in its half-distance version. The Birkie, as it affectionately known, has come a long way, now annually attracting 6,500 or more skiers. Anniversaries tend to bring out the crowds, as witnessed by modern day record participation of 7,882 skiers who turned out for the 25th anniversary in 1997, an event that also saw both men's and women's course records shattered, with the first sub-two hour winning time.
Thirty-fifth anniversary not withstanding, registration numbers started slow for this year's event. It would appear that several consecutive years of iffy snow conditions and last year's conversion of the event to an "open course" tour have rendered many potential Birkie skiers a bit gun shy about committing too early. According to Shellie Milford, director of race operations, quite a few entries came in both by mail and online over the Christmas holiday period. Milford was confident numbers would ultimately catch up and be comparable to or surpass recent event levels.
Anniversaries are a time of reflection, as well as an opportunity to look at the here and now. It would be hard to engage in any discussion of the American Birkebeiner without stopping to acknowledge its creator and founder Tony Wise.
Wise was one of those larger-than-life characters whose contribution to the sport of Nordic skiing, as well as his hometown of Hayward, Wisconsin, are both lengthy and significant, even legendary – leaving a legacy of events, trails, organizations and institutions that would tire the most ambitious and enthusiastic of today's businessmen. In addition to the Birkie, notable among the Wise legacy are: Telemark Resort – the first downhill ski area/resort in the upper Midwest, the Telemark cross country ski trails in Cable, staging of the first unofficial World Cup Nordic ski race at Telemark, the founding of the Worldloppet League, Historyland in Hayward, the Lumberjack World Championships and numerous other events and initiatives that helped put the Cable-Hayward area on the map.
Wise lost Telemark Resort and the Birkie, which was at the time run as a for-profit event, in bankruptcy proceedings in 1984. In an interview during the observation of the 20th anniversary of the event in 1992, Wise still felt the pain of having his creation wrested from him. "It's like seeing a painting you created hanging on someone else's wall," he related. Wise, nonetheless, attended the closing ceremonies that year and, upon his introduction to the audience, received a rousing standing ovation. Tony, as he was simply referred to, passed on in 1995. A lover of Dixieland and traditional jazz, Wise's funeral was every bit as large in commemoration of his death as was his life, complete with a horse drawn hearse accompanied by a New Orleans style funeral band.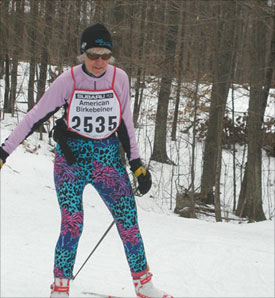 Beside the event itself, perhaps the most significant among his legacy is the American Birkebeiner Ski Trail. "The Birkie Trail is the heart and soul of the Birkie," says Marty Hall, former U.S. and Canadian national team coach, who, with Sven Wiik, designed and laid out the trail. Most would agree. The trail annually attracts skiers from across the nation to train and ski for fun.
The Birkie Trail wasn't always a Nordic superhighway. In fact, during the first few runnings of the event, it wasn't much of a trail at all. John Kotar, one of only three people to have skied all 34 Birkies, vividly remembers the first events.
"We skied on the side of the road, on plowed-up snow banks, through fields – following only an occasional ribbon tied to a tree for direction." Kotar tells of skiing for kilometers without seeing another skier, wondering all the while if he was even still on course. There were only 34 skiers who made that inaugural trek from Lake Hayward to Telemark Resort in Cable, so naturally they spread out considerably over the approximately 48 kilometer distance.
A select group of skiers, having skied the first 10 consecutive Birkies, were dubbed "founders," by Wise and were, from then on, known as such. That group included Jacque Lindskoog, the only woman to ski the first two Birkies. Kotar, Ernie St. Germaine and Dave Landgraf remain the only people who have skied every Birkie to date.
The Birkie Trail evolved from a cobbled together series of logging roads, highway shoulders, railroad beds and ultimately ski trails into a contiguous trail. Upon its first incarnation in 1977, the actual trail was only 15 feet wide and groomed only for classic skiing. The trail was created strictly for the race and, in its early years, was only groomed for that purpose – a shadow of the recreational asset it was to become. As race numbers exploded and as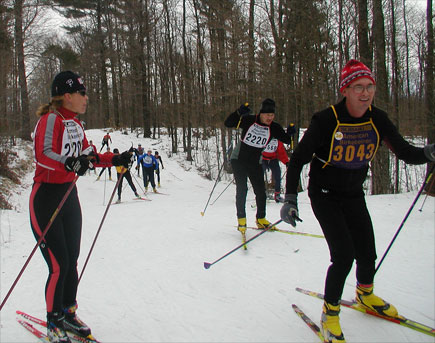 skating technique came on the scene, the trail was necessarily widened to resemble more or less what it is today, though some hills and corners have been modified to better accommodate the flow of skiing the trail from either direction.
Much has changed in 35 years in the sport of cross country skiing. But one thing has remained constant – the Birkie is always on the calendar for skiers across the country and around the world. "Skiers build their season and their calendar around the Birkie," says Tom Duffy long time member of the American Birkebeiner Ski Foundation board of directors.
Despite challenging weather the past 10 years, the Birkie goes on. It has only been cancelled once, in 2000 – a year that saw a 10-inch base on the trail only a week before the event dissolve into a slushy mess after several days of rain and temperatures that failed to go below freezing. In 1998 the Birkie was shortened to half distance, finishing at County Highway OO in Seeley.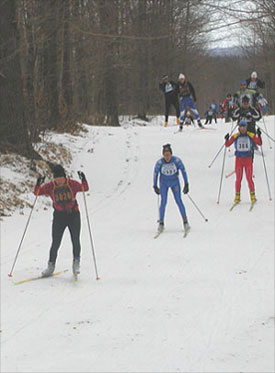 Last year it was again shortened to half distance after thawing and freezing conditions rendered the trail problematic. Only the elite waves were allowed to race for a time, while everyone else was invited to ski to OO on an "open course," essentially a tour, but still receiving credit for having skied the event. Much to everyone's surprise, the grooming crew transformed the trail that was characterized by one local elite-level skier as "un-expletive-skiable!" into a delightful skiing experience.
And the beat goes on…
"The year has been very exciting and busy for us as we prepare for the 35th anniversary," said Ned Zuelsdorff, executive director of the American Birkebeiner Ski Foundation. "We recently completed a successful fundraising campaign raising over $200,000." With those funds the Foundation was able to purchase a new Pisten Bully groomer and complete another section of the new Birkie Classic Trail in time to be used for the 35th anniversary race.
Another major change for Birkie 2008 is the introduction of separate, smaller, five-minute alternating skating and classic wave starts. Once out of the starting gates, skiers will skate or stride on the Birkie or Classic ski trails until the 15-kilometer point where they will merge and continue together to the finish on Main Street in Hayward. This year skaters will ski a 51-kilometer course while classic skiers, using the longer Birkie Classic Trail, will end up completing 53 kilometers.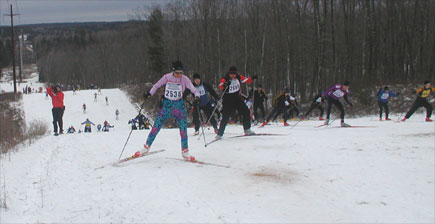 "The new Classic Trail will benefit all skiers with better tracks for classic skiers and an additional skate lane for skaters on the Birkie Trail," says Zuelsdorff. "Those changes, coupled with alternating five-minute wave starts, should guarantee a better event for everybody."
Zuelsdorff said another highlight of the 35th anniversary is the welcome ceremony to commemorate the vision of race founder Tony Wise. "We are encouraging skiers to commemorate the 35th anniversary by wearing traditional clothing and participating in a ski up Mt. Valhalla at Telemark Resort during Friday's welcome ceremony. We'll award prizes for attire and we'll unveil an historic musical DVD to observe the evolution of the race and the spirit of Birkie skiers."
Zuelsdorf has been perhaps the most hands-on of any Birkie executive director since the incorporation of the American Birkebeiner Ski Foundation in 1985. He's not afraid to get his hands dirty and has been central to the conception and execution of the development of the new Classic Trail.
The new trail roughly parallels the original Birkie trail, traversing similar terrain and tying back to the main trail at each food station. At approximately 25 feet or wider, the new trail is groomed for skating with two classic tracks throughout the season and for the race will be tracked for classic only. When completed next year, the new Birkie Classic will connect to the Highway OO crossing in Seeley at approximately 23 km. Since the north half of the trail typically receives better snowfall, even in low snow years, it is anticipated that in a worst case weather scenario a looped course could be configured to provide a full marathon distance race, rather than terminating the event at the half-way point as in 1998 and 2007 or, worse yet, canceling.
In the 35 years since the inaugural event, 189,285 men and women have donned skinny skis to participate in the American Birkebeiner and its sister event, the Kortelopet. Thousands of others have participated in shorter races and events catering to youth, teens, families and recreational skiers.
"Birkie 2008 will be a fantastic tribute to Tony Wise, a recognition of the Birkie's historic roots and a celebration of all the skiers, sponsors, volunteers and businesses who have driven the event for 35 years," Zuelsdorff said. "We encourage new skiers, long-time skiers from the U.S. and abroad, and spectators to join us for a really great week."
More than 7,000 skiers are expected to register for the 35th anniversary American Birkebeiner and Kortelopet, with another 2,000 expected to participate in the shorter races and events. To learn more about North America's largest and most prestigious cross country ski race, visit www.birkie.com.
P.S. The 35th anniversary is the Coral or Jade anniversary.