The image of cross country skiers enjoying their sport has not been one of the most pervasive themes in fine art over the ages. In what we hope to be an annual feature, Cross Country Skier has assembled a collection of paintings, prints, and other media that represent our sport. We hope you enjoy this different perspective of winter recreation.
Our inaugural collection includes work in several different media, ranging in style from classic to contemporary and represents artists from across the country and the globe.
When possible we have included web sites and other information if you are interested in learning more about their work or purchasing a piece.
If you should happen to know any artists whose work includes images of cross country skiing, please be sure to encourage them to submit a sample of their work for future consideration.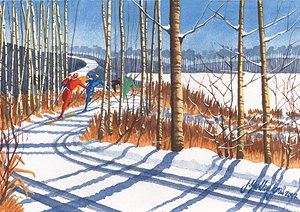 "The Birkie Olympians 2002″ Size: 11″ X 8" Watercolor on paper
John Yardley-Jones
about the artist
Welsh-born John Yardley-Jones spotted early in life the humor, irony and sadness that surround us as we make our way through life. He coupled this with his skills with a pen to become an internationally syndicated, award-winning cartoonist.
Premiers, Prime Ministers, Presidents and members of the Royal Family have requested his work and the National Archives of Canada recently acquired all of his earlier cartoons still in his possession. But while Jones still enjoys poking fun at people and absurd situations through his cartoons and caricature, he is now very active in his first love, watercolors.
"I'm sure my love of paint stems from my boyhood days, when I would ramble in the mountains of my native North Wales," he says. "I was fascinated by the way the light played on the peaks and lakes."
Jones, now retired from newspaper work, runs his own highly successful company, Yardley-Jones Studio Inc. His work has been featured in several books including The Bachelor's Guide to Ward-Off Starvation, a best-selling Canadian cookbook.
Jones, 72, is an avid skier and in 1993 to keep his nine-year streak of skiing the Canadian Birkebeiner alive, skied the 55 km event within months of leaving the hospital following a stroke. His streak continues and
to date he is one of 14 people who have skied every Canadian Birkie and the only person to ski all with a 2.2 kilogram pack on his back. In 1994 he began creating a series of commemorative
watercolors depicting scenes
along the Birkie Trail.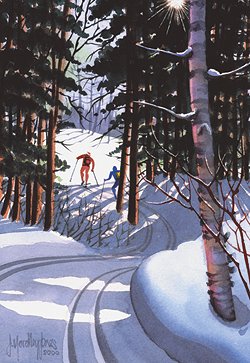 "Ski the 15th Birkie" Size: 8″ X 11″ Watercolor on paper
ON THE FRONT COVER: "Birkie Blue Shadows" Size: 8″ X 11″ Watercolor on paper
TABLE OF CONTENTS: "Ten Years On The Birkebeiner Trail" Size: 11″ X 8″ Watercolor on paper
Available as limited edition, 11″ X 17″ prints as well as a series of 5″ X 7″ notecards.
For further information: Yardley-Jones Studios Inc., 9559 91 Street, Edmonton, Alberta Canada T6C 3P6, (403)466-8675.
Diana Randolph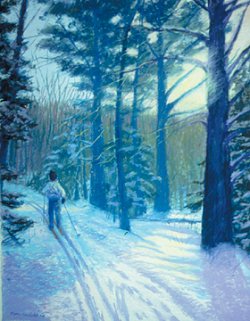 "Skiing Through Shadows" Size: 11″ X 14 1/2″ Pastel on sanded paper
about the artist
Diana Randolph paints and writes in her home studio in rural Drummond, Wisconsin. Originally from New Jersey, she received a B.A. in art in 1979 from Northland College in Ashland, Wis. She has exhibited her paintings nationally
in numerous shows and has had seven solo exhibits.
She also creates her own note card designs and is a published author and poet. Her In the Heart of the Forest, a chap book of poetry and paintings, was inspired by the silence of the Chequamegon National Forest surrounding her home.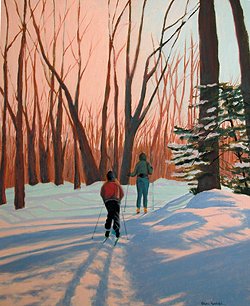 "Gliding Through Silence" Size: 20″ x 24″ Oil on canvas
For more information about her work contact her at:
Once in a Blue Moon Studio, 47790 Blue Moon Road, Drummond, WI 54832, (715)798-3600, oiabms@cheqnet.net.

Mikulas Kravjansky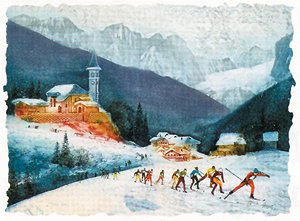 "Setting the Pace" Size: 30″ X 22″
Intaglio on hand made paper
about the artist
Born in Czechoslovakia in 1928, Mikulas Kravjansky attended the Academy of Arts in Bratislava. He went on to become one of the foremost set and costume designers in the Czechoslovakian theater and State Television. In 1968 he and his family emmigrated to Canada where he became Assistant Master of Art at Toronto's Humber College
The works represented here were rendered in the artistic printing technique known as intaglio. This process involves etching, engraving, dry point, aquatint, mezzotint, linocut and wood block. It is a complex process by which the image is first created on a plate of copper, aluminum, plastic or other material by adding to or subtracting from the surface of the plate. All ink colors are applied to the plate and a sheet of wet, handmade paper is placed on it. It is then covered with felt and run through steel rollers in an etching press. As water is squeezed from the paper, suction draws the ink into it. This hand procedure is repeated for each layer of the edition. After drying for a week the artist may add hand painting or laminate metallic inlays to the work. Editions of each print are small because the plates will only print a limited quantity before wearing out, after which the plates are destroyed.
Speaking about his work, Kravjansky says, "Ultimately, everything in my paintings is edited or staged to elicit a response from within you. My images are meant to create an effect of something important that may have happened a long time ago or something that may be happening now in which meaning can be found."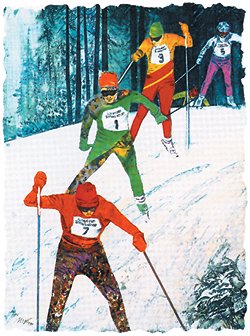 "American Birkebeiner" Size: 22″ X 30″
Intaglio on hand made paper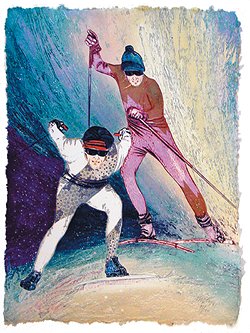 "Nordic Challenge" Size: 22″ X 30″
Intaglio on hand made paper
For further information about Kravjansky's works, contact:
ALLIANCE ART PUBLISHING
P.O. Box 658
43000 Oak Court
Cable, WI 54821
Telephone: 715-798-4567
Web Site: allianceartpublishing.com
Robert Duncan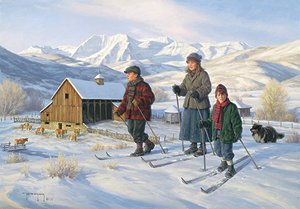 "Soldier Hollow" Size: 30″ X 40″
Oil on Canvas
about the artist
Robert Duncan was born in Utah and began painting at age eleven. He spent summers as a boy on his grandparents' ranch in Wyoming where his grandmother gave him his first set of oil paints. It was there that he grew to love the country, the open spaces, and the rural lifestyle. Duncan has painted professionally for about 25 years. He studied at the University of Utah and worked as a commercial artist before his full-time dedication to the fine art of the American West. He was elected into the Cowboy Artists of America at a young age and won two silver medals in their annual exhibition at the Phoenix Art Museum.
His "Soldier Hollow" features the historic Tate barn on the original farm property where the Olympic Nordic venue is now located. This painting was donated to the Soldier Hollow venue and now hangs over the main fireplace in the lodge. Posters and limited edition prints of this image are being sold to benefit the Soldier Hollow youth skiing programs.
"I decided years ago to paint the things that I cared most about. That decision has brought me a lot of joy and satisfaction and I'm especially grateful that my family has been such an important part of all of this. I grew up in the suburbs, but every chance I got, I would sneak out to nearby fields to watch the birds or play in the creek, and the summers I spent on my granddad's ranch really taught me how much we all need nature in our lives. In a way, my paintings are a call to think about the things that have touched our lives and hope that we might all be willing to do our part to save these things for future generations."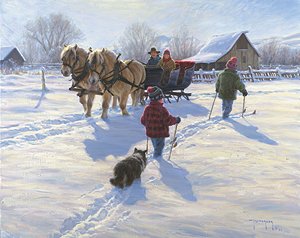 "A Grand Day"
Size: 24″ X 18″
Oil on Canvas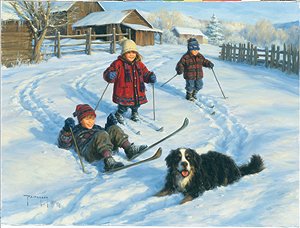 "The Ski Team"
Size: 28″ X 22″
Oil on Canvas
For further information:
Robert Duncan Studios, P.O. Box 818, Midway, UT 84049; (435)657-0500, (800)282-0954,
rkduncan@fiber.net, www.robertduncanstudios.com.
"Flight of an Infant King"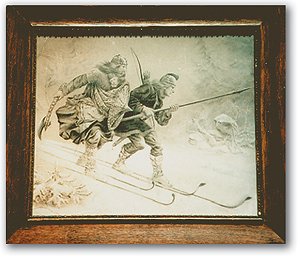 "Flight of an Infant King" Size: 22″ X 17″
Sepia toned chalk with white highlights on paper
the story behind the art
This chalk drawing by Knud Larsen Bergslien is estimated to have been created in 1869. It was the preliminary study used to conceptualize several subsequent oil renderings of this image. The drawing was Bergslien's first and only preliminary study and because there is only one, the value of this original actually exceeds that of the colored oil paintings. This scene depicting Norway's cherished saga is Bergslien's most famous work of art and is considered a Norwegian national treasure.
The scene portraying the rescue of infant prince Haakon Haakonson by Birkebeiner warriors during the winter of 1206 is also one of the most enduring images of cross country skiing in the world. It has been adopted by several race organizations around the world and in its native Norway is revered as much as any patriotic or religious symbol. During the 1994 Winter Olympics in Lillehammer, the Bergslien image was omnipresent and emblazoned on everything from street banners to Olympic memorabilia.
There is a contemporary story related to the history of this work that carries as much intrigue, mystery and drama as the rescue of the young prince. It begins nearly three decades ago when Diane Carlson, then a 21-year-old bride, bought a picture frame from a shop in southeastern Minnesota. At the time, Carlson, a commercial artist, was living with her husband in Owatonna, Minnesota, a small town about an hour's drive south of Minneapolis. Carlson, who is of Swedish descent, was decorating their new home with a Scandinavian flavor. Among her own artistic endeavors was a sketch of a mighty Viking ship for which she needed a frame.
During a visit to her favorite antique shop, Diane discovered the perfect frame. She bought the piece for $3 and took it home, where she prepared the frame for her own drawing. Much to her amazement, beneath the layers of dust was a remarkable sight and Diane's decision to leave this work of art intact would, in fact, eventually change her life.
Under the glass was a 17-by-22-inch original chalk drawing depicting two Nordic warriors skiing down a mountain slope with battleaxes and spears in hand. Oddly enough, a baby was strapped to the chest of one of the men. The infant, in particular, puzzled Carlson. The babe seemed out of place in this intense, harrowing scene. Were the men escaping and protecting the child? Or had they kidnapped it? "The drawing was too beautiful and intriguing to destroy and I proudly hung it on the wall" Carlson says.
The next year, in 1968, Carlson and her husband moved to Colorado Springs, Colorado, where they opened a photography studio and bridal business. The child in the drawing remained an unforgettable enigma, however, and she often wondered if the artist of the drawing was famous and if, perhaps, the drawing was even valuable.
Then, five years later in 1973, Carlson's neighbors gave her a book entitled, The Skier's Digest. Randomly opening the book, a sentence leapt off the page and would be the first clue to unraveling an amazing tale. This sentence stated, "Skis were used in 1206 to carry the infant Norwegian Prince Haakon across a snow-covered mountain range to save him from rebel factions that were trying to claim the throne in the wake of the king's recent death." Armed with both a name and a year, Diane fired off letters to the Oslo National Gallery of Art and the American Swedish Institute to confirm that the image she admired on her living room wall was that of this young medieval Prince Haakon. Amazingly, the faint signature on her drawing matched that of the signatures on the oil paintings by the same artist. His name was Knud Larsen Bergslien and he lived and worked in Norway in the 1800's. Diane was referred to Lillehammer, Norway for additional information about the drawing's historical and contemporary significance.
Carlson learned that the scene in the original Bergslien chalk drawing depicted a famous legend from Norway's post-Viking history. Diane was told that annual cross country ski races are held in five countries to commemorate this great escape and that in some of the events skiers are even required to carry backpacks that weigh approximately that of the little prince. It began to appear that the image in Carlson's "accidental" purchase was, indeed, worth more than $3.
The details of the story thrilled Carlson as she pieced them together. But it wasn't until 1992 that it became clear to her that the image and story were of real significance. While watching the closing ceremony of the Winter Olympics in France, she couldn't believe her eyes and ears. The Olympic celebration was reenacting the 13th century legend of the Nordic warriors and Prince Haakon. The commentator recounted the story and announced that this would be the theme of the 1994 Olympic Games in Lillehammer, Norway. "I had in my possession this priceless piece of history," Carlson recalls. "What should I do?" After a flurry of letters and phone calls to Olympic organizers, both in the U.S. and in Norway, Carlson was asked if the Bergslien work of art could be included in the "100 Years of Glory" traveling exhibit. Honored by this request, in the summer of 1993, Carlson shipped the drawing to Atlanta, GA. The Olympic Committee insured the work of art for $100,000.
Beginning in May 1993, Diane Carlson thought her treasured Bergslien original chalk drawing had been traveling the world with the Atlanta Olympic Historical Exhibit. What an honor, she often proclaimed, to share this masterpiece with the world. In June 1996, Diane was shocked by the hand-delivered news that her drawing was missing. In fact, she soon learned that the Atlanta Olympic Committee was not aware of the drawing's whereabouts for up to two years! Documentation shows that this work of art was the most valuable item in the entire exhibit – an exhibit that displayed rare Olympic memorabilia dating to 1886. Nothing else was missing from the hundreds of items on loan. Because the trail was so cold by the time Ms. Carlson was notified, there was virtually no evidence as to whether the drawing was lost or stolen. The Atlanta Police, the FBI, IFAR and all other Art Loss Organizations were notified. Much like the Norwegian Civil War of 1206, a grueling four-year civil court case erupted between Ms. Carlson and those responsible for this tragic loss. The case went to trial in Atlanta in March 2000. Those responsible were forced to be accountable, but the work of art is still missing and Ms. Carlson is hopeful that someday it will be recovered.