By J.D. Downing
This is the final column in a three-part series about the competitive development process, starting with youth skiers. Part one looked at youth skiing and part two considered skiing programs aimed at middle schoolers and adolescents. Both columns looked at how skiing development programs need to accommodate the needs of each particular age group.
In developing this season's columns, I knew that it would be important to emphasize general points for each phase of development rather than push a specific agenda with lots of details. Why? As I've said in past seasons, right now we arguably have the greatest level of youth and junior program depth in U.S. cross country skiing history. There are plenty of solid programs out there doing good work — some of them great work. Quibbling about this or that detail about what they are doing is a waste of time.
This final column looks at the junior and teen years and beyond.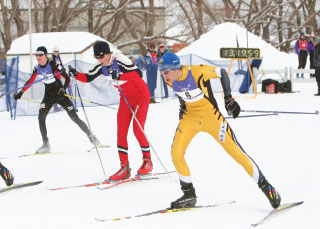 Once a skier reaches the junior categories, he or she may already have a lot of racing experience. But the skier is still young and the most important thing to understand – for both teen and college-age racers – is the golden rule: it takes a long time to become a great ski racer. As in eight years to 12 years worth of "long time."
Great (or otherwise) results as a J2 (typically a frosh/soph in high school) do not directly translate into great (or otherwise) results even a couple of years later. Likewise, specific results in high school do not directly translate to specific results in college or on the elite circuit.
Adults need to fully embrace this golden rule perhaps even more than the juniors or collegiate skiers themselves. Adults have a natural tendency to look at a promising young teen and start thinking, "Wow, this kid is going to be so special." It's also natural to say that a teen in the mid- to back-of-the-pack is unlikely to ever be a superstar.
Adults need to fight these tendencies and understand that junior skiers are typically only a stage or two into the competitive process. Without question it is important to encourage and support kids that show promise and motivation. But good programs do this without sacrificing the dreams of other kids that aren't quite ready for prime time.
Skiers, parents and coaches need to resist labeling junior skiers as "destined for greatness" or "never going to make it" as the result of big races in one or two seasons. It takes much longer to develop a top skier and a top endurance athlete. Skiers will continue to develop on through their 20s and beyond. They need to constantly develop as skiers, as people and as endurance athletes. They need to develop the strength and ability to adapt to increasing workloads over time. As with any life endeavor, at some point everyone will plateau, stumble or fail. The key is patience and keeping the faith.
The number one functional goal for this age group is learning to ski as well as possible (having fun and staying healthy are, in my mind, the most important overall goals). State titles, Junior National medals, even making international teams are all lovely targets for top performers. But, in reality, only a handful of kids are going to be able to reach those targets.
Further, many skiers that do win this race or qualify for that trip as juniors are going to do so at the expense of learning how to ski really well — not as a product of doing so. National and elite club coaches like me have been saying this for decades. Only a precious few will ever have truly great results as juniors or beyond. But every junior should be striving to ski great.
Speaking of the highest levels of competition, here in the U.S. we tend to underestimate what it is going to take to match the best in the world at every development level. We are so spread out as a ski community that successful juniors are easily fooled into thinking they are already at the top. In Europe, all a fast young skier has to do is travel a few hours in any direction to face loads of skiers from other nations that have had just as good coaching, that worked just as hard in the dryland season, that have just as good technique — on it goes.
European skiers are often intimidating to many North American juniors — not because they actually ski better or have such superior athletic talent. The Euros just have a better understanding of how good a really good skier has to be. They understand the work and timeline better. They get more routine exposure to great examples and great skiing.
This isn't an excuse for skiers on this side of the Atlantic. It just means that here, we need to always understand that 99.9 percent of the time there are ways to ski even faster than we are right now.
Skiing faster and improving competitiveness requires significant help along the way. Regardless of a skier's goals – whether to make the varsity squad for the first time or to win an Olympic gold – no one goes anywhere without assistance. Behind every competitor – regardless of ability or skill level – are parents who sacrifice, coaches who put in extra time and effort, and communities that have invested in trails and facilities (and, sometimes, directly supported trips to races and camps).
More than ever before, developing skiers need to fully appreciate every bit of help they are getting. The world is changing. Fundraising is going to be harder. More parents will have a hard time funding ski dreams. Schools will have a hard time keeping athletic teams going. We need to instill in our young skiers a sense of patience, humility, resourcefulness and gratefulness as times get tougher and competing gets more and more expensive.
Making the most of these resources means having a plan at every step of development, starting with the junior years and extending well into the future. One of the best things that coaches, parents and sponsors can do is make sure the skier is invested in his or her own career. It is that difference between feeding a man a fish and teaching him how to fish. Coaches need to involve athletes in the development of their training programs. Parents need to involve their children in the financing of these dreams. It is the racer's career and he or she needs to be involved and accept increasing responsibility for his or her future.
Make no mistake, training and racing plans need to be realistic and detailed. A coach or other knowledgeable individual needs to review the plan, at least annually. In addition, the plan had better take into account life's realities so that skiing isn't expected to exist in a fairyland free of distractions and complications. The longer a skier chases the dream, the more planning becomes a vital piece of success.
As a skier moves out of the junior years, the end-goal of all of this planning and training is to make him or her as self-sufficient as possible. "Appreciate help when you can get it; if possible never depend on it." Swedish cross country legend Sixten Jernberg said this over 40 years ago and it is absolutely the mantra by which the post-academic skier needs to live.
European skiers invariably are far more advanced in this regard than U.S. skiers, even today. It is a wonderful thing to be part of groups that exist to foster an individual's development as a skier. Junior teams, college teams, elite clubs, factory groups, national teams — they are all wonderful assets for any motivated skier. But, ultimately, success boils down to what an individual does — or does not do.
This is a really hard sport to pursue at elite levels; arguably the hardest there has ever been. Particularly in the U.S., there is little glory, little money, few bright lights, massive travel burdens, dark/cold places at the end of the world, common colds that wipe out a decade of hard work. Ski racers need to love what they do and, even with that love, need to have an iron grip on the realities and challenges they will face year after year.
I say all of this because cross country ski juniors now have access to so much information about training and national/international skiing that there is a distinct risk of mixed message overload. You can go on the 'net any month of the year and see incredible photos of elite skiers all over the globe. You can read wonderful tales of grit and glory. There's a rock star feel to all this information so it's easy to forget how fortunate those are that "make it." Very little is ever
said about the stone cold realities of life that confront all but the top handful of U.S. cross country elite skiers every year. In our sport, it's not just the physically strong that survive – it is strength in every facet of life.
J.D. Downing is the national director and editor of AmericanCross Country Skiers (AXCS). axcs@xcskiworld.com, www.xcskiworld.com