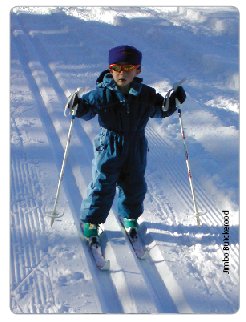 By Craig Isenberg
Skiers claiming to be as old as the sport itself, families with baby sleds in tow and young fitness conscious adults. With its chameleon-like ability to adapt over time, Darwin himself would get goose bumps at the diverse ways in which skiing changes to meet different needs. Check out any Nordic center over a three-day ski weekend, and you'll catch a glimpse into the adaptation.
Friday: The Old
Sputtering diesel fumes, propelling a wake of mud and slush, the bus halts at the door of our tiny Nordic center on the Cascades' eastern slope. Fridays bustle with the senior's club a full bus load, ranging from 60 – 85. They arrive for a full day of skiing the freshly groomed 25 km of trail before the weekend crowds arrive.
Varied skiers, some in the group have spent their winters cross country skiing since their early childhood; others are looking for a healthy new activity to get them outside with friends. As Friday is quieter than most days, the group adds a unique energy to the Nordic center. The diehards shimmy off the bus, grab their skis from the luggage compartment and head up the trail with scarcely a word. Others linger in the rental shop's warmth sipping steaming hot cocoa and discussing the latest trail conditions with the groomer just finishing his graveyard shift. If you linger long enough, you might catch some good "I remember when" stories. My favorite one starts, "If we wanted groomed trails when I was a kid, we had to ski the trails while dragging a fence behind us" Resembling a neighborhood ski swap, the rack outside the frosted shop window covers a full free heel spectrum from wooden skis still soaking in a fresh new coat of pine tar to this year's latest and greatest racing skate. As the skis silently debate technology, inside the wool knicker clad purists standing next to the lycra and spandex ensconced gear junkies deliberate on their route, who brought the best picnic food and whether now is the time to take up skate skiing. First time skiers sign up for a lesson and rentals while their friends offer sage words, "Trust me you'll love it." Whether a healthy lifestyle choice, a youthful passion for skiing or an excuse to socialize with friends, this Friday morning crowd embraces Nordic skiing in all its facets.
Saturday: The Kids
"Here he comes! Over there in the trees!" A burst of color emerges from the dense grove of Ponderosa Pine. Like a newborn colt, a fleece-clad boy stumbles on his skis out of the forest and takes a few wobbly strides to pick up downhill momentum. He launches himself towards the opponent's flag. Shifting his weight too far over his skis in an attempt to go faster, he struggles to regain his balance and flings his body backwards. Akin to a cartoon character slipping on a banana peel, he lands square on his back, disappearing in a white cloud. Hysterical laughter penetrates the frozen meadow as the snow settles around a half buried yard sale of skis, poles and body.
On a school field trip, these southern California eighth graders-many in their first snow explore Yosemite Valley in its winter splendor. A short ski lesson helps set the group up for success, but unlike adult lessons, demonstrating proper technique to 12 eighth graders is as practical as teaching sky diving while clients plummet back to earth. An alternate approach to the traditional lesson typically includes races, obstacle courses and on this particular occasion, a rambunctious game of Capture the Flag. Besides being made of rubber, a 13-year-old boy is fearless and willing to try anything especially in the presence of girls. Fierce competition engenders out bold acrobatics and crashes worthy of writing home.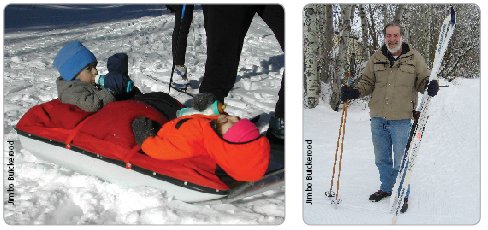 Away from the confines of the classroom and surrounded by Yosemite's granite walls, these ski equipped students develop an appreciation of the natural world while becoming reacquainted with something often lost-their seemingly limitless physical potential. With skis as a form of travel, play and exploration, these students leave the park with renewed self-confidence and sense of wonder in their surroundings.
Sunday: The In-betweens
Cold sears my lungs and stabs at my throat, as I gasp for breath. His figure disappears around the next turn in the trail. Was I gaining on him, or was it only an illusion? Mustering what little energy remains, I shift my weight efficiently over my glide ski-right, left, right, left. My poles mirror my weight transfer into an efficient V-1 uphill climb. If I could tighten the gap on the uphill, then he would be all mine on the next downhill, especially with fast snow and the wax gods blessing my skis with fluorocarbons. As Jimmy grows closer, I spot hints of tiring-his posture and the unmistakable backwards glance to size up the gap between us.
He crests the hilltop, tucks over his skis and is gone. Trailing only seconds behind, I reach the top, rally into a downhill V-2 and settle into a tuck. Cold wind bites at my ears. Hot on his heels, I wait for the right moment to pass. Branches whiz past. We jump-step a hard left turn into a long downhill pursuit. Snow slicing underfoot and heart thumping the mamba, a primordial instinct takes over. I taste the acidity of my oxygen deprived blood. Nothing else matters: I must pass Jimmy.
The trail opens up, revealing the parking lot ahead. It was now or never. "Ski harder, ski faster," I tell my legs, but they ignore my pathetic pleas. Jimmy breezes to a stop, as I skid past with a crazed-bug-eyed-gotta-pull-it-together look on my face. Lactic acid transforms me into a quivering, shaking, uncoordinated mass plummeting toward a snow bank. Garnering every morsel of remaining strength, I snow plow into an unruly parallel turn, lurch to an abrupt stop and slump helplessly to the ground.
"Nice one," wheezes Jimmy.
"Yah, (gasp) you (gasp) too (gasp)," I gush. Add some speed, sprinkle in a hint of danger and suddenly the ancient form of snowy transportation mutates into an extreme sport using almost every human muscle. With skate skiing, moth-balled woolly knickers are traded in for plastic, stretchy clothing with flashy colors, while fat touring skis are swapped for a springier, lighter distant relative. Not just for winter holiday family outings, Nordic trails see a free heel revolution led by a new generation of ultra marathoners, mountain bikers and kayakers (it is a water sport after all).
Behind an old, rusted Toyota pickup, I pull out of the Nordic center parking lot. Tailing the truck, I spot an old blistered bumper sticker barely visible through its mud encrusted exterior. Squinting, stepping on the gas, I close the gap between us. The sticker reads, "Free Your Heel, Free Your Mind." Chuckling to myself, I imagine an incarnation of Darwin preaching the cross country skiing word: "Free your heel, free your mind." I wonder at cross country skiing's diversity: Would our friends' twin babies enjoy getting pulled in a sled? Will the 80-year-old couple I taught last winter be skiing again this year? Would I still be skiing when I'm 80? Would I start wearing knickers? I wonder?