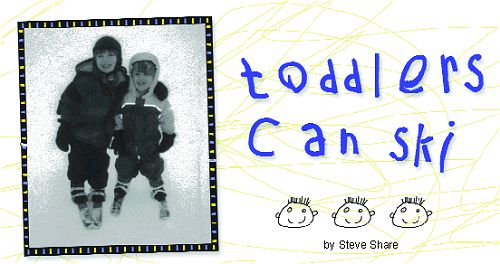 By Steve Share
"Ski-up-mountain," says my son Elan, age two at the time. In my dreams. In truth, we're only at Meadowbrook Golf Course, just minutes from our home in Minneapolis. Elan is riding in a backpack on my back, providing constant commentary as I ski laps on a route up and down some modest hills at the golf course's west side.
He's quick to exclaim "wheeeee" as we glide down a hill and then ready with his "ski-up-mountain" refrain when we climb the slightest rise. His excitement gives me a whole new perspective on local cross country skiing. "Now it's your turn," I tell him.
We're back near our car and I fetch a pair of polka dot, no-wax, 70-cm-tall skis with bindings that strap on over Elan's snow boots. First, we start out wearing just one ski—and that's both of us. "Let's go say 'hi' to that tree over there," I tell him. We shuffle along side by side, holding hands, skiing to a tree 15 yards away. "Hey, let's go say "hi" to that other tree over there," I say. Off we go.
After a while, Elan seems comfortable on one ski, so we put on our other skis. "Pretend you're a choo-choo," I say. "Ski behind me in my track."
"Choo-choo, choo-choo," and we're off.
A few minutes later, we're standing atop a drop of maybe three feet. Elan is in between my skis on his own two skis and holding on to my arms crossed in front of him. "Ready?" I ask. "Here we go." We gently push off, and we're gliding slowly down the hill in six inches of fresh snow. The drop is short, but our momentum keeps us moving for a good 20 yards. Elan is thrilled. "Again," he insists.
"Okay, Elan. Now we need to walk like a duck back up the hill." Holding hands, we quack like ducks and herringbone side by side up the hill. "Quack, quack, quack."
Teaching your toddler to ski can be fun—for your child and for you. If you're passionate about skiing, nothing can be more rewarding than sharing skiing with your young children from their earliest days.
Elan just turned five in October, 2004 and this ski season will be his fourth winter on skis. Make that six, if you count the winters I skied with him in a backpack for his first two seasons before he began skiing himself. Introducing toddlers to skiing is easy, but keep in mind a few simple tips:
Be Safe.While I cross country skied with my infants and toddlers in a backpack, that's not for everyone. If you're not sure you can ski safely with the extra (and sometimes wiggly) weight on your back, stick to only flat terrain like a ball field or frozen lake. An alternative to a backpack, invest in a pulk designed to pull kids. If you do try a backpack, look for a sturdy frame for you and a strap system to keep your kid secure in the pack. One advantage of starting off with your infant or toddler in a backpack: skiing becomes part of their winter experience right from the start.
Stay warm.Your body generates a lot more heat than the body of a small child riding in a backpack or skiing on his or her own power. Children should wear multiple layers—more than your own—and their skin should be covered from the wind. Don't skimp on warm gear for your kid. Those cheap boots or mittens from the discount store aren't going to keep their feet or hands warm. Besides, you'll get a kick out of buying that pint-sized Patagonia gear.
Monitor little ones' comfort level.
On a colder day, limit your time outside. If it's too cold, don't take them outside. On one trip to northern Minnesota in December, my wife Ronna and I spent a good part of the week taking turns skiing while one of us played in the lodge with Elan. We skied with him in a pack when the temperature was in the 20s or high teens, but when the temperature was any colder, we kept him inside for safety.
Make skiing fun. Choo-choo like a train when skiing in a track. Quack like a duck when doing the herringbone up a hill. Even bring a ball to kick around on the snow.
Ski in the summer. The summer just before Elan turned two, I put one ski on him (and myself), and we skied around our backyard. That way he could get used to having skis on his feet before adding the slipperiness of the snow and the cold weather
Start with one ski and no poles. Don't make the experience more complicated until they're ready for more. Add a second ski only when the child achieves balance on one. Add poles only when kids ask.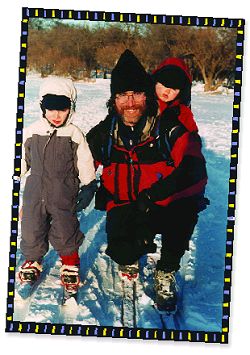 Limit the time.The season I started Elan skiing at age two, a typical outing involved a short drive to that nearby golf course, a half hour skiing with him in a backpack, and a half hour with Elan skiing on his own skis. Over the years, with my other kids, I've regretted days when I was too ambitious about terrain, time or distance and I ended up with tired, crying little skiers.
Bring snacks.Raisins or other dried fruit and a thermos with something warm to drink can be a real hit and provide extra energy to pint-sized skiers. On a nice day, plan a snow picnic: ski to a picnic table in a city or state park, clear the snow off the table, and enjoy.
Read stories about snow and skiing all year long. We have several favorite books about winter, one featuring a family ski outing, which we read throughout the year, and I'll tell bedtime stories about ski outings. To get kids thinking about skiing, I'll often talk about the change of seasons: "Remember, after summer, the days will get shorter, the leaves will turn colors and fall off the trees, it will get colder, and then one day, we'll look outside and… snow will be falling! Then what will we do?"
The kids will shout back: "Go skiing!"
Steve Share is the father of three sons, who all started cross country skiing at age two.