Wisconsin Committee Pushes for Trail Funding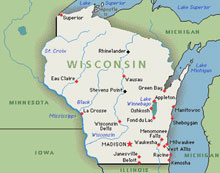 Creation of a non-motorized trails council within the DNR is one goal of the state of Wisconsin's special legislative committee on recreational trails. The committee includes four state legislators and eight members of the public.
The group's latest meeting, on December 5, 2008, laid out three priorities to enhance non-motorized trails in the state.
The first proposal would provide the same trespassing protection to public lands that private lands now enjoy. The law would be aimed at snowmobiles and ATVs trespassing on trails reserved for non-motorized use.
The council also proposes creating a permanent non-motorized trails council with the state Department of Natural Resources.
The third proposal would create a $10 million per year trail maintenance fund. Money would be moved from the Department of Transportation budget and is equal to 1 percent of the motor vehicle fuel tax.
The language for trail maintenance specifically mentions "funding for volunteers who help to maintain trails," and "providing for cross-country ski trail grooming" as priorities for funding.
"This is why the letters and testimony from skiers were so crucial," says committee member Charlie Dee of Milwaukee. "If this were to be adopted into law, we've set the basis to argue that cross country ski trail groomers should be reimbursed according the same formula that snowmobile groomers are, which is around $250 per mile, according to the director of the Association of Wisconsin Snowmobile Clubs."
The committee will meet again in January to finalize the language for the proposals. The information will then go to the Wisconsin legislature and to the executive branch.
"None of this will become real unless passed by the legislature and signed by the governor, or by being included in the governor's budget and not taken out by Joint Finance," Dee said. "You also know the Road Builders Association is one of the strongest lobby forces in Madison, and they aren't going to just give up $10 million because we look good in lycra."
Dee encouraged skiers to contact their legislators, or the governor's office, to support these ideas.