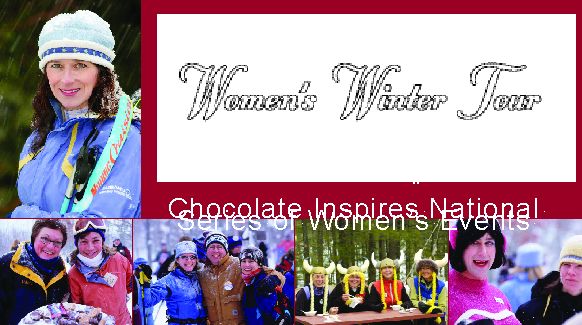 Kaye Krapohl loves winter. She also loves chocolate…so much so that her friends call her Choc-Kaye-late. With the combination of winter and chocolate, Krapohl spawned a unique women's outdoor event. For the past seven years, Krapohl has dedicated her talents to convincing women to join her in winter and get outside gliding in the Women's Winter Tour, which has grown to eight events from the Northeast to the Rockies.
Meet the Woman
Growing up downhill skiing at Pine Mountain in Michigan's Upper Peninsula and a Fine Arts student at the University of Michigan, Krapohl put her athletic compulsions into triathlons. While training for Hawaii's Iron Man, an ankle injury halted her running. "The best things happen by accident," laughs this feisty brunette, "so I took up cycling." By the time she was 25, she competed at road racing's national level, but racing at the top started to steal the fun out of the sport. When she and her husband moved to Traverse City, Michigan, she discovered that you can't bike year round. That's when she turned to cross country skiing.
Primarily self-taught, this gifted athlete excelled quickly. Nordic skiing became an easy transfer for her racing spirit: She entered the North American VASA in Traverse City after only one year of skiing. Krapohl recalls, "I skated on Jarvinen combi skis with bamboo poles and came in 25th. I cried. But I still loved it." Within five years, she was the overall female winner (1996), an achievement she would repeat in 1999 while serving as President of the North American VASA race organization. Five times from 1994 to 2000, she also finished as top female in the White Pine Stampede's 20 kilometer freestyle.
Women in the Outdoors
By 1996, Krapohl also taught skiing. That's when she locked in on how women approach sports differently than men. Krapohl believes, "Women are often more self-conscious, and that attacks their athleticism." Once they relax, however, she found women adapted easily to skiing. "A woman's sense of rhythm and dance along with a lower center of gravity, gives us a natural aptitude for the sport." She adds, "Women are actually better skiers than they take credit for."

Still, she struggled with how to get women over the barriers and addicted like she was. "I knew what skiing had done for me," says Krapohl, "and I wanted to get my girlfriends outside too, but they'd tell me 'I don't like winter,' or 'It's too cold.' I needed something to show them how fun it would be." Then, in 1999, she got an idea driving home from a Wednesday night women's ski lesson. "I was calculating how the 600 calories I burned in an hour on the trail meant I could indulge in my favorite winter treat, a rich cup of hot cocoa," Krapohl recalls. "Then I started to think: I can't be the only woman who skis for chocolate."

The result was a Traverse City Women's Ski Tour that would celebrate women, winter and, the key ingredient, chocolate. Naysayers tried to discourage her, saying she'd never attract enough women to make it a success. "The only model at the time for a cross country event was a race," she remembers. "We couldn't even get 20 women to enter the VASA." But Krapohl didn't want a race. Her target women didn't share her competitive nature; in fact, they were the same women who shied away from wearing spandex at aerobics class or dreaded being the klutz of group activities. "That's why skiing is the perfect democratic sport," she contends. "It doesn't care what size or shape you are; it only cares if you are smiling."
Using her graphics talents, she created "Sassy," a lighthearted female icon surrounded by 1960s style flower-power snowflakes that communicated her "warm up to winter" philosophy. She tagged the event "the Women's Ski Tour: Celebrating Women, Winter and Chocolate." With no hint of competition, the message was all about fun, "and food," reminds Krapohl.
She chose Super Bowl Sunday and lined the trail with snack stops. Even on that football holy day, she had no trouble finding men to serve soup and sweets. "Women give, give, give," says Krapohl. "By having men serve the food, it was clear to the women that this was a play day just for them, kind of like 'winter recess.' They didn't have to prove anything. Plus, you didn't want to rush because you'd miss all the treats."
Her image and intuition worked. The first year 200 women skied with her on the VASA pathway. "These were women I'd never seen before." She adds with a grin, "Leaving a trail of Hershey kisses can work."
That year, the Women's Ski Tour (WST) won an award from the Governor's Council for Health and Fitness. The next year participation doubled to 400. "We had 200 women sign up the day of the event," remembers Krapohl. Since then, the tour's success built steadily.
Community and Charity
In August 2003, about when Krapohl considered expanding the WST, she met Sandy Spoelstra, a community leader looking for ways to promote fitness in Marquette, the largest city in Michigan's Upper Peninsula. "When I heard Kaye explain the tour, I didn't relate until she said, 'chocolate.' That was it," admits Spoelstra. "It's amazing how powerful that word can be. It sets the tone, and right away attracts women. They'll try something and get involved. It makes the right package."
Marquette was a sure fit for the WST and with local event managers like Spoelstra, Krapohl also accepted invitations from Winter Park, Colorado, and Waterville Valley, New Hampshire. It was a courageous move because in the midst of ending her marriage, she also had to quit her job as a marketing manager and graphic designer to apply full-time energy to the expansion. "I knew the magic of the event would work in other locations," says Krapohl, "but it wasn't until I read the quote "What would you do if you knew you could not fail' that I decided it was now or never."
Again her intuition paid off. After the 2004 WST, the event spread to seven cities across the U.S. and Canada. Krapohl also launched the non-profit organization Active Women Now, Incorporated. Although the WST is aimed at one weekend, Krapohl and her army of volunteers hoped it would spur lasting lifestyle changes. "It's not just about skiing. I want to see women stronger, pushing the boundaries and connecting with each other and their communities," confides Krapohl.
Krapohl's triumvirate is the three Cs: community, charity and chocolate. So in addition to chocolate, community and charity became focal points. As a former president for the Traverse Area Recreation Trail, Krapohl believes in the benefits of an area trail network; from the beginning she used the WST to increase support for community recreation. In Marquette, proceeds from the tour help developments on the Noquemanon Trail Network. But at 42, Krapohl also knows a deeper challenge faces many women and their children; thus, the WST's top mission is to raise funds and awareness to help end domestic abuse. According to Krapohl, "We have more dog shelters in this country than women's shelters."
By encouraging women to be active and outside, she hopes to build their confidence in a safe non-competitive environment. "When women feel good about themselves, they connect," says Krapohl. "And by connecting at the community level, we're raising awareness about what it means to be truly healthy."
Fitness and fun aren't exclusive to women in the Snow Belt, nor is domestic violence. According to the National Institute of Justice and the Centers of Disease Control and Prevention, one in four women in America will experience domestic abuse during her lifetime. Those numbers haunt Krapohl and compel her to keep growing. In a move to reach host cities farther south, and to hedge against poor snow conditions, she expanded the tour to include Nordic walking and hiking. With expansion the name changed to the National Subaru Women's Winter Tour (WWT) which in 2006 will include eight events in five states engaging an expected 5,000 women. "The tour is now the largest winter sporting event exclusive to women in the United States" says Krapohl, who in addition to Subaru has also enlisted Fischer, Tubbs, Isis, Swix and Choice Hotels to her team of sponsors.
With the Women's Winter Tour, Krapohl shows how one person can make a difference. "It starts small," she says. "You get one woman to make a healthy choice to get outside, and from that you keep building on healthy choices. In the end, you've built the base of a healthy family, and that's the secret to healthy communities."
Frida Waara is a lifelong skier living in Marquette, Michigan where she writes about skiing and serves as Midwest president for the North American Snowsports Journalists Association. She also promotes ski history and serves on the board of the U.S. National Ski Hall of Fame and the International Ski History Association. In addition to skiing the slopes and forests of the world, she was the first woman to ski to the geographic North Pole in April 2001.
For more information on the event and to register for the 2006 Women's Winter Tour please visit www.womenswintertour.com.