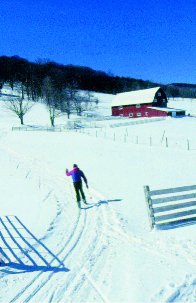 By JOHN PIEDMONT
First question: Is this is going to be a good year?
"It's started out to be the best season ever… the people, the weather, the business."
In this man's world, every year is a good year, but some just have better snow. Such is life at Whitegrass Touring Center, 3,200 feet above sea level and roughly four hours from Washington DC.
The man in question is Chip Chase, a highly active, very happy Nordic fanatic who launched the operation back in 1981. He and a few others had started a Nordic venture in western Virginia in 1978, but the spotty snowfalls pushed them west. On one trip to meet friends they came across the base lodge and single slope from the Mountain State's very first downhill enterprise. Thus was born Whitegrass, named for a mountain near Harrisonburg, Virginia, where the idea started.
Chip has run it with enthusiasm and savvy year after year, through winters good and bad, from spectacular seasons in the nineties to last season's long warm spell that limited skiing to just seventy days. This season, they were skiing on Thanksgiving Day. By mid-December, they've had thirty inches of snow.
How to Run A Business and Have the Time of Your Life
The laid-back aura at Whitegrass is deceptive. What appears to be an amorphous collection of folks going about various chores and manning counters in the lodge is really a well organized and tightly run operation. Chip is the driving force, and freely admits that one of the centers greatest strengths is his personality, vision and enthusiasm. You can't really separate him from the business; they're one in the same: "We mix our lifestyle totally with the business. We can't do this without the rural setting, without being self-employed."
The business plan is simple: minimize expenditures on things that don't count, maximize investment in things that do count, make the best out of what nature provides. Own some land, lease what else you need. And when the snow is on the ground, get out there and ski on it. Ski on it the instant there's enough. Ski on it as far into the spring as you can, just to say you did. Set up fences to catch every windblown flake and groom the drifts flat.
The natural capital is a prime tract in West Virginia's Canaan Valley, home to larger resorts like Canaan and Timberline, and the Nordic concession at Blackwater Falls State Park. (It's easy to find on a map; the sharp southern tip of western Maryland points right at Tucker County.) Terrain and altitude combine to make sure that the valley gets snow when the big storms come up the east coast (if it's raining in Washington DC, chances are it's snowing in Whitegrass).
Capital is one thing, but the people are what make Whitegrass hum. Chip credits the staff as being key to the success. To say that the staff are like family is, well, to admit that some of the staff are family, and the rest might as well be. "I work with my best friends, I work with my wife, I break all the rules!" Some of his original partners are still with him today.
The other folks who pitch in are locals, ski enthusiasts, friends. They come out when needed and go back to their own homes and farms and projects when there's no snow. They are all friendly, completely at ease and helpful. Spot one of them out on the snowfarm at work on various chores and ask, "Hey, what am I doing wrong with my skating stride?" and you will get a few minutes of pointers and tips, and probably not even a subtle hint to sign up for a lesson.
Never Ski the Same Trails Twice
What all these folks created and work so hard to maintain is a touring center that offers something for everyone. Chip and his crew maintain 50 kilometers of trails up and down the side of a mountain—including the single, vestigial run from that old downhill operation—and around a large meadow, forming the "snow farm." The snow farm is the ingenious harnessing of little snows to pile up big drifts. They string hundreds of meters of flexible fencing to catch windblown flurries. Old cast-off skis jammed into the earth hold up the fences. The snow piles up against the fences, Chip and the gang go out and groom it down: instant base, no need for snow guns.
Backcountry types can get away very quickly to connect with other trails or explore the famous Dolly Sods (see sidebar). Families of novices can glide along on groomed tracks while the faster set can skate all day long. Telemarkers can tackle the long downhill run and several glades back in the trees, like Yitzhak Ravine and Boutros-Boutros Gully. Says Chip; "There are thousands of combinations of trails. You never ski the same trails twice."
A Day in the Life
With a full work schedule, I'm a day-tripper when it comes to Whitegrass. When a rare day off comes along I'm off. I live south of Washington DC, near the Quantico Marine Base; the trip to Canaan Valley is about four hours one way, but it's worth every minute.
Before I leave, I begin by scanning the weather link at their website—www.whitegrass.com/report.html. There's plenty of good information in other sections, but this is where you'll find the daily conditions. Don't expect a staid accounting of inches of base snow and expected accumulation. Stand by for a fire hose of information, mild chitchat, wild expectations, all replete with fish-eye lens photos, and some great raw emails from devoted fans. Creative capitalization and nonstandard spelling vie for your attention in a wild, stream-of-consciousness delivery of news and forecasts. For the uninitiated, it's a great preview of the place and its proprietor.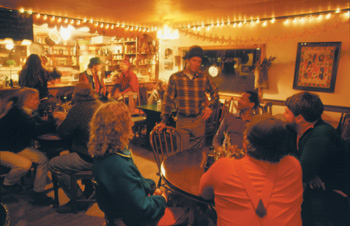 My standard day trip to Whitegrass begins with a shakedown on a corner of the snow farm to rouse my rusty skating skills. Then I'll try a full loop around the meadow to see if I can concentrate enough to skate properly the entire way. A brief respite, and then it's up the mountain on Three Mile Trail. Lunch in the café, a few minutes to dry sweaty clothes and read a chapter in whatever book I brought, and I'm back out again. As for the afternoon, maybe a lesson, maybe nothing in particular.
Whitegrass offers boundless possibilities beyond the marked trails and snowfarm loop. A check of the calendar of events on the website offers a list of activities like full moon skiing, tours of the Dolly Sods and other points of natural interest, telemarking and skating clinics, races and more.
Just Get Out There and Ski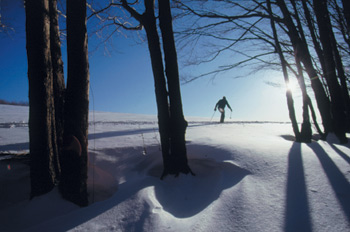 As for facilities, this is a lean operation. But to say that it's humble is to do it an injustice and overlook its charms. The lodge is a one-story wooden structure housing cashier, rental shop, retail shop, waxing room, café and restrooms. A woodstove and human bodies supply heat. The staff knows what has to be done, and you can be pretty sure of getting in, getting your pass and rentals, and being out on the trails in a matter of minutes.
The sparse appearance of the lodge belies its capabilities. The rental shop offers a great selection of all sorts of Nordic gear. Same thing goes for the retail side. They rent good equipment and they sell good equipment. They are happy to demonstrate the gear you are interested in buying. Also, they have a great used gear selection, and a clever trade-up program for children's skis to help keep the family skiing together. Paying $175 gets your son or daughter a full set, which they can trade up for free as they grow up.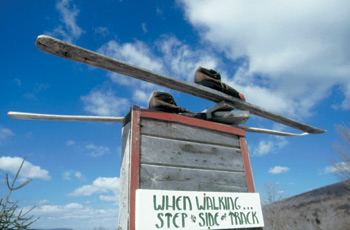 The café is worth the trip alone; you could legitimately say that you are going there to eat but might do some skiing while you wait. In keeping with the eclectic nature of the place, no two chairs are alike; silverware may or may not come in a matching set. But the food is out of sight. The bill of fare is advertised as "ethnic vegetarian cooking" but I spy some flesh creeping into this season's entrees. Anyway, it's all good. It's everything you want for Nordic ski fuel—hot, cheap, plentiful and good. Dinner is offered a few nights a week, by reservation only and those are often hard to get. Menus are posted on the website.
Are there any drawbacks to Whitegrass? No, not really. Yes, maybe I'd like to have a little more room to relax by the woodstove after lunch. Yes, it would be nice to have a room other than the restroom to change in. This isn't what you'd find at, say, one of the big name resorts in New England, but this isn't New England. At Whitegrass Touring Center it's all part of the fun. It's Whitegrass gestalt. And who cares? Just get out and ski.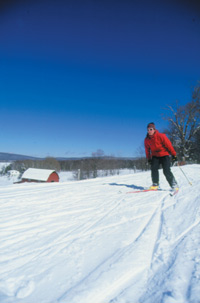 Chip Chase has big plans for Whitegrass improvements. First in line is a biathlon competition, Whitegrass style. Skiers will come up to the firing point, grab an air rifle stowed there, fire one string, dash to the next point and fire again, then once more after that. Targets are pie plates. "We want to use the same course, and keep a running score of times," Chip says. "It gives people something different to compete at, instead of just racing." They tried it last year, on a small scale, and apparently it was a hit: "The kids loved it."
Anything else on the drawing board? " Yes. Perfecting what's there. I have a lifetime of work ahead of me," says Chip with absolutely no hint of remorse. In fact, he can't wait to get started.
DOLLY SODS:
I must admit this is still on my to-do list, but a major attraction in Canaan Valley is the Dolly Sods. This oddly named place is apparently one of the best backcountry excursions around, a land unto itself, more like Canada than West-By-God Virginia. Read all about it at the US Forest Service's website:
http://www.fs.fed.us/r9/mnf/sp/dolly_sods_wilderness.htm. Note that this was a live-fire training area in World War II; heed the warnings on unexploded ordnance.
GETTING THERE:
There's a good directions link on the Whitegrass website, but no matter which way you come you need to plan ahead. The weather changes rapidly in the mountains and conditions can get marginal quickly. Also, the alpine resort traffic can clog up the roads. Just budget enough time and be careful because these are rural roads. You will be treated to some unforgettable scenery, like the spectacular Seneca Rocks. The main Whitegrass website also has a section on lodging.