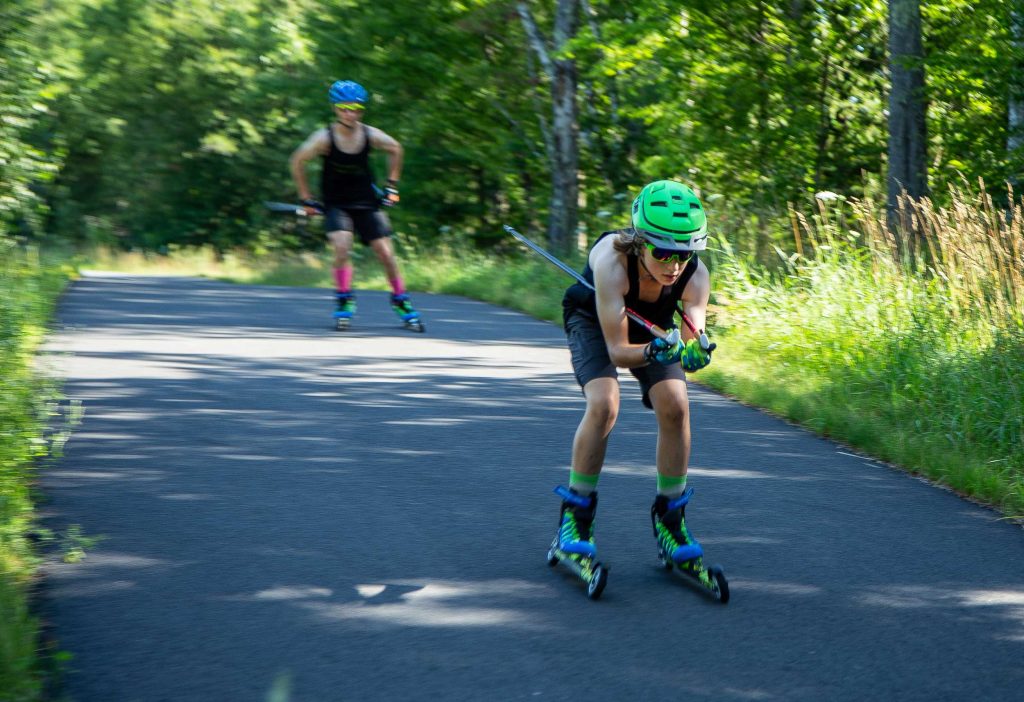 Next to being on snow, rollerskiing is the best type of training for cross country skiing. There are even summer-long rollerski race series like this one in the Midwest or these in New England. How to choose a model that suits your ability level and training needs? We rounded up a group of Vermont-based Nords to put a selection of rollerskis through their paces. While cruising the asphalt at Craftsbury Outdoor Center's rollerski loops and on paved country roads, testers evaluated the skis for stability, tracking, dampness (were they chattery or smooth?), swing weight (were the skis nimble and quick or did they take longer to manuever?) and ski feel (compared to a Nordic snow ski). Here's what they found, to guide you in finding the best rollerski for you.

Fischer Speedmax Classic
$500 (medium), $490 (stiff)
Fischer's top-of-the-line classic rollerski was a favorite among testers, getting top marks in all categories. "I don't believe any rollerski can replicate a classic snow ski, but this was as close as I've ever felt," reported one experienced ski coach. The Speedmax has full carbon construction and a slight upward bend designed to increase clearance while creating a more realistic flex. Testers were also impressed with the ski's straight tracking ability. "The front wheel comes back under you where it's supposed to be and has no wobble," said one, while another raved, "As good of tracking as a classic ski ever had."

Fischer's aluminum RC7 Skate aims to balance performance and cost. A balancing act is never easy, but testers had high praise for the ski. "Fast, smooth and very stable," said one, while others gave high marks for the ski's stability. One tester thought the ski tipped over too easily—Fischer says it has 40 millimeters of ground clearance—commenting, "stability was okay, but generally too high of a stack height." Nonetheless, this tester was impressed by the ski's feel, calling it similar to that of an actual Nordic ski. The RC7 Skate combines above-average dampness with a manageable swing weight to create an easy ride; "felt good for an intermediate comfort level" on rollerskis, said one tester.

Aimed at recreational rollerskiers, the aluminum RC7 Classic FR received positive feedback from testers, who appreciated the ski's noticeable lightness and easy turning ability. "It's hard to come up with negatives because the skis are so smooth and balanced," wrote one. The RC7 Classic also earned high marks for tracking, stability and dampness, with one tester appreciating the relatively low 25-millimeter ground clearance. "A solid ski that I would recommend to any skier—beginner to advanced," enthused one tester. Said another, "For its price point, a very good classic rollerski."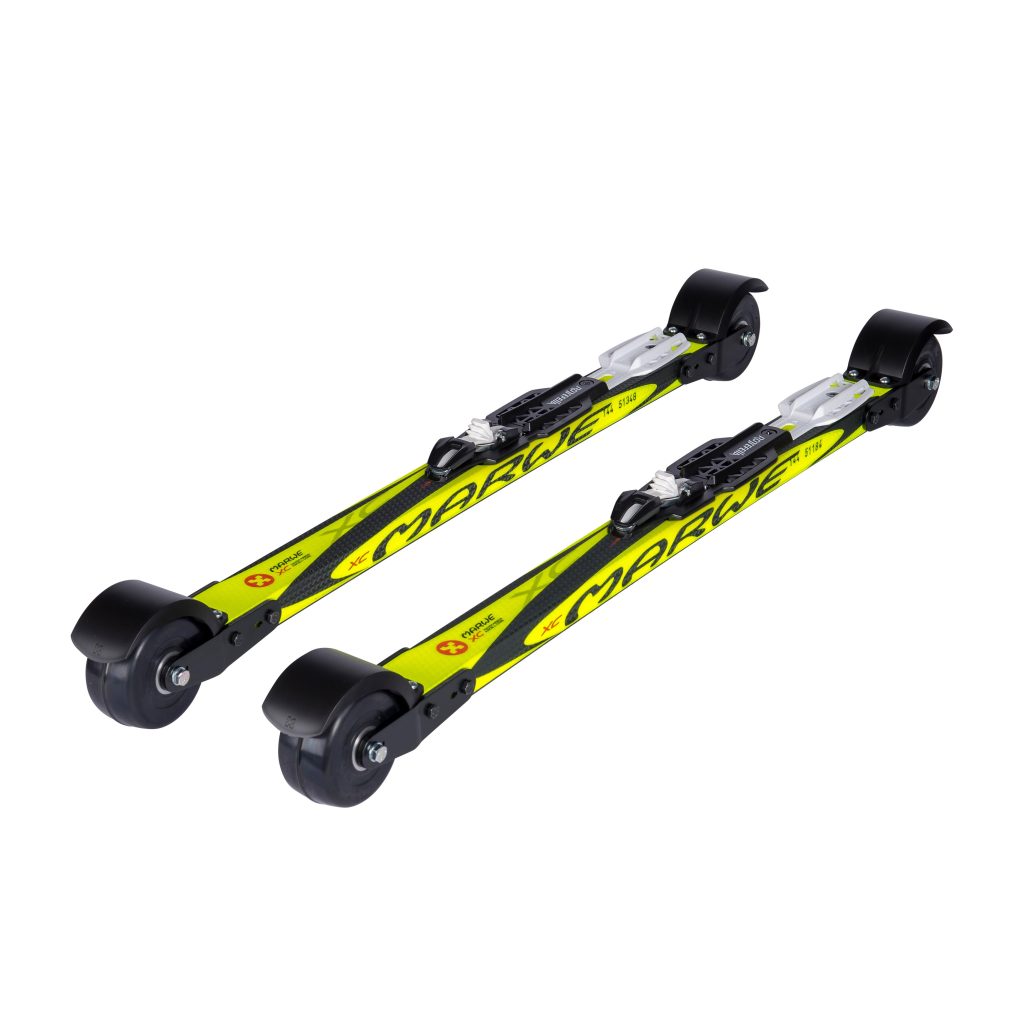 Finnish brand Marwe specializes in rollerskis, and this model's composite wood construction resembles a Nordic ski's build for a similar flex and to give the feeling of being on snow. Most testers agreed, ranking it high for ski feel. A noteworthy feature: the rubber wheels are available in five variations, each with a different level of resistance, to accommodate everything from racing to slow rolls for power training. Some testers found the skis noisy—"they chatter constantly when moving," wrote one. Testers also varied on stability and maneuverability. For example, "very wobbly on corners," wrote one, while another termed the ski "very light and easy to maneuver around corners."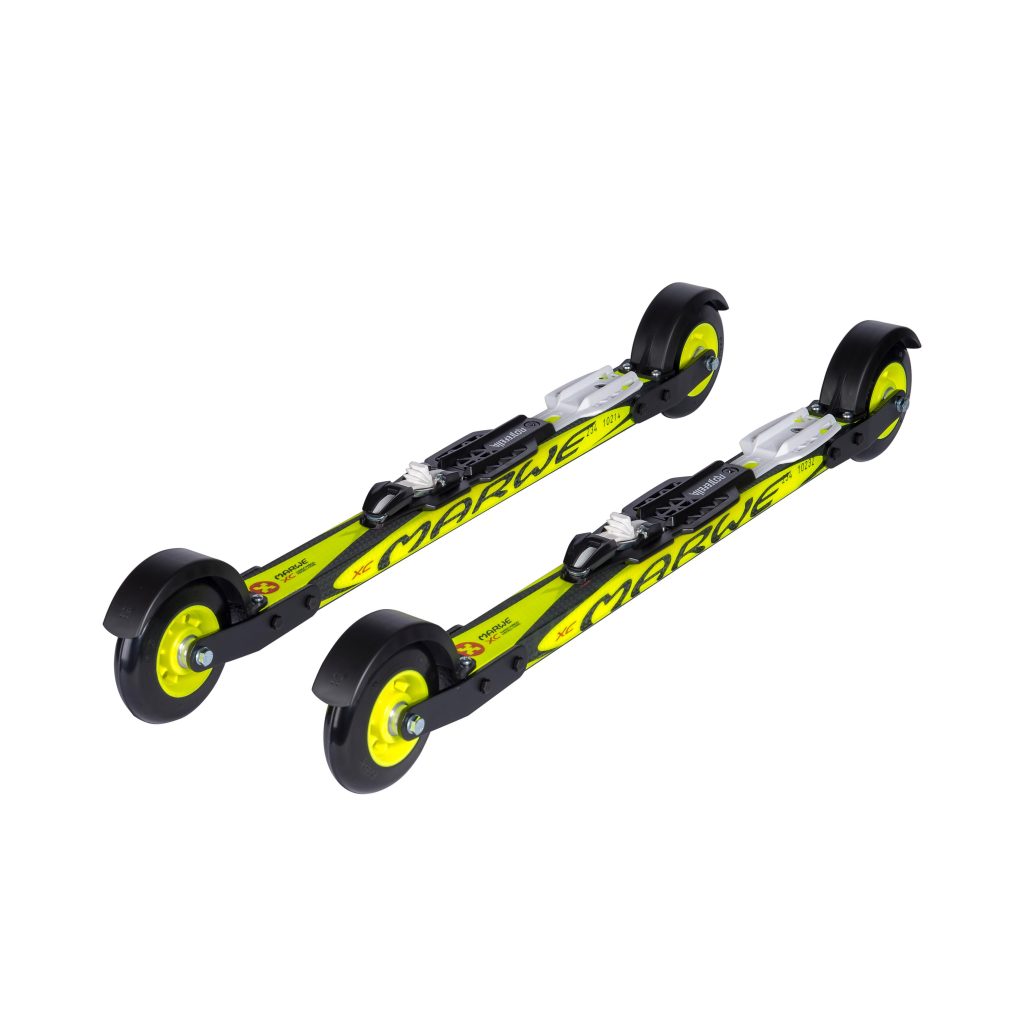 "Most everything was positive" about this wood composite carbon ski, commented a tester. Like Marwe's Classic 700 XC that we reviewed, this ski is constructed similarly to a traditional Nordic model for enhanced snow-like feel and dampening. "Felt like they absorbed more chatter than other skis I tested," noted one tester. Another, a collegiate racer, said the ski provided a "super smooth ride" that "felt like being on snow." As with many Marwe models, the ski has five urethane wheel options that range in level of resistance. A tester who found the ski "a bit wobbly" attributed it to slight ridges on the brand-new wheels, which would wear off with use.

Pursuit Fork Flex Elite (skate)
$310
The Fork Flex line aims to replicate a snappy, snow ski–emulating pop through a proprietary spring steel fork that connects wheel to ski. One tester called these aluminum rollerskis with rubber wheels "really smooth" while another noted "they feel very similar to Nordic skis." Yet another tester praised the ski's "agility" while finding that the stiffness that makes the ski nimble meant it didn't absorb the bumps in cracked pavement. All testers commented that the ski felt heavy, but, overall, they agreed that the Fork Flex Elite is a do-it-all ski that could increase one's confidence while rolling and won't blow the budget.

Pursuit Fork Flex Elite Extra Flex (skate)
$320
A new addition to the brand's fork flex family, this aluminum ski features a single-arm fork designed to increasing flex while maintaining strength. Pursuit calls this model ideal for skiers under 170 pounds. Indeed, one lighter tester appreciated the new design, noting the ski was not as chattery as other, beefier rollerskis. "Very similar to an actual skate ski in terms of feel," wrote a tester. Overall, reviewers gave the highest marks for tracking and stability. A veteran rollerskier called the Extra Flex a "beginner-friendly rollerski" that was easy to balance on. Heavier testers did find some limits to the flex, reporting that it didn't absorb as well for them on variable asphalt.

Swenor Fiberglass Cap (classic)
$380
Norwegian rollerski brand Swenor calls this wood-and-fiberglass ski a bestseller, and our testers could see why. "Love it," summed up one. According to their feedback, the ski absorbed all chatter and tracked almost perfectly straight while imparting a Nordic ski–like feel. "Super smooth and very well balanced," said a tester, and another praised the rear ratchet for activating quickly and accurately. One nit-pick: testers found the skis (at 2,150 grams per pair) a bit heavy. A skier who described the ski as "higher off the ground and narrower" than some others deemed it best for intermediate to advanced rollerskiers.

Swenor Alutech (classic)
$360
Testers were split on the performance of this aluminum ski, sharing comments that were decidedly less enthusiastic than those for Swenor's Fiberglass Cap rollerski. "The ski runs fairly smoothly, and the wheels track pretty well," said one tester, "but it feels heavy and short, not closely resembling a Nordic ski." Another tester observed that the ski "tracked decently but not perfectly straight." Overall, testers recommended this model for those newer to rollerskiing ("the slow speed would be ideal for a novice rollerskier," wrote one) while steering more advanced rollerskiers to higher-performing options.

Despite being the heaviest (1,900 grams per pair) of Swenor's skate rollerskis, this wood-and-fiberglass model felt "light and quick," said one tester. Reported another, "I loved them—great ski feel." The ski earned strong scores overall for stability and tracking, as well as a nimble swing weight. The one thing that rattled testers—literally—were the optional speed reducers that came pre-attached to the test skis. "It was nerve wracking to have loose pieces chattering around," a tester commented. Our advice: go without this add-on feature.

Price isn't always indicative of a ski's performance. Case in point: this well-priced aluminum rollerkski, which is also the longest skate model (630 mm) in Swenor's lineup. "Very fast and easy to move around and put under me," said one tester. "Super-smooth, light and balanced," raved a reviewer, while another praised the ski for being "solid and stable, with a good natural feel." Despite the length, our testers gave high marks to the ski's light swing weight, as well as its dampness, stability and tracking. One tester pointed out a "weird noise" that came from the front wheel during push-off but said it didn't affect performance.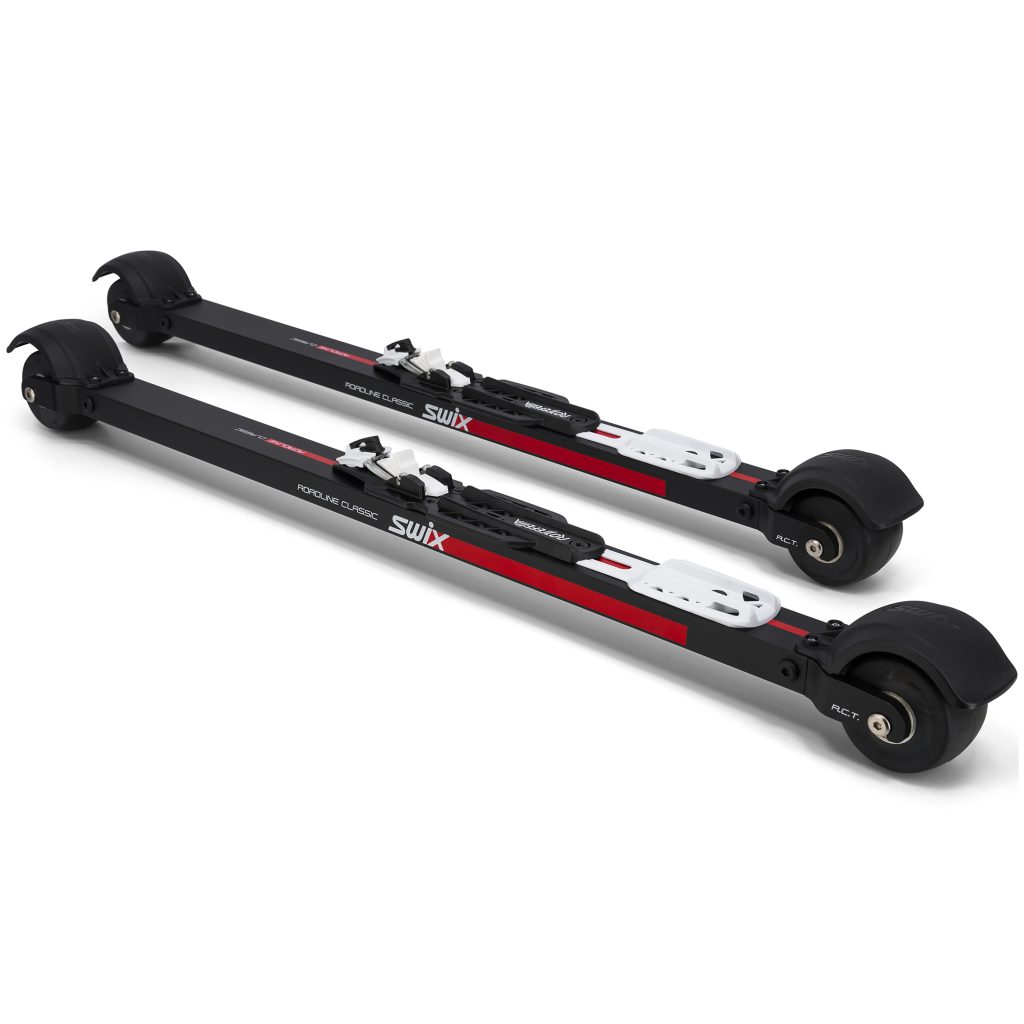 This redesigned model in Swix's rollerski lineup offers an aluminum counterpart to the brand's older Triac Carbon Classic. Testers gave the ski high marks across the board, citing, especially, its stability, tracking and dampness. Compared to its previous version, the ski has 30 percent more torsional stiffness, says Swix, thanks to a hollow, U-shaped frame and a new fork. The axles and wheels were also redesigned. One smaller tester thought the ski (790 mm) felt a bit long. But overall, as one tester who is a ski coach put it, the Roadline Classic is "pretty solid—good tracking, stable and smooth feeling."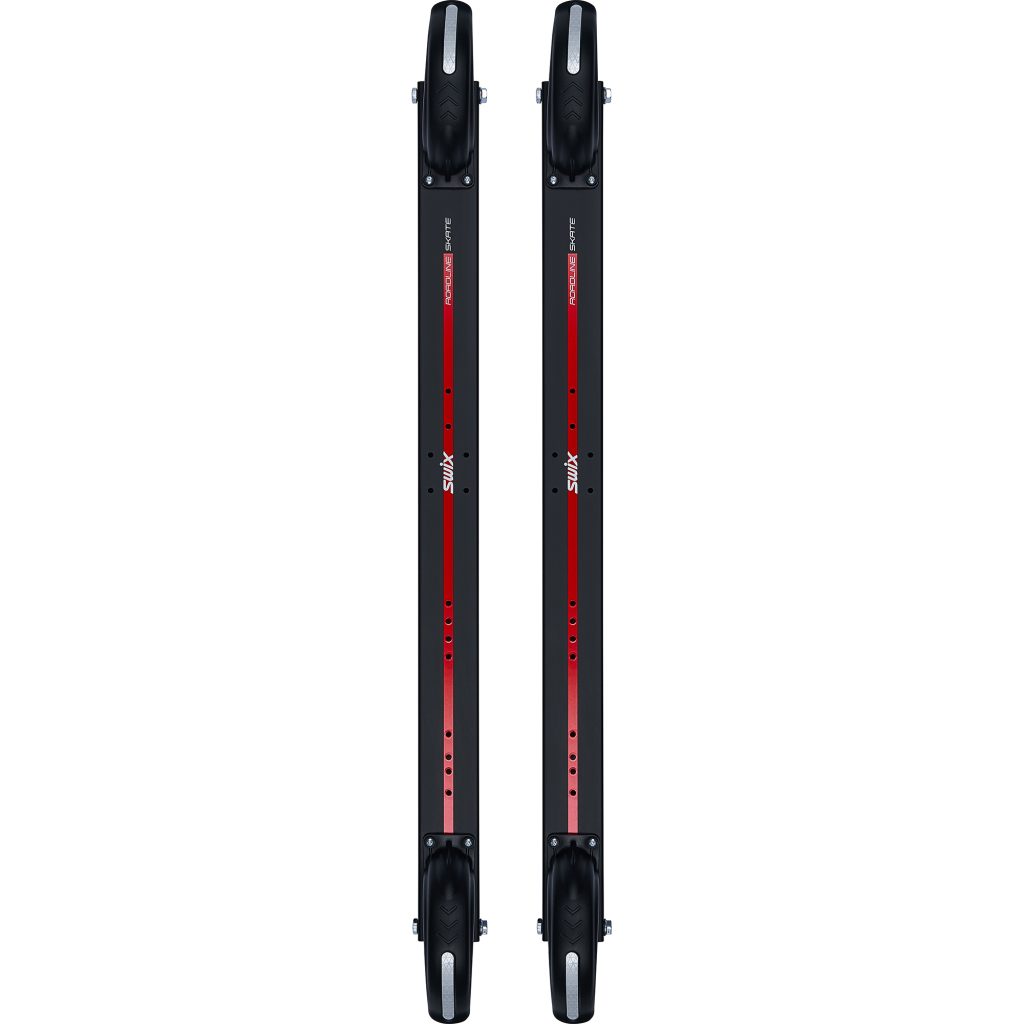 The Roadline Skate provides a lower-cost alternative to Swix's top-of-the-line carbon skate rollerski, with an aluminum frame and new lightweight wheels. But don't discount this easy-to-use ski's versatility—Swix markets it to anyone from professionals to recreationalists. In general, our testers agreed, describing the performance as smooth and light, with good stability. One well-versed rollerskier deemed the stack height too high, resulting in a ride that "feels tippy." One tester found parts of the ski "rattly," and another termed it "very chattery." All testers praised the ski's above-average tracking ability, which allowed for long, straight gliding.

V2 XLC98 (skate)
$359–369 (depending on wheel selection)
With a carbon-composite frame and a wood core, this new lightweight ski garnered mixed results. Some testers praised the ski's stability, dampness and tracking, while others found those elements lacking. One tester noted that it was hard to maintain long strides on the XLC98, as the ski had a tendency to roll inside (though tracking can be adjusted on the shock-absorbing wheel forks). V2 offers four types of rubber wheels for the ski, as well as optional brakes and speed reducers. Advanced testers would have been more comfortable on steep downhills without the brakes, however, feeling that the added weight and required backseat body position counteracted the ability to slow down.

V2 XLC920 (classic)
$399
Like its new skate sibling, the XLC920 has a wood core, carbon-composite frame and shock-absorbing wheel forks, with brakes and speed reducers as add-on options. Scores for stability, dampness and tracking varied; "the ski feels quite stable and tracks well when on both skis," said one tester. This model comes with medium-speed rubber wheels (faster or slower replacements are available); testers thought they felt a little slower than similar wheels from other brands so recommended this ski for beginner to intermediate rollerskiers or those looking for a higher-resistance workout. A front ratchet wheel is designed to emulate the kick of on-snow classic skis, although one seasoned rollerskier noticed a slight hitch when striding uphill.