You've got the day off work. You wax your skis and arrive early at your favorite trail, only to learn the grooming report you checked before you left home was decidedly out of date. The tracks are under six inches of fresh snow. You feel frustrated because you could've started later in the day. And you don't know if you'll face the same conditions at two nearby trails.
This scenario could be a thing of the past thanks to Nordic Pulse, a two-year-old, GPS-enabled app that provides real-time grooming reports at more than 175 Nordic trail networks across Canada and the U.S. It's the brainchild of Julien Locke, a former member of the Canadian National Ski Team. "I want to make life easier for skiers and bring as much information as possible into one cross country platform," says Locke.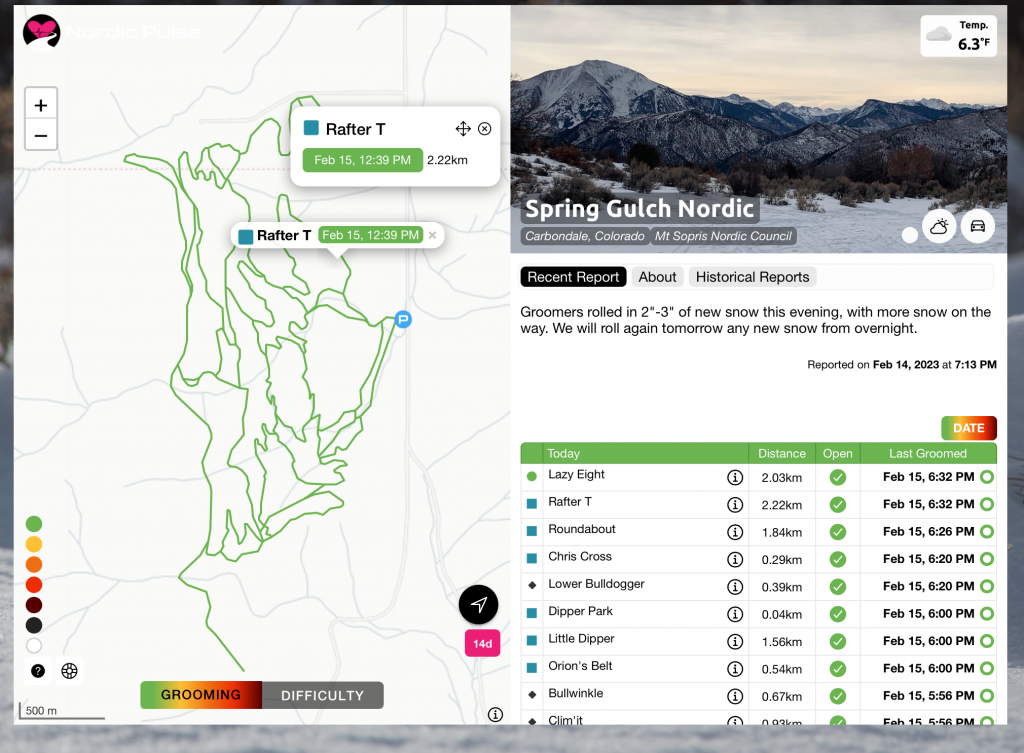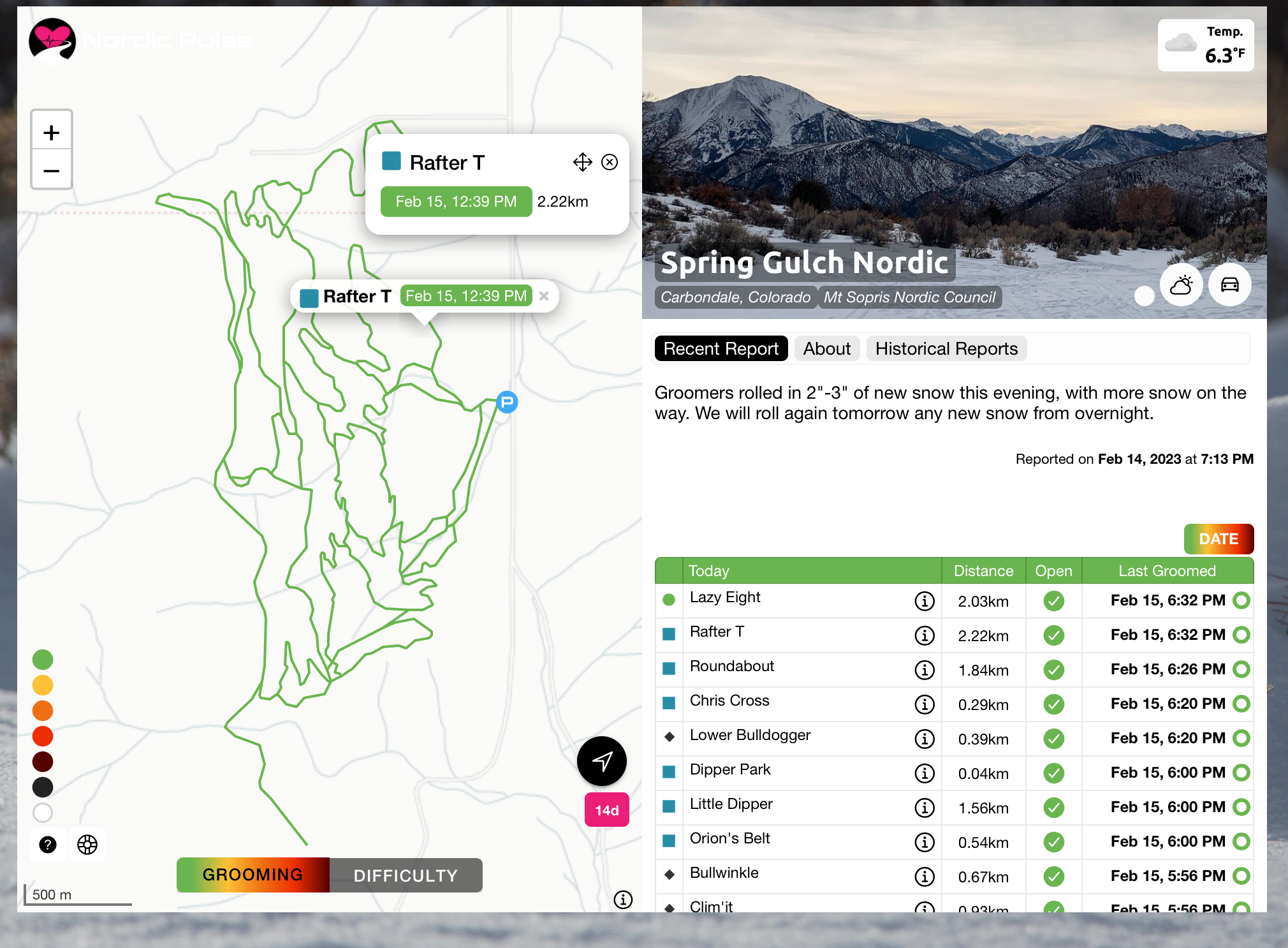 As a website and app developer who was working with several ski clubs, Locke knew firsthand the challenges of communicating with groomers after they've been working all night and of then getting that information to skiers in a timely way.
In simple terms, Nordic Pulse works by aligning a GPS tracker with an extremely accurate online map of a trail system, allowing skiers to follow groomers in real time. The groomers carry a phone and pick up GPS data points every 20 to 30 meters as they work. The data points then sync automatically through cell service, or via WiFi at the end of the shift, with the online maps.
A groomer's progress results in a green line on the map, indicating that the trail was maintained that day. The grooming equipment itself appears as a pulsing dot as it moves around the trails. Yellow trails mean grooming was completed in the past one to three days. Different colors indicate other time periods, with six categories in all. In addition to the color-coded map, a list of individual trails or trail segments is organized by day and time of grooming, and groomers can add notes or make changes manually.
Crested Butte Nordic operations manager Kevin Krill touts the app's adaptability. "Some of our 50 kilometers wander through open terrain, and we might change the layout during the season. The Nordic Pulse support team gives us a fast turn-around on mapping, so we're able to get that information to skiers right away. And we can sync on the go during a storm and skiers can follow the groomer."  
In addition to helping skiers better plan their day, Nordic center operators appreciate the app's functionality. Says Dan Cantrell, trails director for the Bridger Ski Foundation, "This is brilliant for our operation. We're decentralized; we groom at seven sites and move equipment around. It's a lot to keep track of." Bozeman skiers like it, too. "Right out of the gates, feedback from our ski community was extremely positive." 
Is Nordic Pulse suitable for small trail systems? Absolutely, says Isaac Cowart, director of operations for the 22 kilometers of groomed track at the WinMan Trails in northeastern Wisconsin. He finds Nordic Pulse useful for skiers and groomers alike. "We don't want people to be disappointed, and nothing is better than getting live information to skiers," Cowart says. WinMan uses two groomers—one for the skate deck and another to set tracks. "Our groomers can find each other by looking at their phones; they can wait at intersections to meet up," he continues.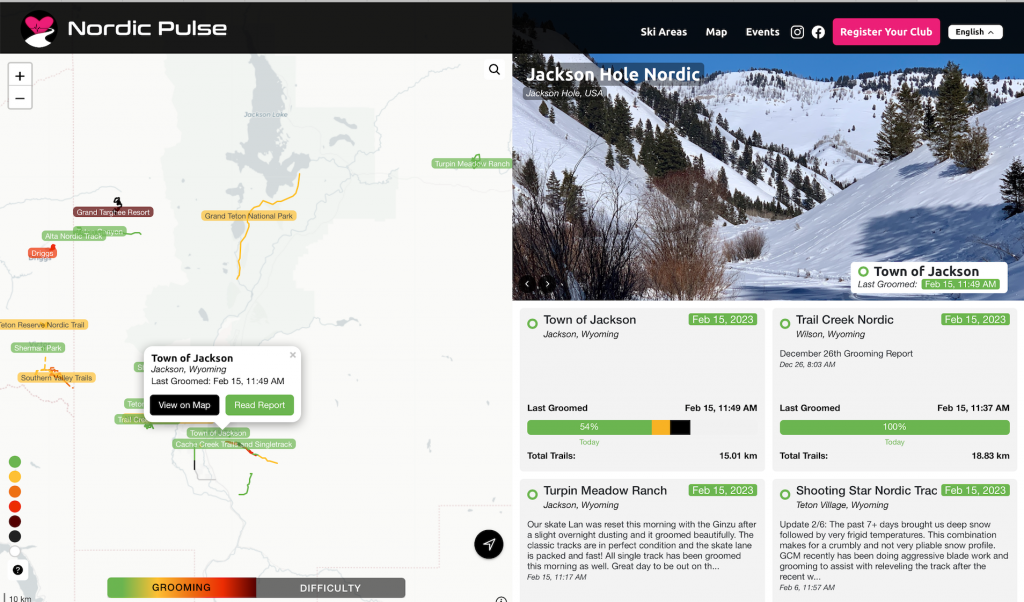 Currently, skiers can access grooming reports at the Nordic Pulse website or on the websites of trail systems that have embedded a Nordic Pulse map. A beta version of a smartphone-based app is also available for testing with the full release coming soon.
On a recent 40 degree Fahrenheit weekend on the American Birkebeiner trails in Wisconsin, high school and middle school Nordic championships, the Pre-Birkie classic and skate races, and the North End Classic all used different sections of the trails. In search of freshened-up trails on a cold Monday morning, I checked the Nordic Pulse app on my phone to confirm overnight grooming. An in-person spot check offered up glistening, forgivable corduroy, and firm tracks as far as I could see under bluebird skies. As the app had indicated, green means go.