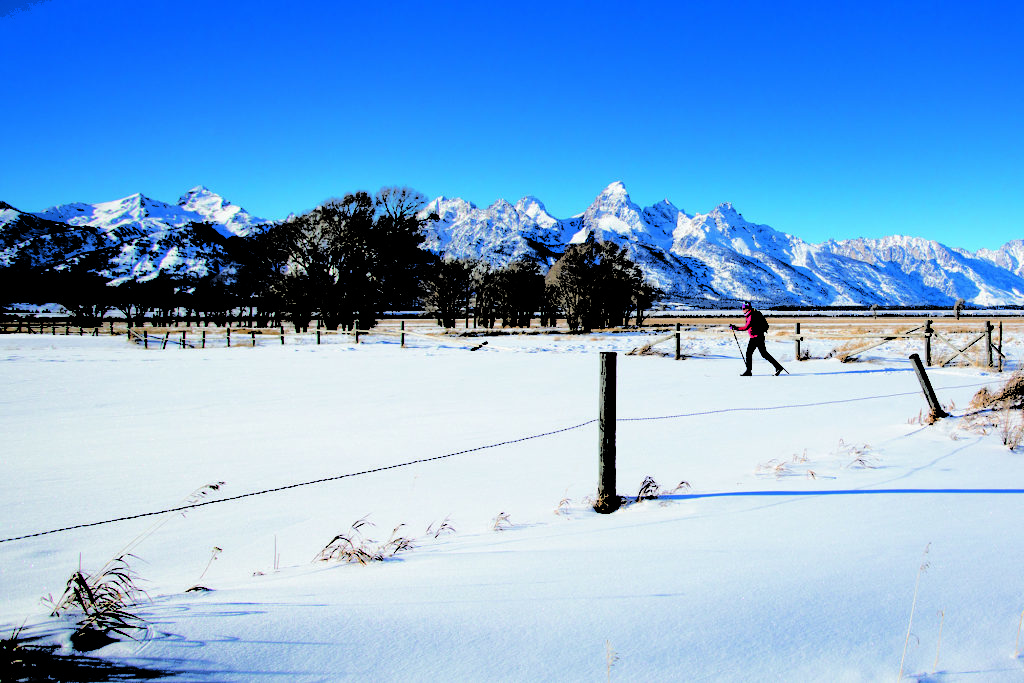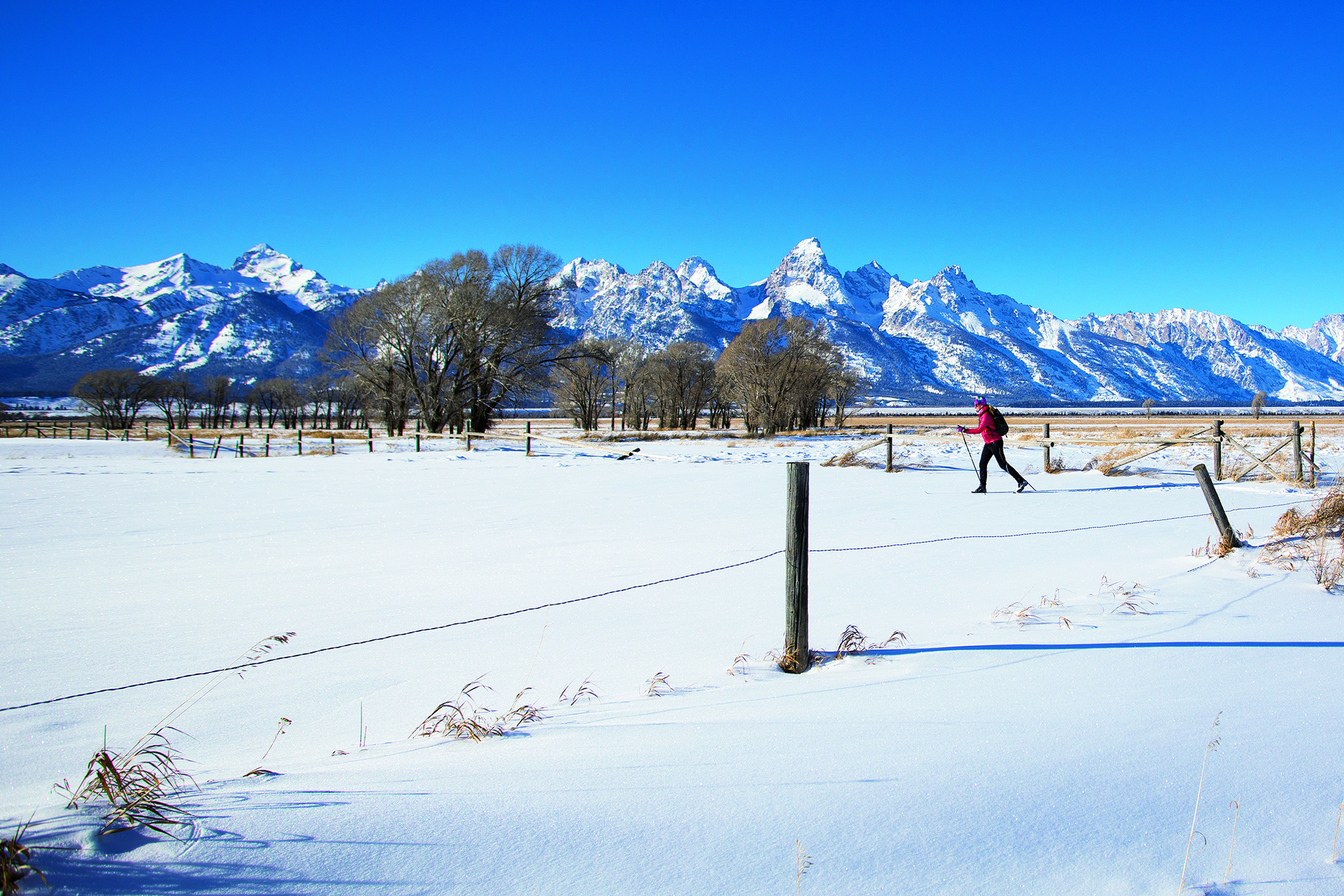 A plane touching down at the Jackson Hole Airport is crowded with skiers, riders, and other visitors waiting to catch their first glimpse of Wyoming's toothy Teton Range, which stands seemingly a stone's throw away from the runway. The same backdrop of jagged peaks patterned with steep couloirs and rocky deposits is part of what makes this iconic mountain town so special. The region is known worldwide for Jackson Hole Mountain Resort, its incredible alpine skiing and riding, Grand Teton National Park and alpine climbing. But Jackson's cross country skiing opportunities are not nearly as well-known.
The town of Jackson, and neighboring municipalities and wild areas are steeped in history and a culture that is distinctly western. Local establishments like the Cowboy Bar—the interior of which is mostly constructed from the highly recognizable knotty pine—and a town square featuring an archway made entirely of antlers are representative of the town's vibe. Jackson locals undoubtedly influence the culture, too. But the natural landscape sets this region apart from other ski destinations. The Tetons thrust upward from a fault-line roughly 10 million years old and stand in stark contrast to the valley, marked by the winding Snake River.
Phil Leeds, owner of the full-service ski shop Skinny Skis, was drawn to the landscape of Grand Teton National Park in the early 1970s. I met Leeds during a stay in Jackson this past spring and quickly learned that over the years, he has seen how skiing opportunities in region have both developed and remained consistent. "While the popular trailheads haven't changed much since the '70s—the number of backcountry skiers has grown, probably ten-fold," he observed, later during a phone call. "Technical advances in gear, clothing and avy safety equipment have driven much of this—as has people's passion to explore more terrain." Groomed and performance skiing, Leeds said, has evolved too in the Jackson area. He primarily credits two organizations, the Jackson Hole Ski Club and JH Nordic, with beginning this evolution.
According to Leeds, the Jackson Hole Ski Club has driven youth and competitive engagement through its comprehensive programs that enlist more than 100 kids each season. The Ski Club teams range from kindergarten and beginner levels to a competitive junior program that races on the national level. The club's training facility is Trail Creek Ranch, which is regarded as the first ski center in the valley to offer "quality" groomed trails.
JH Nordic is an alliance of shop, lodge and resort owners/operators, community members and corporate sponsors that advocates for cross country skiing in the Jackson region. One of the organization's main operations is grooming a trail from the Taggart Trailhead to Signal Mountain in Grand Teton National Park. In the past, the National Park Service maintained and groomed this trail in the winter, but in 2013 the Park Service wasn't able to consistently budget the funds it needed to maintain the trail during the winter. JH Nordic stepped up, supported by local businesses, resorts and corporate sponsors, to help direct funds to the Grand Teton National Park Foundation and resume a regular grooming schedule. Now, Park Service employees once again groom the trail twice per week through the winter.
"The GTNP Foundation is the key park partner that raises funds to assist with strategic projects." explains JH Nordic Alliance Director Nancy Leon. "In the case of winter Nordic trail grooming, they receive a Wyoming Recreational Trails Program grant for part of the funding and donations from local organizations, donors and enthusiasts to cover the cost of grooming. It's a fantastic public-private partnership."
Most of the locals, along with touring center owners like Cross Country Skier Photo Editor Cody Downard, acknowledge that the groomed opportunities in the park, and the view of its eight peaks over 12,000 feet, are what draw most cross country skiing tourists to the area. "Jackson is just a great destination for tourists." Downard says. Along with his wife Colleen, he is the owner and operator of Teton Pines Cross Country Ski Center. "Skiing in Grand Teton National Park is awesome, plus, Yellowstone is close by."
The Tetons and Yellowstone are what first drew me to the area too, and I've been fortunate enough to be back several times. The 310,000 acre piece of conserved land that is Grand Teton National Park is left mostly untouched and pristine—with the exception of some homes that were grandfathered within the boundary. Had the land not been preserved in 1929 (and later merged with the Jackson Hole National Monument in 1950) who knows how far the ranches and developments would have sprawled. But when I was in Jackson last spring, clouds for most of the trip socked in the mountains. I asked Leeds about this, wondering how often the sun is shining on the majestic peaks. "Almost all the time," he responded with what seemed like a smile in his voice. "Probably 80 percent of the time it's sunny." Even without sunshine and a clear view, Jackson's skiing merits a trip to Wyoming. In order to make planning where to ski, stay and visit less daunting continue reading for some tips compiled over the course of a few trips.
DUDE RANCHES, GOLF COURSES AND PUBLIC LANDS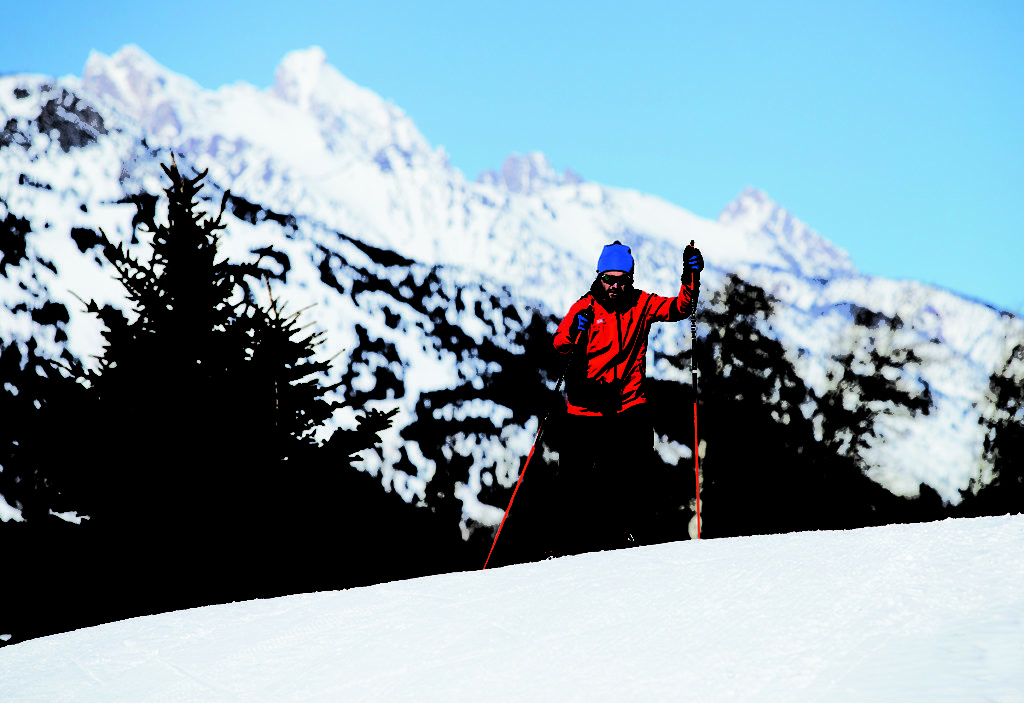 As is typical in a Western landscape, the Tetons and Teton Valley are not a densely populated area once you get beyond the city limits of Jackson, with its year-round population of 10,532, a figure that is higher (and likely wealthier) in the winter. The skiing opportunities fit this mold, too. Within Teton Valley there are essentially three groomed ski centers—Trail Creek Ranch, Teton Pines and Shooting Star. Located in Moran, Turpin Meadow Ranch, a multi-seasonal dude ranch in the Bridger Teton National Forest, offers 20km of groomed skiing. Due north of Jackson, about 25 minutes by car, the National Park Service grooms and sets a track leaving Taggart Lake Trailhead in Grand Teton National Park.
Trail Creek
Wilson, Wyoming
Trail Creek Ranch, home to the Jackson Hole Ski Club's Nordic Program, offers a 15km loop groomed daily for both skate and classic skiing located right off of Highway 22 at the base of Teton Pass. Trails cross both U.S. Forest Service and private land, with daily trail passes available for $15. Each February, Trail Creek hosts its annual Moose Chase Nordic Ski Race—dubbed a 30km that skis like a 50km.
Teton Pines Cross Country Ski Center
Wilson, Wyoming
Owned by Cody and Colleen Downard, Teton Pines Cross Country Ski Center is the winter operation that takes over the Teton Pines Country Club beginning in November each year. Sixteen kilometers of flat to slightly rolling terrain (typical of golf course skiing) makes Teton Pines an attractive center for beginners who want to soak in the Teton views just above the valley or catch a glimpse of Dick Cheney's Wyoming home just off track. Trail passes can be purchased for $17 daily, and rentals are available.
Shooting Star Nordic Track
Teton Village, Wyoming
Another golf course, Shooting Star provides 15km of groomed skiing at the base of Jackson Hole Mountain Resort. The most expensive option in Teton Valley, a daily trail pass costs $35. The clubhouse is located in the private, gated community of Shooting Star. Unlike Teton Pines or Trail Creek, one trail at Shooting Star is dog friendly.
Turpin Meadow Ranch
Moran, Wyoming
Home to 20km of groomed trails (accessible with a $15 day pass) Turpin Meadow Ranch also abuts virtually endless backcountry touring options in Bridger Teton National Forest. The terrain at Turpin varies from flat, open fields to steep, advanced-level wooded trails. Fat biking and snowshoeing are also allowed on the property, and rentals are available. From its Moran location, Turpin Meadow greets guests with a different view of the 13,770-foot-tall Grand Teton than any other ski destination in the area—the peak's northern face.
Grand Teton National Park
Moose, Wyoming
Grand Teton National Park offers two groomed routes, both leaving the Taggart Lake Trailhead. One is groomed to Jenny Lake (a nine-mile outing) on Tuesdays, and the 28 miles between Taggart Lake Trailhead and Signal Mountain are groomed on Fridays. Grooming consists of a wide skating lane and two parallel tracks for classic. A walking, snowshoeing and fat biking lane is also groomed off to the side. While skiing in the Park, guests are positioned directly below the Tetons the whole time. The terrain is as flat as it is free to use.
WHERE TO LAY YOUR HEAD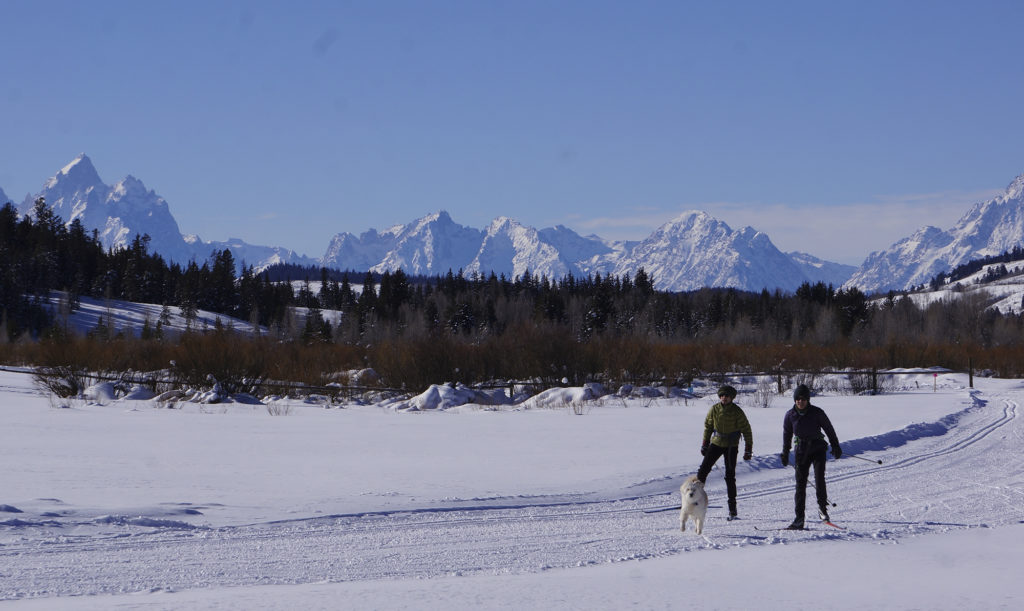 Turpin Meadow Ranch
Moran, Wyoming
For a park-the-car-and-leave-it-until-your-flight-home ski vacation, or a trip where all you want to do is ski and relax, Turpin Meadow Ranch has both covered. This dude ranch was settled in the late 1800s by Dick Turpin and, in 1932, turned into the area's first guest lodging ranch. In 2012, after Turpin Meadow was put up for sale at auction, Hans and Nancy Johnstone purchased the property and revamped the guest experience, which now specializes in fly fishing and horseback riding in the summer and groomed Nordic skiing in the winter. Turpin can sleep 52 guests, and prices start at $149 per night for a single occupancy room. Ungroomed skiing in Bridger-Teton National Forest is plentiful, too.
The Alpine House Lodge & Cottages
Jackson, Wyoming
The Alpine House Lodge & Cottages, located in downtown Jackson, is a small inn with distinctly European style and atmosphere. Its location makes it an appealing option for those wishing to stay where there's more of a nighttime scene, as it's well within walking distance to restaurants, bars and concert venues. The Alpine House promotes itself as "run for and by people who share a passion for the mountains." Among others, amenities include a "chef-prepared" breakfast, beer and wine bar, guided ski tours, a small spa, free use of bikes for riding around town. Queen bedrooms start at $175 per night and queen bedroom cottages start at $270 per night.
Teton Village
Teton Village, Wyoming
Home to Jackson Hole Mountain Resort, Teton Village is a small tourist town about 20 minutes from Jackson's Town Square. It is its own microcosm of lodging, dining and recreation, though—aside from Shooting Star Nordic Track one-quarter mile down the road—the recreation is mostly of the alpine variety. Lodging in Teton Village is primarily hotels and condos rented out by owners or associations. The Inn at Jackson Hole is one of the less expensive options in the Village, with rooms starting at $144 per night (midweek in January). Prices quickly rise for higher-end properties like the Teton Mountain Lodge & Spa, Snake River Lodge & Spa and the Four Seasons Resort.
NEIGHBOR TO THE NORTH — WEST YELLOWSTONE, MONTANA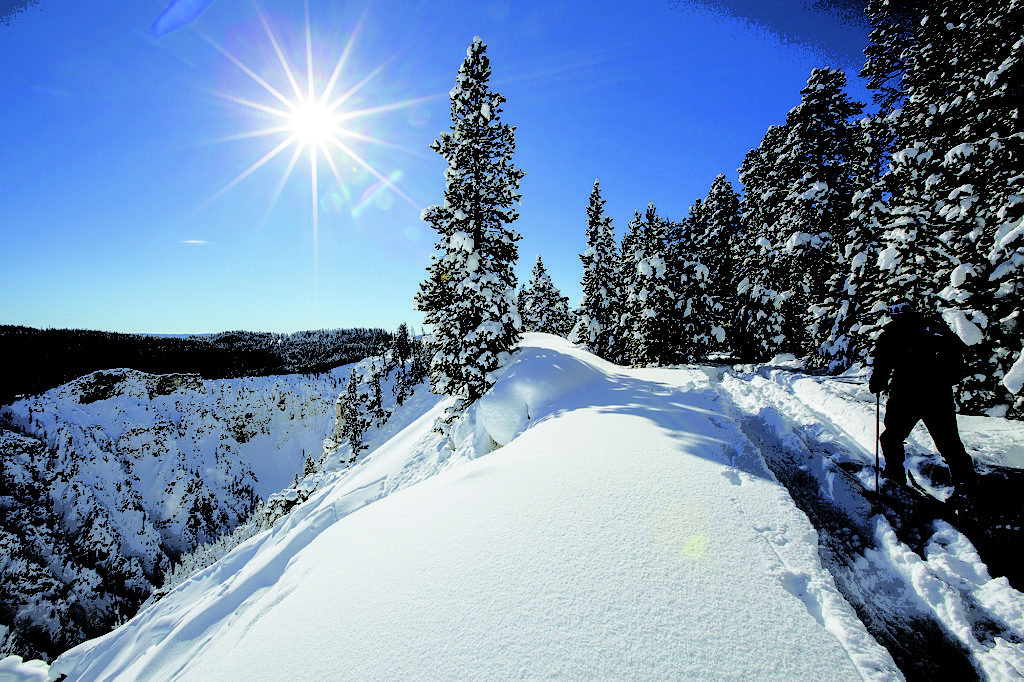 West Yellowstone, Montana, lies 127 miles north of Jackson, just on the other side of Yellowstone National Park. The route through the park is closed in the winter, forcing travelers to go through Idaho, which is about a two-and-a-half hour drive. A day trip from Jackson—albeit an all-day trip—West Yellowstone offers significantly different terrain than the Teton region.
Rendezvous Ski Trails is the primary ski venue in West Yellowstone, right at the edge of the National Park. All of the 35 kilometers of groomed trails are located on National Forest land and are maintained with support from the National Forest Service, West Yellowstone Chamber of Commerce and the West Yellowstone Ski Education Foundation (WYSEF).
The chamber describes the terrain as "gently-rolling and beautifully-groomed trails that wind through tall stands of lodge pole pine and open meadows." Day passes to the Rendezvous Ski Trails cost $8, and a season's pass costs $40.
Rendezvous Ski Trails is also home to the Yellowstone Ski Festival, one of the largest ski gatherings in the country. Each November, during Thanksgiving week, skiers flock to the town to attend demos, clinics and presentations from many of the industry's largest manufacturers and World Cup-level athletes.
Aside from the Yellowstone Ski Festival, WYSEF also hosts several elite-level ski and biathlon races throughout the season, including a U.S. Super Tour event. The season is capped off with the organization's Rendezvous Ski Race. The 2019 race will take place on March 2, and includes 2-, 5-, 10-, 25- and 50km distances.
Outfits like Yellowstone Expeditions operate ski tours inside Yellowstone National Park, using converted vans outfitted with snow tracks to bring guests to a yurt "camp," that serves as home base for four-day guided tours.