In another big stride toward gender equality, the women on the FIS Cross Country World Cup finally had a chance to race 50 kilometers. And it happened at the "Super Bowl" of cross country ski races: the Holmenkollen Ski Festival in Oslo, Norway.
"It was so, so cool to finally get to do this race," said Jessie Diggins, who placed third, after a thrilling sprint at the finish, behind two Norwegians: Ragnhild Gløersen Haga (2018 Olympic champion in the 10km freestyle) and Astrid Øyre Slind (skiathlon bronze medalist at the recent 2023 World Championships). "I've been wanting to do this for my whole career. It absolutely is the right message that we want to send to young girls all over the world: you work just as hard as the guys, you should get to race the exact same races.
"We got a chance to show we absolutely can do it," added Diggins, as if there was ever a doubt.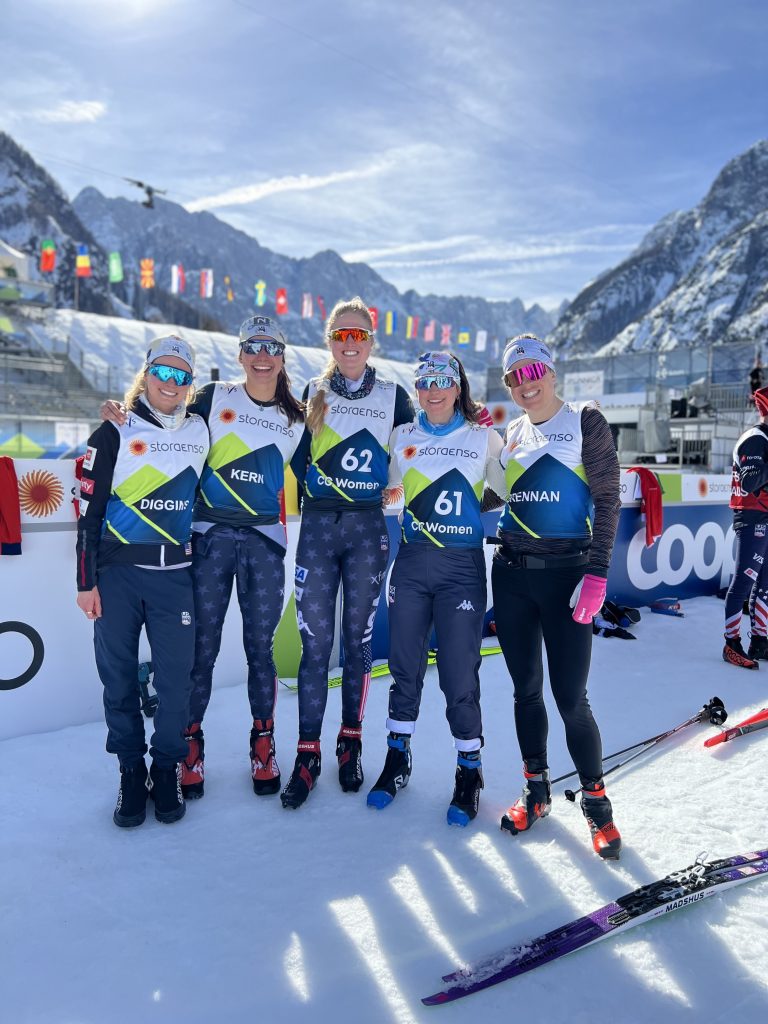 The main tactic the women had to figure out was their food intake—how much and what to eat, and when. Diggins refueled with electrolytes regularly during her 2-hour, 13-minute, 36-second race but still cramped around 25km, "which is pretty early on in a 50km," she noted.
"But at the same time, I approached it the way I approach the pain cave," Diggins added. She reminded herself, "I know that I'm going to feel [pain] during a long race—this is not unexpected. I'm not going to panic. I'm just going to focus on what I can control and do the best that I can."
From how Diggins raced—leading for much of the way—viewers likely had no clue that she was spelunking in the pain cave. Coming into the final stretch, she led out the sprint. But Haga and Slind got their skis across the line first, with all three women finishing within a half-second of each other.
Afterward, Rosie Brennan, the next American finisher, in 13th place, admitted she wasn't feeling at her best for much of the race and struggled with her skis, too. But, she said, she was still "excited and honored to be part of this historical moment where women were able to do 50km—and not just 50km, but 50km on the hardest course we race." Brennan remains fourth overall in the World Cup standings.
Hailey Swirbul and Alayna Sonnesyn finished 25th and 30th, respectively, and although they wanted to race better, soaked in the atmosphere. "There were so many American fans out there," said Sonnesyn, a four-time American Birkie winner. "It was really, really cool to see and hear my name being cheered out there because I kind of feel like I'm no one. But they knew my name, and they were cheering for me!"
Swirbul was excited to check "race 50km" off her goal list. But the event gave her new perspective, too. "My coach calls these long-distance races, the 'races of royalty,'" she said. "That really sums up what this feels like to me. A race like a 50km embodies the spirit of Nordic skiing as a whole and what it's really all about. It's about going into the woods, covering a lot of ground as fast as you can and being supported by a really amazing community."
Shushing the Naysayers
The women's Holmenkollen 50km was also a race within a race—with six sprints for bonus points that could be used toward the overall World Cup title.
Diggins is in a tight battle for her second overall title with Norway's Tiril Udnes Weng and Finland's Kerttu Niskanen. The six bonus sprints meant a maximum of 90 points was up for grabs, plus more points for finishing well in the race.
Each lap, Diggins, Weng and Niskanen sprinted for the extra points. In the end, Diggins earned five of six sprint wins, collecting 87 bonus points, which gave her a total of 177 World Cup points after her third-place finish. With Weng and Niskanen finishing the 50km in seventh and eighth, respectively, Diggins had whittled her gap to the overall from 134 points down to 87 points behind Weng.
In 2021, Diggins won the first overall World Cup title for a female American cross country skier.
Should she surpass Weng in the final races of the season and hold off Niskanen, Diggins would shush the naysayers who claim that she won the 2021 title only because the Norwegians sat out much of the World Cup tour that year due to the pandemic.
Only two days after the 50km, Diggins tried to gain more points in the Drammen World Cup classic sprint. But a crash in the quarterfinals put her in 21st place. "I was actually really pleasantly surprised by how good I felt," Diggins said after that race, where teammate Julia Kern made a World Cup sprint final for the third time this season (and finished sixth). "I expected, well, I don't know what I expected to feel after a 50km, but definitely not this good," she added. "I really was able to recover well and rebound well. I actually felt like I had good energy out there." Which is good news for Diggins as she heads into the final seven World Cup events of the season.