I wouldn't call Jim a mentor; we've never worked really closely together. I grew up in Putney, Vermont; Jim grew up in Brattleboro, Vermont. He's a half generation older than me, and he was a longtime U.S. ski team member with Bill Koch and with my cousin, Tim Caldwell.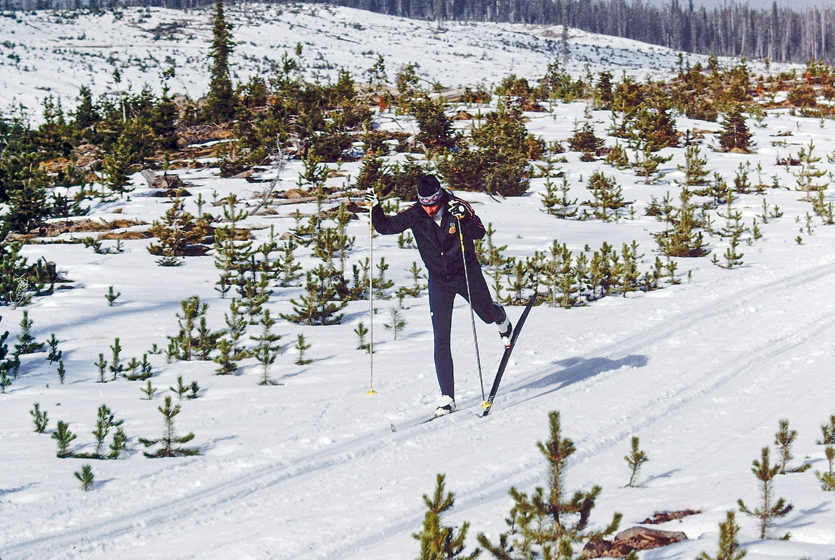 I first encountered Jim as a young kid skiing around the snowmobile-groomed trails in Putney as trains of World Cup skiers would come charging through. He was really part of the crew that inspired me to have a lifelong passion for the sport.
I encountered him again, years later, director for the New England Nordic Ski Association (NENSA). He was still in the East, and was a contributor to some programs that we put on and a real asset to coaching development. He was also involved in running and managing a stone-grinding shop up in Stowe, and we connected professionally on that level, too. When I started with the ski service thing and bought a grinder, Jim was probably the one guy in the country that was testing skis and wax. I mean he had a full-on test fleet. He was running speed traps. He was measuring skis on a flex tester that he had put together and was compiling a database of information.
Now he's out in Colorado running EPOC Performance Training. EPOC is an acronym that stands for Excess Post Exercise Consumption. He bases a lot of his training theory on First Beat technology out of Finland. First Beat is a company that was formed out of a lot of really interesting work done over a long period of time in Finland by an academic team led by a very well-known physiologist. A lot of that work focused on the use of heart rate variability (HRV)—the beat-to-beat interval data—as a marker for recovery and adaptation. There's tons of academic work out there, and HRV has really become more and more dominant in sport management and coaching.
Jim's influence and his voice have lent a very strong reminder for the need for rigor and evidence-based solutions. And I think he remains a real leader in that aspect. He's a guy I can call on and really know that he'll have looked at everything that's out there and have really well-formed opinions. He's a guy whose opinions are always going to be grounded in very deep research and a really thorough reading of academic papers. I find it incredibly admirable and inspirational; it makes him an asset.
Take ski waxing, for example. A lot of people speak with authority and base a decision on what's worked in the past. Jim's a guy who's always going to remind you that you don't know what the great wax is until you put a bunch of stuff on the test skis. The more wax you test, the more you realize how little you know on a day-to-day basis about what's actually going to be good. A lifetime of experience is only worth the rigor that you bring to it. Jim has really kept his foot on the gas and continues to stay at the forefront of understanding and taking on board the latest information.
It's funny. My uncle John is 90 years old. He was in the house today, bullshitting over coffee, telling stories about the '82 World Championships, where Jim was a racer, that was one of the last major competition trips John ever went on. I mean, that's a fairly long time ago. And so when you talk to John you're struck by how pertinent a lot of his information and ideas about the sport are, because he's a smart guy and he has a lot of experience. But you're also struck by how dated some of the information and the ideas are, and you recognize that simply leaning on your experience doesn't keep you up to speed.
The beauty of Jim's approach to the sport is that he has a massive appetite for new information. He takes in information and he continues to challenge his own beliefs. And I think we can all aspire to do the same.
—
This story was first published in Fall 2019 issue of Cross Country Skier (39.1). Find a copy at crosscountryskier.com/store.