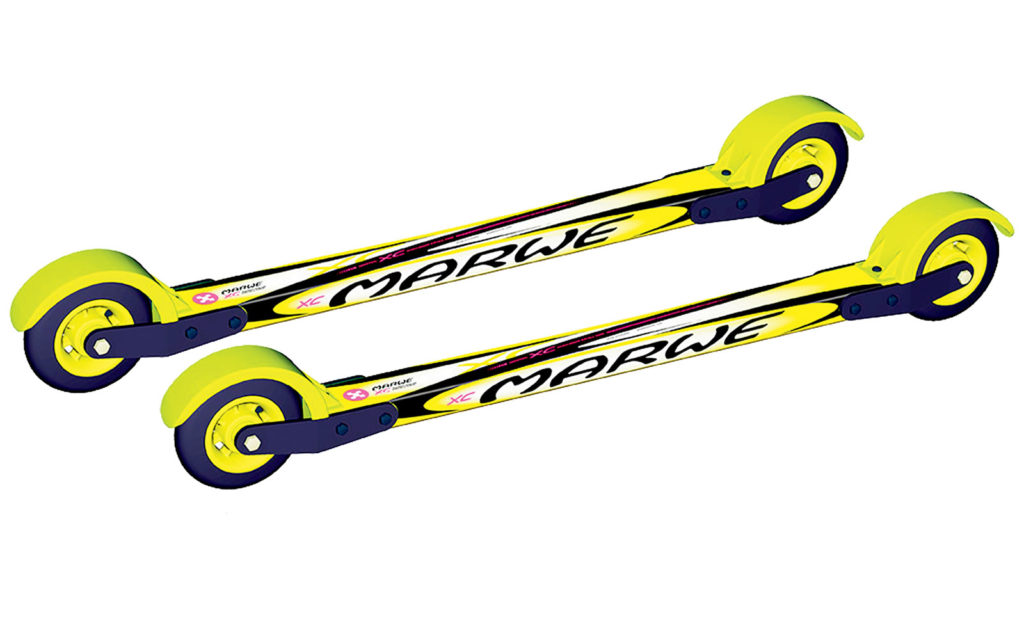 "The gliding experience felt similar to snow and the stability allowed a really natural balance for skating, like being on snow."
Finnsisu.com | $369 | 900g [620Mm]
MADE TO FLEX directly underfoot—think camber in a skate ski—Marwe's 620XC skate rollerski, well, rolled well in our test. It could be because it's made from a honeycomb composite shaft (called the Snowfeel XC Nanocarbon Aircell Core) designed to dampen road vibration for a particularly smooth ride. Testers noted the 620XC's stand-out solidity. "The gliding experience felt similar to snow and the stability allowed a really natural balance for skating," one said, "like being on snow." All felt the 100mm, medium speed, urethane wheels provided a controlled, moderate-paced ski for training. Marwe does not have the option of purchasing a brake for their skis, so, if you're a new rollerskier or worried about speed and stopping, it's possible that these aren't for you.
Description from Marwe:
Skating 620 XC is the re-engineered version of the all-time best skating style roller ski and it has superior vibration damping properties. This model simulates perfectly the feeling of skiing on snow. Outstanding vibration damping of XC composite frame protects the skier from numbness and therefore enables higher amount of training. The frames are tested and paired for uniform stiffness enabling a perfect ski feel. Legendary Marwe urethane wheels have better durability than competitor's products and have outstanding wet grip properties. The Skating 620 XC skis enable skiers to use the same skiing technique on rollers and on snow. Therefore, skiers can practice their skiing technique throughout the year and can easily transfer from road to snow, when the snow season begins.