Bryan Schaeffer is an animator and illustrator who's been involved with plenty of design projects for big tech companies. But artwork involving outdoor spaces tends to occupy most of the doodles done by this Bozeman, Montana-based skier. Since publishing a coloring book in March, Discover Montana Treasures, he's been working on another side project that combines his interest in skiing and art. His new book, The Last Best Ski, which he plans to release in December, is part guidebook, part how-to and part history of Montana skiing, and is entirely illustrated. It includes conversations with notable area skiers like former longtime U.S. Ski Teamer Andy Newell and Cliff Montagne, a founding board member of Bozeman's Crosscut Mountain Sports Center. Schaeffer also plans to launch a companion animated video, a trail-finding website and a series of audio interviews. –Tyler Cohen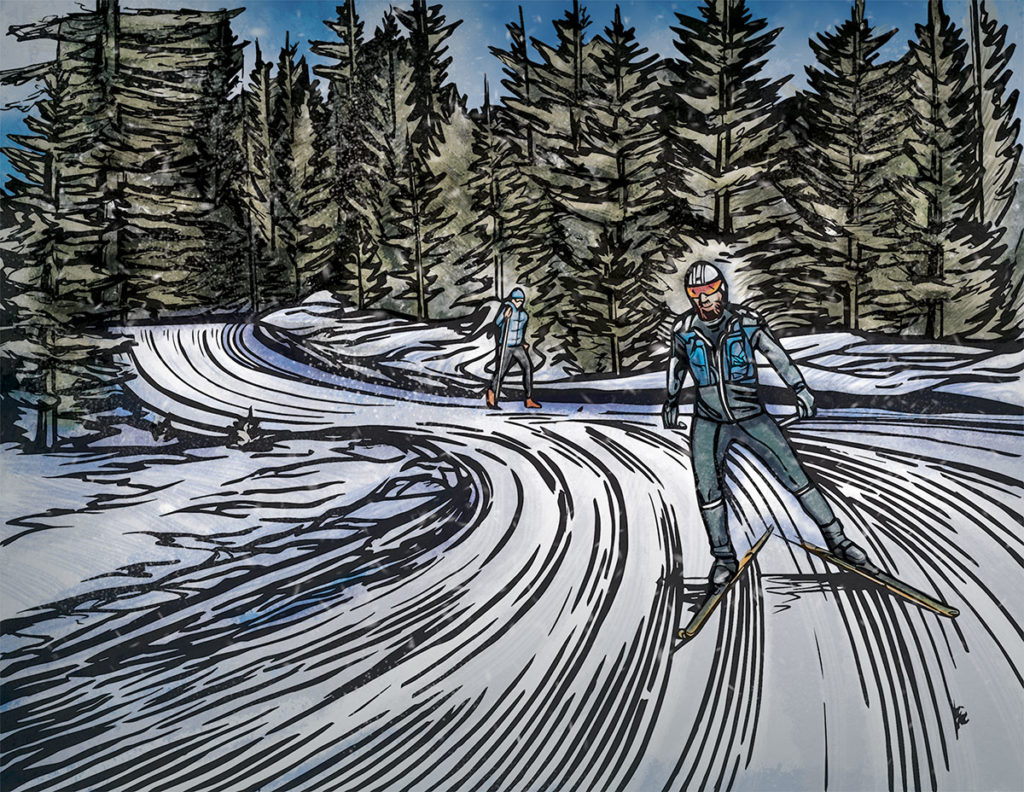 Here's Bryan Schaeffer's story, in his own words.
You remember something so much better when you draw it. It solidifies in the imaginative part of your mind what it was like being there, what it felt like to be there with your friends or your family. A lot of the animation skills I've used in my business helped me develop a technique about a year ago for taking hand-drawn sketches, coloring them digitally with Photoshop brushes and compositing them to make little animated clips.
A friend who's a physical therapist and is connected with a lot of athletes because he treats them introduced me to Andy Newell. I interviewed him in July and showed him my book, Discover Montana Treasures. He has a pretty visionary mind and could see what I was trying to do. And that one introduction led to the next.
Through conversations with folks like Andy, they're showing where the sport is going in the future. This book is meant to be a platform for these conversation so that we can deal with things like use, because as this area gets more popular, how do you deal with more people? How do you keep this experience fun and now overcrowded and dangerous?
I learned from Cliff Montagne and other folks who've been around for a while how they really want to keep the ski culture unique and focused on a great community. Cliff will say things like, "The Montana way is smiling and nodding at people as you ski by, skiing with people of all ages, just being good natured and a good citizen." All of the benefits, not just from training and being outside, but for mental health and how skiing builds community, are really important. That's a big part of what I'm trying to capture with this book.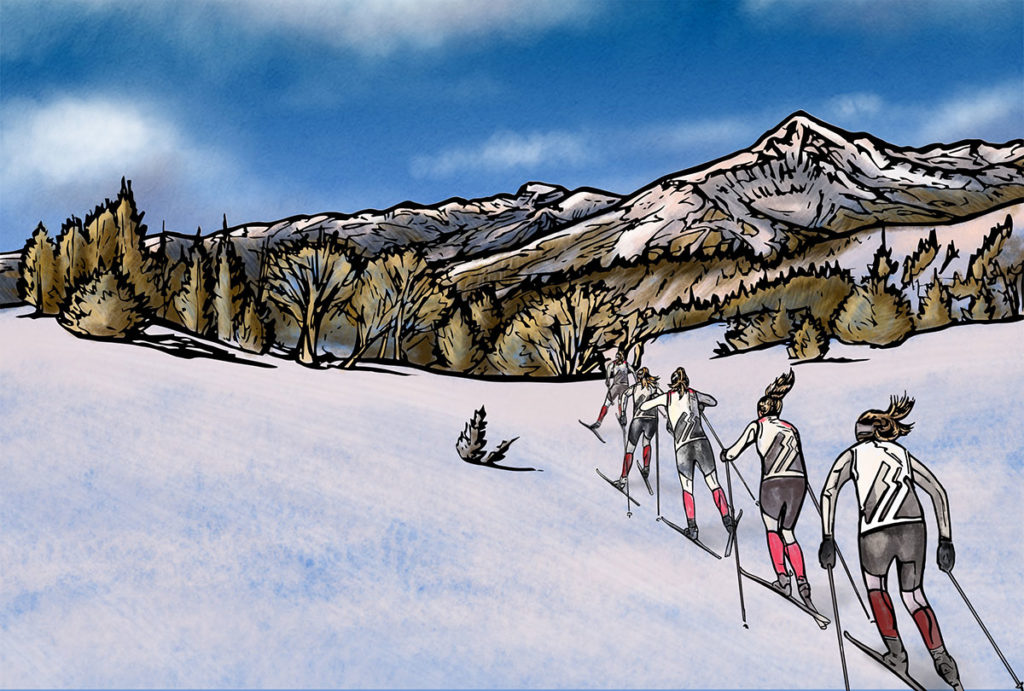 Part of being an artist is being relevant, and I don't want to just work in my own little artist silo and not have it affect anybody. I really want this to affect people. I really want people to feel empowered and part of the community.
People will get stuck in their patterns of going to the same place over and over again, because it's comfortable and familiar, and they might not know what's next to them. I'm hoping people will get into the mapping part of this project and will really develop their appetite for adventure. I hope it will give people permission to use our public lands. Because if they don't get used, they go away.
Maybe this project becomes more than just a fun little book. Maybe it becomes a way to advocate for public lands.