Back Shop is supported by Craft—designing Nordic ski collections worthy of World Champions and Everyday Heroes. craftsports.us
It's easy to feel like you're getting stronger and faster during a training session. Kilometers tick by, you daydream of adventures in the year to come and your sweat is a tangible, salty reminder of the work you are putting in. Exerting effort triggers a promise of higher performance, whether the session in question was as tough as Basic Training, or as inspiring as a Rocky montage.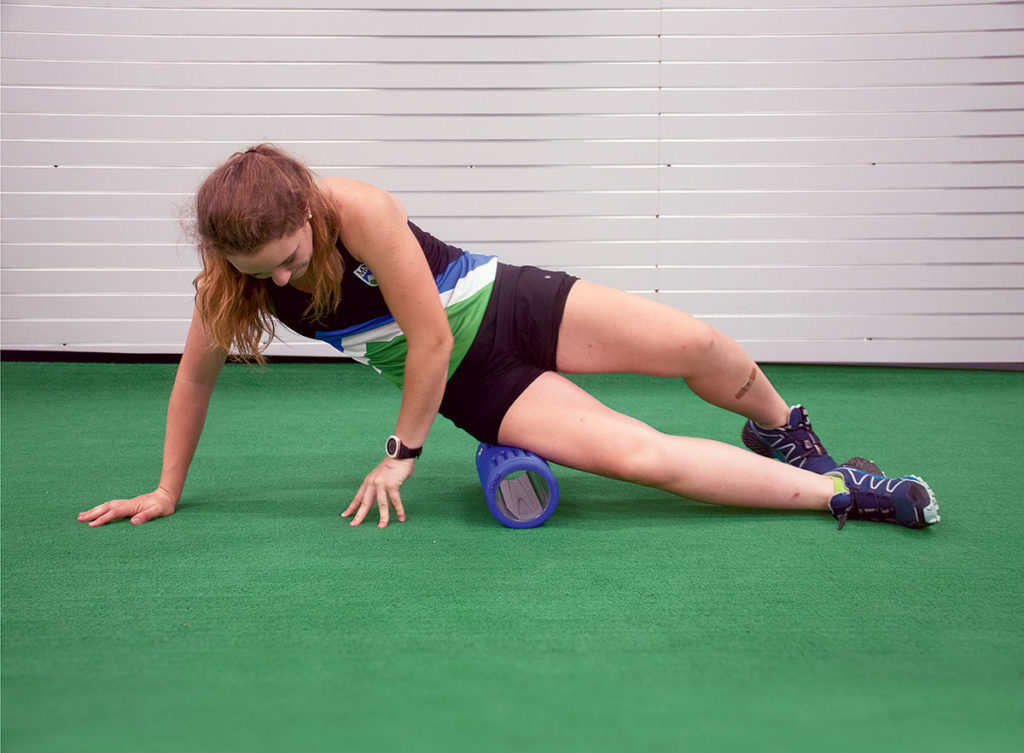 Despite the glory and excitement of a great workout, your body is actually getting faster after the session is over. There is a wealth of science behind the training structure known as supercompensation: your body builds itself back stronger during a period of rest.
There are lots of gadgets, meal plans and garments that promise the latest in recovery wizardry. But a good way to make sure you're getting adequate recovery is to simply focus on understanding three ways your body recovers: physically, mentally and nutritionally.
After a day on skis, tired legs and arms signal a need for some physical rest. Whether you are as flexible as Gumby, or more of a life-sized Lego figure, stretching can be beneficial merely as a way to relax and set aside a few quiet moments. Massage can also be a great method for promoting recovery and reducing soreness. There are many levels to massage, from visiting a professional massage therapist to self-myofascial release, an overly-complex term for rolling a cylinder up and down your legs. Fancy foam rollers can be purchased, but PVC pipe is inexpensive, and a rolling pin might even be in your kitchen drawer right now. Whether you choose to purchase a tool for the job or go the DIY route, spending just a few minutes rolling out sore spots can make your recovery quicker and more complete.
And, let's face it, the most important muscle in your body is between your ears. Your mental state has an amazing and often-overlooked effect on your physical performance. Being alert, aware and activated during a training session helps you perform better, retain new skills and challenge yourself more. Resting your brain goes a long way toward promoting those same benefits during your next training session. Sleep is the best gift you can give your body, and getting good rest each night is something both elite athletes and recreational skiers need. Fitting in a nap between two training sessions isn't always feasible, but it can go a long way. In both cases, limit screen-time from computers or devices immediately before and immediately after sleep, in order to put your body on the healthiest recovery track.
As a matter of fact, it's a good idea to be self aware of your screen gaze at all times. Instead of scrolling through posts or notifications, try to catch yourself and cut the cycle off, giving your eyes and brain a break. Reserve five or ten minutes usually spent on your phone and spend that time stretching and rolling rather than posting and scrolling.
Recovery from a training session begins within the session itself, assuming you have prepared adequately and brought along water or an electrolyte drink and some healthy snacks. After you complete a workout, try to incorporate foods that have a mix of carbohydrates and protein right away. In a world of powdered mixes and squishy gel packs, chocolate milk is often a gold standard given it's carbs/protein ratio. Granola bars, trail mixes, a peanut butter sandwich and plenty of other simple options often work just as well as the fancier athlete-branded products.
When you're at your next meal post-workout, be sure to continue with good hydration and whole foods. Every athlete has a different palette and appetite, though it's a good general rule to avoid tons of sodium and simple carbohydrates like processed sugar in excess. Fruits are a great source for adding some sweetness, and nutrient-rich greens and colorful veggies should be staples.
Treat your body well before and after training and it'll repay the favor with more productive workouts and performance in both the short and long-term.
—
Adam Terko is the head coach of Vermont's Mansfield Nordic Club and has been skiing competitively (and writing about it) since before Fischer skis had holes in their tips. He's also the technical editor of Cross Country Skier and writes the how-to column "Back Shop" in each issue.
Subscribe now to the print magazine to read Terko's latest column and more at crosscountryskier.com/subscribe.