It's not quite the X Games of Nordic skiing, but a new type of upcoming race promises plenty of airborne thrills.
Inspired by a similar Red Bull event that he did in 2016, Olympian and former World Cup cross country ski racer Reese Hanneman, who now runs a marketing company, has organized NordicX—which he describes as "cross country skiing meets jumps and big air"—at Anchorage, Alaska's Hilltop Ski Area on April 2, 2022. The alpine ski hill will fully turn itself over to the Nords for the day, before closing for the season on April 3.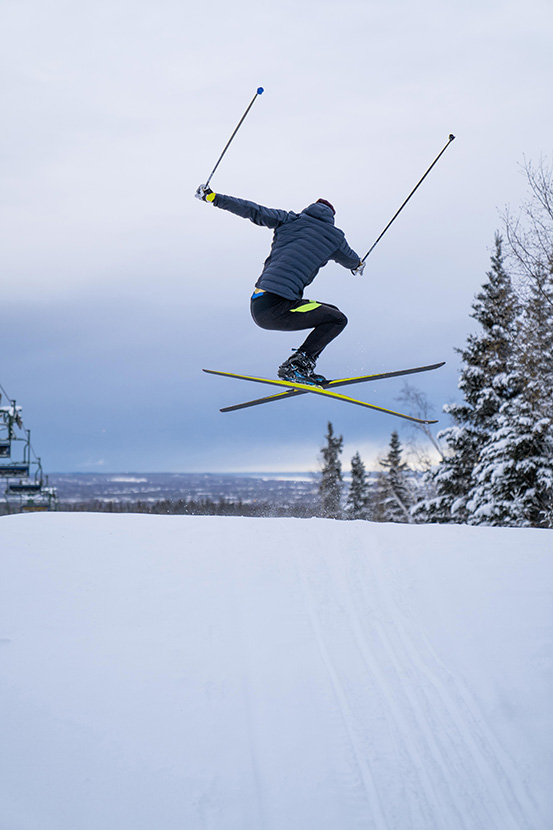 The goal? For racers to go out and have fun. When Hanneman, a Fairbanks native, was training hard as a youth, catching air off small jumps was a welcome way to let loose. "We'd build little kickers after practice," he says. "So much of the excitement around skiing as a kid was really that feeling. I realized that there's an opportunity to provide an event that caters to that childlike joy of hitting jumps with your friends."
He also hopes that showcasing Nordic skiing in an offbeat way will get people more excited about the sport in general. "Let's be honest," Hanneman notes. "Watching cross country ski races can be boring. This will be super action packed." Sure, there's a risk of injury, but "no more than your super-sketchy icy team sprint somewhere," he adds.
Competitors, on skate skis, will begin by riding a lift to the top of the 300-vertical-foot ski area. ("Where else do you ever get an opportunity to ride a chairlift to the start of your cross country race?" Hanneman quips.) The downhill course includes a short sprint uphill in the middle as well a series of tabletops, rollers and jumps. Like in slopestyle, the course culminates in a big tabletop near the base. Three line choices, with jumps of various difficulties, will accommodate different skill levels.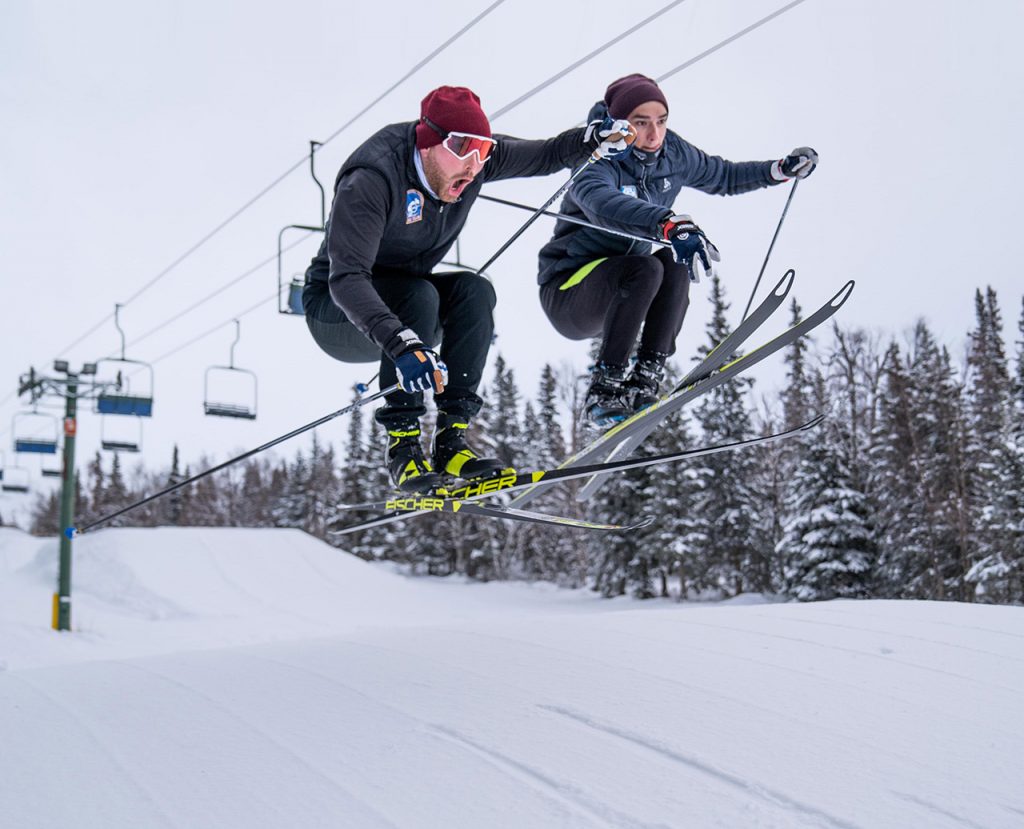 The format will be head to head heats of either four or six skiers each, and heats will be seeded. Expected competitors include U.S. Ski Teamer JC Schoonmaker, Logan Hanneman (Reese's brother and a 2018 Olympian) and the University of Alaska Anchorage Nordic team. Racers will compete in one of four categories: senior women and men junior girls and boys.
And for aspiring NordicXers who are too young to race, a mini terrain park lets them work on their moves all day.
Whereas some ski areas may have shied away, Hilltop General Manager Trevor Bird welcomed the concept when Hanneman approached him last fall. "I'm all about the more unique events and ways we can bring more customers in the door," says Bird. Moreover, Hilltop is a nonprofit ski hill with a mission of providing educational and recreational opportunities for those in Anchorage. "It helps seal the deal for us to be a ski area for the whole community," Bird adds.
He also notes that Hilltop's snowmaking ability allows the white stuff to stick around longer in the spring, which means the area could potentially add a track for local Nordic skiers to extend training after other trails melt out.
Both Hanneman and Bird are excited that the event blends the cross country and alpine ski worlds. Spectators, who attend for free, can expect a festival vibe, with vendor booths, local beer on tap and tons of prize giveaways. Promises Bird, "It's going to be a party."