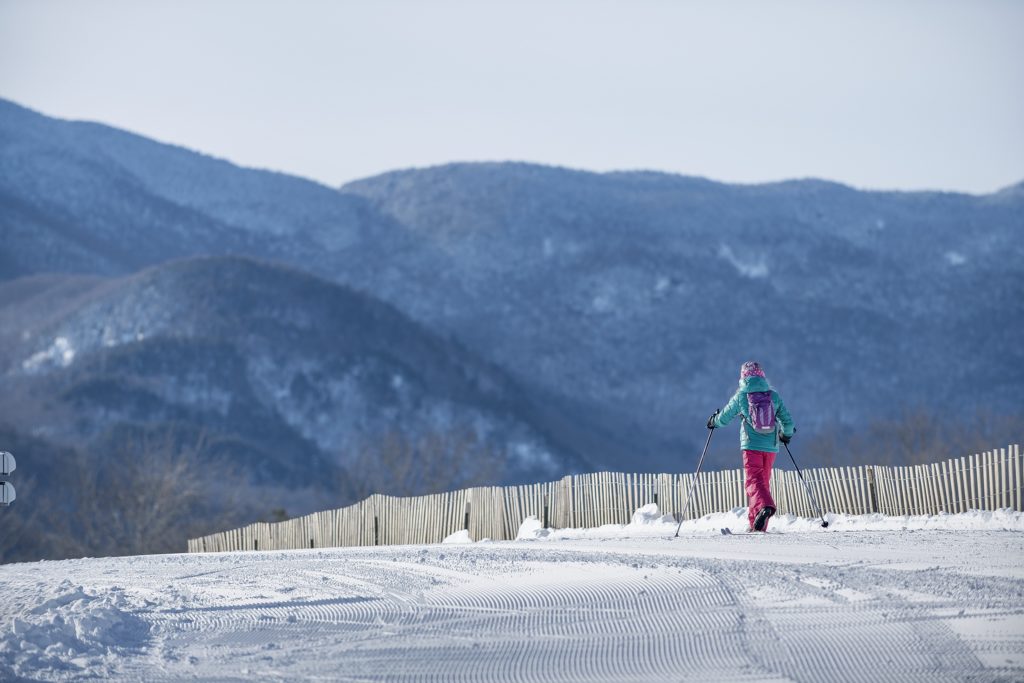 Route 108—The Mountain Road—winds its way out of Stowe Village passing ski-inspired (or dependent) business after ski-inspired business. Between Stowe Mountain Resort's alpine hill and exceptional cross country terrain, skiing drives this Vermont town's economy. It's a tourist town. On busy winter weekends traffic at the three-way stop can back all the way up the Mountain Road causing Los Angeles-like commute times. But for visitors deciding where to spend their precious vacation days, and locals who can pick and choose the less crowded dates, the terrain in Stowe is some of the best in the East. Skiers have their choice of free, ungroomed trails in places like Wiessner Woods off of Edson Hill Road or manicured Nordic centers like Trapp Family Lodge and Mansfield Touring Center.
Trapp Family Lodge's 50-plus kilometer groomed trail system winds up, around and below Round Top Mountain, offering skiers views of the Worcester Range and Nebraska Valley. In 1982, Cross Country Skier's senior editor, John Dostal, bumped into Bill Koch who was training at Trapps and en route to his World Cup season win. "Hey Bill, is this your first time at Trapps? What do you think?" Dostal asked. "It's a lot of vertical," was the Olympian's only remark. And he was right. Besides Sugar Road, there are few flat trails at the center, and the most famous route is the steep climb up Parizo Trails to the Cabin, where guests can purchase hot cocoa and baked goods before screaming down the Haul Road and back to the lodge.
To the north, and connected via ungroomed trails off of Haul Road, sits Stowe Mountain Resort's Cross Country Center, also known as Stowe Cross Country—or by many locals—its old name, Mansfield Touring Center. Now owned and operated by Stowe Mountain Resort (Vail Resorts) Stowe Cross Country offers a contrast to Trapps' network in that their trails are much narrower and rolling. According to General Manager Mark Goodman, the wooded network is actually narrow enough in places that the alpine hill's PistenBully groomers don't fit, requiring the Nordic center to groom with snowmobiles and tow-behind systems.
Much like these ski areas, the town itself breathes skiing. At the end of every Saturday and Sunday restaurants and bars are filled with people fresh off the snow, wearing ski pants and baselayers, sporting red, wind- or sunburned cheeks. A rare few are even wearing their ski boots hours after the trails close. If you ask most of them why they bear the traffic and congested streets the answer is almost always the same—because the skiing is so good.
Ski and Stay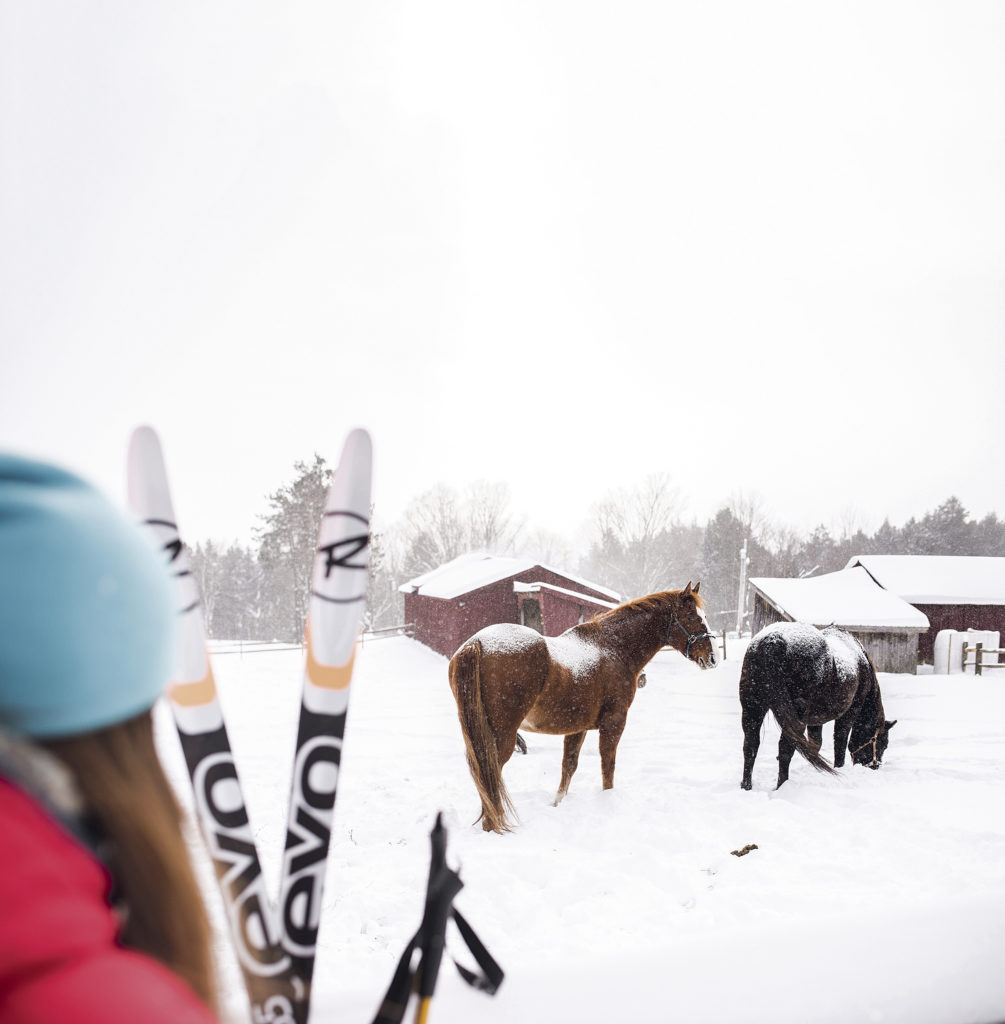 Edson Hill Manor
Luxury lodging and nine kilometers of groomed trails on site greet guests at Stowe's Edson Hill Manor. Designed and cut more than 60 years ago, the trails wind around the property passing ponds and the Manor. The Catamount Trail, the backcountry skiing route running the length of Vermont, or 300 miles, transects the network, too. The Nordic center, a converted barn, houses couches, a fireplace, a small ski shop and a ski and snowshoe rental fleet. Trail passes are included with overnight lodging or costs $15 (adult) for day customers. The Manor House boasts 23 rooms and there are several guesthouses at the top of the hill. Rooms include fireplaces and a fully stocked woodpile, deep soaking tubs and luxuries such as heated floors in the bathroom.
Stoweflake Resort and Spa
The antique handmade children's skis fixed to the wall of Charlie B's Pub and Restaurant capture two key drivers of Stoweflake—family and skiing. The current owner's are the third generation of the same family to operate the resort and spa, which opened 55 years ago as a 16-room ski lodge. Today, Stoweflake offers guests options spanning 120 rooms and 60 townhomes, with nearly 150 fireplaces across the property. During the winter, cross country ski trails are groomed using a tow-behind groomer, winding through the nine-hole golf course. Snowshoes are kept by the Sports Club exit and are available for customers to use, free of charge. In addition to Charlie B's Pub, which has daily après specials and board games by a large fireplace, guests can dine at many local restaurants within waking distance.
Trapp Family Lodge
From lodging to dining, lounging to skiing, the von Trapp's Austrian homeland pervades every experience at their Vermont property. Situated on a hillside overlooking the Worcester Range, Trapp offers a main lodge and several guesthouses, both of which are steps from the Nordic center's exceptional grooming. A restaurant and lounge found in the Lodge serves cocktails and finely crafted meals presented by bartenders and waitstaff wearing lederhosen. Farther down Trapp Hill Road, the Bierhall Restaurant, home to von Trapp Brewing, crafts authentic Austrian food (and lagers) with some American staples, too, like burgers made from beef raised on property.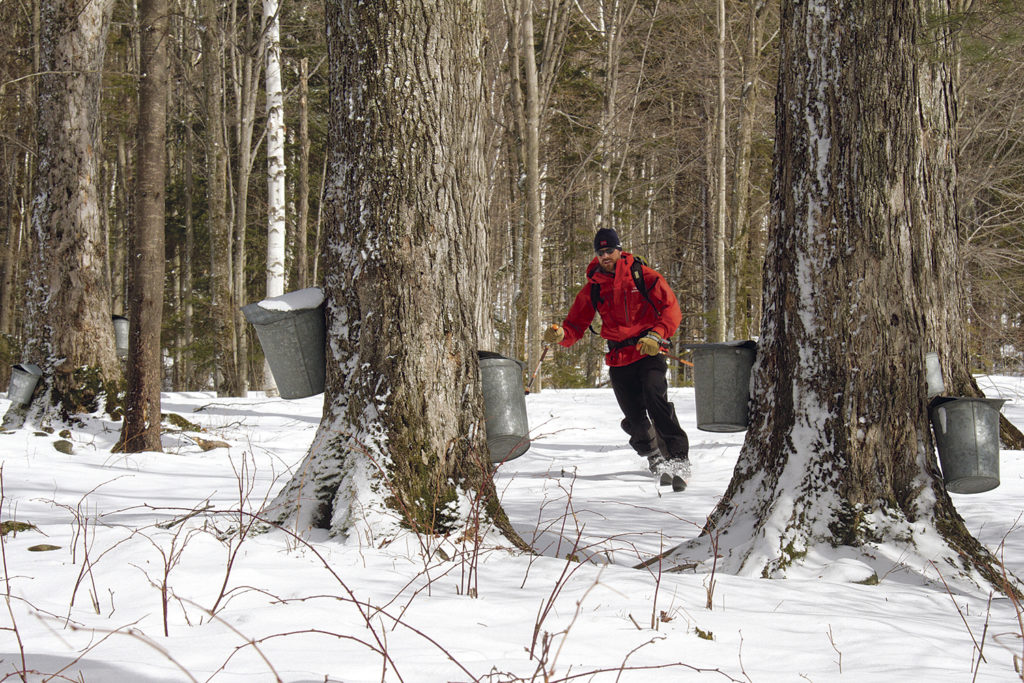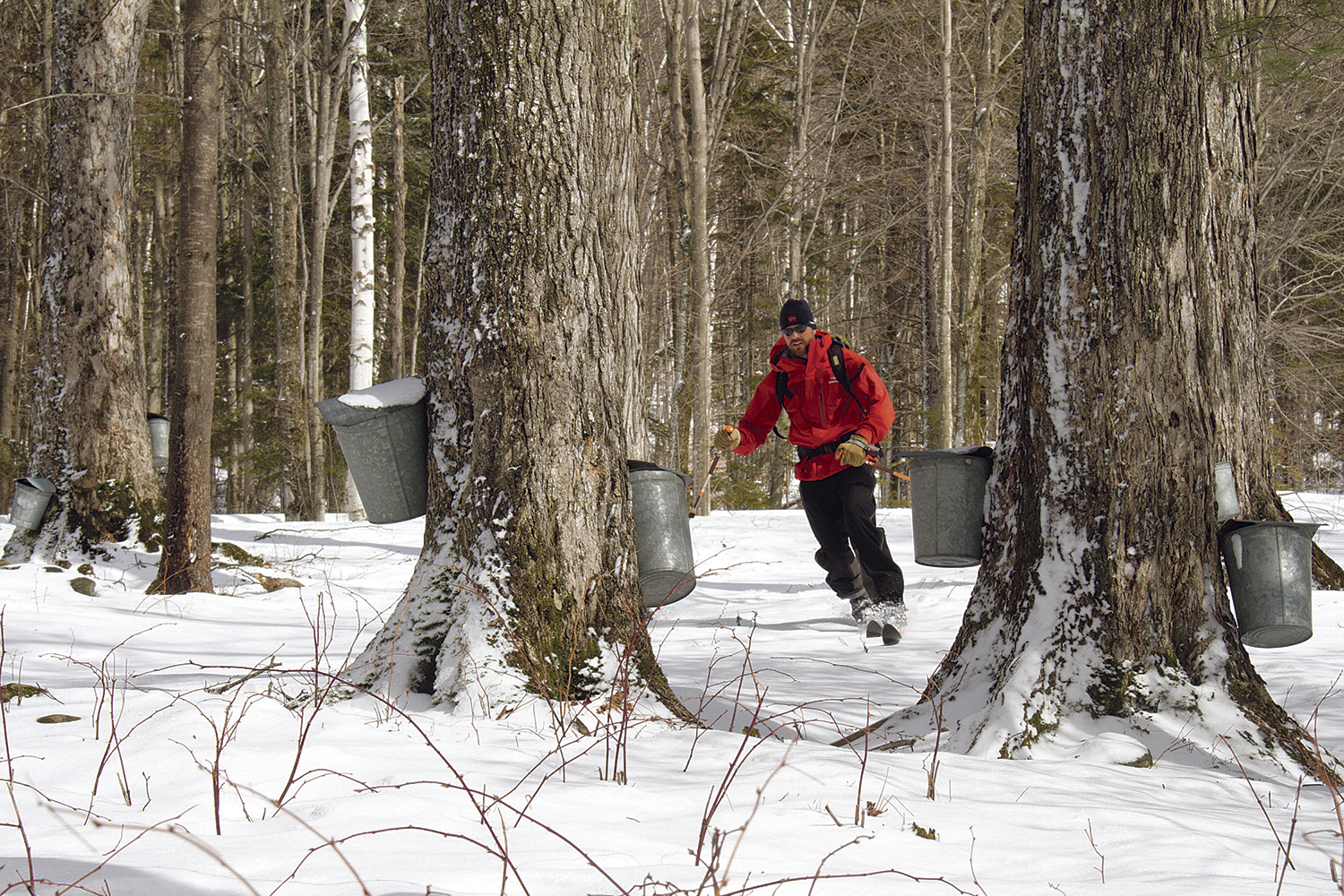 Après
von Trapp Brewing Bierhall
1333 Luce Hill Road
Trapp's Bierhall sits alongside the ski trails and serves the brewery's full selection of lagers, along with wine and local hard cider, as well as an Austrian-inspired menu.
Matterhorn Bar and Grill
4969 Mountain Road
The Matterhorn—once rated number-one après ski bar in the country by a U.S.A. Today poll—features regular live music, an extensive sushi list and a full American menu. An old-school bar is an unlikely place to find great sushi, but trust us, this is good—and you can practically ski to the door from the touring center.
Sunset Grille and Tap Room
140 Cottage Club Road
A barbecue joint with a full bar, Sunset Grille is tucked away off of the Mountain Road and is regularly filled with locals and tourists, there for the low frills but inviting and relaxing bar atmosphere.
Idletyme Brewing Company
1859 Mountain Road
Featuring a cozy après bar and a full dining room, Idletyme is a well-rounded brew pub specializing in craft beer and local food. Try their Pink and Pale, a grapefruit infused pale ale: it's one of our favorites.
Doc Ponds
294 Mountain Road
Can you imagine yourself sitting in a lounge by a fireplace with a craft beer or spiked milkshake in hand? If so, try Doc Ponds. Also, don't miss the collection of hundreds of records.
The Alchemist Brewery and Visitor's Center
100 Cottage Club Road
Not a bar or restaurant, but still a must for an après list, The Alchemist offers free samples of their rotating beers and staple IPAs, like the world-famous Heady Topper, as well as four-packs and cases for sale.
Craftsbury Outdoor Center
A profile of Stowe ought to mention its neighbor, and Vermont skiing powerhouse, the Craftsbury Outdoor Center (COC). Twenty-seven miles northeast from the heart of Stowe Village, Craftsbury's rolling trails and snow-covered lakes welcome skiers of all abilities. Partnerships with local landowners, other businesses and lodges allow the Center to groom 105-kilometers of trails—snowpack allowing—and extensive snowmaking means trails are rarely closed, even during warmer years. The COC is also home to the Green Racing Project (XCS Spring, 2018), a post-collegiate, elite-level racing program supporting Olympians like Caitlin Patterson (cross country skiing) and Emily Dreissigacker (biathlon).