In the pantheon of Seattle pow dumps, the Presidents' Day weekend storm of 2021 was one for the record books, dropping more than a foot of snow over two days on a city acclimated to winter dankness but ill-equipped for crystalline precipitation.
It blew into town Friday night laden with hopes, fears and anticipation, like a fourth-quarter Russell Wilson pass with the Seahawks trailing. As the tech bros and Tesla drivers made one last toilet paper and beans re-supply mission after work, we did a different type of prepping: readying our cross-country skis and hoping for an urban snow bomb. The storm killed our plans to leave town for a three-day ski weekend, so instead we would plunder some street pow.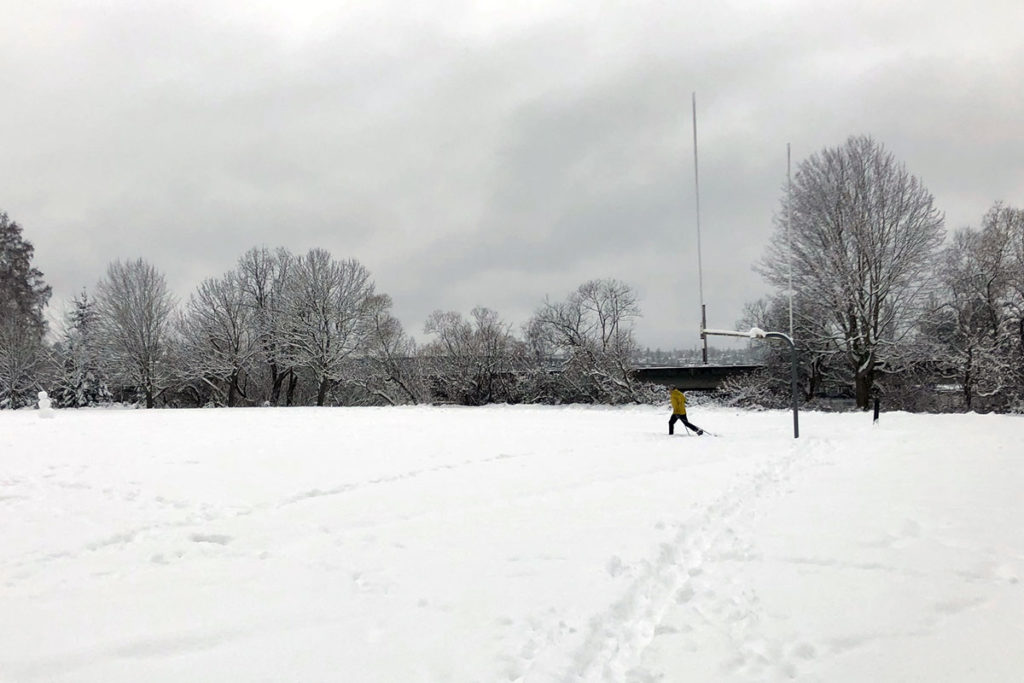 I arose Saturday morning to a firm six down, with more piling up by the minute. After pounding a coffee and quietly suiting up while my wife slept in, I got to work. As on all powder mornings, there was shoveling to do. In our case, it was not the driveway but our roof that needed clearing. Living in a 1940s-era houseboat in Seattle sounds fun until you find your floating hillbilly shack listing precariously to one side due to several tons of snow pressing down on your low-angle rooftop and refusing to slide off.
Shoveling done, it was go-time. The longtime skier's quiver contains many arrows, but is there any more important weapon than a pair of gouged and delaminating yard sale Fischers that you can scrape across road sand and street curbs without a care in the world? Rock skis are freedom. We last used ours on the streets of Seattle in February of 2019, when a four-day storm dropped more than 17 inches, interspersed with freezing rain. While that storm had bigger totals, this one proved superior in both its quality of snow and its convenient arrival on a long weekend.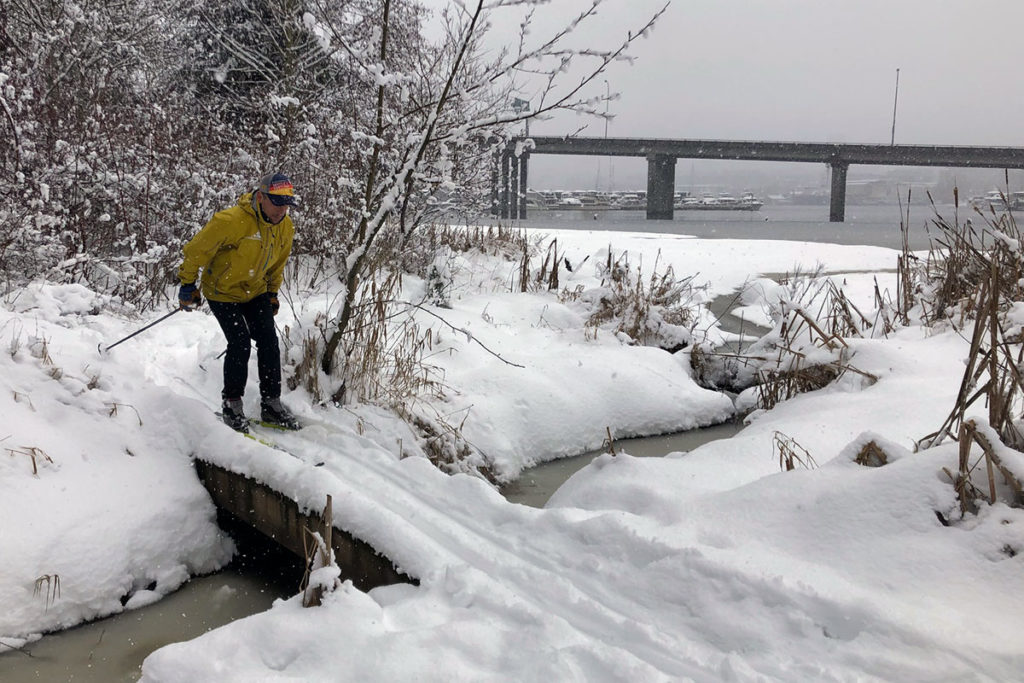 We clicked in and skied off the dock, kicking and gliding through the parking lot, up to the street and down the main drag toward the park, making our way on sidewalks and sometimes skiing down the middle of the road, waving to the occasional fellow urban skier and watching children sled down steep side streets free of traffic. We ducked into the trees and followed a normally swampy footpath along the waterfront and through a wetland preserve where we often watch ospreys and beavers. Someone had built a creepy snowman there, a cigarette butt in its mouth.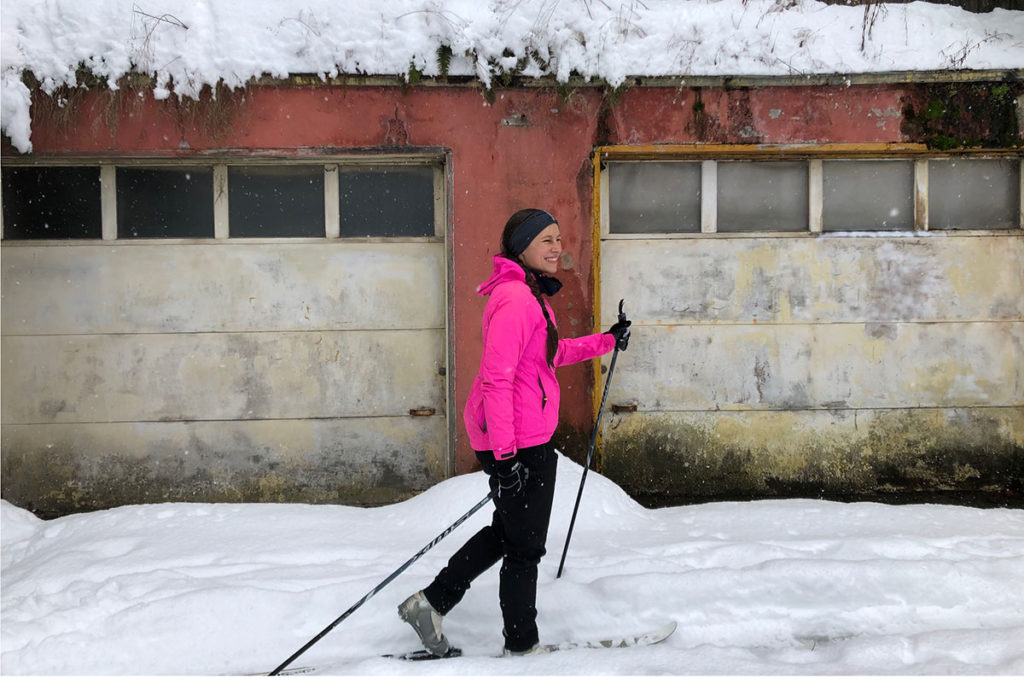 We emerged from the trees and arrived at our destination, a wide-open park and football field where we set tracks in a wide oval around the perimeter. Beverages of illicit content may have been consumed. Hours passed; many romping dogs were patted. Exhausted and happy, we returned home at dusk and awoke Sunday morning to repeat the process, following our double track to the park and taking a couple ill-advised straight-line rips down paved streets. A word of caution for new city street skiers: it may be soft on top, but it bottoms out hard.
And then, as quickly as it came, the snow was gone. By Sunday evening the temperatures had spiked upward, and the snow turned to rain. By Monday morning slush covered the roads, and cars returned in force. By Tuesday, all that remained were a few dirty piles lingering in the shade.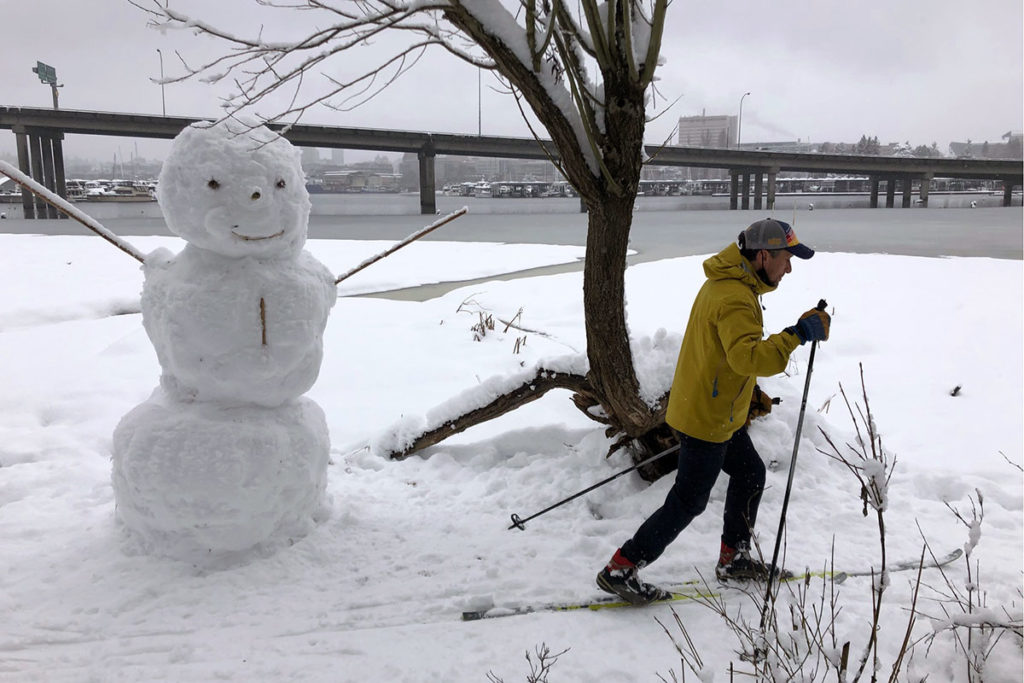 Urban skiing can never compare to a day in the mountains on freshly groomed trails. The magic of city snow rests in its power to transform a hard, loud and dirty landscape into one that is soft, quiet and welcoming. It is maple syrup on a bland pancake, butter on a boring piece of bread. It is vanilla frosting for a dirt cupcake.
Prior to moving to Seattle, I spent many years living in the mountains in the shadow of ski resorts where I enjoyed countless powder days. But most of those days are lost to memory. Snow was a forgone conclusion then and there.
Glaciers melt. Snowpack declines. I get older. The longer I ski, the more I realize that the metrics by which I once measured my skiing life—speed, technique, vert, days on the trail—matter less and less. These days I seek to answer only one question: Did you get out and play today?