With a gold medal and a grand stage Jessie Diggins wonders "What can I do that's going to help the most people?" As Bill Koch knows, the answer is as elusive as time itself.
This story was originally published in Cross Country Skier Issue 38.1 in autumn 2018. Grab a copy of the issue a crosscountryskier.com/store and find more coverage of the 2018 Olympic Games here.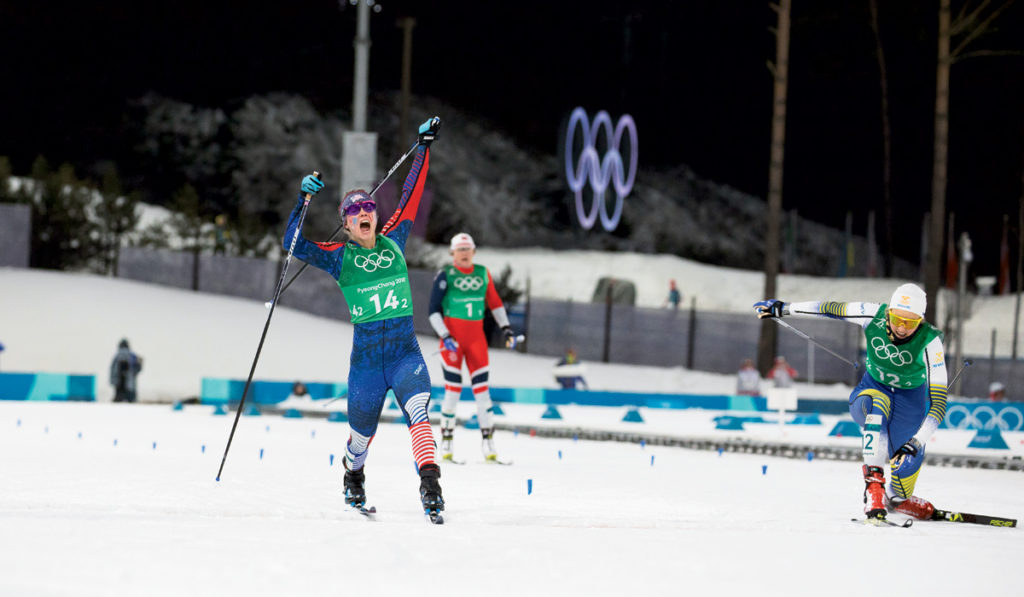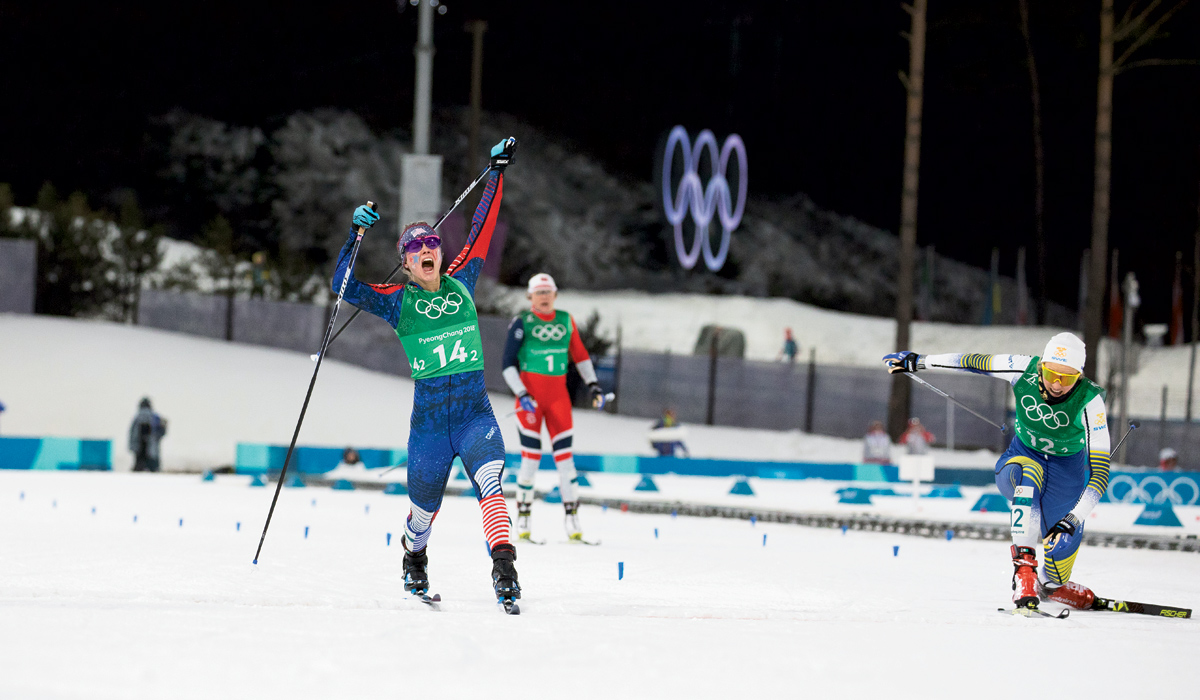 POSTER CHILDREN
In Jessie Diggins's childhood bedroom in Afton, Minnesota, there's a poster of Bill Koch from 1997. In the image, America's all-time most-decorated male cross country skier is sand skiing against a backdrop of crashing Hawaiian surf.
"I loved that poster. It's the one poster I had above my bed since I was a kid," Diggins says, during a break from a training block in Park City, Utah. It's been eight months since she and teammate Kikkan Randall took home gold in the women's free team sprint with her dramatic lunge that edged out perennial powerhouses Sweden and Norway at the line. "He looked so happy…and he made skiing look so awesome. All I wanted was to be him and not even because of the medal, just because of this joy he had for just doing it and getting out there and skiing."
Until Wednesday, February 21, 2018 at around 7:20 p.m. Korea time, Koch was still the most famous American cross country skier ever, and an innovator behind the modern skate skiing technique. Now, that celebrity falls upon Diggins, especially since her gold medal teammate, five-time Olympian Randall, retired from competition at the end of the season. And, with Randall fighting breast cancer, too, Diggins is taking all the calls and making all the appearances she can. When I initially reached out to her for our first interview since the Olympics, she was the motivational speaker to the Minnesota Vikings at the team's new training facility. Since the Games there has been an impossible number of television cameras, microphones and talking heads, all craning in her direction. It's been nothing short of a circus, which, as Koch found out, can really cut into training time. But Koch is a self-professed introvert.
Diggins, more like Tigger: Boundless energy and the chatter and dance moves to match.
All of her moves were on full display at the Alpsensia Olympic Nordic facility, a converted golf course pasted with man-made snow and lit up like day, especially for the sprints which were held during prime time. And, by all accounts, Diggins was leaving nothing on the course in any of her races leading up to what many felt were the American's best medal opportunities, the 4x5km relay, and several days later the team sprint.
THE RACE
U.S. Ski Team coaches made the relatively surprising move in naming Randall to the team over a red-hot Sadie Bjornsen, who had been matched with Diggins many times over the previous seasons. But, Randall had been lights out in her skate leg of Saturday's 4x5km relay, clocking some of the fastest splits of anyone in the race. And Bjornsen's graciousness about the selection spoke loudly about her values and the culture of the American team.
Due to a missed bus, Cross Country Skier photo editor Cody Downard and I missed the preliminary heats of the team sprint where the Americans skied conservatively and easily qualified for the finals. When we were late to the final, too, Downard lost the opportunity to get an on-course credential for the race. Deflated, he'd have to settle for standing at the finish line. But, at least we were there for the start.
The American plan was simple: Randall would scramble and keep pace with Marit Bjørgen of Norway and Swede Charlotte Kalla especially on the hill at the Alpsensia venue that'd been dubbed "The Wall." If she could stay close in each of her three leads, it would be up to Diggins to close it out as anchor. No mistakes, stay out of traffic, make clean tags. It was just that simple. And Randall more than came through. When she tagged off to Diggins they were right there with Norway and Sweden.
And, as Diggins rounded the final corner picking up the pace against Sweden's Stina Nilsson after she'd chosen her lane, I prayed as I watched from the Mixed Zone, that Downard's camera shutter was matching Diggins's heart rate. His photos here say everything Diggins can't recollect.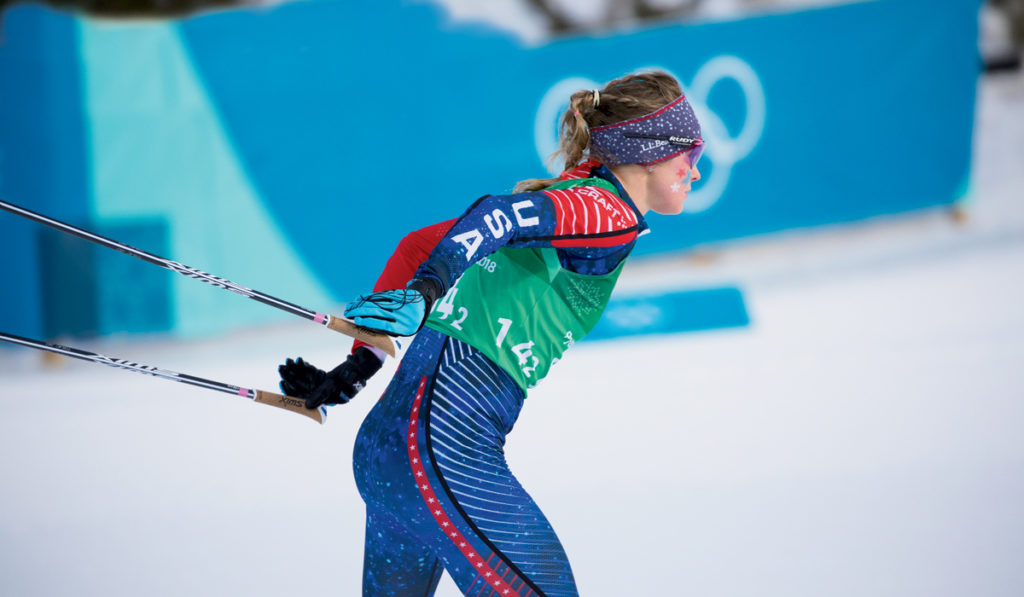 "Honestly, I don't remember what I was thinking in that moment, because I was so focused," she recalls. "I was just so focused on every push of my poles and every push of my skis and just getting all the power I had out. But I do remember thinking on the corner [that] I couldn't pass now because Stina's a pretty aggressive skier. And if I tried to move wide, she would just crush me. I just had to wait until right at the end of the corner when she picked her lane and it would be too late for her to move over and block me. I had to wait for her to be on the straight away. And that's when I was putting on my acceleration."
As Downard and Diggins and Nilsson fired away I was suddenly glad to have missed the bus. Our tiny American press corps jumped and screamed throwing all objectivity into the night. But, sadly, Downard and I had to leave before the celebration was over. We couldn't miss the next shuttle that
would bring us back to Seoul and our pushed-back flight to Seattle the next day. We'd have to miss the gold medal press conference, and a talk with the champs would have to wait, for me, until October.
After the race, I did get to interview Diggins's family and the men's team sprint pair, Simi Hamilton and Erik Bjornsen, who finished a historic sixth in their own race. Their result would match the sixth place 4x10km relay result of Koch and crew from 1976 as the best ever for an American men's relay team. And what they said backs up what I'd learned about these men and women and their support systems there in Korea and on the World Cup: It's every bit as much a family as it is a team.
"Honestly, her coaches and teammates deserve a ton of credit," Deb, Diggins' mom said, beaming in the glow of the stadium lights as she waited for the girls to get through the press throng. "Jessie'd be the first to say, when one person crosses the finish line there's a whole boatload of people behind."
According to Diggins' dad, Clay, it was all about the plan. "For Kikkan to go up that hill when Marit Bjørgen (Norway) charged and stay right there and put Jessie in position," he said, was huge. "And Jessie has great downhill ability, so when she split [Norway's Maiken Caspersen] Falla and Stina [Nilsson of Sweden]—and of course she and Stina had been back and forth—so when she took her on a fair-and-square sprint out, we loved that. For her to do that is a dream come true."
RECORD MEN'S RACE
The women's gold had an impact on the men's race, too, though luck didn't break their way, as Erik Bjornsen got tangled in a tight pack and went down, losing valuable seconds in the second lap. "I saw that they took the win when I was running to the start," he said. "And that's definitely a little bit of a boost. It's an inspiration for us. We were ready to match them."
Bjornsen's teammate, Simi Hamilton, agreed. "It's incredible. It's a testament to what this whole team has done in the last 10 years," he said. "I think if you asked Jessie and Kikkan, they'd be the first ones to say that they don't deserve all the credit. I think it is a collective team energy that we've got right now that got them there. It speaks to how hard the women's team works, the men's team works, the coaching staff works, the waxing staff works. It's awesome to be a part of that. We're incredibly proud of them."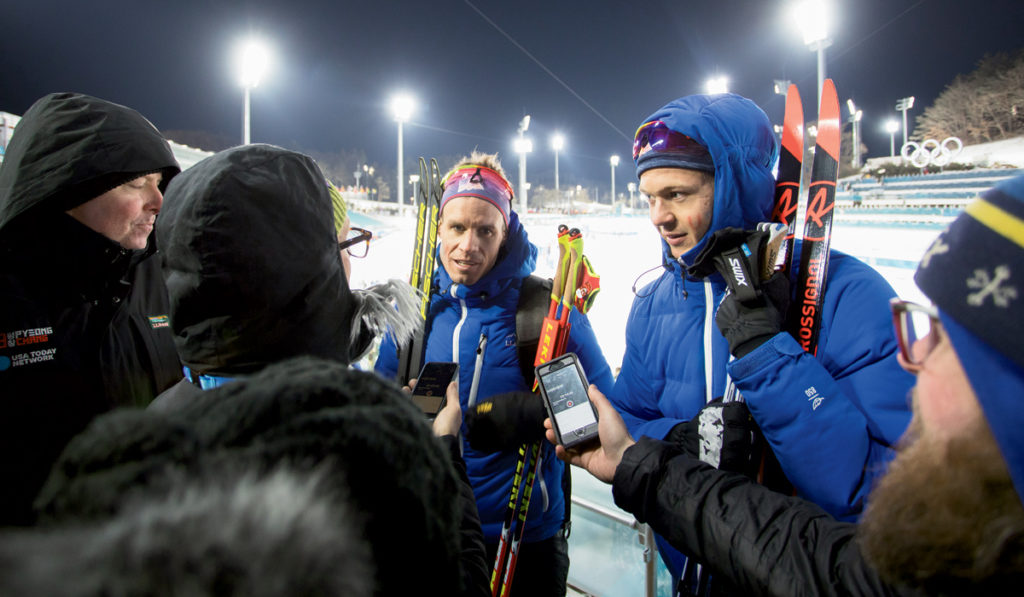 "We'll be back for a gold," Bjornsen added with a laugh. "Eight years, 12 years from now," Hamilton joked, seeming to tip the hat to Randall for how it took five Olympics and 16 years for her to get her gold. Hopefully Nordic Nation won't have to wait 42 years as it had since Koch netted silver at Innsbruck, Austria. Given the depth of talent on the American squad, with a junior program on the rise internationally, and, now, with gold-medal notoriety it seems more than possible.
"One of the biggest thrills for [Jessie], as well as us, is the visibility this will give to cross country skiing in the U.S.," Deb Diggins said. "That was probably their biggest goal, more so than their personal gold medal, this is going to give cross country skiing an enormous boost."
"This will really be a game changer in the United States for skiing," Clay added. "For Norway, it would be another medal. And look at them and the support they have. In America, now, this changes everything."
SPOTLIGHT SKIING
In only eight months, it already has changed everything for Diggins and Randall, if not the rest of the team. In both good ways and bad. And, only one American knows the potential impact of such change—Koch himself. When Cody and I touched down in Seattle 24 hours after the sprint, I knew, as Diggins's family knew and Randall's teammates knew, that this story was in some part Koch's story.
He doesn't have television in his Peru, Vermont, home. But he was watching both the women's and men's sprint races on live timing. His imagination did the rest, and his heart took it from there. Through Sverre Caldwell, Koch's longtime friend and one of Diggins's coaches today at Stratton Mountain School's T2 program in Vermont, I managed to get the elusive Koch to a phone after the team sprint.
"I've been walking on air ever since," he said over Facetime. "I'm so ready to pass the torch. The first thing I did was go out for a ski. I was so happy. I was laughing and crying at the same time while I was skiing. I was doing a bunch of wicked intervals. Doing Klæbo technique up the steep uphills. I was so amped!"
"I just feel so much lighter," he went on, "because I know that these two women are going to do better than I did at promoting the sport."
That last comment puzzled me. Didn't he know that The Bill Koch League to which he leant his name has, for the last 40 years, brought skiing to more kids than any other in the country? And, as if his results as a racer weren't enough, he literally helped invent what we know now as skate skiing, the very discipline that netted Diggins and Randall their gold.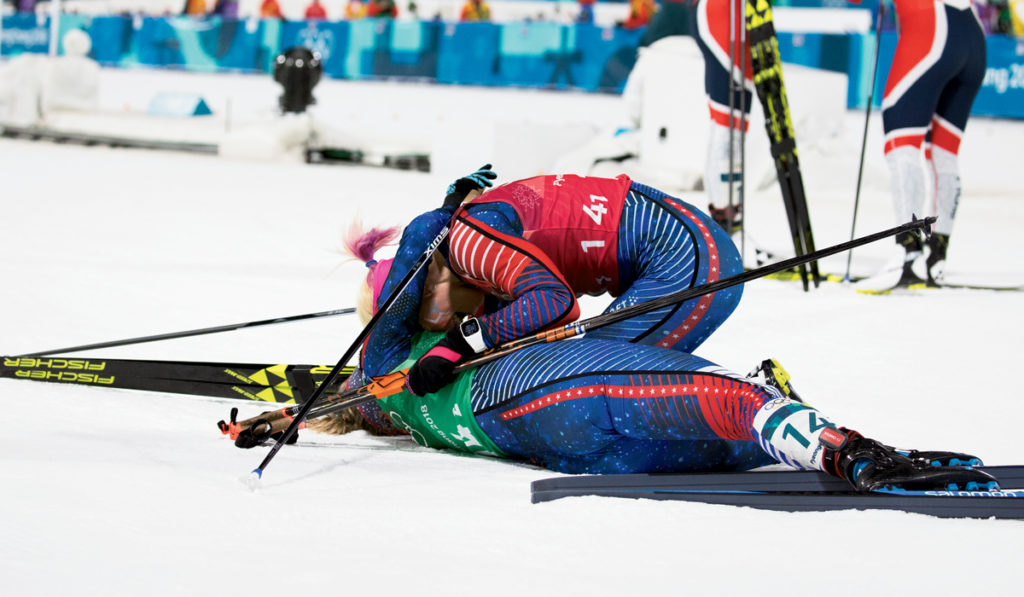 Coach Caldwell chuckled when I mentioned Koch's comment during an October phone conversation. "I remember when Bill won his silver medal," he said. "I was in college. And I found out he won and I was on cloud nine for the rest of the year. It was like, 'hey, we can do this type of thing.'" Translation: Americans can be the best cross country skiers in the world. And, according to Caldwell, it's because of all Koch has done for the sport that has allowed this belief to live on for four decades.
After his own racing career at Vermont's Putney School and, later, at Dartmouth, Caldwell would go on to start the cross country program at the Stratton Mountain School in 1980, and in the mid 2000s the SMS T2 program for senior racers, racers like Diggins and two handfuls of others who were at the Olympics in South Korea. Did Koch inspire Caldwell to "do this type of thing?"
"At the end of the year [of the 1976 Olympics] people were tugging at him to help promote the sport but that would mean you have to go to New York City to talk to these people," Caldwell recalled. "He just kind of pulled away and said, 'I can't do all this stuff.' So, he probably didn't do a whole lot because he didn't want to. But it also meant such a commitment. You know? Whereas now you can fire up things on Facebook and this and that and put your smiling face there. It's a lot easier. And they are very different people. Bill's more introverted, [Jessie's] more extroverted. But, to me, a lot of difference is just the times: Different time, different place."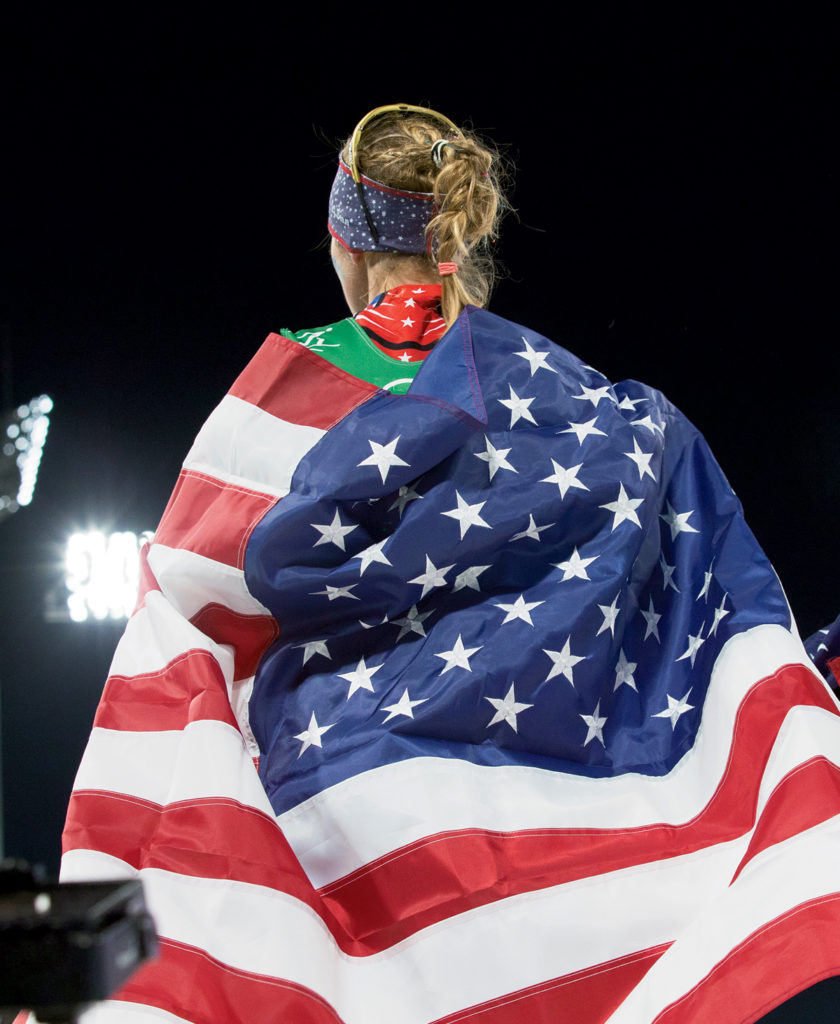 Since the Olympics Diggins estimates she's been asked to make nearly 500 appearances: The kind Koch quickly realized he couldn't manage while continuing to train and race. Yes, Caldwell admits, Koch had an agent for a time. And, of course, he did a lot of "stuff." But, looking back on it himself, Koch believes he could have done more. It's a perspective few athletes but the best will ever have to consider. But, for Diggins, the last eight months have been a sprint to both meet obligations and keep her sanity and training regimen intact.
"My life has not been the same since the Olympics," she admits. "And that's been both a good thing and sometimes it's been a little overwhelming because I have to figure out how to best be helpful and be, you know, someone who can help the ski community grow while still having some personal time."
She says she feels great about her fitness and training, and has learned to focus more deeply on fewer projects. The biggest, and the one that could do the most for the sport here in the U.S. is her work with myriad players to bring a World Cup Sprint to her home state of Minnesota. In March of 2020 Minneapolis will host a mid-week, nighttime, sprint race that lands between the two Canadian stops, in Quebec City and Canmore, Alberta. She's also been working closely with one of her new sponsors, The Emily Program, which shines a light on education about and the treatment of eating disorders like the one Diggins says she suffered from when she was younger. But, she admits, she's looking forward to racing again both to compete and to find the order in her life that's been a little disrupted since PyeongChang.
"After the Olympics [Koch] came up and was like, 'Thank you!' And I'm like, 'What do you mean?' and he says, 'You'll see,'" she says now with a laugh. "And I get it now because he's been hounded every four years. They drag him out and are like, 'Hey, what do you think? Is this the year? Is someone finally going to win?' And, of course he's probably like, 'I don't know,' because how would you know? It's the Olympics. Crazy things happen."
Yup, crazy, wonderful things happen at the Olympics. And, as Diggins now knows, life in the spotlight is no ski on the beach.
—
This story was originally published in Cross Country Skier Issue 38.1 in autumn 2018. Grab a copy of the issue a crosscountryskier.com/store and find more coverage of the 2018 Olympic Games here.