Wrapping up on Sunday, March 7, the 2021 FIS Nordic World Ski Championships showcased heated (and hot) racing, with several near-podium finishes by U.S. skiers and relay teams. The week and a half of racing in Oberstdorf, Germany, which welcomed 35 athletes from the U.S., saw the return of many Scandinavian skiers after their teams had skipped several World Cup events due to concern over COVID-19, and the Norwegians dominated many podiums.
Here are the major storylines from the 2021 FIS Nordic World Ski Championships.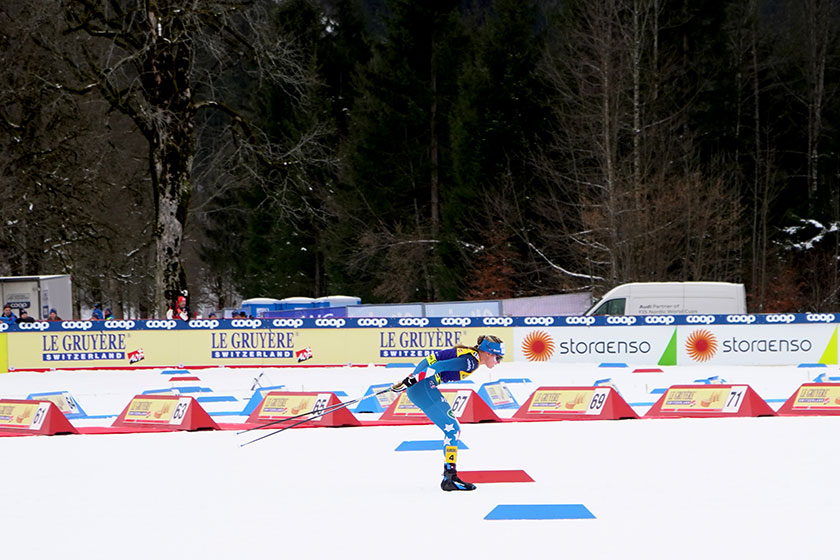 Tara Geraghty-Moats places fifth in first-ever women's Nordic combined World Championships
The 27-year-old skier from West Fairlee, Vermont, placed fifth in Oberstdorf, 1:09 down on the winner, Norway's Gyda Westvold Hansen. After her two jumps, Geraghty-Moats started the 5 km ski finale in 18th place—2:13 behind the leader—and skied a blistering pace, passing 13 competitors and closing her deficit by more than a minute.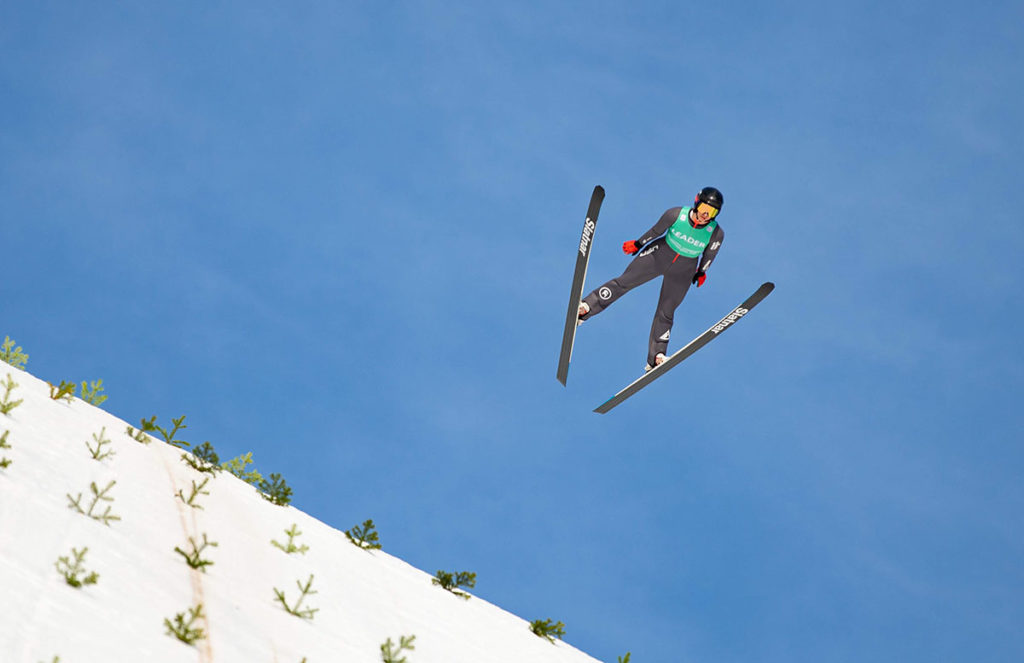 "I came in fifth place in the world today," Geraghty-Moats told USA Nordic. "Maybe it wasn't my best day but there's no way I can't be happy about that. It was the first ever World Championships for women and [there will be] many more chances to fight for the medals."
Geraghty-Moats has secured the Nordic combined World Cup overall title, winning the first-ever crystal globe awarded in women's Nordic combined. This season marked the first women's Nordic combined World Cup and World Championships, and Geraghty-Moats won the inaugural and only World Cup, held in mid-December in Ramsau am Dachstein, Austria. (The other women's World Cups, planned in Otepää, Estonia, and Lillehammer, Norway, were rescheduled and ultimately canceled due to the coronavirus pandemic.)
U.S. women earn two top-five relay finishes
U.S. women's relay teams narrowly missed two podium finishes, placing fifth in the sprint relay and fourth in the 4 x 5 km relay. The team of Rosie Brennan and Sadie Maubet Bjornsen was well positioned for a podium finish in the sprint relay when Maubet Bjornsen became tangled with two skiers while cresting the race's penultimate climb. The skier from Alaska fell but was able to keep pace with the lead group, finishing just more than two seconds off the podium.
The women's 4 x 5 km relay offered one of the World Championships' most riveting finales, with Jessie Diggins and Finland's Krista Pärmäkoski fighting a close battle for the third podium spot. Pärmäkoski edged out Diggins on the final climb, besting the American team of Diggins, Brennan, Maubet Bjornsen and Hailey Swirbul by less than a second. This is the fourth time the U.S. women have placed fourth in World Championship 4 x 5 km relays.
Jessie Diggins places fourth in 10 km
Jessie Diggins earned her best result of the 2021 World Championships in the 10 km freestyle, fending off Russia's Tatiana Sorina by just more than a second to earn fourth place. Norway's Therese Johaug won the race, followed behind by nearly a minute by Sweden's Frida Karlsson and Ebba Andersson.
"My goal for today was to cross that finish line knowing that I dared greatly, gave it everything I had, and that my brain was stronger than my body when it got hot and when my body was screaming at me to stop," Diggins wrote on social media following the race. "I'm proud of how gritty I got and how deep I had to dig."
Following the World Championships, Diggins heads to the final World Cup stop of the season in Switzerland's Engadin Valley this weekend, where she's set to take home the overall World Cup title. Diggins currently leads the overall standings ahead Russia's Yulia Stupak by a margin that cannot mathematically be closed by this weekend's racing—and the subsequent weekend's World Cup Finals have been canceled. Diggins will become the first U.S. female to win the overall World Cup title and the second U.S. cross country skier to do so, following Bill Koch's 1982 title.
Rosie Brennan sits in third place in the overall standings, narrowly behind Stupak and ahead of Sweden's Ebba Andersson.
Scott Patterson places 10th in the 50 km
Alaska's Scott Patterson placed 10th in the 50 km, earning the top individual finish of a U.S. male athlete in Oberstdorf. Patterson ended his race just more than a minute back on the race leaders, who finished in a controversial sprint to the line. After 2 hours and 10 minutes of racing, Norway's Johannes Hoesfot Klaebo narrowly passed Russia's Aleksander Bulshonov in the race's final stretch. The Russian's pole snapped, and Klaebo, who would have been the second man ever to win both the sprint and marathon in the same World Championships, was later disqualified for obstruction. The disqualification pushed Emil Iverson, who passed Bulshonov in the race's final meters, into first place and the U.S.'s Patterson into the top 10.
"I had to put in a pretty strong surge…to try and get back in on the leaders," Patterson told U.S. Ski & Snowboard, referring to his fifth-lap ski change. "I paid for it in the end, but I'm pretty happy. I wish I could have gotten a few more. I was hurting that last lap up that big hill. But it was a good race. I'm pretty psyched with it."
Sadie Maubet Bjornsen announces retirement
Alaska's Sadie Maubet Bjornsen officially announced her retirement during the World Championships, having returned to Worlds with a goal of podiuming in the 4 x 5 km relay. Maubet Bjornsen's career has included nearly 200 World Cup starts, six World Championships and a bronze medal in the 2017 World Championships' team sprint. In the final professional race of her career—the 30 km classic—the two-time Olympian placed 15th.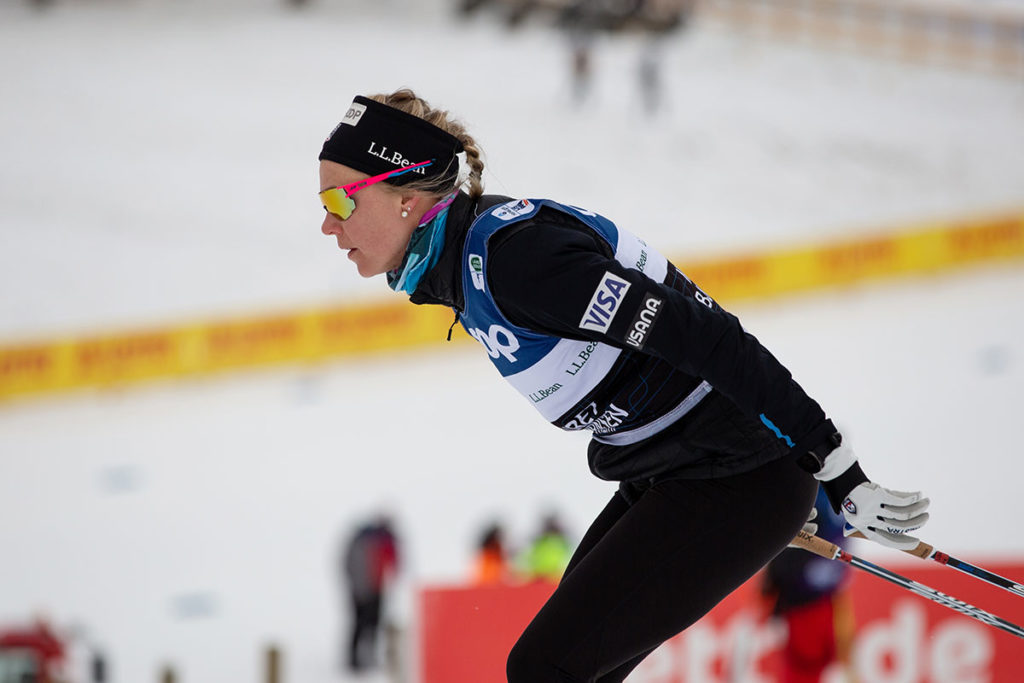 "This last week was definitely really special—the relay was certainly the highlight of the week," Maubet Bjornsen told U.S. Ski & Snowboard. "It's good to finish on a really hard note too, pushing through 30k. I'm thankful for my whole career."