Just before the start of the 2022­­–23 World Cup season, U.S. Cross Country Ski Team star Jessie Diggins took time out of her packed training schedule to speak with American journalists. She Zoomed in from Ruka, Finland, in a call facilitated by U.S. Ski and Snowboard. Diggins answered questions on a variety of topics, from the amount of pressure she feels to her role as mentor on the team to the impact of her advocacy work with Protect Our Winters, the athlete-driven nonprofit that addresses climate change. Here, we share her thoughts on some of the things she was asked about.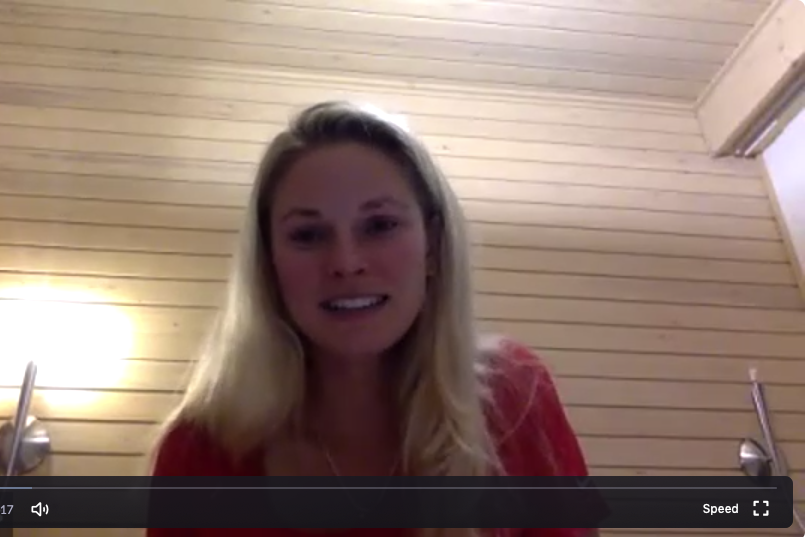 On life post–Beijing Olympics
I ended the season really tired—I'm not gonna lie. I was pretty smoked. It was a long, stressful season worrying about Covid all year. So it was a really nice spring to just have off and plan my wedding. I got married at the end of May. It was the best day of my whole life.
The give and take of mentoring
I think this is my 10th year coming to Ruka and it's easy in my 'old age' to get a little cynical. But when you see people starting their first World Cup, it brings back that energy and that excitement. It makes me remember my first World Cup and what I was nervous about and what I needed to know from my teammates. I'm trying really hard to be a very open resource. I try not to be pushy about it, but I want to make sure they know that they can ask me anything. And I think it's important to recognize it's not a one-way street. They give me so much energy and perspective in return.
Season goals
The World Championships are in Planica, Slovenia, and that's obviously a big highlight for pretty much everyone. I'm always excited for World Champs but especially those relays—I live for that. And I think we've been knocking on the door many, many times. So we're excited to put on the striped socks and the glitter and the face paint, and be as ready as we can be.
The pressure cooker's been turned down
Going into the last Olympics, I was like, wow, this is probably the most pressure I'll ever feel in my whole life because I was coming in as a defending gold medalist and a defending World Cup overall champion. So it was just like, if I can survive this and the pressure of Covid on top of it, everything else will be a piece of cake. That's not true. Pressure is pressure, and you feel it no matter what stage of life you're in and what you're doing. But I will say I feel a huge amount of relief this year. I feel like I don't have to prove anything to anyone. I could retire right now and be really happy with my life. But I'm still here because I love to do what I do.
"I've been waiting my whole life to race the actual 50km Holmenkollen."
Her most anticipated race
I've been waiting my whole life to race the actual 50km Holmenkollen. To be frank, I think it's total crap that the women never got to race this iconic distance. So now I'm finally getting a chance to race it. I know I can. I've raced 50km multiple times in time trials in the summer at the end of training blocks, and I was fine. I didn't need an ambulance at the finish line like they used to think they needed for women at the end of ski races. So it turns out we're okay. I think it sends a really important message to young women: You are totally capable of doing anything that you want to if you train hard and you work hard. And I think that's the right message that we want to send.
Continuing to compete
I'd say the biggest thing that impacts my decision is my husband. Because it's really hard to spend time away from him on the road. The single biggest thing is that he really supports me. He was like, you love these things that you do and you probably won't be able to do this your whole life, so you might as well make the most of it as long as you can. So I feel like his total unconditional support of me continuing to do this was probably the biggest factor.
The other half of it is the team, because if this was super lonely and isolating, and if the team wasn't a really welcoming, awesome place, then I probably would have been done a long time ago. It really does feel like a second family and that makes it easier to be on the road for so long.
"My husband's total unconditional support of me continuing to do this was probably the biggest factor."
Missing Therese Johaug
She kind of hinted that she was ready to have some other things in life besides just skiing, and I think there comes a time for all of us when we're ready to see what else is out there beside training all the time. But we are really going to miss her. She makes racing really exciting when you're in a mass start, and she's one of the all time greats in the history of our sport. It's definitely going to be different, racing the World Cup circuit without her.
There's no substitute for snow
I would say the biggest way my training has changed is there's been a little bit more of a focus on trying to really maximize that on-snow time. Because a lot of the changes I want to make are technique based. That's not to say that my fitness can't improve, but I feel like pure fitness can be gained just as easily on roller skis. But in terms of, for example, striding on steep hills with somewhat tricky snow conditions, you really can only improve that when you're on snow. We've tried to really push hard the last couple of years and try to make sure anytime I'm on snow, it's very focused.
A wedding invite from a fan
Unfortunately, by the time I found it, the wedding had already passed. So I did not go. That might have been weird if I had, but it was really touching.
"It's easy when we talk about climate change to sometimes get a little cynical and kind of give up."
Rallying to Protect Our Winters
I had a really great trip to the Capitol with Protect Our Winters this spring. Gus Schumacher also came; he's new to Protect Our Winters. The Climate Solutions Caucus had a meeting, and I was able to speak at it. I used the story of battling through food poisoning at the 30km as an example of sometimes conditions are not perfect. And just because something's hard doesn't mean it's not worthwhile. And, finally, finding solutions that both sides agree on is really hard. But it is worthwhile. 
It's easy when we talk about climate change to sometimes get a little cynical and kind of give up because it is such a long, uphill battle. But that doesn't mean that it's okay to give up on it. So I am really hopeful. We don't always agree on how to go about solving climate change, but there was an agreement that this is a problem, it's a manmade problem, and that we are the ones who need to fix it. And that's huge.