My first ski race of this season was last weekend's skate sprint in Davos, Switzerland. Not only was it my first race of the season, but it was also a World Cup, which represents a big step for me, because I usually start the race season on the SuperTour. It was also my first race back since being hit by a car on November 1, 2019.
As you can imagine, racing in Davos was a momentous step after a year of recovery from traumatic injuries. I have learned a lot during this period of rehab, but I haven't changed who I am. If anything, I have just become more me.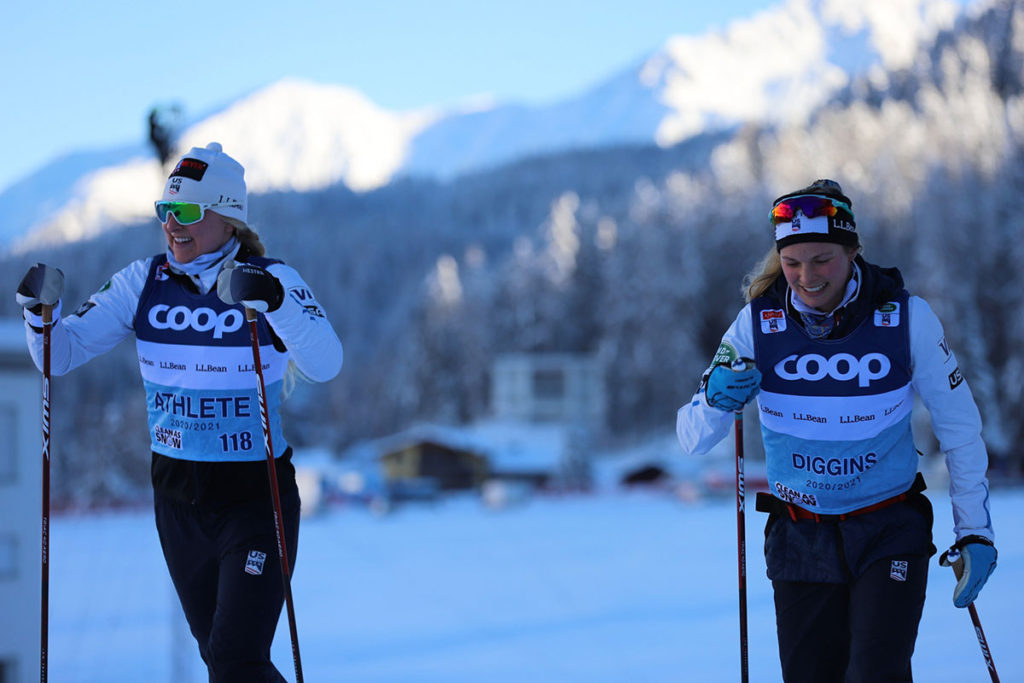 I have found there is a lot of truth to the cliché "you don't know a good thing 'til it's gone." I think there are easier ways to learn this truth, but the appreciation I have for skiing, my teammates and life is certainly more present than ever in my mind. And that appreciation makes me notice even more things to be appreciative for, things I wouldn't have noticed before.
When I was in Davos, I noticed how little things made me happy, like looking out the window on the drive to the race and noticing how pretty a mountain looks with the sun shining just so in that moment. Or two kids laughing and throwing snow as I ran by on an afternoon jog. Or having a croissant in the morning or listening to my teammates share funny stories from training this past summer. It's tremendously special to be in Europe with my teammates competing on the World Cup—and it isn't just racing that makes this whole experience meaningful.
That said, competing for the first time since my accident and knee surgery feels like a huge accomplishment, and I am aware of how fortunate I am to be in a place where I am physically healthy and strong enough to ski race. To be cleared for sport by the U.S. Team medical staff meant it was safe for me to race, so I wasn't scared about getting hurt, but I still felt incredibly nervous to put on a bib. It was a good kind of nervous—more of an overwhelming amount of excitement—but I felt jittery, nonetheless.
My teammates are caring and sensitive, and even with races of their own, they noticed this and told me not to worry and to have fun. It says a lot about the character and energy of this team, that they'll look out for each other in that way, and I am proud to be a part of this group.
Jessie told me before the race, "I may be wrong, but I get the sense you are putting a lot of pressure on yourself. Remember that your only job out there today is to have fun." Her thoughts were echoed by several other teammates and coaches, some of whom weren't there but still reached out by text, like Sadie Bjornsen, who reiterated the same message of "have fun today."
When I crossed the line, a bunch of coaches and teammates were there to congratulate me; it felt like the team was surrounding me to celebrate my return to racing. I don't think it would've mattered if I'd come in last place—they still would have been smiling and cheering. I feel special being part of a team like that.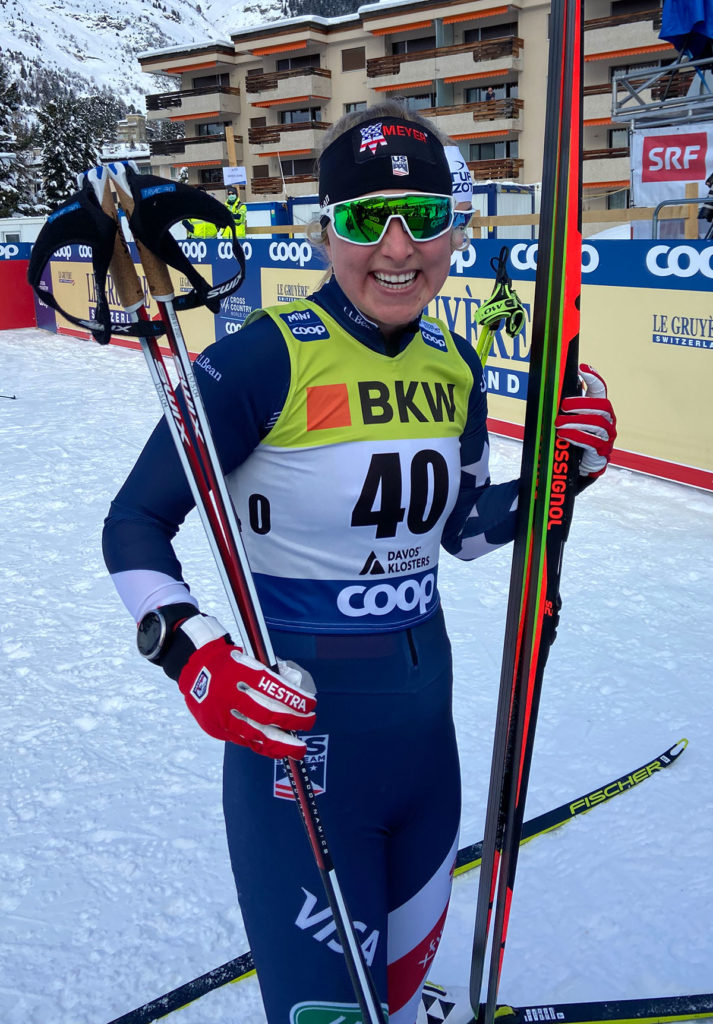 My first race went pretty well, and I think that if I keep working hard on my training plan I can get faster as the season progresses. I am encouraged by the excellent results of my teammates, like Rosie Brennan, who won both races in Davos back-to-back, and Hailey Swirbul, who earned her first-ever podium.
We also have tremendous positive energy from the men's team right now, which is bringing impressive results and lots of happiness to the entire team, especially during a year that has been challenging for everyone due to the pandemic. FIS and the U.S. Ski Team are doing everything they can to keep us and others safe as we travel for races, and my teammates and I are serious about doing our part to follow every protocol respectfully.
I know that no trajectory ever goes straight up, and getting to where I am now certainly has come with its share of ups and downs, but I strongly believe there is more in store for this team and myself this race season, and I can't wait to live those experiences.
—
After growing up in Truckee, California, Hannah Halvorsen moved to Anchorage, Alaska in 2017 to become a full-time college student and a member of the elite team at Alaska Pacific University (APU). In an upcoming issue of Cross Country Skier, regular contributor Tim Hauserman profiles Halvorsen and her recovery and return to racing after being struck by a car in November 2019. Subscribe now to get a copy.