This story first appeared in the Early Winter 2022 issue of Cross Country Skier (41.2).
We were kicking hard and gliding long on Lyle's Loop, a trail that passes through a mountain meadow in the Bear Basin Nordic Center, outside McCall, Idaho, when I found the story of this place—McCall, Bear Basin, Lyle's Loop—and what binds them.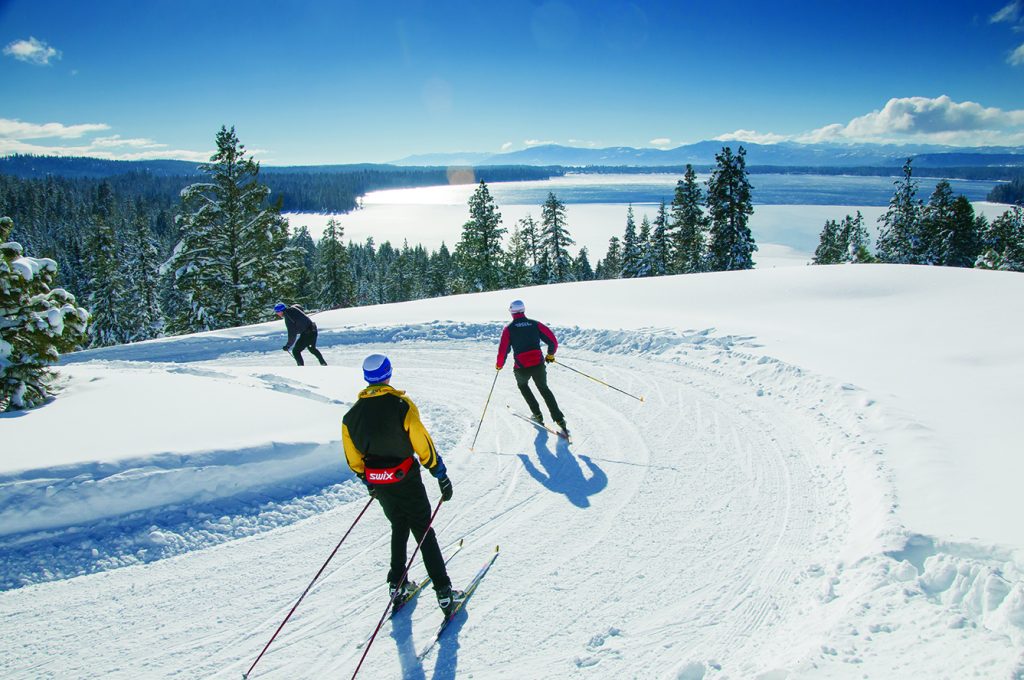 It was a warm, sunny day, the snow was soft and edgeable, and my wife, Katie, and I had the trail to ourselves on a mid-week April afternoon. On any other given day, we would be working in Seattle. Instead, we were nearing the end of a weeklong stay in McCall to explore the riches of its cross country trails.
Muscles tired and faces tanned, we were deeply contented and mentally re-centered after five days of exploring a mountain town where Nordic skiing is integral to winter life.
Special places are more than physical locations; they also incorporate intangible memories and spirits of those who came before. For Lyle's Loop that means Lyle Nelson—McCall native, West Point graduate, star collegiate biathlete and four-time Olympian. Nelson could have gone anywhere following his storied athletic career, but he returned home to work in health care and serve the community.
Now in his early 70s, Nelson is an unabashed McCall booster. "I have skied all over America and Europe, and I'm super-bullish on McCall," he says when asked about his namesake trail. "I'm humbled to think I have had a mark on this town."
Starting in elementary school, Nelson and his schoolmates rode the bus up to the Little Ski Hill, where they raced, jumped and honed skills in all disciplines. Opened in 1937, the alpine ski area, with a T-bar and 405 feet of vertical terrain, has been an incubator of young talent. Operated by the nonprofit Payette Lakes Ski Club, which also manages the Bear Basin Nordic Center, the Little Ski Hill is a backbone of McCall's winter recreation lifestyle, alongside the McCall Nordic and Biathlon Ski Club. "Growing up here," Nelson says, "was my launchpad to the Olympics."
For its small size (population 3,000), McCall is a hotbed of national cross country talent. Caitlin and Scott Patterson, siblings born here, competed in the 2018 PyeongChang Winter Olympics. Along with Nelson, biathlete Glen Eberle competed in the 1984 Winter Olympics. Recent standouts also include 2016 Women's NCAA Champion Annika Miller.
"McCall is fortunate to sit in a part of Idaho where we don't have to worry about lack of snow to host races," says Matt Galyardt, director of the McCall Nordic and Biathlon Ski Club. Galyardt's two sons joined the club as kindergarteners and are now hotshot teen racers. "Thanks to our abundant trails, our skier density is very low," Galyardt adds. "The ratio of kilometers of beautiful Nordic trails to skiers in McCall is great. We are lucky but not afraid to share."
Timber and Tourists
There is an old saying here: out-of-state and international skiers go to Sun Valley, the posh ski resort some 200 miles to the south, but Idahoans visit McCall. In truth, booming home prices due to an influx of wealth is making McCall unaffordable for working-class folks. It's a tale being repeated in ski towns throughout the West: a Covid-fueled real estate boom that pushed already high home prices into the stratosphere and exacerbated the lack of affordable rental properties.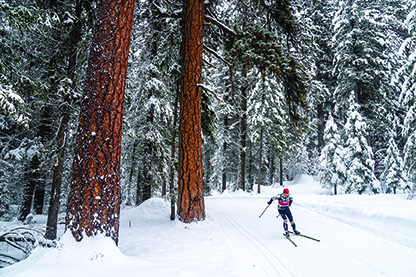 Like many Western communities, McCall's roots lie in timber and mining. But it has also lured tourists for a century, with an idyllic setting on the shores of Payette Lake, at 5,000 feet above sea level. "Back in the day, lots of summer vacationers came up from Boise on the railroad," says David Carey, whose family owns the Hotel McCall and Jug Mountain Ranch. "There was even a steam-powered paddlewheel boat that took people out on the lake. McCall has been discovered and rediscovered so many times."
The Hotel McCall was built in 1936 from local timber milled on site. The Carey family bought and refurbished it in the 1990s and play a major role in McCall's recreation economy. Jug Mountain Ranch, a 15-minute drive from town, features one of the area's best groomed Nordic networks. The Careys keep ticket prices low, offer their land for a biathlon shooting range and host many races.
"This town invests in its kids and its outdoor amenities," Nelson says.
Stomping Mush & Cruising Crust
We had arrived in McCall just before sunset, checked into the Hotel McCall and split to nab a few laps before dark at the Activity Barn, a youth and community center with a tubing hill and groomed trails. The Activity Barn is among the region's five groomed networks—which also include Jug Mountain, Bear Basin, Ponderosa State Park and Tamarack ski resort—that make McCall so desirable.
This was our second visit. We had come the previous summer to mountain bike McCall's abundant singletrack and vowed to return in winter. In the mornings, we got out early to ski the freshly groomed corduroy. In the afternoons, when trails turned soft, we stripped down and stomped the spring mush. In addition to skiing all five trail networks, we cruised a long rail trail that runs down the Payette River Valley and serves as a bike route during summer. We also indulged in another McCall tradition: crust skiing.
As an alpine skier and snowboarder, I loathe crust. So when locals began mentioning the excellent spring crust skiing, I was flabbergasted—and intrigued. Crust forms when overnight freezing temperatures harden the sunbaked snow into a bulletproof sheet of Teflon-slick ice. Bad when skiing down a mountain, amazing when skating across a massive meadow, as I discovered.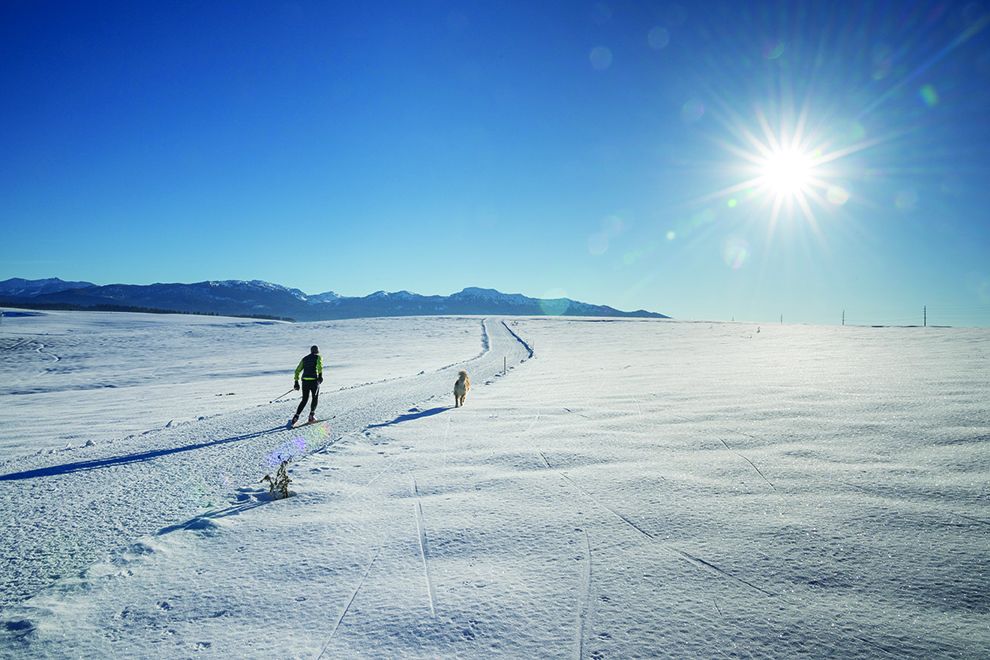 The Payette River Valley just south of town is a spring crust hotspot. Its undulating landscape stretches for miles through ranchlands. "Out on the meadows, you can see forever. I remember seeing a skier coming in my direction from two miles away," Nelson says. "It's fast skiing with limitless terrain and variety. You just have to step over the top of barbed wire fences sometimes."
My wife and I spent a morning cruising crust. Had we arrived several weeks earlier we could have crust cruised on Payette Lake, where skaters rip for miles on the dead-flat frozen surface, surrounded by views of mountain peaks. But warm April temperatures had formed puddles on the ice, and we had no desire to take a polar plunge. Next time.
Back on Lyle's Loop, and nearing the end of our vacation, Katie and I paused for a snack. It was so warm that I hung my shirt on the Lyle's Loop sign and skied a lap shirtless to recharge my vitamin D. Is there any better place in time than a snowy mountain meadow bathed in warm sunlight?
Or, as Lyle Nelson says, "Skiing has added more serenity, more awareness of the world and more exuberance and excitement to my life than any other life choice I've made."
Getting There
McCall is two hours north of Boise, Idaho. Rent a car to drive from Boise Airport. Greyhound also runs a daily bus from Boise to McCall.
Where to Stay
The Hotel McCall (rates from $135) offers large, sunny rooms in the center of town overlooking Payette Lake, with a plethora of restaurants, bars, a supermarket and two ski rental shops nearby. Historic photos adorn the walls, and a spacious reading room is filled with books that document the region's history. Did I mention the heated indoor swimming pool?
At the Scandia Inn (rates from $115), a refurbished boutique motel, rooms are accessed from the outside—ideal for individuals worried about Covid. Rooms feature air purifiers, reclaimed wood furniture and Scandinavian-themed art.
Even More Skiing
Bring your alpine gear and hit Brundage Mountain, an independently owned, old school–style ski area with six lifts, 1,900 acres, a free shuttle to McCall (eight miles away) and free winter RV camping.
Après Ales
Beer options are bountiful, with Salmon River Brewery and McCall Brewing Company located downtown and Broken Horn Brewing Company a short drive away. Salmon River Brewery was my favorite spot for outdoor drinks during a pandemic, thanks to its rooftop deck overlooking Payette Lake and heat lamps to keep toasty.