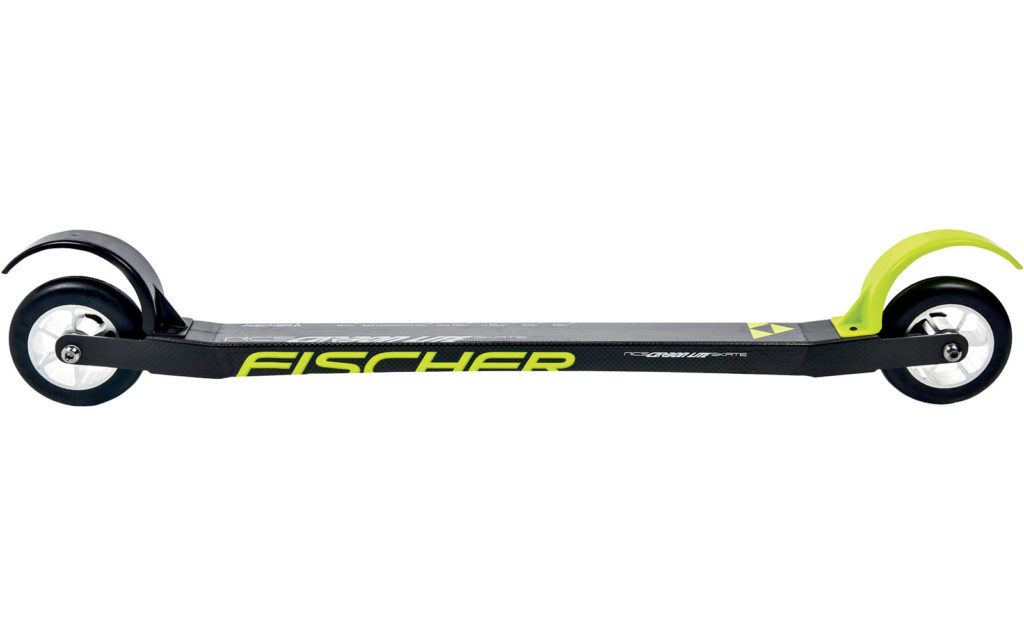 "The carbon-fiber look and flex made the skis look sleek and feel fast. I wonder how the ski would hold up to a couple of crashes, rocks or dives in the ditch."
Fischersports.com | $340 | 1014g [630mm]
"NICE SMOOTH finish. One of the first things I noticed was how the skis seem to encourage good footwork and extending the glide without feeling too fast," noted one of our most experienced testers of the RCS Carbonlite Skate. Fischer designed this rollerski with an "Air Core Composite frame" in order to dampen vibration and increase the rolling smoothness. Performance aside, testers agreed with one assessment of their curb appeal: "The carbon-fiber look and flex made the skis look sleek and feel fast. I wonder how the ski would hold up to a couple of crashes, rocks or dives in the ditch." Fischer incorporates a razor-shaped base to their rollerskis where the bottom edges of the shaft are blunt, a feature that they designed to increase ground clearance when cornering or putting the rollerski on an edge.
Description from Fischer:
The top model stands out through its newly developed Air Core Composite frame. Thanks to the materials used, this unique frame construction optimally absorbs the vibrations which occur and gives you smooth performance. The Razor Shape Base guarantees sufficient ground clearance even with an extreme kick angle.