This coverage is brought to you with the support of Madshus and Boulder Nordic Sport.


At the Olympics, the Mixed Zone is a place below the grandstands where media gather, by country, to interview athletes after a race. Competitors come by individually, usually accompanied by an escort from the team, to answer questions posed by journalists from their respective countries. Because of Covid protocols at these Olympics, the athletes stand a few meters away, and the process has become for media to place their recording devices on a silver tray that's brought over to the interviewee to better pick up the audio.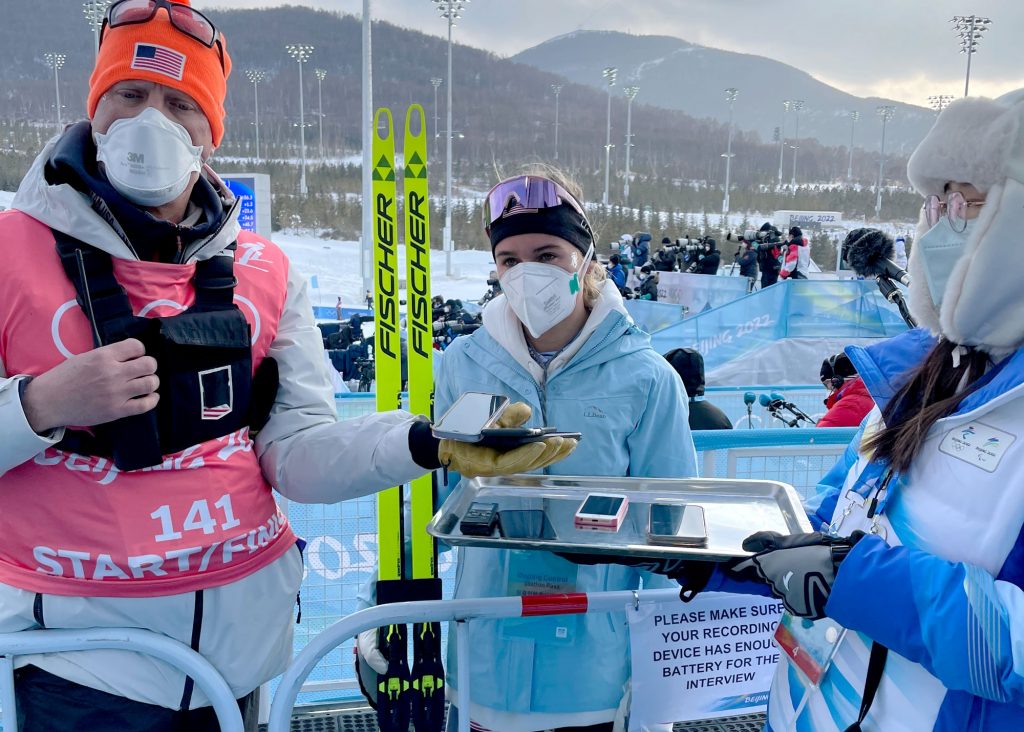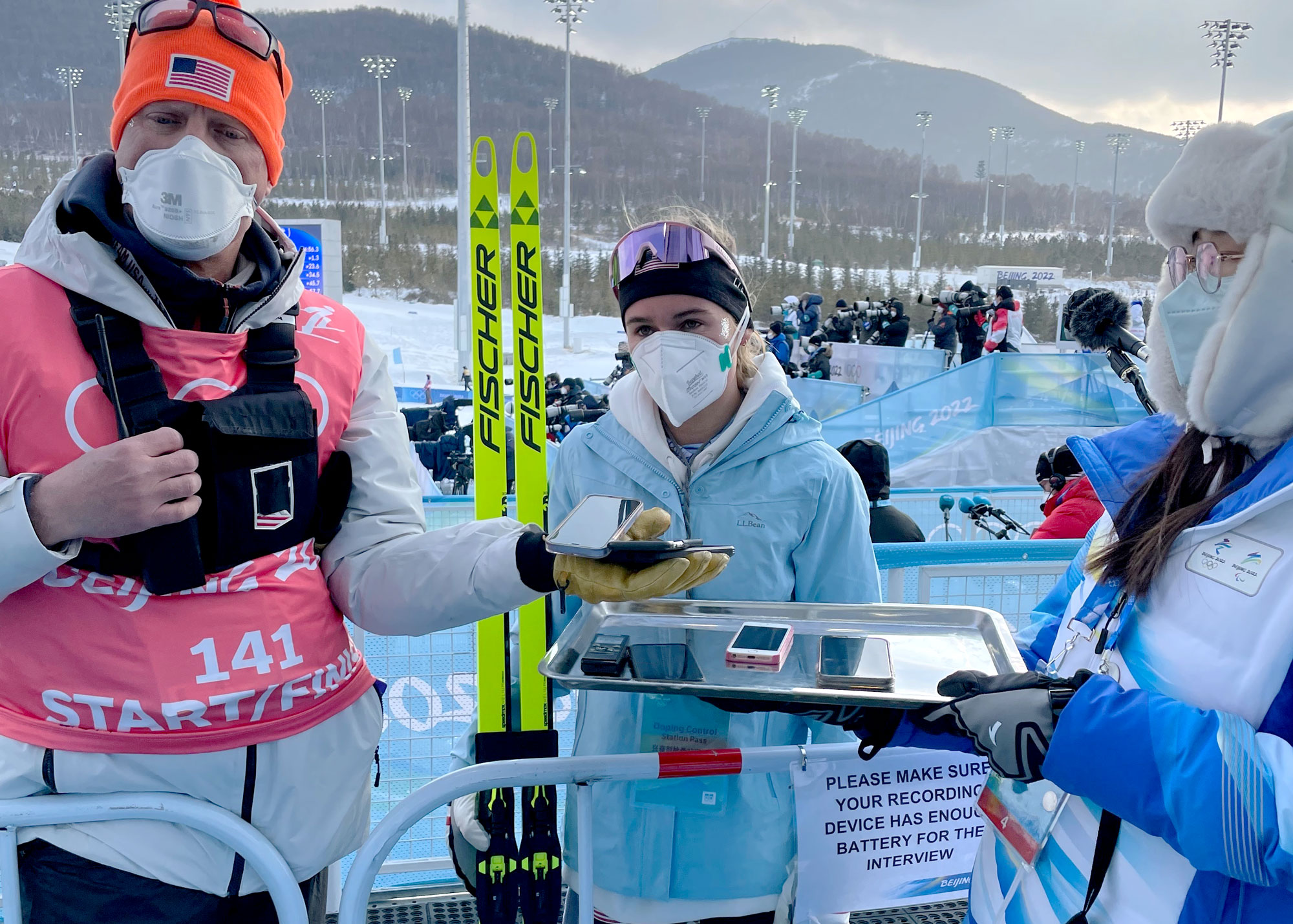 The conversation around women's sports has undeniably undergone a sea change, with the focus primarily on accomplishment rather than appearance (the issue of participation on the other hand … why, again, is there no Olympics Nordic combined for women?)
But sometimes a reference to body type hits a nerve, as was the case in a recent New York Times article about Jessie Diggins's bronze medal in the women's individual sprint on Feb. 8. "In a sport that has so many women with massive shoulders and thighs, Diggins looks like a sprite in her racing suit, and it's not clear exactly where she gets her power. But the power is there, as she flies up hills, and comes off climactic turns with a burst. On the downhills, she tucks low and cuts through the air," wrote longtime sports journalist Matthew Futterman.
At least some members of the U.S. women's squad didn't appreciate the description and neither did head coach Matt Whitcomb. "It's surprising to see something like that in 2022 come out in the Times," he said when asked about it. "Because it's a sensitive issue. And, you know, you think about where we were 20 years ago, something like that wouldn't have even registered on anyone's radar. And we all learn on a different day or a different year what's acceptable—it's an ongoing moving target. And so I'm sensitive to the people that are caught off guard, but it's great that [Futterman] is being called out on it."
The issue has added significance, perhaps, given Diggins's struggle with an eating disorder in the past that she's openly shared. It was a topic of discussion among female journalists in the Mixed Zone at the women's 10km classic yesterday, Feb. 10, and a male colleague from FasterSkier initiated asking the U.S. athletes about it as they passed through to chat with us.
Here are their responses. What do you think? Was the reference unwarranted or did it fit into the context of the story?
Novie McCabe: "Yeah, I mean, I think the older girls have kind of been trying to ignore it a bit, but it was obviously like pretty uncalled for and insensitive and they need to do better. So yeah.
I mean, Jessie got a medal because she's the best out there and not because of anything about her body. So I think just like insinuating that there's something there was not okay."
Rosie Brennan said she hadn't read the article.
Hailey Swirbul: "I think that our sport is so unique and so powerful in the sense that every single body type can succeed. It doesn't matter how you look, it matters how you race with your heart, how hard you work, and I know that everyone on our team works so frikkin' hard. Jessie included, and everyone on that podium deserves that spot. No matter what they look like. I hope that as a culture, we can move away from body types and focus on the hard work and the courage and the bravery that everyone races with every day. So I really hope that that's where we move in the future."
Jessie Diggins: "I don't read things written about me, and I think that's a very, very healthy thing. But it's unfortunate with rule 40 that you can't see the invisible headgear sponsor that you know is there at all times for me. [Rule 40 prohibits athletes from using their name or likeness to promote non-Olympic-approved sponsors during the Games, and Diggins usually wears a headband from the Emily Program, an eating-disorder recovery program that she partnered with since the last Olympics.] I think that's really all I have to say about it. It's important that women everywhere know that they're good the way they are. You don't have to be a certain body type to win at the games—you have to be healthy and happy and have a great support crew."