This coverage is brought to you with the support of Madshus and Boulder Nordic Sport.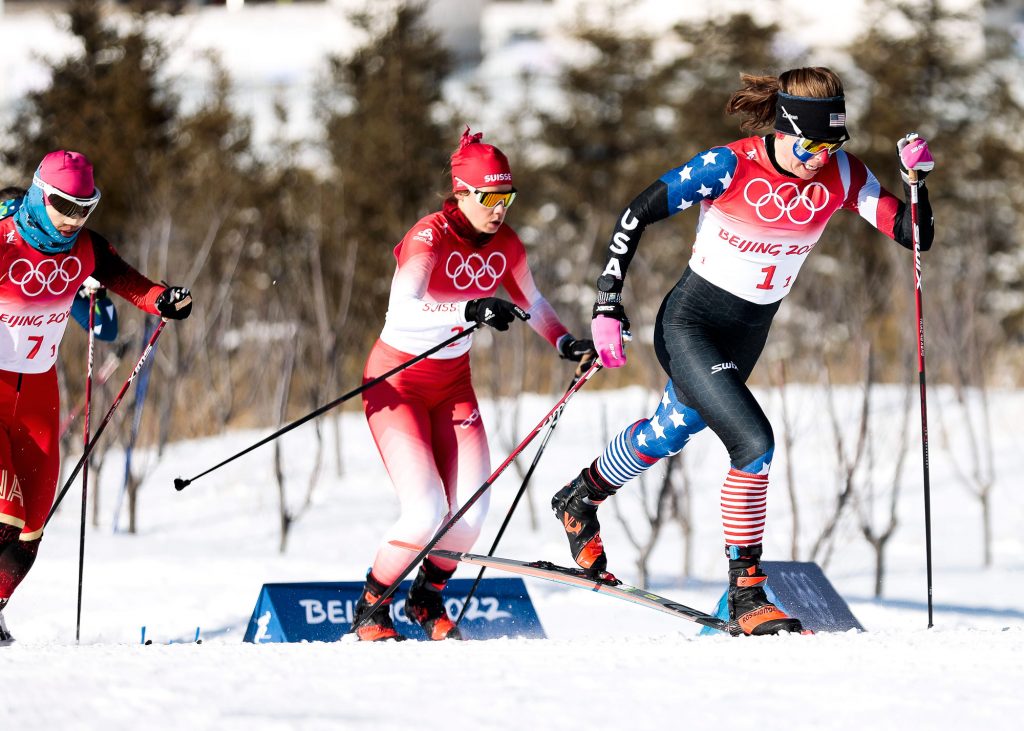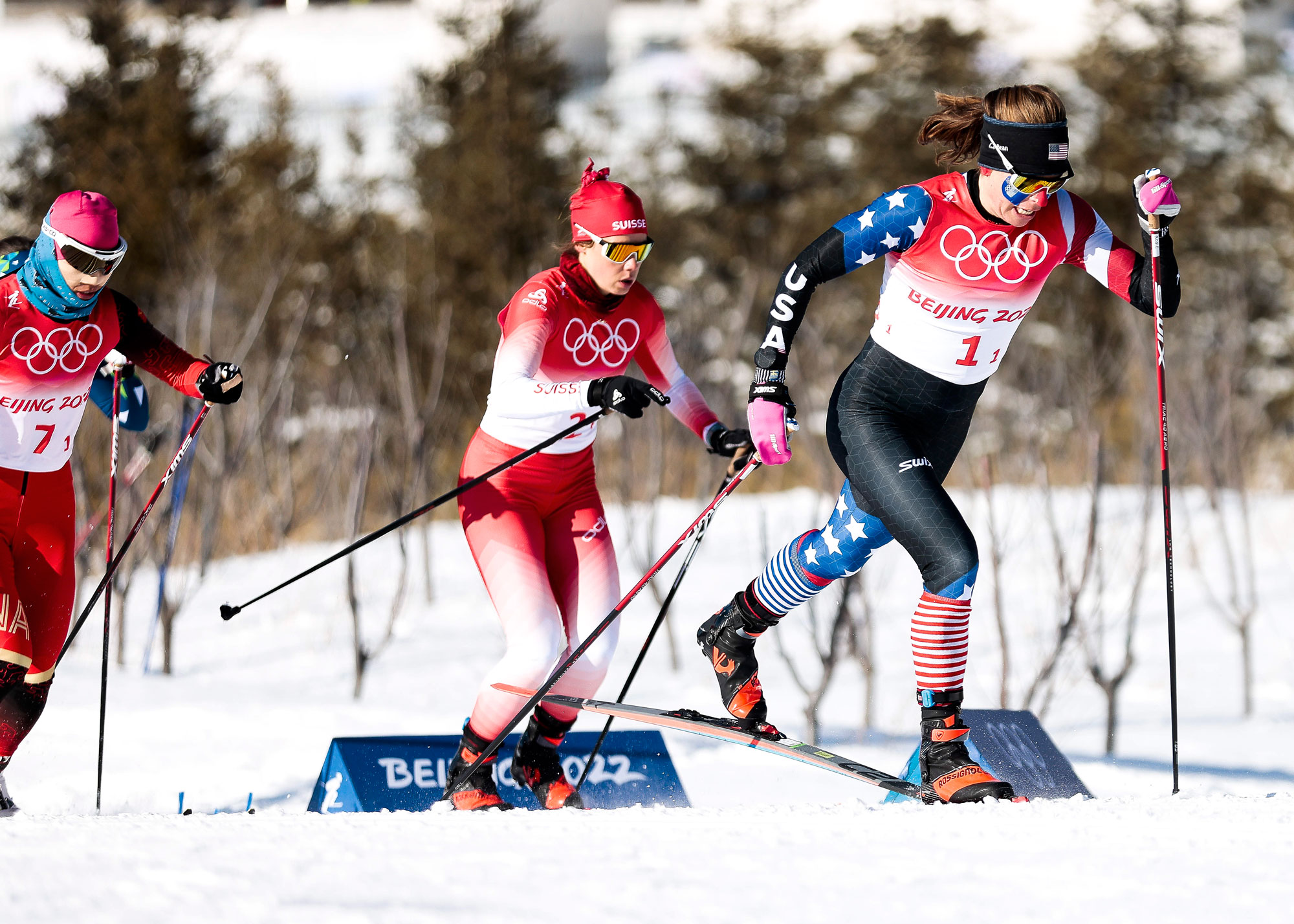 Is it something in the strudel? For the second race in a row, the German women turned in a stellar—and surprising—performance; Katharina Hennig and Victoria Carl won gold in the Team Sprint at the Zhangjiakou National Cross Country Skiing Centre, finishing in 22 minutes, 9.85 seconds, a mere .17 seconds ahead of Swedish duo Maja Dahlqvist and Jonna Sundling. Taking the bronze. The Russian Olympic Committee's (ROC) Yulia Stupak and Natalia Nepryaeva finished .71 seconds back. Over the weekend, the Germans—Hennig and Carl, along with Katherine Sauerbrey and Sofie Krehl—had won the silver medal in the 4 x 5km relay.
Jessie Diggins and Rosie Brennan were in it until nearly the end, when Diggins fell behind the lead group—Carl, Sundling, Nepryaeva and Finland's Krista Parmakoski—about two-thirds of the way through the last lap; the U.S. pair ultimately placed fifth, trailing by 12.93 seconds. Beating the Americans for fourth was the Finnish team of Kerttu Niskanen and Parmakoski (who had taken silver and bronze, respectively, in last week's 10km classic).
Whereas viewers couldn't help but wonder whether Diggins could repeat her gold medal performance from the team sprint in PyeongChang four years ago, she emphasized that the analogy wasn't warranted. "I'm not trying to compare today to four years ago," Diggins said after the race. "It's a different course, different altitude, different technique, like literally nothing is the same, and that's okay."
Meanwhile, there was no surprise in the winner of the men's team sprint final, which immediately followed the women's race. Johannes Hoesflot Klaebo and Erik Valnes notched yet another gold for Norway with a time of 19 minutes, 22.99 seconds. Finland's Iivo Niskanen (Kerttu's brother) and Joni Maki took silver—2.46 seconds behind the Norwegians—while a pair of Alexanders from the ROC—Bolshunov and Terentev skied to the bronze. The American duo of Ben Ogden and JC Schoonmaker wound up in ninth, 1 minute and 5.09 seconds behind the gold-medal pace.
In the team sprint, each teammate skis three laps of the 1.5km course, for a total of six laps; this time around, the format was classic (it alternates between skate and classic every other Olympics). With temperatures hovering in the single digits on a bright day, the races had been moved up a couple of hours to give the racers a better chance of capturing whatever fleeting warmth the sun's rays doled out.
"I felt really good about my skiing today," said Brennan, who had expressed some disappointment with her 13th-place finish in last week's 10km classic. "I think it was one of my better classic races this week so I'm really happy to put it together by the end of the Olympics. And I did what I could to stay in contact to give Jessie her best shot, and I'm happy with that."
In a mid-January call with reporters, Diggins had said, "For me, success means crossing the finish line with nothing left in the tank." By that measure, she succeeded in spades in the team sprint, visibly out of everything as she lay on the ground gasping at race's end, with Brennan crouched beside her. "There's no doubt in my mind that I could not have possibly tried harder," said Diggins later, after she started to recover. "I finished with zero sugars left and was dizzy and sick. I'm just really proud of giving it our all because that's all you can do. "
Diggins had used the 10km classic last week to do a bit of tactical reconnaissance, as well as further dial in her classic technique. "When I'm full of lactic acid, I can't feel my legs," she said after that race. Doing the 10km allowed her to strategize on things like, "What do I need to do and think and say to myself to get up that hill with power? What does that last bit of stretch feel like when I'm full of lactic acid? Now I know." The work paid off; following the team sprint, Diggins said, "I felt like technically this was some of my best classic skiing."
The Olympic course's long climbs—coupled with the altitude—have challenged racers throughout the Games, but as Diggins strives to kick uphill more efficiently, it may have cost her some glide. That's because she had asked her techs for an extra bump of kick wax. "In hindsight, maybe I shouldn't have, but also, that's on me, and I know that that's what I need," she said. "I need to be able to get up the hill. And that was my biggest priority. I think having not enough kick would have made me lose more time."
Whereas Brennan and Diggins had on their signature striped relay socks and glitter (this time over their face tape), first-time Olympians Ogden and Schoonmaker appeared after their race with nothing out of the ordinary other than Ogden's heavily frosted—and recently grown—'stache. "We were supposed to wear stuff more crazy for team spirit but we honestly forgot," explained Ogden. "We forgot the relay socks and we forgot the [temporary] tattoos." Consider it a mistake they won't make again. "Jessie's going to come down hard on us tonight," laughed Schoonmaker. "It's not going to be pretty."
Both skiers, who are essentially new to team sprints at the World Cup level, acknowledged that the day's races, which they characterized as "aggressive," packed in some valuable experience. For example, breaking a pole in the semi-finals, said Ogden, "was one of many moments where we used some extra energy out there. Live and learn."
Schoonmaker, meanwhile, thought he might have wasted some energy on his first couple of laps in the semifinal. "I thought the pace was easy when it was actually faster than it was. So, I took the lead a little on my first lap. And then the last one, coming into the stadium, it just like hit me like a wall." He added, "I think [with] a little more training on our belts, a little more endurance and a little more experience will definitely be a big game changer."
Ogden and Schoonmaker are leaving the Olympics to return to regional college and NCAA races (Ogden attends the University of Vermont, Schoonmaker the University of Alaska at Anchorage), while Diggins and Brennan plan to ski Sunday's 30km, the final day of the Olympics. After that they'll return to the World Cup circuit, and Brennan reminds us that there is still plenty of racing to watch.
[You can watch World Cup races streaming live or any time thereafter on Peacock.]