When Jessie Diggins collapsed Sunday across a finish line 3.5 kilometers up an alpine ski trail at Val di Fiemme, Italy, she became the first-ever American winner of the FIS Tour de Ski. The 29-year-old Olympic gold medalist also capped off a historic eight days of racing for the Davis U.S. Cross Country Ski Team, which included multiple 1-2 finishes (by Diggins and teammate Rosie Brennan) and many personal-best World Cup results and top American male performances by 20-year-old Gus Schumacher. Read our recap of the Tour de Ski here.
Following the Tour, Cross Country Skier's Adam Howard caught up with Diggins to learn how the racing played out, what team tactics factored into the eight stages and where Diggins's concentration lies for the rest of the season. (Hint: She's focused on Oberstdorf, Germany.)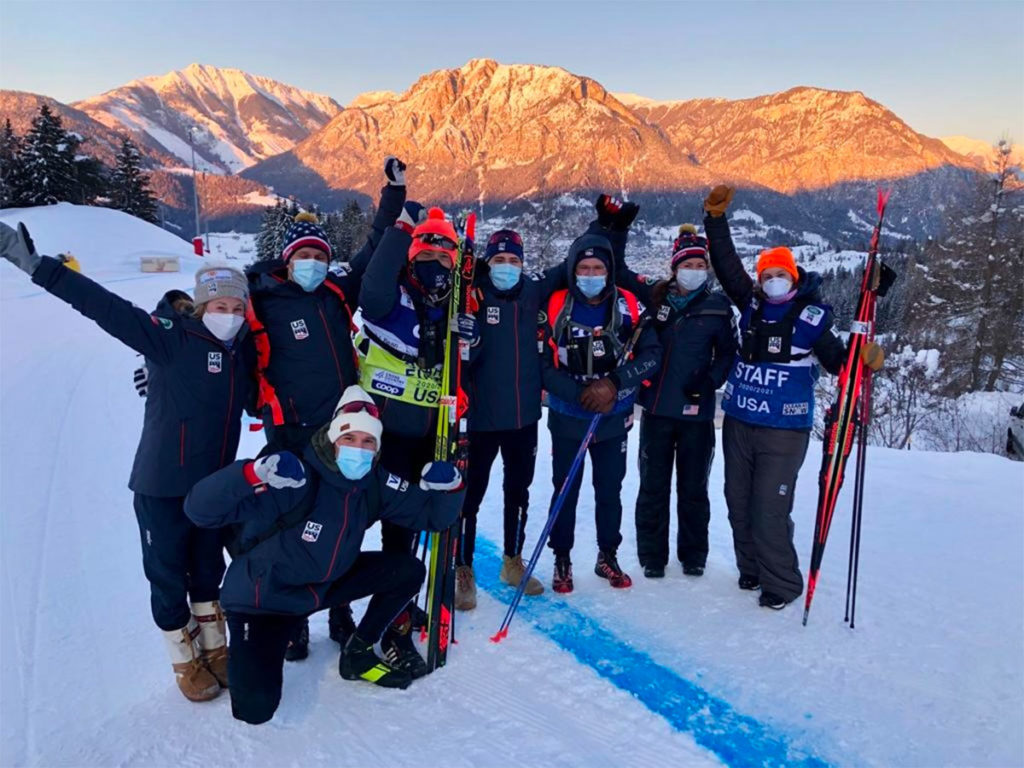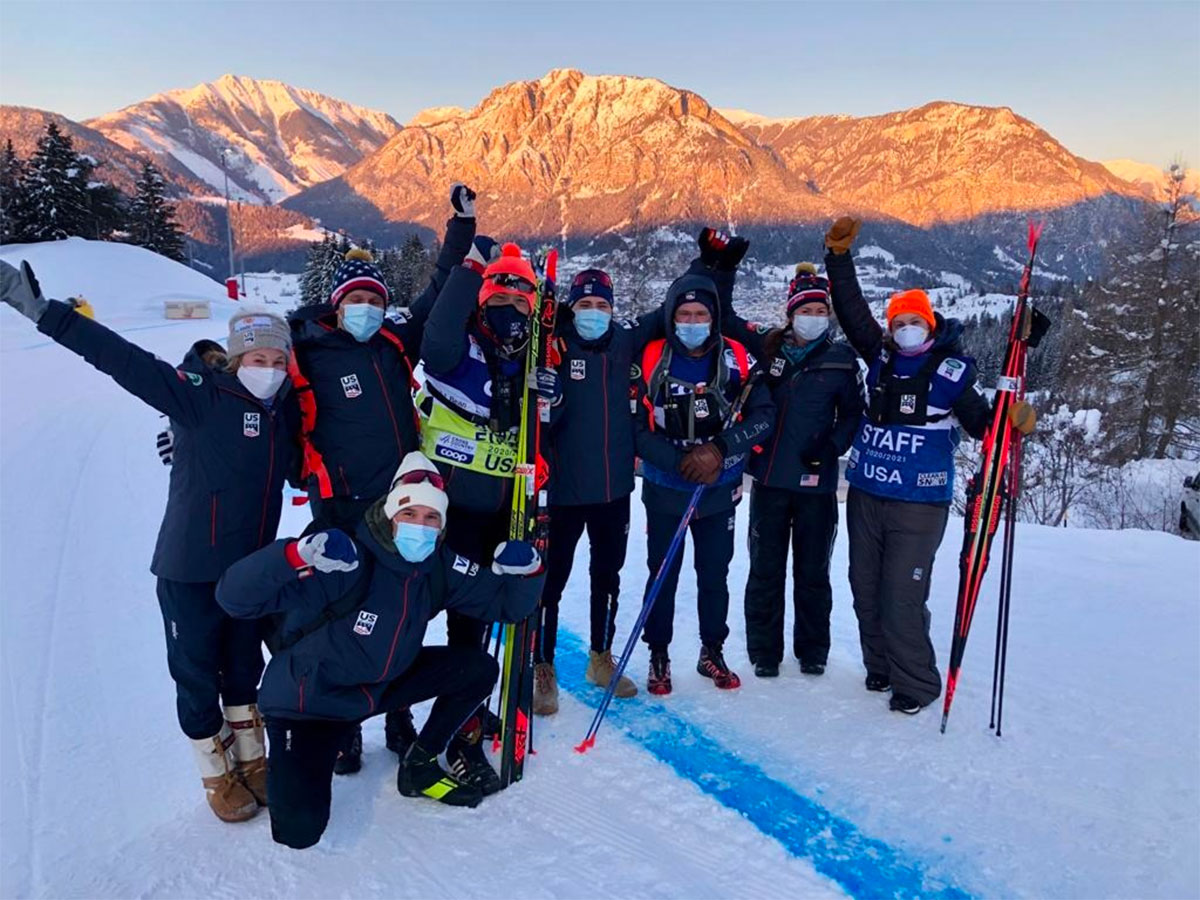 Adam Howard: First of all, congratulations on your victory in the 15th-annual Tour to Schi, as it's called over there by many people. I watched every stage on Peacock, and it was such a treat, because, in the past, it's been hard to watch cross country skiing and, frankly, alpine here in the States. Have you heard from any people who have been able to tune in this year who have not been able to in the past?
Jessie Diggins: Yes! It's been so cool seeing people messaging me on Instagram or tagging me. And it's very cool seeing that, in such hard times, people are able to find a lot of joy in ski racing. It's really wonderful to know that we're able to hopefully be a little bit of a bright spot right now.
AH: Well, you certainly are. Let's talk about the race a little bit. Right from the very beginning, you and Rosie Brennan were right up there, vying for the top spots in each race as well as overall. How did having Rosie right there motivate you?
JD: It's kind of funny, because I come into this every single year as motivated as I ever am. You know, it's not like you're motivated more just because you're doing well. I'm always motivated. I'm always pushing my body absolutely as hard as it can go.
But having Rosie up there—and then having some of our younger athletes also notching career-best World Cups right and left—it was so cool to see this positive momentum, to see the wax techs delivering amazing skis race after race. You get rolling in this positive cycle of momentum, and that sort of feeds upon itself. And we work really hard to keep a really positive atmosphere on our team. Again, we do that whether we're winning or losing. But it does become that much easier to keep that ball rolling in a positive direction when it's going well.
For me, seeing someone like Rosie—who I know has worked so hard for so long—to see that paying off in such a way is really gratifying. She's put in the work, and to see this coming to life, that's really cool. You love to see good people winning.
AH: Absolutely. What was the hardest stage for you?
JD: I think the mass start classic race in Val di Fiemme, which was stage six. That was hard for me because I'd had the yellow bib for a couple of stages, and I was trying very hard to not put pressure on myself. But there's only so many yellow bibs you can wear before you start to feel that pressure.
My classic skiing has made a lot of progress over the years, but that's still my weaker event. And it was a really challenging course. I love the course, but I knew it was going to be a day where I was just going to have to grit my teeth and hang tough: No matter what, stay as close to the leader as possible, fighting for every single second that I could. I was pushing so hard [that in] the last couple K of the race, I couldn't feel my body from the waist down. But I knew if I [could] just make it through this stage, I'm going to be good.
AH: It was interesting watching the stage race essentially day after day, as I would the Tour de France or any other cycling race. On the last stage, when the Swedish team was all out front and they were pacing each other, it seemed like team strategy was playing out. Is there a team strategy in a race like this or was that something I was just making up?
JD: Oh, there definitely was, and I think it's a really good point. In cycling, you know, you have an entire team working for you. In skiing, you don't have that. You have to work for yourself, which is kind of cool because you don't get pulled along by anyone else. That's what makes ski racing so interesting. You can't just say, "Hey, you go work for me the entire race and then I get to win."
But that last day was really cool because Linn Svahn was going for the red jersey, the sprint points. And so I knew she'd be out front. Since she was out front, [the Swedish team] had the strategy of, "OK, Lynn, you go get the points and pull Ebba [Andersson] along." I saw that's what was happening. And I was like, "Well, I'm just going to get right behind Ebba. And then they're pulling me along." And so it was great, because I really benefitted from the Swedish sprint team being there for Ebba.
AH: Really interesting. So every year, you get fired up for the Tour de Ski. But you can pay a price: You're racing eight out of 10 days and you're redlining every day. And then you have a couple of weeks to recover before your next races, as I understand it. The juice was worth the squeeze, but how does that play out on the circuit overall?
JD: Yeah, you know, that's a great question, because for me personally, the Tour is a really important part of my preparation for the rest of the season, as well as an incredibly fun event. I love racing, and what could be cooler than getting to ski race almost every single day? It's fun, but it's also so incredibly hard. It takes a toll on your body, you get really tired, it's hard to sleep, and recovery is a challenging.
And so, for me, the big key is that if I can recover after the tour—like really let all that effort sink in and absorb and then get some quality training—then [I can] come back to the World Cup [and] have a really great rest of the season.
AH: How do you recover? What is your strategy?
JD: A lot of it is just sleeping, right? Eating a lot of really good food. We're going sledding this afternoon. [I'll] go for a little walk back up the hill, but [I'm] basically making sure that when I ski, it's really easy, it's really slow. I don't do intensity until I'm absolutely ready. I'll get back into strength training to make sure I don't lose muscle mass. But I think a lot of it is just not doing too much, which is the hardest thing for skiers who love doing too much all the time. That's kind of what we thrive on. But you really have to rein it in and be careful,.
AH: Talk to me about your plans for the rest of the season. What are your goals?
JD: Well, of course, World Champs. That's still a little ways away—it's a little bit later in the schedule. This year it's in Oberstdorf, Germany. They're really cool courses. They're very challenging. I'm very excited. I'll be racing nearly every World Cup weekend until World Championships. I think I will skip Nové Město right before, because it's like five days before the first race of World Championships. But, I'm looking forward to trying to keep the ball rolling. And of course there's going to be ups and downs. There's got to be a natural sort of ebb and flow of the season, but I'm hoping to really time that peak perfectly. Mentally, I know that I can do that. And then you just have to hope that, physically, you nail the rest of it.
AH: So World Championships is the goal. And if somehow you can have a great rest of the season, the points lead is pretty cool, too. How do you look at that? Does that factor in?
JD: Yeah, exactly. I think a lot of it is just not getting psyched out about that, because, again, you can't control how everyone else races. You can't control who's there, who's not. You can't control the skis; you do your best. And for me, every time I race a World Cup, I'm going to put 100 percent of my energy down there, and I'm going to give it my absolute best. And if I just focus on doing that—preparing, resting, being smart, mentally in it and ready to give my best effort every time—then, yeah, it would be so cool to come away with the overall, but that can't be the focus every single day. It's important to be thinking more day by day, week by week. You know, "What do I need to be doing right now in order to have success throughout an entire year?"
AH: Well, Jessie, we wish you every success for the rest of the season. You have given us a great deal of joy. And I hope you know that there are so many people cheering for you here, and we're psyched up to watch it play out over the rest of the season. So thank you very much and thanks for making time.
JD: Thank you so much.