When Jessie Diggins collapsed Sunday across a finish line 3.5 kilometers up an alpine ski trail at Val di Fiemme, Italy, she became the first-ever American winner of the FIS Tour de Ski. The 29-year-old Olympic gold medalist also capped off a historic eight days of racing for the Davis U.S. Cross Country Ski Team, with multiple 1-2 finishes, many personal-best World Cup results and top American male performances by 20-year-old Gus Schumacher.
"This is a lifelong goal and…it means a lot," Diggins said in a post-race interview with FIS. "We had an amazing team atmosphere this whole time and amazing support and help and so many cheers from all around the world, so I think it really gave me wings up the hill today."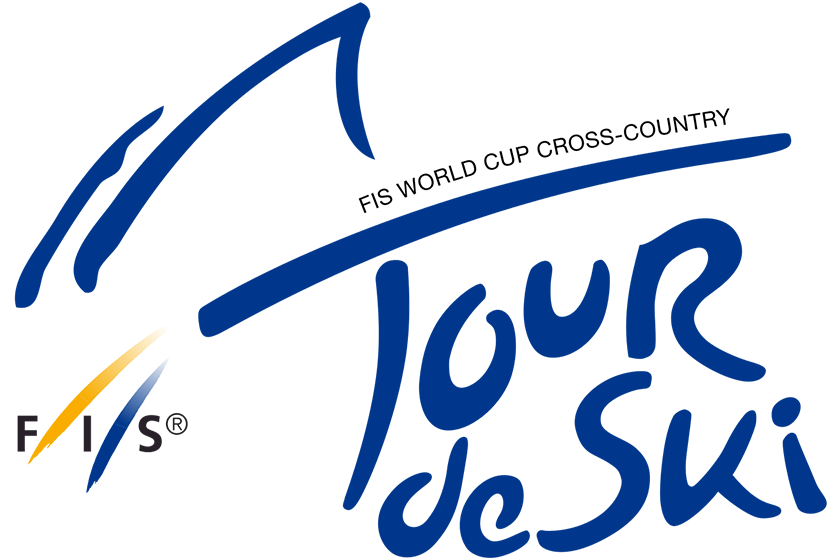 "I come into [the Tour de Ski] every single year as motivated as I ever am," Diggins told Cross Country Skier. (Read the full interview here.) "But having Rosie [Brennan] up there and then having some of our younger athletes also notching career-best World Cups right and left…it was so cool to see this positive momentum."
Diggins earned the overall leader's bib on stage three of the 15th-annual Tour de Ski, the event modeled after cycling's Tour de France, in which racers compete for the fastest cumulative time over a series of multiple traveling stages. This year's Tour de Ski held its first three stages in Val Müstair, Switzerland, its second two stages in Toblach, Italy, and its final three stages in Val di Fiemme, Italy, combining sprint and distance events; mass, pursuit and interval starts; and freestyle and classic techniques.
Diggins entered stage three's 10 km freestyle pursuit in Val Müstair, Switzerland, in second place, with fellow Davis U.S. Ski Team athlete Rosie Brennan in fourth. Alongside Sweden's Frida Karlsson, the American duo caught race leader Linn Svahn, of Sweden, on the second of four laps, gaining a 24-second advantage on Svahn. Diggins attacked the trio over the final climb while Brennan followed, earning first and second place, respectively, and shooting Diggins and Brennan to the top of the overall standings.
The duo repeated their 1-2 finish two days later, in Toblach, Italy, during stage four's 10 km freestyle. The win was Diggins's eighth career World Cup victory and 30th career World Cup podium, leading her to surpass the American podium record held by Kikkan Randall. Stage four also made history for the men, with Gus Schumacher earning the best-ever American male finish—14th place—in the men's 15 km freestyle.
Schumacher rewrote his own headlines three days later, on Friday's stage six, 15 km classic mass start in Val di Fiemme, Italy, where he placed eighth and a narrow 11 seconds behind Russia's Alexander Bulshonov, the 2021 overall winner and defending champion. Schumacher, a U23 athlete, ultimately finished the Tour de Ski in 18th overall, the best American male Tour de Ski finish to date, and is now ranked 27th in the World Cup standings.
Stage six brought the undoing of Rosie Brennan, however, after a crash set her back by more than two minutes behind the day's winner, pushing her back to seventh in the overall standings. At the Tour de Ski's close, Brennan ultimately placed sixth overall and retained her position leading the World Cup distance standings.
Stage six also proved to be the most challenging for Diggins. "That was hard for me because I had the yellow bib for a couple stages and I was trying very hard to not put pressure on myself," she said. "My classic has made a lot of progress over the years, but that's still my weaker event. And it was a really challenging course…. I was pushing so hard that, literally, for the last couple K of the race, I couldn't feel my body from the waist down."
Val di Fiemme's final Tour de Ski stage brought a heart-thumping finish in the form of a rolling course punctuated by a 3.5 kilometer ascent of an alpine ski trail with an average grade of 12 percent that maxed out at 44 percent, causing racers' V1 to practically stall to herringbone technique. Sweden's Ebba Andersson, who entered the stage in sixth overall, attacked from the bottom of the climb, while Diggins and Russia's Yulia Stupak, in second, followed. With a kilometer to go, Diggins separated from Stupak, gaining 31 seconds on her rival and finishing 9 seconds behind Andersson, whose victory landed her in third on the overall standings.
"It was so inspiring to watch Jessie put so much fight in ever day and that certainly inspires me to find more," Rosie Brennan told U.S. Ski and Snowboard. " I couldn't think of a better person to take the yellow (World Cup Leader's) bib off my back. I am also really excited to hold onto the red distance bib."
"The Tour is a really important part of my preparation for the rest of the season, as well as an incredibly fun event," Diggins told Cross Country Skier. "For me, the big key is to recover after the Tour—like really let all that effort sink in and absorb and then get some quality training in, then come back to the World Cup….. I'm looking forward to trying to keep the ball rolling."