Back Shop is supported by Craft—designing Nordic ski collections worthy of World Champions and Everyday Heroes. craftsports.us
A Tuesday morning, a teenager late for the bus, a math test in a few hours and a ski practice after school until it's dark enough to hit the high beams—just another cold winter day in the life of a young athlete training for Nordic skiing.
Chances are the bus is going to pull up to school on time. And that math test is going to happen whether or not you studied. But ski practice will be miserable on poorly-maintained skis and boots that are peeling apart. You could get by well enough with this neglect. After all, it's easy for equipment care to be tossed aside during a stressful week.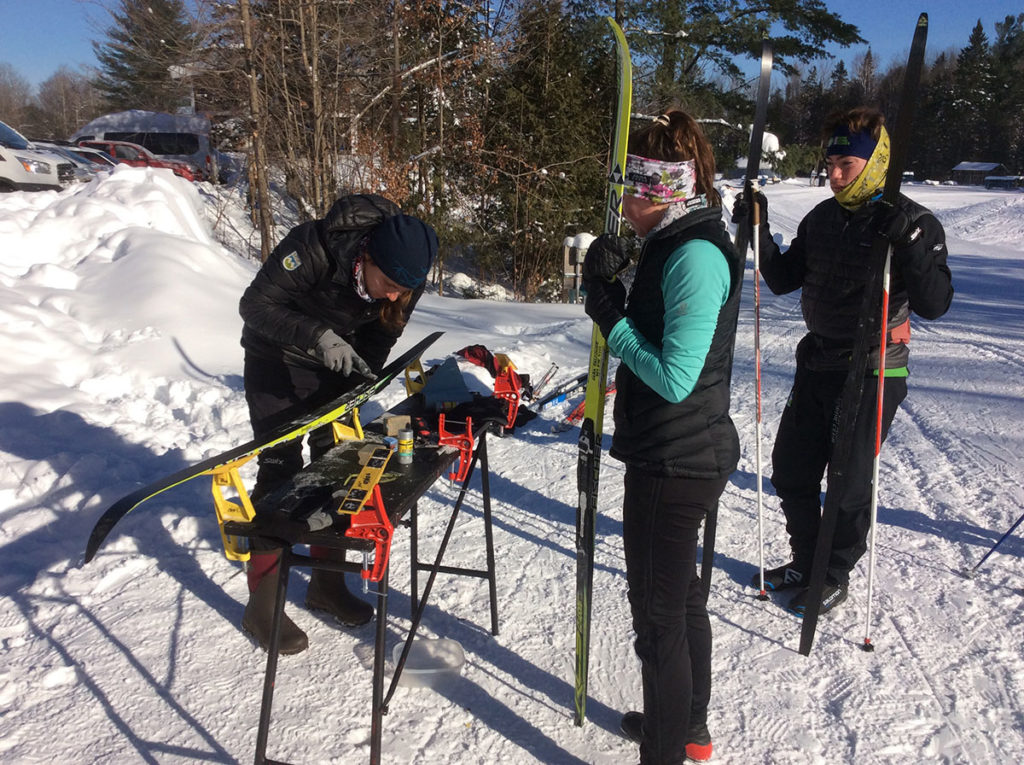 But without regular care, skis will become painfully slow, boots will wear and break, and the parts of skiing that usually bring the most joy will become arduous. Slow, scratched and un-waxed skis turn even the steepest descents into a workout. Boot soles can split apart, leaving your ski dangling limp from your foot like a loose toenail.
Like any good habit, proper equipment care can start at any age and can have a lasting impact. While skiing doesn't quite have the sub-culture of maintenance that exists for other pastimes like those involving bikes or cars, the intricate tools and methods are out there. Not every garage needs to look like a rental shop, but a sturdy waxing bench and profile can last a lifetime if treated well. Inexpensive hydrocarbon waxes (look specifically for "non-fluoro" varieties) will keep skis gliding well, and knowing how to store and maintain boots and poles can significantly improve their lifespan.
For young skiers (think middle school and high school), simply waxing skis once per week will go a long way toward keeping glide alive. Many companies now make liquid waxes that are easy to apply, but traditional, ironed paraffin waxes still have a place on the base. If a skier is not ready to wield a hot iron, a parent can apply a hotwax layer one week and suggest the young athlete apply their liquid wax the following week in a simple cycle. That system still gives the skier responsibility and accountability for her gear, while also giving her a hand in the process.
As small skiers become young racers, the process becomes more involved. Just like balancing an increasing schedule of classes and tests at school, there are suddenly more pairs of skis to keep tabs on. Race skis should be coated with a layer of travel wax when not in use, which means ironing on a layer of glide wax and leaving it unscraped. Going for a ski on your nice skis? Scrape and brush, hit the trail and then re-wax with a protective layer as soon as you can. Practice or "rock" skis will be fine with a once-per-week system of care, but remember that neglecting these skis will continue to make training sessions less fun.
While it's easy for a skier to ignore glide zones and let bases become dry and barren, the opposite can happen for the kick zones of classic skis. Kick wax needs to be removed after every session to prevent a build-up of thick wax that eventually makes skis more like snowshoes. The only exception is when you know the following classic session will take place in similar conditions.
Teach small skiers how to handle a plastic kickwax scraper, and as they grow, move on to a sharp, metal putty knife to increase efficiency. (Read more about putty knives and other unique tools for ski care in Cross Country Skier 38.3.)
Boots and poles need to be taken care of, too. After all, at a racing level, some may cost as much, or more than, a pair of skis. As anyone who has snapped one (or many) poles can tell you, that's a lot of money to commit to something so fragile.
Even tiny knicks and chips can weaken pole, making them a liability in a mid-race collision. But some of the most common snaps can happen off the snow. The car door is the mortal enemy; heavy piles of gear can do plenty of damage. Remember that school bus you were late for? Absent-mindedly throwing poles in the storage compartment is taking a big chance when a bumpy road comes along.
The solution is to always store and transport poles in a tube. Whether you choose a specific carrying case—or just a cut section of PVC pipe—don't neglect this simple solution. For small skiers with shorter poles, start with a full-length tube, and you'll never have to worry about upgrading. (Read about pole tubes in Cross Country Skier 36.2.)
You wouldn't leave your favorite pair of shoes soaking wet in your car or basement, so don't treat your ski boots that way either. Sweat, dirt, sand and salt have a habit of corroding seams and zippers, in addition to enhancing the smell factor. For the truly dedicated, a boot dryer is something the whole family can use. At the very least, promote the good habit of bringing boots inside each day to dry out before the next use. Gear is relatively inexpensive for younger skiers—simplicity lends itself to cost-effective skis, boots and poles. But pricey equipment begins to pile on as skiers become older, grow larger and race faster. Whether a skier is shuffling on her first pair of kids boards or racing at Junior Nationals, that equipment will last longer and be more fun to use if it's properly cared for.
—
Adam Terko is the head coach of Vermont's Mansfield Nordic Club and has been skiing competitively (and writing about it) since before Fischer skis had holes in their tips. He's also the technical editor of Cross Country Skier and writes the how-to column "Back Shop" in each issue.
Subscribe now to the print magazine to read Terko's latest column and more at crosscountryskier.com/subscribe.