Traveling west on New York's Route 73, a few minutes past the height of land outside of Lake Placid, a gentle right-hand bend in the road reveals a dramatic scene that surprises me every time, even after a dozen or so trips to the Olympic village. Twin ski jumps, thrusting toward the sky, momentarily disappear behind some tall pines before making themselves known again, placed there, right off the road, in stark contrast to everything around. The 90- and 120-meter jumps, built for the 1980 Winter Games, are one of the first signs of the town's Olympic heritage that's clearly its central identity.
Shops and hotels trumpeting Olympic themes are everywhere in downtown Lake Placid—I've counted at least three that primarily focus on the "Miracle on Ice" hockey game, in which the underdog U.S. team beat the USSR in the finals. But to find the heart of Olympic skiing in the region, you need to head back up Route 73 and past the ski jumps to the Mt. Van Hoevenberg Recreation Area, home of the Olympic venues for cross country skiing, biathlon, luge and bobsled.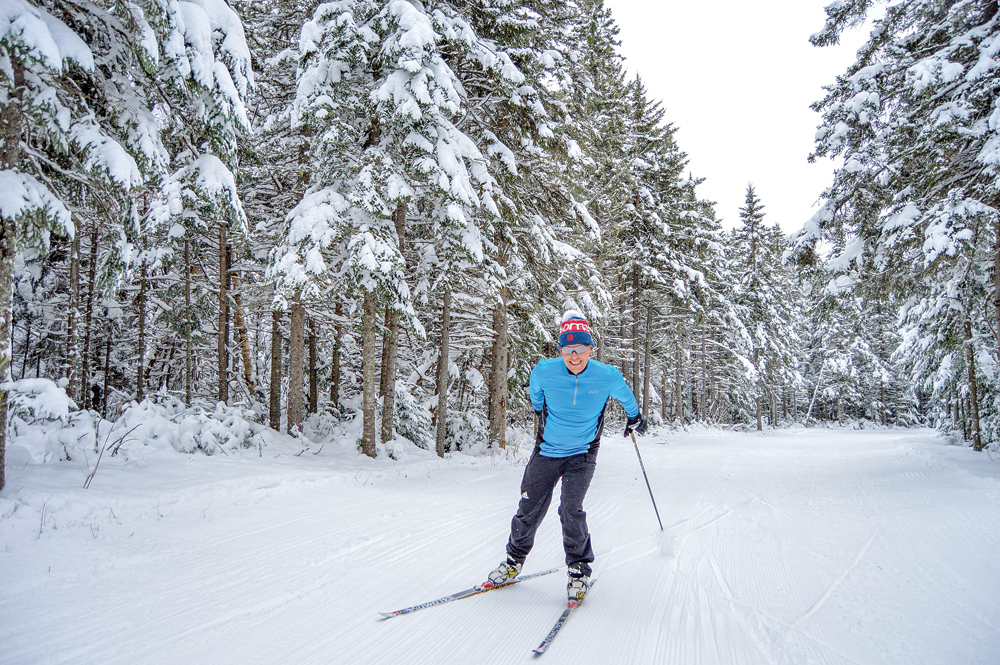 Mt. Van Hoevenberg Cross Country and Biathlon Center offers 50 kilometers of PistenBully-groomed trails that roll through quintessential Adirondack woods, where tall pines in dense stands trim either side of the trail. Terrain varies from short, relatively flat loops to extended climbs and winding descents. While striding through the woods, it's easy to imagine hundreds of the world's best skiing the same trails, and Olympic nations' flags line the edge of the field inside the stadium, waving in the breeze. The trails are still home to many races, including weekend citizen's races, regional Junior National Qualifiers, NCAA collegiate carnivals and the Lake Placid Loppet marathon, held each March. Racing isn't all Mt. Van Hoevenberg has to offer, though. Higher in elevation and farther from the stadium, the trails narrow (but remain wide enough for skating), and if you're there on a less crowded day, you're far from any noise, save for that of skis crunching on snow.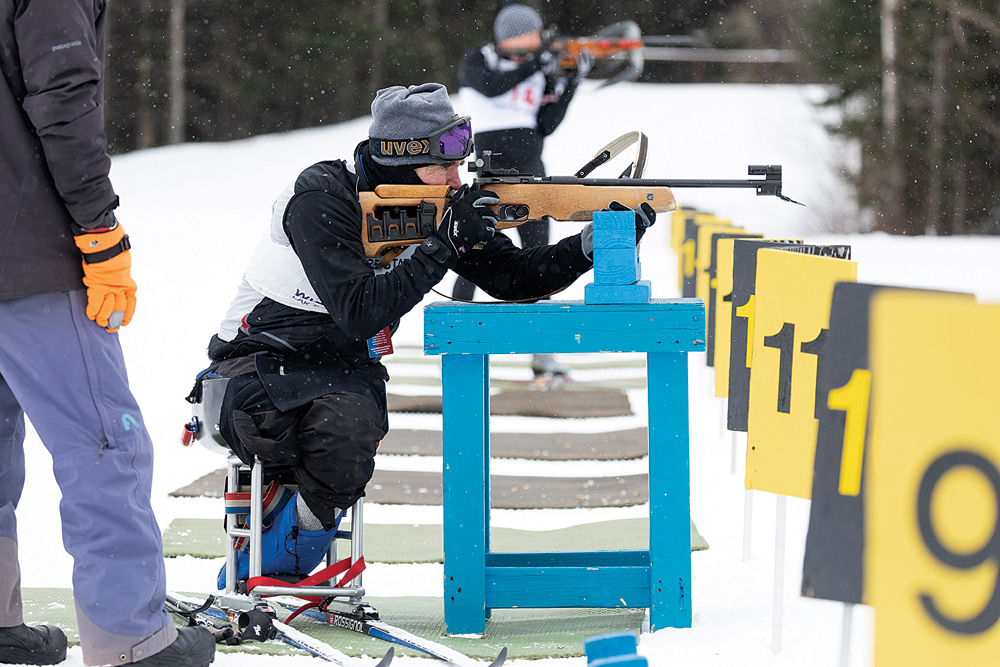 A large base lodge is situated in the main stadium and includes a rental shop, small retail store, café and plenty of couches, chairs and tables to enjoy while getting ready to ski or afterward. Across the road from the lodge is a secondary stadium that is home to a biathlon range where youth racers and Olympians alike train year-round, on foot in the summer and on skis in the winter. Trail passes at Mt. Van Hoevenberg run $20 per day for adults.
About two miles down the road sits Cascade Cross Country Center. In many ways a stark juxtaposition to the large Olympic venue, Cascade provides visitors with a very different and unique experience. Twenty kilometers of trails are well groomed with a central classic track made by a tow-behind groomer and run through pine stands and around marshes, providing a more rustic, mom-and-pop environment than that of Mt. Van Hoevenberg. The centered classic track means its difficult to impossible to skate without damaging the grooming, so plan to bring your classic skis and enjoy skiing the way it used to be.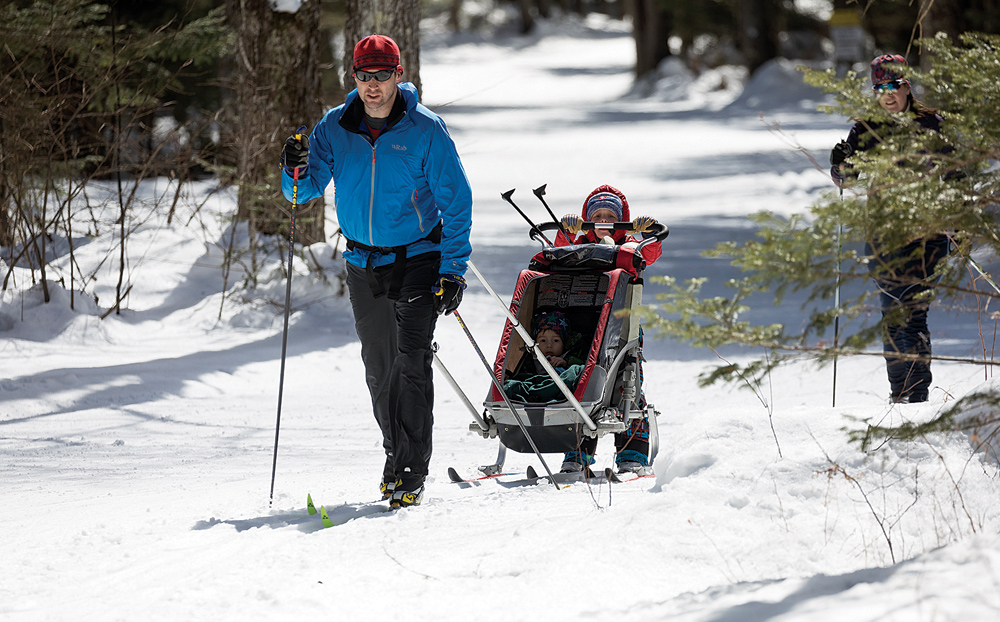 The lodge at Cascade includes a rental and retail shop, as well as Knicker's Bar and Restaurant, which, they say, serves up "Nordic comfort fare," providing guests with a relaxing on-site après experience. Cascade is also home to a bunkhouse that sleeps up to 30 guests, allowing skiers to access trails without having to drive. During the winter months Cascade hosts a full-moon party on the Saturday closest to the full moon. Skiers can enjoy night skiing, a large bonfire and music and drinks at Knicker's. Olympic biathlete Lowell Bailey has even been known to play with his band.
When you're done skiing—or on a day off—head back down the hill, past the ski jumps and into the historic town of Lake Placid on the edge of Mirror Lake. In part because of its relative seclusion, with Keene 14 miles to the east and Saranac Lake nine miles to the west—as well as its heavy emphasis on the 1980 Olympics, though images from the 1932 Games also dot stores and restaurants—Lake Placid feels uniquely "wintery," like a real-life theme park. The town basks in nostalgia—not in a bad way (OK, a few shops are corny), but as though town planners picked out every piece of history that emotes a feeling of cold winter bliss. No matter where you look there is an image of a skier, a bobsled or a group of youth hockey players walking down Main Street between games. Visiting Lake Placid is an immersive experience in winter sports culture and the pinnacle of the U.S.'s Winter Olympic history.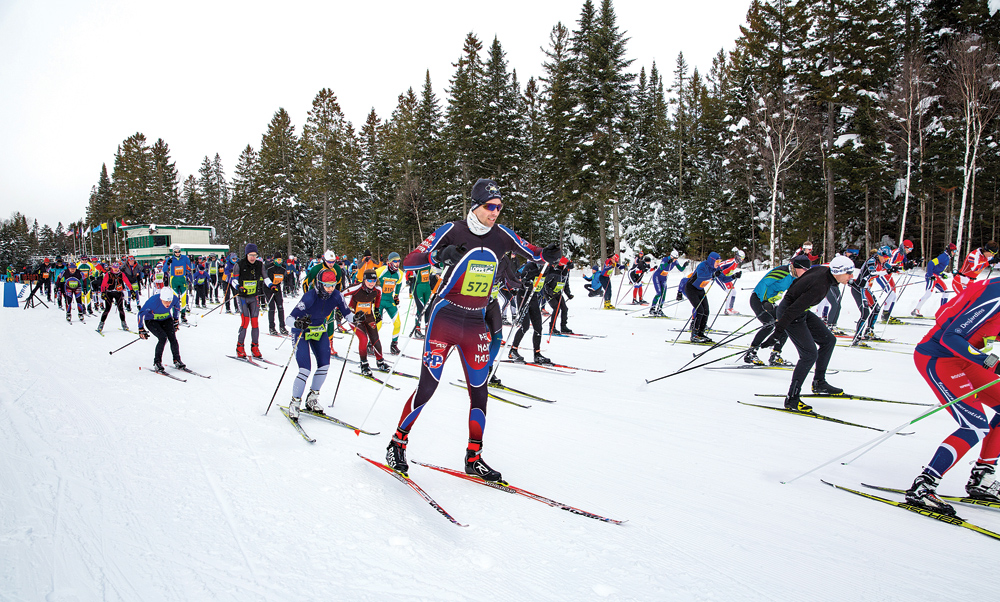 —
When it's Time to Rest
High Peaks Resort
Lake Placid has numerous options for lodging, ranging from national chains like Marriott, Hampton Inn and Best Western to small inns and high-end establishments, like the Crown Plaza. One option that caters to groups in winter is High Peaks Resort, located off the western end of the Main Street strip. High Peaks has an on-site restaurant, several pools, a fitness center and several ballrooms that serve as event spaces.
Fuel for the Body
Big Slide Brewery
Big Slide Brewery is a haven for skiers searching for drinks and locally sourced food after a long day on the trails. Big Slide is open seven days a week for lunch, dinner and drinks and offers a special brunch on Sunday. The whole menu is comprised of ingredients from area farmers, and the spent grain from the brewing process goes back to the pigs that provide the kitchen's pork. As far as the beer goes, try the award-winning Giant Double IPA or the Leipzig Gose.
Ski Supplies
High Peaks Cyclery
Forgot your wax? Or a hat and gloves? High Peaks Cyclery is a full-service ski shop, specializing in Nordic, backcountry and mountaineering in the winter and cycling in the summer. The shop, which is locally owned and can outfit any traveler from head to toe, is also home to a guiding service and holds several events each winter, including clinics and demos.
This story first appeared in the 2020 Photo Annual, Issue 39.3. Grab a copy at crosscountryskiermagazine.com/store.