For 19-year-old South Korean Olympic medal hopeful Magnus Kim, his greatest body of work will be in making his country, and other Asian nations cross country skiing nations. But, does the future of cross country skiing for the rest of us depend on him, too?
Editors' Note: This story first appeared in the Winter 2017-18 issue of Cross Country Skier. In 2018, Magnus Bøe, who's profiled in the piece, represented Norway at the PyeongChang Olympics, and he recently completed his freshman year at the University of Colorado, Boulder, where he's competing on the Nordic team and finished in the top five in each of his first six collegiate races. Bøe, whose father is from Norway and mother is from South Korea, is also known as Magnus Kim, and that name was used throughout this article when it was originally published.
The first thing you notice is his powerful, oversized pole plants and super-aggressive forward skating strides. Only as he gets closer in the 2016 Nordic Cross (XCX) do you see that it's not just his style that's a little different, his ski suit says KOREA on it.
His name is Magnus Kim, and the 19-year-old South Korean had taken control of the race from the very start. Attacking the field from the gun, giving no quarter to a raging field of snarling sprinters. But he does it seemingly effortlessly, flowing over a section of rollers so large his knees are almost being sucked up to his chest. Then he rips into a quick left-right chicane that slingshots him clear of the other skiers, free to start the hard work of the technical aspects of the course unmolested.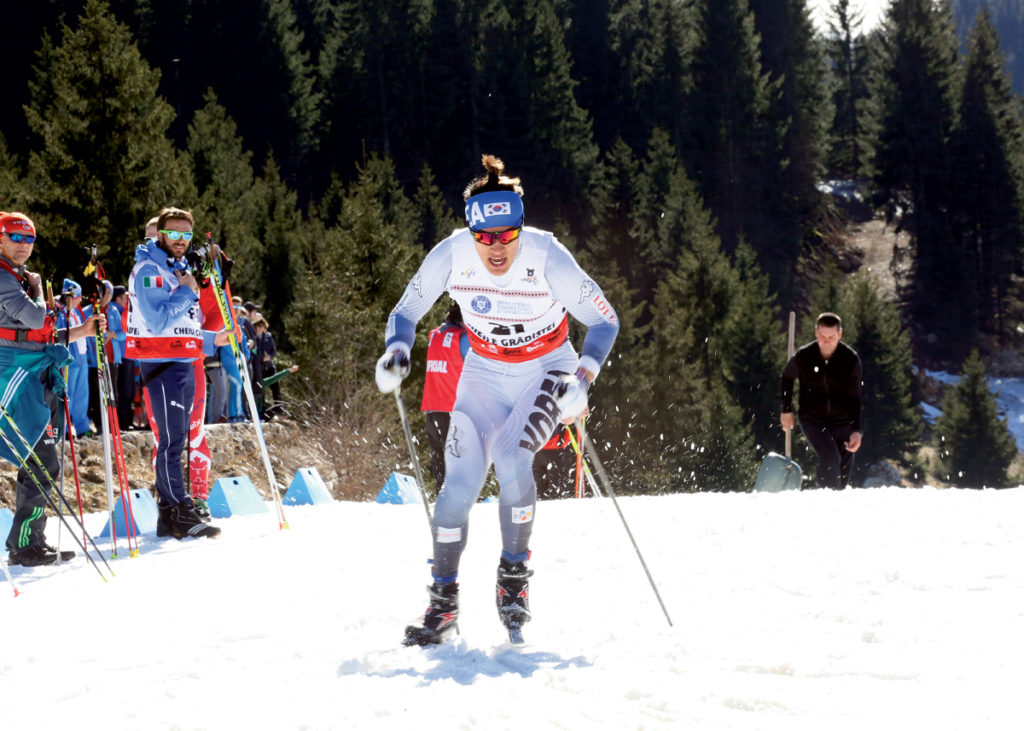 "DINNER TIME!"
"Whoa!" exclaims my little boy Tae as he watches, absorbed in the action. "Did you see him hit that jump? That is so cool! Do you think we have that kind of skiing in Duluth?"
"DINNER TIME!!!" The announcement comes again, this time with emphasis.
As the PyeongChang Olympics approach it's getting harder and harder to pry Tae from the YouTube videos of Kim. Earlier in the year Tae, our nine-year old son, started asking me if there were any skiers from South Korea skiing in the 2018 Olympic Nordic events.
Tae is himself Korean, adopted by my wife Margaret Harstad and me, Hansi Johnson. I state our names, because, as you can see we are painfully Scandinavian, and I mean painfully. We live in Duluth, Minnesota; we Nordic ski as much as possible; we dine on Lefse on a regular basis and, in fact, I even belong to a Norwegian Luncheon Club in Minneapolis called Torske Klubben, where we meet to eat "Torske," and drink Aquavit.
To a father and cross country skier, Tae's question about who would be skiing in the Olympics begged the question: what does it mean to be a "Nordic" skier?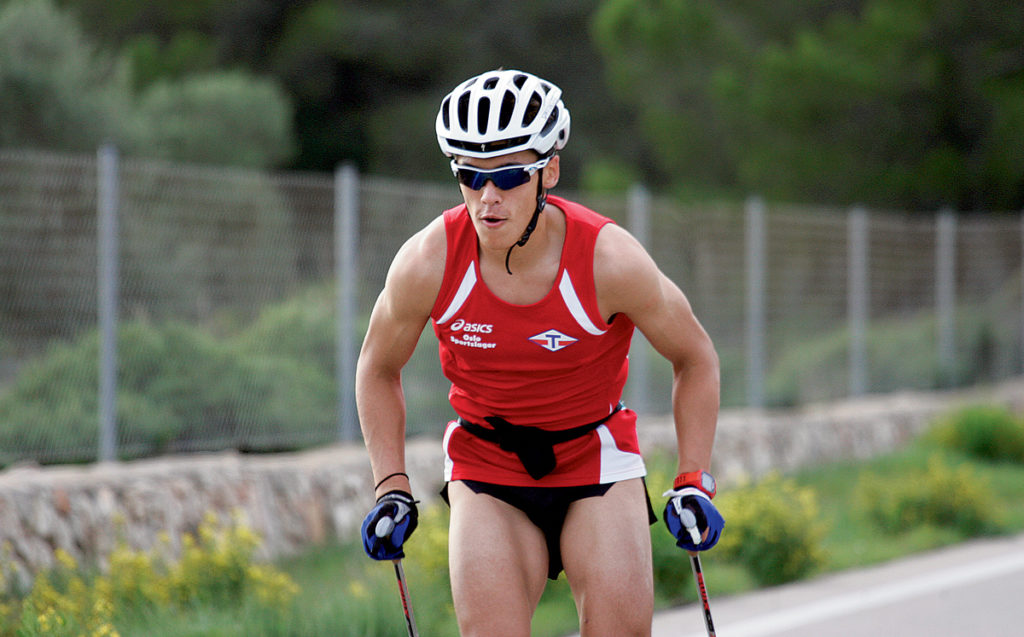 Norway and Korea are two very different cultures, yet they share many commonalities. They are both mountainous and cold and each culture has a strong, unique value placed on their outdoor spaces. In the rare case of Magnus Kim, the two nations also share a son. His father is from Norway and his mother is from South Korea, where Magnus spent most of his youth.
Magnus Kim, or Magnus Bøe as he is called in Norway, was born in Busan, South Korea. He was always interested in being an athlete but in his formative years, while living in Korea, he focused on cycling and short-track speed skating.
When he was in the second grade, Kim learned short-track from four-time Korean Olympic Gold Medalist Chun Lee-kyung. Kim went on to win the 500-meter event at the national short-track competition for juniors.
But, given his Scandinavian roots, he says, it was Nordic skiing that caught his attention.
"I love the charm in cross country skiing," he wrote to me in an email interview in December while he was getting ready for a World Cup start in Davos, Switzerland. "It's a sport in such harmony with nature. You get to see a lot of nice views. But also, for me, as an athlete, I love the physical aspect of cross country skiing. You climb up hills with a fast pumping heartrate, and take on downhills with high speed that challenges your skiing skills. Crossing the finish line gives an amazing satisfaction, especially on good race days. Cross country skiing is a brutal sport, that really triggers my competitiveness."
His parents were not athletes, he says, so his decision to take his skiing to the highest level is his alone.
"I never felt pressure from them to become a cross country skier," he says. "It was my decision to stick to this sport, and the decision came naturally as my results in skiing became better."
In his first national ski event in Norway, Kim was 46th among 330 skiers. By 2012 he emerged as one of the country's top young skiers. In 2013, he was number one among 280 skiers at the Norwegian cross country classic sprint for the under-15 age group, and in 2015 he was first in the 1km sprint event.
Then came the race that Tae and I are watching on YouTube, the XCX race at the 2016 Youth Olympics which catapulted him into the international racing consciousness. And into my living room.
In some ways, Tae's family history is similar to that of Magnus's family, and the parallels have me thinking deeper about my son's future as a skier and how I might give him the tools and support to stick with it.
It was apparent early on to Margaret and myself, that, for Tae to stay interested in skiing for life, not only would we need to make it fun for him, (a challenge for all skiing parents) we would also have to inspire him with role models he could relate to.
We also realized that one way to create a permanent connection between our son, his birth country's heritage, our skiing heritage and the outdoors was to take Tae back to South Korea. A trip to Korea would also be a chance for us to identify Korean athletes who could be future role models for him as he grows up. As Margaret and I had conversation after conversation around this question, it became clear to me that maybe it was more than just Tae who needed an Asian Nordic role model. Maybe the very sport needs one.
"It's one thing to talk about heroes and role models for your child," Margaret says of our adventure to the East. "It's another to introduce them in person. Going to Korea was a big, scary thing for us to do, but after conversations with Tae we felt it was the right thing."
But this idea of creating more skiing and outdoors-loving role models is far bigger than Tae and Magnus Kim.
According to 2012 U.S. Census Bureau data more than 50% of American children under age one belonged to minority groups. By mid-century the United States will be a minority-majority nation.
As the journalist James Mills has suggested in his book The Adventure Gap, with this demographic shift will come the winds of major political change. And if skiing is still nearly 100% populated by people who look like me, well, you do the math. A major demographic shift is coming and these the children who inherit our planet will become the voters who choose or choose not to protect our valuable open spaces both for the benefit of the environment and for the outdoor sports and recreational we love. As cross country skiers, we need these people to be kicking and gliding if we want the sport, and all the wonderful benefits it provides, to live on into the future.
That notion has been reinforced in this magazine's conversations with American sprinter Andy Newell. "It is hugely important to see diversity in the highest level of ski racing in order for our sport to continue to be viable and relevant in the future," he recently wrote. "With the Olympics in PyeongChang this winter and in Beijing in 2022, there will hopefully be a shift in that direction and I'm sure FIS would like to capitalize on it. In my opinion it can only be good for our sport."
During our trip to Korea in early winter of 2017 we toured the country, even making a special trip to Gangwon-do Province, home of the 2018 Winter Olympics. We met a ton of Koreans who were fishing, alpine skiing, climbing, hiking and mountain biking. But, we did not see much cross country skiing.
The first alpine ski resort was not built in South Korea until 1975. Now there are fifteen. In contrast, there are only two actual Nordic ski systems in South Korea, the major one being Alpensia, the 2018 Olympic venue. It was on this trip that we learned about Kim. Dinner finished, Tae and I click back on to YouTube.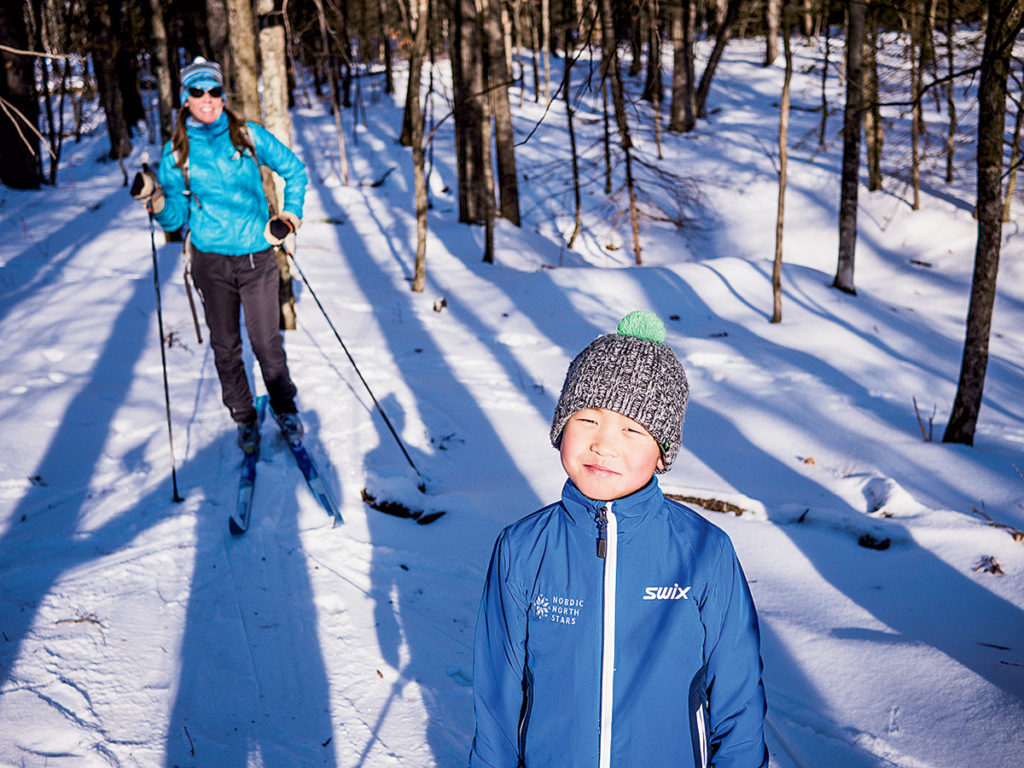 Magnus Kim's skis are so fast that on the small flats he doesn't even bother poling. The young Korean hucks off a three-foot drop feature and then enters with speed into an elevated and undulating mogul field. The obstacle is designed to keep the skiers off balance and all they can do is hold their poles up high and pump through undulating bumps. Kim does this with fluid ease, while his competitors are nearly going over the bars or flailing over the tails of their skis. A lanky Norwegian skier, however, is starting to make pace on Kim. It's obvious these guys are giving it the full send and Kim is fighting hard to keep his lead as he dives, legs burning into the next obstacle, the downhill slalom course….
"My goal is to influence Koreans to start cross country skiing," Kim wrote. "Maybe someday there will come some more loops and tracks for it. That's my dream, making cross country skiing more available and convenient sport in Korea."
Kim, fresh off the mogul field, is now trying to extend his lead into the next technical section of the course. The uphill slalom. He deftly pilots his ski tips in and around the slalom poles while still maintaining the velocity he needs to stay ahead of second place. So far, Kim is holding, if not extending his lead over his competition.
From the moment, you step off the plane in Incheon, the modernism of Korea is overpowering. Everything is high tech; people bustle around dressed for power meetings and flashy signs advertise high end products.
It's easy to forget that South Korea was nearly wiped off the map during the Korean War. Which, unfortunately followed directly on the heels of both the Japanese occupation of Korea and World War II.
The Koreans have performed nothing short of a miracle by rebuilding their economy between the 1960s and the 1990s and turning their country from what was third world to one of the most vibrant economies on the globe. So, it's only been in recent history that South Koreans have had the luxury to spend time and resources on enjoying the outdoors.
In a lot of ways, not only does Kim represent the emerging face of the modern cross country skier, he also is a great personification of the emerging country of South Korea that is young, energetic and competitive.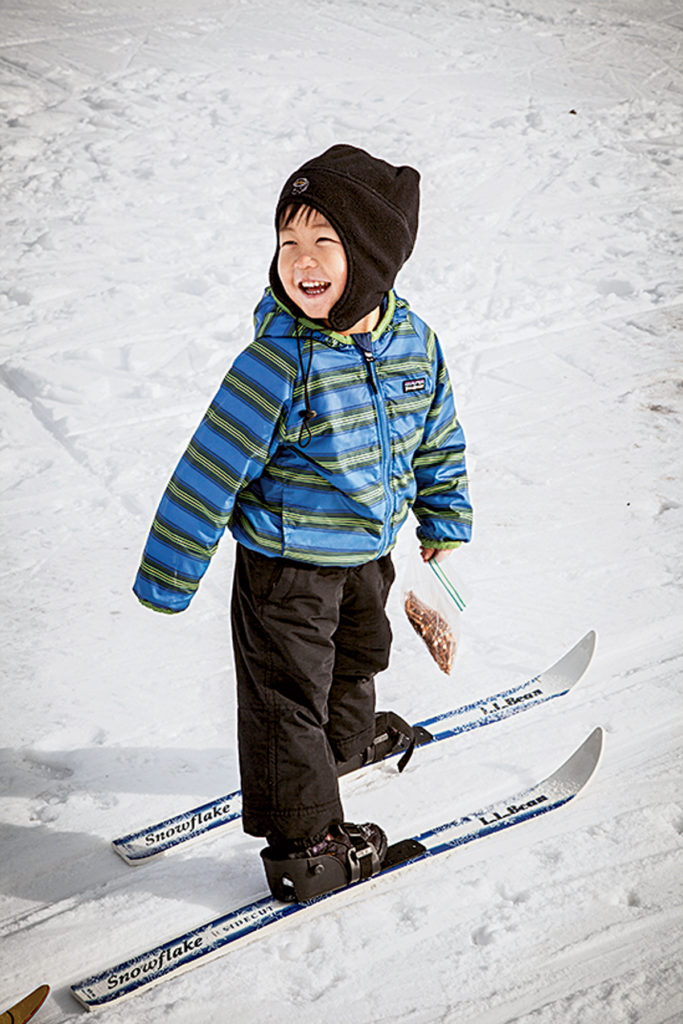 Kim is now charging up an extremely steep climb. He manages to maintain his edge but now must recover in time to fly down a flowing set of rollers which sends him off another major drop and then immediately into a tight, high-speed, lefthand curve. He careens around the corner but comes out clean. Several skiers behind him are not so lucky as they blow out of the corner and spin wickedly off course. He can now see the finish line and he knows his competition can't catch him. He maintains his power nearly to the line but, nearing the finish, he throws his hands up in exultation of his first big international win.
As the parent of an Asian child, I am truly hopeful for what The Games in PyeongChang might accomplish. First, they have the chance to showcase the changing face of Nordic skiing and do so in a setting that is truly inspiring not only to Tae, but a new generation of diverse cross country skiers worldwide. PyeongChang also has the chance to showcase Magnus Kim as well as several other Asian skiers who are racing at an elite level. Currently the Japanese team has several highly competitive racers doing well on the FIS World Cup Circuit, both in Nordic Combined and cross country. Of course, as a parent, I also hope that Tae connects these dots and feels included in the sport and wants to continue as a skier for life.
I asked Kim how he felt about being a role model to aspiring Korean cross country skiers and kids like Tae. "I do know youngsters in the Korean cross country skiing community may look at me as a role model, and I therefore need to be a good representative for them," he said. After the Youth Olympics, a national Korean television station made an hour-long documentary on him. "I therefore work hard, trying to do my utter best. There has been an increase of Koreans aware of the sport now, compared to before. Some thanks to my results in the youth Olympics and Junior World Cup."
Andy Newell corroborated this in our correspondence. "Kim is a perfect example of someone who has bridged that gap and been successful on the international level," he said. "It will be so important for the development of skiing when kids from Korea can watch him race competitively."
"For sure, [2010 figure skating gold medalist] Yuna Kim is one of my biggest role models," Kim adds. "She also brought light to a sport that wasn't popular in Korea, which has changed totally today."
Perhaps one day Magnus Kim will have the same impact on South Korea, Duluth and the world of Nordic skiing.
—
This story first appeared in the Winter 2017-18 issue of Cross Country Skier.