Martin Johnsrud Sundby has been stripped of his 2014/15 World Cup title—one of three he had to his name—as well as his Tour de Ski title from that season.
"The Court of Arbitration for Sport (CAS) has upheld an appeal by the World Anti-Doping Agency (WADA) against Norwegian Cross-Country Skier Martin Johnsrud Sundby and the International Ski Federation (FIS)," a new FIS press release says. "The case concerned the inhalation of salbutamol which is a standard therapy against asthma symptoms."
This ruling undoes the decision by the FIS Doping Panel from September 2015 which cleared Sundby.
According to a separate FIS press release Sundby's drop to sixth place in the season's final standings was caused by disqualification from two races in which he placed first and third respectively. Dario Cologna of Switzerland is the new 2014/15 World Cup Champion.
"The WADA accredited laboratory reported adverse analytical findings on samples taken on 13th December 2014 in Davos (SUI) and on 8th January 2015 in Toblach (ITA), which exceeded the applicable reporting limits," the report says. "Additionally, Sundby forfeits the World Cup points and prize money from the remaining Tour de Ski races after Toblach, namely the last two stages in Val di Fiemme in which he finished 8th and 3rd. This amounts to a further 73 World Cup points and CHF 1,000 in prize money.
"The final 2014/15 FIS Cross Country World Cup standings have also been recalculated and are as follows: 1. Dario Cologna (SUI) – 1103 points; Petter Northug JR. (NOR) – 1047 points; Finn Haagen Krogh (NOR) – 897 points. Sundby moves down to sixth place in the overall World Cup standings with 748 points and forfeits CHF 22,275 in the overall World Cup prize money standings."
Fasterskier.com reports Sundby as saying, "There and then it felt like the sky came crashing down. I could not believe it. I have never ever used an asthmatic dose that hasn't been prescribed."
Sundby will face a two-month suspension backdated to start July 11. FIS concluded their report by stating, "FIS fully shares the view of the CAS that Martin Johnsrud Sundby is not to be considered as an intentional doping offender but that his sanctions result from the strict application of the anti-doping rules and the WADA Prohibited List as a consequence of his reliance on questionable medical advice to administer salbutamol outside a hospital."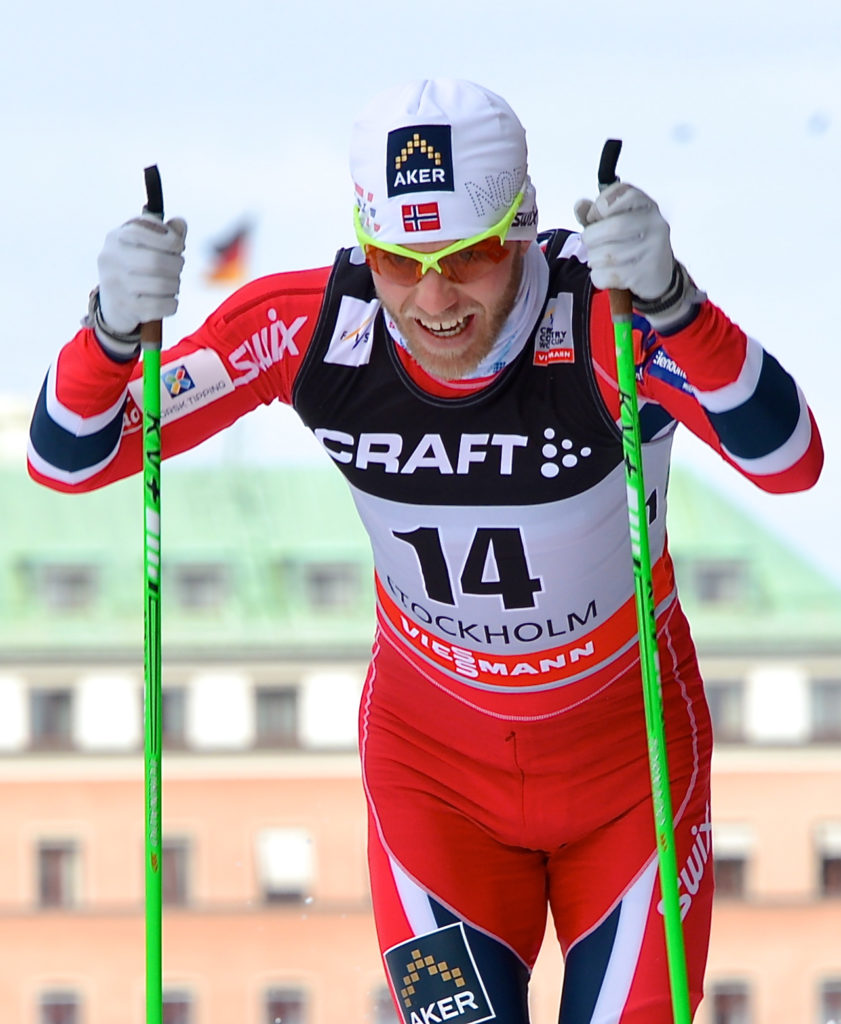 Martin Johnsrud Sundby at the Royal Palace Sprint, part of the FIS World Cup 2012/2013, in Stockholm on March 20, 2013. [Photo] Frankie Fouganthin