In the spring of 2012, I happened to spot a post on a carpooling forum offering a ride to Chapelle des Bois, in the Jura Mountains of France. Living in Paris at the time, I had few opportunities to cross country ski. So I decided to respond, and by the end of that sunny March weekend, I had fallen back in love with skiing in a place that is pure Nordic territory.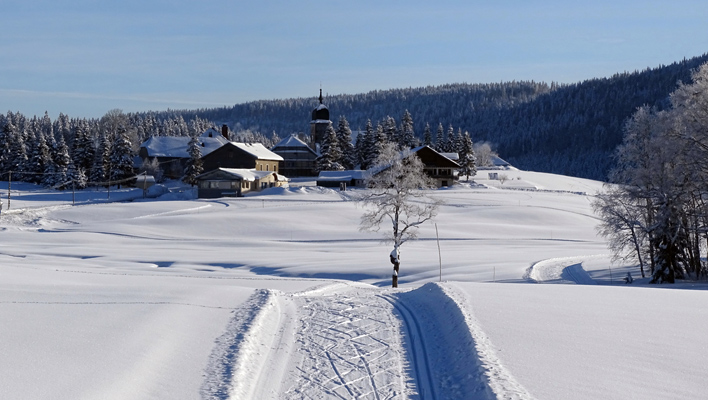 With its back up against the imposing Roche Champion cliff and the Risoux forest, the enchanting village of Chapelle des Bois is the center of a vast network of some 3,500 kilometers of interconnected cross country ski trails in the mountains that straddle eastern France and western Switzerland. The quaint village is a Nordic-only paradise with 143 kilometers of varied terrain including rolling cow pastures, dense forest climbs and vast stretches that will have skiers thinking they're lost somewhere in Scandinavia.
The start of nearly all loops in Chapelle des Bois is auspicious. A gentle uphill passes a majestic farmhouse, known as la Beurrière, before the trail settles into a gentle rhythm. Many trails in Chapelle des Bois are free of unpleasant off-camberness because they are fire roads or small roads, including this main drag. Soon a large farmhouse, named Nondance, appears atop a rise in the land. It has been repurposed to hold community events, including the finish of the Rando des Passeurs, a hike that commemorates the smugglers who guided Jews across the Risoux and into Switzerland during WWII. After several kilometers, the Sylvain Guillaume trail plunges into the woods as it nears Mont Noir (1,234 meters) and is a real rollercoaster before reaching Chez Valentin, just above Foncine-le-Haut. The return passes through the delightful Combe Davide and its tiny chapel built in 1732.
Chalet Pin, another signature loop in Chapelle des Bois, climbs 184 meters from the point of departure to the Pré d'Haut, where a hut perched atop the mountain offers weary skiers and snowshoers split-pea soup, cheese plates or a potée franc-comtois and, to finish, lemon-meringue pie.
Four green trails, including one kilometer that is lighted for night skiing, border the village for skiers wishing to take it easy. All trails are impeccably groomed for skating and classic, and most branch out from the bustling "départ des pistes."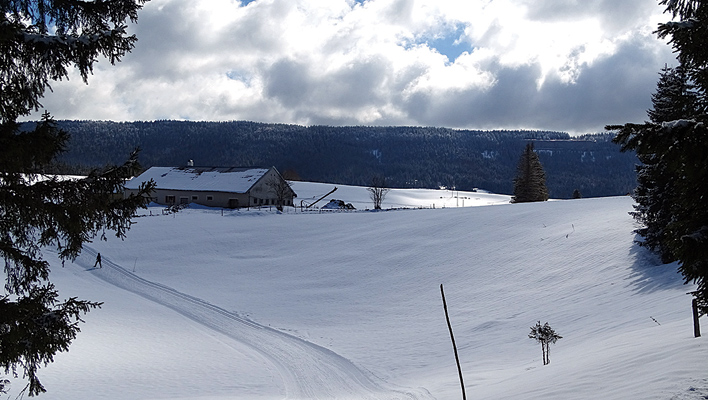 Another favorite is the Chaumoz, which crosses dairy farms toward the hamlet named, ominously, Les Mortes. Bisecting the village of Chapelle des Bois, the Grande Traversée du Jura is a remarkable 180-kilometer trail spanning the entire length of the Jura Mountains.
Accessible via the pancake-flat Combe des Cives—combe being a French term for a narrow valley—the area known as Pré-Poncet is 100 meters higher than Chapelle, thus offering colder conditions. The signature loop is the 23.5-kilometer Fabrice Guy, named after the Mouthe native and gold medalist in Nordic Combined at France's 1992 Albertville Olympics, and offers almost 300 meters of climbing from Chez Liadet to La Jaique and a spectacular five-minute descent back to the parking lot. Coincidentally, Sylvain Guillaume, from neighboring Foncine-le-Haut, won the silver in Albertville in an improbable 1-2 finish for France that was celebrated in a memorable parade.
A Nordic raison d'être
In the Jura, alpine skiing—despite generating significant revenue, notably in Les Rousses, Métabief and a smattering of artisanal ski areas such as the impossibly cute hill in neighboring Morbier—plays second fiddle to Nordic. The World Cup even visits Chaux-Neuve for a Nordic Combined event. As the saying goes here, "Kids in this region either ski or jump…or both."
Two favorite places to eat in Chapelle are Les Pâturages (the town's sole stand-alone restaurant) and the Maison du Montagnon, which is a hotel-restaurant/ski dorm and an excellent option for solo travelers as well as families on a budget. It even offers take-out dishes, which are an incredible value for the money for renters who might've failed to buy enough groceries. The communal tables and self-service wine and cheese make it a very convivial place to share a meal with friends, family or complete strangers.
Chapelle des Bois encapsulates everything about the Jura: friendly, low-key people, incredibly good value, resolutely Nordic, a rustic character, a bit out of the way and…authentic.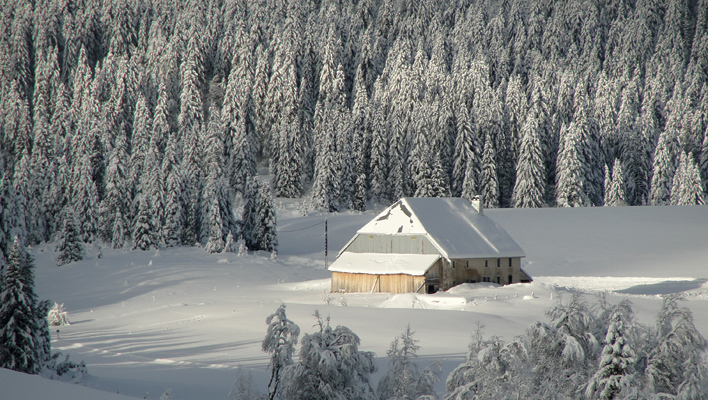 The village features a small grocery store, post office, a 17th century church…but that's about it. No gas station, no ATM. Yet renting high-quality gear (or picking up some extra kick wax) is easy and inexpensive at Mont Noir Sports and Chalet Sport, both located in the heart of the village. Glisses Nordiques, the XC ski school, is excellent. There is no public transportation to Chapelle des Bois, but the high-speed train stops in Frasne (40 kilometers away). More information can be found on the tourism office's website.
When Chapelle des Bois is good, it's the best. When it's not, just go a bit higher. Its Achilles' heel is the town's relatively low altitude of 1,090 meters, which means it gets more rain than its neighbors. The Risoux forest, however—located five minutes by car (follow signs to Bellefontaine) or less than 10 kilometers by ski—is consistently one of the best spots in France or western Switzerland due to its higher altitude (1,400 meters) and the dense canopy provided by towering spruce and pine trees.
For the endurance minded, there are many races in the area including the Envolée Nordique, organized for the past 45 years by the Mont Noir Ski Club, that draws over 1,500 competitors, including dozens of kids as young as five as part of the Envolée des Moineaux. The adult race must be skied in pairs and the 42-kilometer course (there is also a 25-kilometer version) provides a majestic overview of the town's diverse terrain. (Find a full trail map here.) The kids from the local ski club also organize a relay race, but instead of handing off a baton, you're required to take off and put on a pair of underwear…over your skin suit.
A very Nordic family
Maëliss, Baptiste, Marion, Grégoire, Aurélien, Fabien, Luc, Charlie, Marilou, Gaël, Samuel and Angelo…all among the top finishers in the Envolée Nordique race and all members of Chapelle des Bois's legendary Blondeau family. The doyen of the clan is Jean-Yves, who opens up the ground floor of his home to accommodate the volunteers who serve water and food to racers zipping by. For him, "the snow is abundant, and the grooming—thanks to the work of Gaby Gresset—is impeccable, which combines to make Chapelle the mecca of cross country skiing."