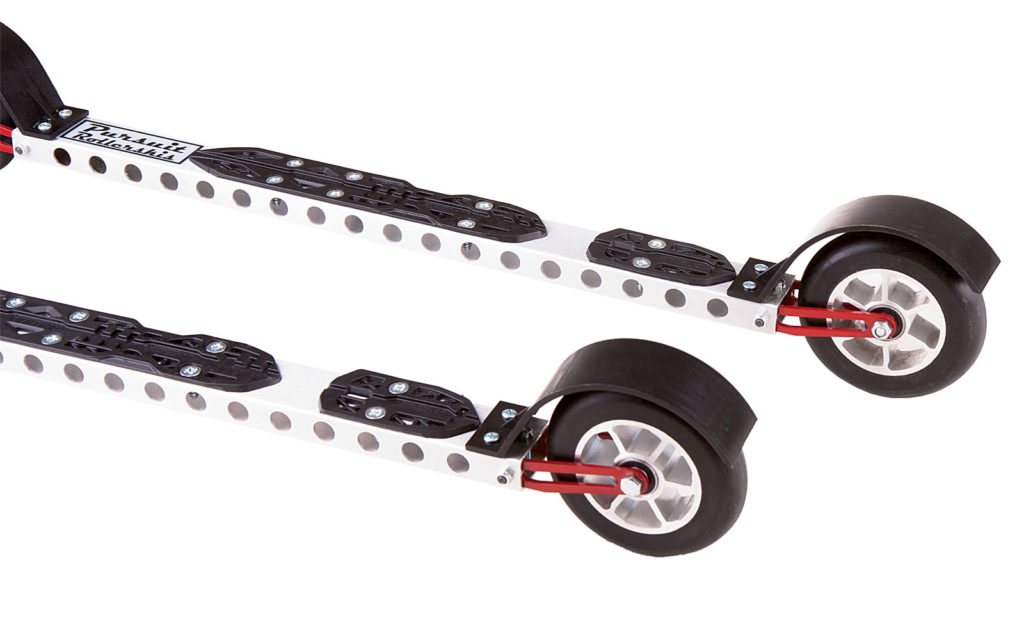 "Flex isn't something I think of with rollerskis with metal shafts, but these sure provided it."
Pursuitrollerskis.com | $250 | 844g [620mm]
"FLEX ISN'T something I think of with rollerskis with metal shafts," one tester noted after getting back to the car. "But these sure provided it." Pursuit incorporates an innovative spring steel fork and a low frame height into all models, they say, to create a ski that flexes incredibly naturally—at the ends—and feels close to skiing on snow. Their design also distributes the weight in a way that simulates the swing of a skate ski on snow. Weight is reduced by a series of holes through the side of the shaft. Pursuit notes that while people aren't usually as concerned about weight when rollerskiing (compared to ski racing) it can actually make a big difference in fatigue on a long-distance roll. An optional pull cord brake can be purchased with the skis for $40.
Description from Pursuit:
New dynamic Fork Flex™ by Pursuit. Our best rollerski reinventing rollerski flex. Super low frame and end flex from spring steel simulates the flex of a ski better than concave flex typical of composite frames.