An airy snow falls as we glide past babbling creeks and through wintry meadows on the Galena Trails north of Ketchum, Idaho. All is quiet but for the huffing of our breaths and the occasional flicker of a bird darting between trees. It's hard to imagine that just a short drive away from this quietude lies the bustle of Sun Valley Resort.
My wife and I are midway through a weeklong trip to Sun Valley, one of the nation's most fabled alpine skiing destinations, where the country's first chairlift was erected in 1936. Despite being powder-loving snowboarders, we've barely thought about hitting the lift-served trails because the quality, quantity and beauty of the cross country skiing here is so significant.
Sun Valley, it turns out, has some of the best cross country skiing in the nation. No wonder it's known as Nordic Town, USA.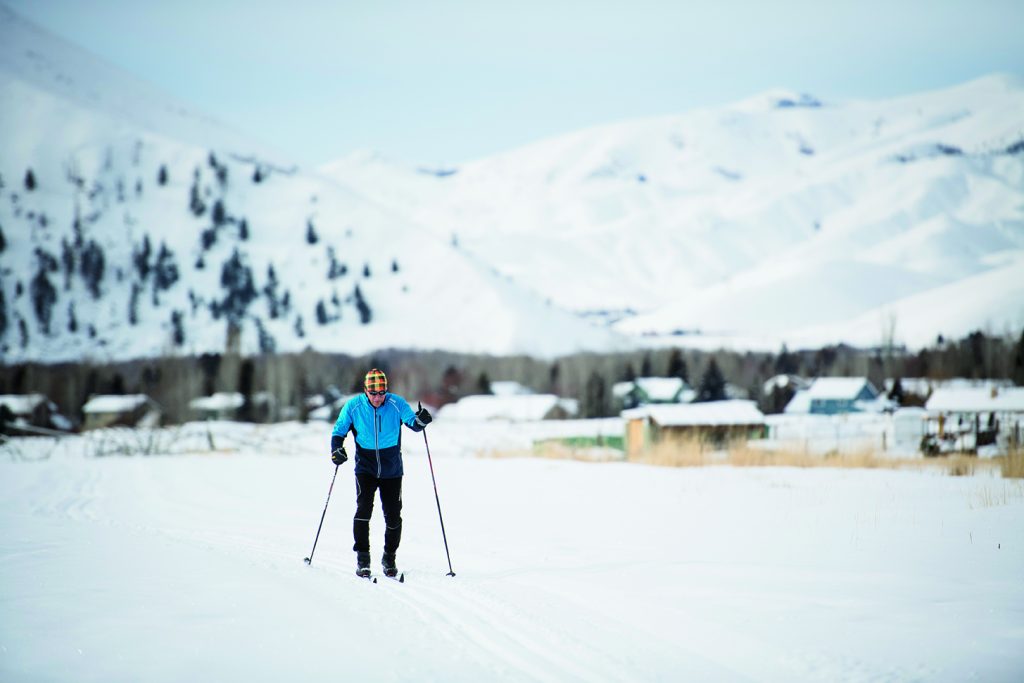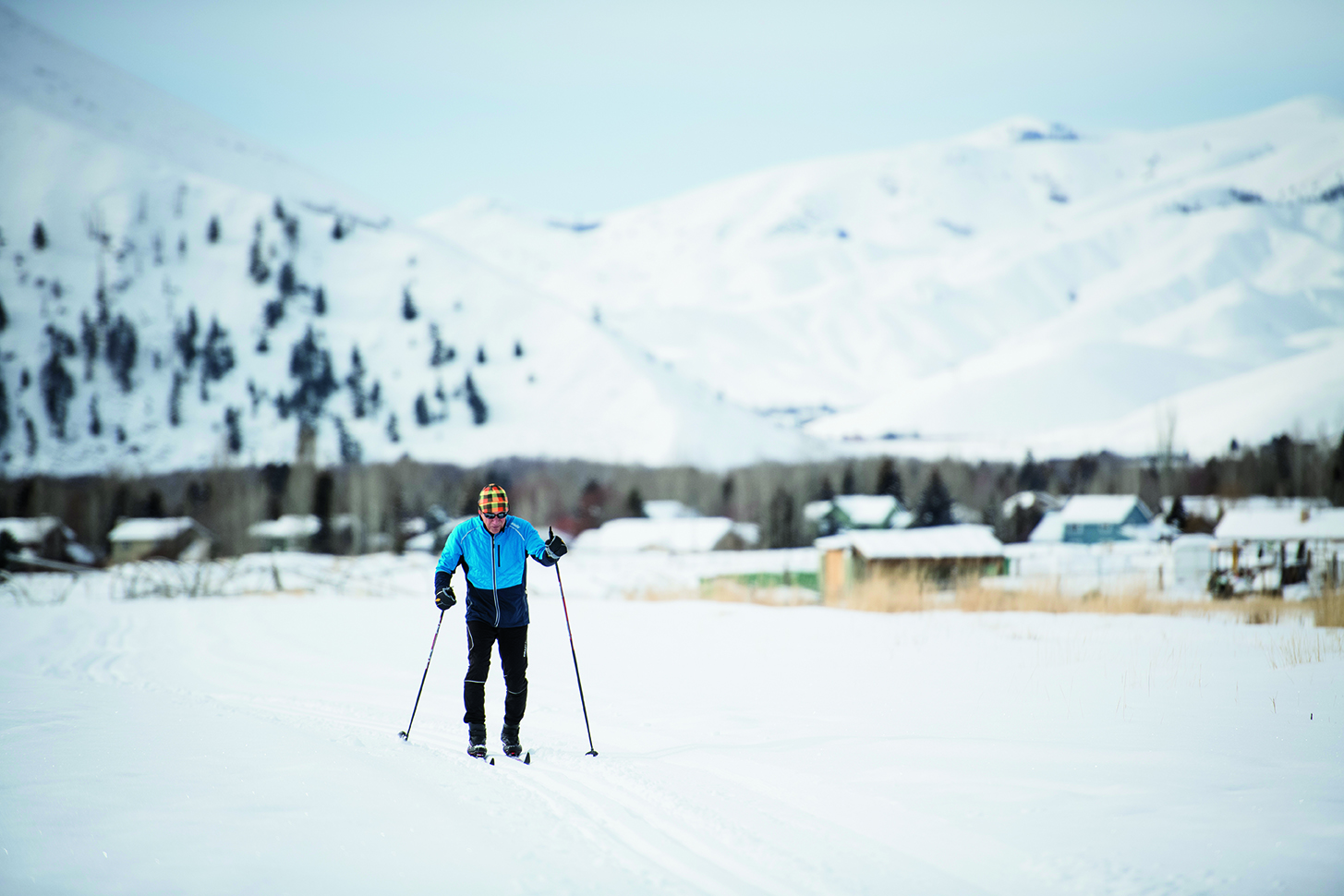 With nearly 250 kilometers of groomed trails, Idaho's Wood River Valley is home to an expansive Nordic complex that spans 50 miles from the Galena Trails in the north to the town of Bellevue in the south, with the town of Ketchum (where Sun Valley is located) roughly in the middle. The trails are so abundant that over the course of five days we never ski the same one twice.
We begin our Nordic safari on the free Wood River Trail that stretches 32 kilometers from Bellevue to Ketchum, passing through the town of Hailey and past the Quigley Nordic center. Next we head to Ketchum's Sun Valley Nordic Center and its 42 kilometers of groomed trails operated by the ski resort, where we wind our way over river crossings and through the woods. Then, just two miles outside of Ketchum, we explore the Lake Creek trails.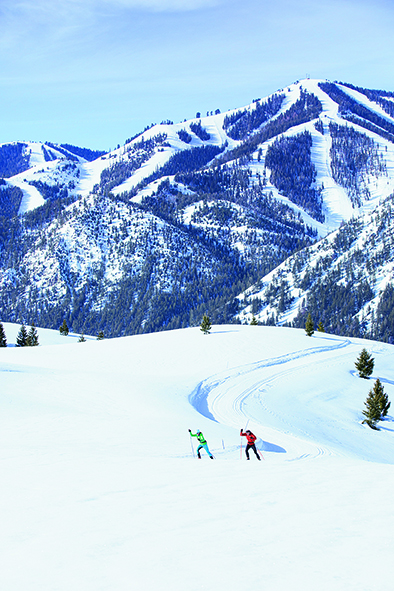 But it's north of Ketchum, where the Big Wood River descends from the Sawtooth Mountains, that the most spectacular trailhead awaits. Beginning at the Sawtooth National Recreation Area, skiers can hop on the 31-kilometer Harriman Trail, an arterial route that meanders through meadows, over bridges and through pine forestlands and riverside aspen glades. Along the way we pass the scenic Billy's Bridge and Prairie Creek loops before eventually reaching the historic townsite of Galena, where the Galena Lodge and another 50 kilometers of trails await.
"There are areas of the North Valley trails and at Galena that rival anything in the world," says Steve Haims, Sun Valley's Nordic director. "It can be challenging because it's in the mountains at 7,300 feet, but the quality of the trails and the scenery is world class."
Most of this network is overseen by the Blaine County Recreation District (BCRD), whose fleet of six PistenBullys and staff of 10 groomers manicure the trails daily. Conveniently, skiers can buy a combined Sun Valley/BCRD multiday pass that allows access to both areas.
It's a common cliché that mountain town residents come for the winters but stay for the summers. In Sun Valley, many come for the alpine skiing but stay for the cross country.
"We have a lot of locals who ski the morning on the mountain and then come out to do some real skiing in the afternoon to get some exercise," jokes Andy Munter, owner of Backwoods Mountain Sports.
Cindy Hamlin, Courtesy Patrol supervisor for the BCRD trails, is one of these converted alpine skiers. "The Nordic trails here are so expansive that you never get bored. And they are quiet. You meet great people, and you can see moose and wildlife," says Hamlin, whom we meet on the Harriman Trail, where she is skiing with her two dogs—another area perk. "We have a multitude of dog-friendly trails here."
Back on the Galena Trails, we finish our day at the historic Galena Lodge, an old-growth timber building where skiers gather to warm up by the fire and purchase sandwiches, coffee and snacks. Mike Ibershof, who works in the rental shop, moved here four years ago from Michigan and fell in love with the rugged Sawtooths, the trails and the friendly people. "It's amazing here, really a great family atmosphere," he says.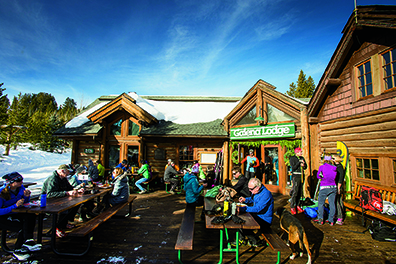 Our trip has coincided with the weeklong Sun Valley Nordic Festival, which includes races, demos, clinics, music, food and festivities that culminate with the Boulder Mountain Tour, a 34-kilometer, point-to-point race that draws 775 competitors that range from elite athletes to weekend warriors. The 15-kilometer Half Boulder brings another 225 competitors. First held in 1973, the tour celebrated its 47th running in February 2020.
Unfortunately, we must depart before the big race, but a few days beforehand we catch the sprint competition on a groomed 400-meter oval where two-person teams compete in head-to-head relays. Cheering fans line the downtown course, sipping adult beverages and hot chocolate as an announcer does play-by-play commentary. The action is fast-paced and spectator friendly. Afterward, we follow the crowds to the Limelight Hotel for the Nordic Festival and Boulder Mountain kickoff party, where the beer flows and a dad-rock band jams classic hits.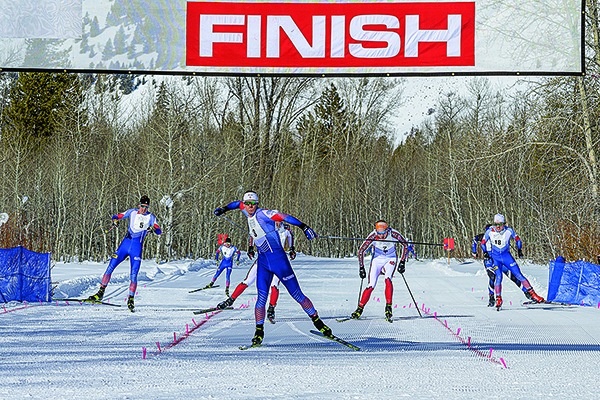 After five days on the trails and countless miles logged, I'm whooped. Sure, we do get in one day of snowboarding at the ski resort, because duh. But our trip would have been complete without it.
Every ski town worth a damn has cross country trails, but they often seem like an afterthought. Not in Sun Valley. The birthplace of American resort skiing may be the nation's only major resort town where the Nordic trails actually rival the alpine skiing.
Nordic Town, USA? It's no exaggeration.
OTHER THINGS TO DO
Sun Valley Resort
With two mountains, Bald and Dollar, Sun Valley Resort offers more than 2,000 acres of skiing and riding, 3,400 feet of elevation and more than 100 trails. New for winter 2020-21, the 50-year-old Cold Springs double chair will be replaced by a high-speed quad—history lost, better skiing gained.
Regional History Center
Ketchum, where Ernest Hemingway died by suicide at his home in 1961, is steeped in Hemingway history. Among the best places to see his works and artifacts is the free history center in the town library. Most interesting artifact: Hemingway's gun cleaning case.
APRÈS
Lefty's Versus Grumpy's
No surprise that upscale Ketchum has an abundance of fine dining and top-shelf booze. But the hottest debate among locals is which dive bar has the best burgers and beers: Lefty's Bar and Grill or Grumpy's? We explored the greasy goodness at both beer-soaked suds houses and, at risk of starting a fistfight, declare it a tie.
SKI & STAY
Limelight Hotel
Located in the heart of town, the Limelight is a premier boutique hotel whose amenities, colorful style, gregarious staff and modern, comfortable rooms make it the choice for hipsters, luxury travelers, Tesla drivers and beautiful people alike. The expansive lounge with its multiple fireplaces, cozy couches, games, live music, massive bar and dining options from breakfast to dinner mean you only need to leave to ski.
Knob Hill Inn
Built in 1996 to resemble an old-world European ski chalet, Knob Hill offers quiet charm, an indoor heated pool and hot tubs, free on-demand shuttle service and a deluxe breakfast in the Fireplace Room. The Grill at Knob Hill located on the first floor offers fine dining with an expansive wine list and Rocky Mountain-influenced menu items including rainbow trout and wild game.
Hotel Ketchum
The vibe is trendy and youthful at this downtown hotel where warm chocolate chip cookies are served every afternoon in the lobby and inspirational phrases ("Life Was Meant for Good Friends and Great Adventures") cover the walls. A hot tub, heated pool, breakfast bar and ski tuning room seal the deal.
This story first appeared in the Autumn 2020 issue of Cross Country Skier (#40.1).