Back Shop is supported by Craft—designing Nordic ski collections worthy of World Champions and Everyday Heroes. craftsports.us
If the proliferation of waxes, skis, training equipment and outdoor gear involved in Nordic skiing has you overwhelmed, it's intimidating to think that you need even more tools to keep it all in good shape. Luckily, most skiers like to work with their hands just as much as their lungs. Here are three helpful—outside the box—tools for working with your racing or touring boards. Certain brands offer variants of these tools in a ski-specific format, but that doesn't mean the traditional tools can't get the job done. Most of these items can be found at your local hardware or home improvement store—the wax tech's favorite retail outlet aside from the nearest coffee shop.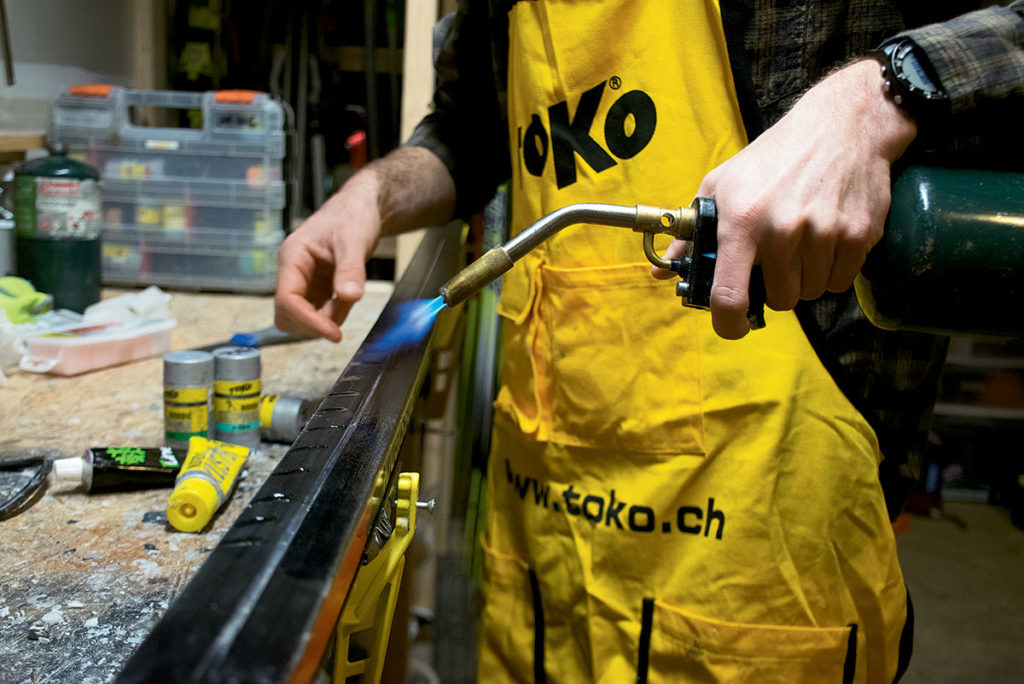 PUTTY KNIVES FOR CLEAN KICK ZONES
Whether it's a frozen glaze of green hardwax fossilized on your base, or a runny pool of klister that looks like an avant-garde fingerpainting, it's going to have to come off your skis when conditions change. A sharp, stiff putty knife is the best tool for the job. Don't skimp on plastic versions unless you're purchasing for a young skier, and avoid the flimsier metal variants. There are a lot of cheap options, but just like scissors or kitchen knives, your work will be faster, cleaner and safer with the higher quality options out there. Seven or eight dollars for a good putty knife is money well-spent.
GET TRIGGERED ABOUT YOUR TORCHES
Torches can be invaluable on race day as well as for home waxing. There are safer options for changing pole tips and grips, but torches work in a pinch. There are smoother ways to apply klister too, but torches work when you need them and are especially handy if you are without a power source for an iron or heat gun. Frozen wax bench components? Tent stakes entombed in ice? Time to reach for the torch. For the fastest and most efficient work, purchase a torch-head with a "trigger start." Like a good stiff putty knife, these are more expensive than the typical torch components. But the ability to open and close a powerful flame one-handed, with your gloves or mittens on, can be invaluable. This is another item that is well worth the added up-front cost.
HAND CLEANER AND SOLVENT
Klister has a unique way of adhering to surfaces such as the snow, your ski bases and your skin. Scrubbing with hand soap does a marginal job with removal, and one popular practice is to put your hands right into your gloves. It's common knowledge that the klister is magically transferred from your hands to the lining of your gloves, where it disappears forever. But there is another way. Some wax companies produce creams and salves that whisk klister right off your hands. However, you can also find products that do the exact same thing without costing a fortune. Most hardware stores, and, in this case, mechanic and auto-parts stores, stock hand creams designed to remove oil, grease and other car crud from your skin. Lo and behold, these products work for klister, particularly the creams that contain a bit of fine sand particles for extra scrubbing power. A little bit goes a long way!
—
Adam Terko is the head coach of Vermont's Mansfield Nordic Club and has been skiing competitively (and writing about it) since before Fischer skis had holes in their tips. He's also the technical editor of Cross Country Skier and writes the how-to column "Back Shop" in each issue.
Subscribe now to the print magazine to read Terko's latest column and more at crosscountryskier.com/subscribe.