Few cross country ski racing fans are surprised that Jessie Diggins just had another historic season. The 31-year-old phenom is the Mikaela Shiffrin of the cross country circuit (or is Shiffrin the Jessie Diggins of the alpine tour?), with more milestones checked off this year.
But Diggins was not the only U.S. skier to rack up superlatives. Ben Ogden became the first U.S. male in, well, maybe forever to capture the World Cup's green bib—given to the best U23 competitor in the standings. Julia Kern earned her first world championship medal, Rosie Brennan finished fourth in the overall standings for the second time in her career, and the U.S. women finished on the World Cup relay podium for the sixth time—and first since December 2019.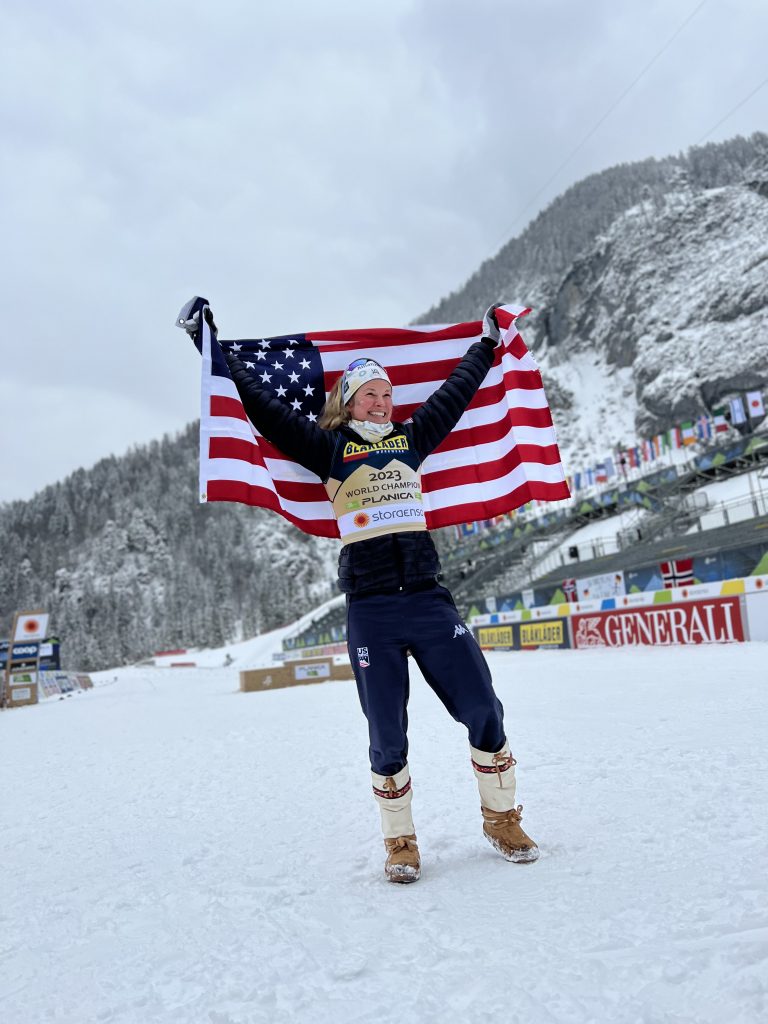 "The girls were third in the Nation's Cup and the whole U.S. was fourth overall," pointed out Brennan. "We haven't had results like that in a long time. Or, at least, in my career."
While World Cup podium finisher and talented relay skier Hailey Swirbul announced her retirement, the U.S. has a crop of talented younger skiers climbing the ranks.
Here's a look at the 2022­­–2023 season highlights.
Diggins Battled for the Overall Title
Sure, Diggins won her fifth and sixth world championship medals in February—including winning the first distance gold for the U.S. women. But her battle with Norway's Tiril Udnes Weng for the overall World Cup title in March kept cross country ski fans riveted to race coverage.
It was "an honor to be in the fight at all," Diggins said as the season wound down. And she was excited that the battle had engaged so many fans. But mostly, she was not focused on tallying points. She just wanted to ski her best.
In the end, Diggins garnered 1,867 World Cup points—her highest total ever (more than 500 points ahead of her total in 2021 when she won the overall crown)—while Weng ended the season with 162 more points (2,029). It was the fourth time that Diggins has finished in the top three overall. "I'm really, really proud of that," she said after the World Cup Finals in Lahti, Finland. "This is my third year in a row that I'm top-three, and it speaks to really incredible support from the team."
It also speaks to Diggins's versatility and consistency. She has now earned World Cup podiums in every discipline from sprints to the first-ever 50km World Cup for women. And with two victories this season, Diggins surpassed Olympic gold medal partner Kikkan Randall for the U.S. skier with the most World Cup victories (14 now for Diggins, and 47 podiums).
Diggins also overcame a tough Tour de Ski, where she struggled with wax and placed 11th, her lowest finish in nine years. But that experience gave Diggins her biggest takeaway for the season: "Not to give up just because something is hard and also to trust in myself," she said. "If I had listened to all the people saying that I should give up and go home instead of trusting in my body and myself and the team, then I would not have stayed in the top-three overall [in the World Cup standings]. Instead, I fought for it because I knew I was in a healthy place and a good place with my body, and I knew it was worth fighting for. So if there's anything I want little kids to take away from this, it's don't give up just because something is hard."
Diggins also gave a shout-out to her husband, Wade Poplawski (the two married last spring).
"Fun fact, every single one of my World Cup podiums has come after I started dating him," she pointed out with a laugh. "So there you go. It's all because of Wade."
For those wondering, Diggins earned her first World Cup podium in January 2012.
Ben Ogden—the World's Best U23 Cross Country Skier
Ben Ogden has had a meteoric rise in U.S. men's cross country skiing. The 23-year-old Vermonter made his World Cup debut in Quebec City in March 2019 and finished far down in results. But he looked at his performance with an engineer's eye and figured out how to improve. Quickly. Three years later, he finished 12th in the sprint at the Olympics—the second-best finish for an American man in that discipline at the Winter Games.
This year, Ogden wanted to prove that his Olympic sprint was no fluke. He qualified in the top 10—and often top five—in almost every World Cup sprint this season and also rounded out his resume by scoring his first World Cup points in distance racing
Then during the Tour de Ski, Ogden finished sixth in a 10km classic race—the best finish for the U.S. men in distance skiing in 40 years. Despite a few mishaps—like two broken poles—Ogden ended the Tour ranked 13th, the best finish ever for an American man.
Consistency in both sprints and distance races put Ogden in eighth place overall in the World Cup standings—and into the green bib as the top U23 skier. "Winning the U23 bib was a real treat," he said after the World Cup Finals. "I didn't realize how much they honor you, but hearing the national anthem and standing on the podium was really, really special. Not a moment I will soon forget."
Tired but "really stoked," Ogden returned home to Vermont, where he's pursuing a masters in engineering at the University of Vermont, with a focus on designing electric cars.
First World Championship Medal for Julia Kern
Julia Kern advanced to the heats in every sprint this season, and after the holidays, really found her mojo. She and Rosie Brennan finished third in a team sprint in January, then Kern anchored the U.S. women to their sixth World Cup relay podium ever.
By world championships, the 25-year-old, who grew up outside Boston, was flying. Paired with Diggins in the team sprint, Kern brought the two over the line for the bronze medal. For Diggins, it was one of her favorite memories of the season. "It's been so wonderful to see Julia just gaining so much confidence and experience and power and tactics," she said.
Kern finished seventh overall in the World Cup sprint standings.
Rosie Brennan—Fourth in the World Cup Standings, Fourth in the Tour de Ski
Rosie Brennan knows fourth place all too well—and its bittersweet taste. The 34-year-old veteran finished fourth overall in 2021 (after falling from third) and fourth in the 2022 Olympic sprint, just behind Diggins.
But finishing fourth also has its attributes. With her highest World Cup points total ever (1,546), Brennan claimed fourth in the World Cup standings for the second time this year. Bittersweet, yes, but also a sign of good consistency. "Hopefully I can do some reflection and figure out what to do better and come back stronger," said Brennan at the end of the season.
Her proudest moment? Finishing fourth in this season's Tour de Ski. She finished fourth in the Tour's 15km classic race (the same race where she struggled in 2021) and then sixth in the final stage. "I was able to have some really good races at the end of it," she said. "That was something that I was really proud of."
Mostly, though, she was happy for the group of younger American skiers starting to make their mark. "We definitely have a strong group of men and women coming up, which is just so cool to see," Brennan said. "That's been a big motivator for me to continue my career. Hopefully these young kids keep me young and keep us all going strong and moving up."
Who Are The "Young Kids"?
At the 2022 Olympics, we caught a glimpse of the future of U.S. cross country ski racing. Sophia Laukli and Novie McCabe both finished in the top-20 in the 30km. The two then came home and won a race each at the 2022 NCAAs.
This season, Laukli—who's also an acclaimed mountain runner—finished third in the Tour de Ski's ultimate stage (up the grueling Alpe Cermis). The 22-year-old also finished fifth in the 10km freestyle at the U23 world championships and, after competing at the senior world championships, came home to earn a podium finish again at NCAAs—behind McCabe, who won both the classic (20km) and freestyle (5km) races. Both women compete for the University of Utah and helped their team claim the overall NCAA title this season. Sydney Palmer-Ledger, 22, also helped Utah with her fifth place in the 20km at NCAAs, and she scored two top-10s at the U23 world championships.
McCabe, 21, then flew back to Europe for the last World Cup races of the season, finishing in the top-25 in two distance races.
But the junior racer who really turned heads was Sammy Smith. The 17-year-old from Sun Valley, Idaho—who's also a mogul skier—returned from the FIFA U-17 Women's World Cup (yep, soccer) in the fall to make a statement at the early SuperTour races. After scoring three top-10s at the world juniors in January—including sixth in the 10km freestyle—Smith earned her first World Cup berth. The youngest woman on the World Cup tour this season (and one of the youngest Americans to ever make a World Cup debut), Smith's first race was a sprint in Drammen, Norway, in March.
Four days later, in her second-ever World Cup sprint, Smith qualified 19th and ended up 27th after not advancing from the quarterfinal. "[It was] very nerve wracking, but it was such an amazing experience to be on the start line with some of the best skiers in the world," Smith gushed. "All the experienced people on the team like Jessie, Julia and Rosie have been so helpful and offered so much great advice. I cannot thank them enough!"
Fans of the TV series Ted Lasso might bet on Smith picking soccer as she continues her athletic career. But we are rooting for her to stay on skis.