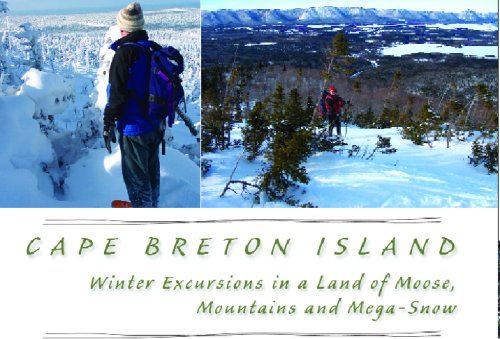 It was 10 degrees Fahrenheit, and the sun made snow stars dance in my sun glasses. My shoulders brushed the snow-covered spruce limbs as I followed our guide along a route through trees rendered tunnel-like by their overloaded branches. Periodically Les, our lead guide, raised his hand to slow us as we crested a rise to survey the valley below for moose. We'd not yet seen any today, only the second day of five without sightings, and we were anxious for one last look at these magnificent creatures.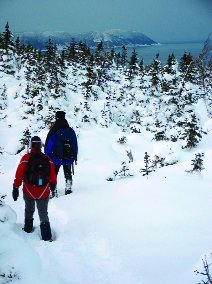 This was our first trip to Cape Breton Island, that mountainous rocky hunk of Nova Scotia that sticks out into the North Atlantic, a three-hour flight north from Boston. Recommended by friends who'd toured with our guides on a summer multi-activity package, and consequently learned of Sea Spray's winter packages during their day trips hiking, cycling, paddling and whale watching, my wife and I sought a "different" sort of winter vacation. With Sea Spray's promises of "accessible wilderness," "abundant wildlife" and "guaranteed snow" we booked a five-day package customized to our needs, interests and abilities.
As occasional cross country skiers, we were used to the usual drill of parking, paying, waxing and skiing. This week was to be our first experience with guided outings. While we were a bit hesitant about being dependent upon guides, we soon realized the plan's merits. The local experience the outfitters brought to their unusual mix of on-track skiing, backcountry skiing and wilderness snowshoeing resulted in activities being selected for their appropriateness to the day's weather and our abilities. Further, the "guided package" approach to a winter trip meant no worries about where to stay, ski, eat or see special sights. This was all done for us! And at less than $125 U.S. per day, the five-day package included activities, meals, rentals, passes and accommodations.
Although summer visitors have long marveled at northern Cape Breton "mountains-meeting-the-sea" landscape-wildlife combination, winter activities were reserved for locals and those "in the know"-until recently. Despite the number of national cross country ski series held there on some of the highest recorded annual snow accumulations in eastern Canada, winter activities have remained largely un-promoted, some might even say concealed.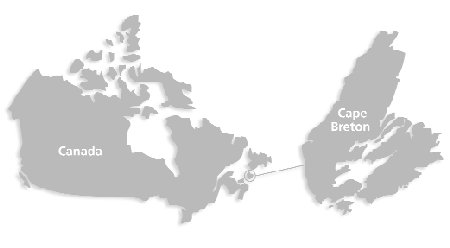 Things are changing, however, as evidenced by the recent launch of the www.snow-moose.com web site, a regional winter package promotion from Cape Breton Snow Belt Marketing Co-Op, a small group of ski area operators, accommodations hosts, and winter outdoor adventure outfitters, including our guides. The combination of scenery, snowfall, and wildlife contributes to a world class winter outdoor experience; the variety of activities in the package becomes the icing on the cake. The promotion says it all: "No glitz, no crowds, no wild nightlife-just lots of snow, scenery, well-planned outings and real wildlife."
And the co-op delivered. Especially variety, all packed into my five-day winter package.
Beginner telemark ski lessons on unbelievable champagne powder at Ski Tuonela accompanied an overnight in a rustic chalet three miles by ski into the bush. What began as a seemingly gentle trek on a packed trail changed surprisingly as our group arrived at a mini ski village deep in the bush, replete with its own power system, ski shop and sauna. As our luggage arrived by snowmobile, we skied on a rope tow-serviced telemark hill surrounded by a cross country trail system built on the hillside, which allowed a choice of access to the top of the hill by either trails o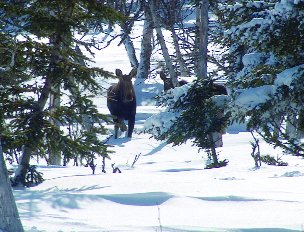 r tow. My first descent through glades buried in fresh powder was a true test of my ability to laugh at myself, but by day's end I was carving successful, if not textbook quality tele turns.
Another day, we were guided on a cross country ski tour, on groomed ski trails, into the interior of Cape Breton Highlands National Park. The trail grooming quality deep in the park's interior surprised us, for park staffers linked interior access roads with ski trails to form a trail network that is regularly tilled and trackset. Halfway along the tour, we rested in the sunshine outside a cabin drinking warm cup of soup.
On this tour, our guides doubled as instructors, offering tips and hints that helped me make the most of my somewhat rusty diagonal stride. While the guides succeeded in improving my technique, they were less successful in convincing the resident moose population to respect the groomed tracks. On a number of occasions, we dodged fresh tracks and hippity-hopped to avoid what our guides laughingly referred to as "natural brown klister."
One day became self-guided at North Highland Nordic Ski Area exploring groomed trails. The North Highland Nordic Ski Club, which operates the small ski area, doesn't skimp on snow management. Using Pisten Bulley grooming tractors daily for close to 20 years to till, renovate and trackset their trail network, the club's snow management can brag about never canceling a scheduled event for lack of snow. The trail network has been designed with a variety of skiing abilities in mind with over half the terrain skiable by novices. We skate skied while at North Highlands Nordic, won over by the 16- to 20-foot trail width and superb grooming. We spent the day skimming over trails, interrupted only once by a moose mom and calf. We waited for them to vacate the trail, so we could pass.
Without the benefit of trails, we were introduced one day to wilderness snowshoeing. A surprising feeling of omnipotence accompanied the realization that I could go anywhere I wished, explore any ridge or valley I desired. I'd always thought of myself as solely a cross country skier, but this adventure made me re-think my options for winter activities. Most memorable, Sea Spray Outdoor Adventures introduced us to winter travel on the Highlands. Their guides seldom use trails on their backcountry ski and snowshoe tours, using routes instead. The deep snow so prevalent at Cape Breton Island's northern tip buries all the small brush and undergrowth; its six to ten foot depth allowed us to move effortlessly through hardwood and spruce forests experiencing a freedom of travel unknown to summer hikers. I still marvel at the way we were able to move so effortlessly across the firm snow surface without trails to follow-definitely not the eastern backcountry skiing I'd previously imagined.
The forecast held windy, snow-blown conditions, but the guides chose a route downwind along the edge of a picturesque highland barren. This choice allowed us to travel comfortably with the wind at our backs while viewing the constant vista of mountains and valleys, the ice-speckled Atlantic Ocean in the distance dotted with floes of drift ice from Quebec and Labrador. As we descended from the plateau into the spruce-sided valley shelter, the last hour's tail wind seemed far away, and I removed first my hat and then my gloves. Ten degrees Fahrenheit never felt so warm!
The guides modified our route to accommodate our party's less-than-stellar fitness levels, but these changes didn't seem to have affected the end result of abundant scenery and wildlife. Because Sea Spray's staff prides itself in customizing its day trips to accommodate the group members' fitness and ability levels, their subtle adjustments were much appreciated. While it's true that we were backcountry skiing in the mountains, it's also true that in the six hours we skied, we didn't once climb or descend anything steeper than a gentle slope. At the flat-topped northern limits of the Appalachian Range, the mountains in northern Cape Breton are more highland plateau than actual mountains, topping off around 2,000 feet above sea level. However, they plummet right down to sea level!
In what amounted to the ultimate consumer perk, we were driven to the top of the mountain plateau to begin our backcountry ski tour. Our guides, sticking to their "routes, not trails" philosophy, led us along the sparsely treed ridge tops and river valleys fringed with birch and spruce thickets. Moose, coyote and snowshoe tracks criss-crossed our path. Occasionally, we glimpsed moose, those shy monsters that call the Highlands home.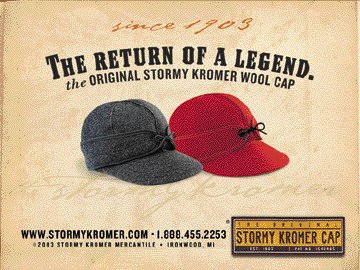 After exploring gentle mountain slopes, taiga flatland and highland barrens, we suddenly reached the plateau's edge. Seventeen feet below lay the floor of a northern river system, complete with hanging valleys caused by its sheer walled tributaries. Our eyes followed the path of the valley from its mountain source ten miles south to its ultimate destination at the sheer-cliffed, ice-filled Atlantic Ocean an equal distance to our north. After a few minutes, as if to underscore the solemnity of the moment, a bald eagle glided down the valley, passing us at shoulder level. Then, seemingly trying to top the view, our guides then led us on a two hour ski along the rim, with level ridge top on one side and the magnificent valley scenery on the other.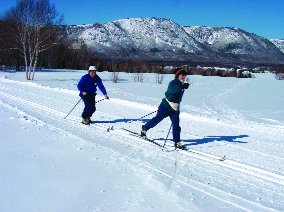 We made a number of stops, peering down into valleys for wintering moose, and we counted fourteen individuals, but no sign of their wily coyote nemesis. Since moose would consume a large volume of hardwood tips to replace any energy expended trying to stay away from curious skiers, our guides insisted we keep our distance. We readily agreed to keep well away. Our guides, however, shot telephoto digitals and e-mailed them to our servers that evening. "No glitz, no crowds, no wild night life-just lots of snow, scenery, well-planned outings and real wildlife." The promotion rang true, for we'd repeat our experience in a heartbeat. Cape Breton Island is a secret that will not be kept for long!
Getting There
Traveling to Cape Breton's Northeast Highlands usually involves flying through Halifax, the regional hub, to the Sydney (Cape Breton) airport, and then a two-hour drive through some pretty special scenery, generally a taste of what's to come further north. Air Canada flies from most major U.S. cities, and all major rental agencies operate out of the Sydney, Nova Scotia, airport.
When to Go
Although grooming begins in early December and packages are offered from mid-January through April, the early January weather is unpredictable, and blizzards are not uncommon. With February and March benefiting from January's snow dumps and lengthening daylight, these months make for good outdoor opportunities. Early April can be the best, but early spring fogs can cloud views in the mountains.
Dennis Doyon, with over 30 years of cross country ski experience, occasionally pens an article about an outstanding experience or destination.