Running Swix USA for the past 11 years has given Steven Poulin the opportunity to collect a lot of cool cross country memorabilia. On the wall of the president's New Hampshire office is a signed poster from Jessie Diggins and a New England Ski Museum poster of a couple of Diggins's predecessors. Below them, however, is an 11-page certified letter from the Environmental Protection Agency (EPA) dated January 2018, notifying Swix that it was under review for contents of all fluorinated Swix and Toko wax imported from Norway over a five-year period. Nearly two years later, and after a season with zero fluorinated wax sales, the review is complete. Swix will pay a fine for some of its waxes that contained banned chemicals. But many of its fluorinated waxes will be on the shelves again this season, save for its highly fluorinated C8 product.
"The first thing that went through my mind was, 'OK, it's not a problem. We understand what we need to do,'" Poulin recalled late this summer. He fired the letter off to Swix headquarters in Norway and contacted the company attorney here in the U.S. But it didn't take long for Poulin to realize the magnitude of the EPA review. So he contracted a bigger law firm in Washington, D.C. And, while the initial letter was specifically interested in products containing fluorination, in May 2018 the EPA opened up their review to every Swix and Toko wax and cleaning product. "I remember that phone call that was in June," he says. "And after we got off the phone with [the attorneys] I started to really understand the amount of work this was going to be to provide all the information that the EPA was requesting. It was kind of an 'oh-shit moment,' to be honest."
Suddenly there was a 10-person global taskforce made up of contractors, suppliers and chemists to get the EPA everything it needed to assure all contents of all products were federally approved under the Toxic Substances Control Act: If any chemical in a product is not on the approved list, it can't be imported or sold in the U.S. Poulin immediately notified his retailers that Swix and Toko would not be shipping fluorinated product until the review was complete. It was a voluntary quarantine, which Poulin hoped to lift before the New Year 2019. Then the federal government shut down for six weeks beginning in late 2018, leaving Swix, Toko and their retailers and customers out in the cold, relying, if they were lucky, on fluorinated wax left on the shelves from the year before.
"I had over 250 products that I had to go through, product by product, substance by substance, mixture by mixture," Poulin remembers. "And that was extremely time consuming for the taskforce to get through: 10 people around the world in laboratories, source people sourcing, partners working on this. Not full time but quite extensively."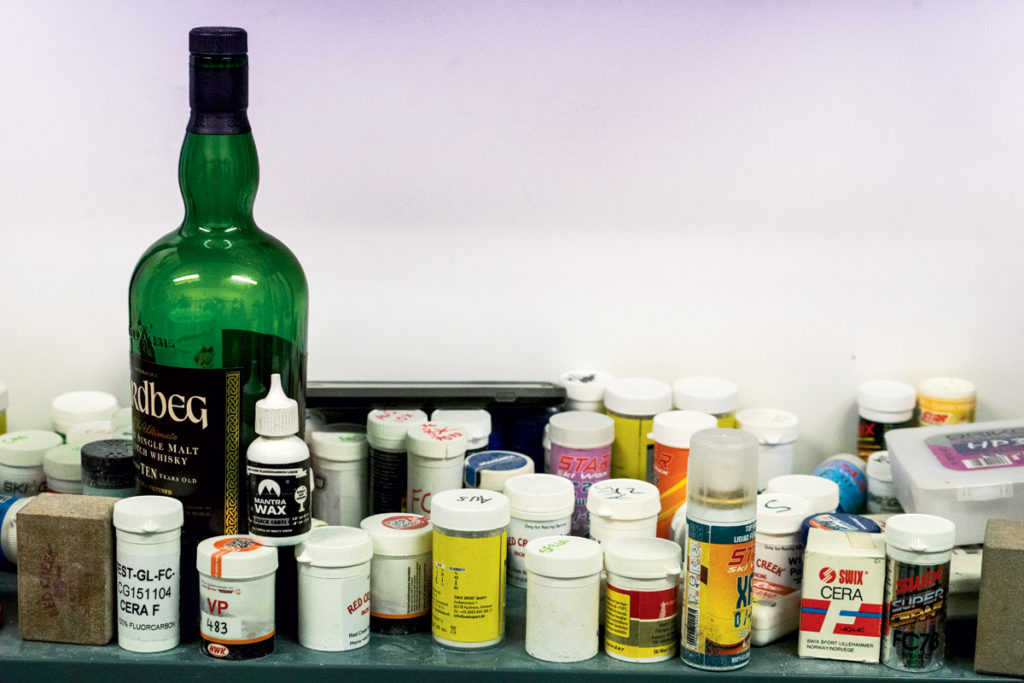 Slowly, cask by cask, product by product, Poulin was able to send non-fluoro wax to retailers beginning in January. But their top-end, highest-margin product would remain in a warehouse, leaving many industry insiders to wonder, given the environmental impact of long-chain fluorocarbons, if this wasn't the beginning of the end. An end, frankly, for which the wax industry has long been preparing. Already, Poulin says, Swix will only be selling up to C6 wax going forward.
With Swix and Toko together making up, Poulin guesses, as much as 75 percent of the U.S. wax market, the fallout has been huge, and other wax companies are taking notes for when the letter from the EPA arrives in their mailboxes. For its part in the review and settlement with Swix, and if it was looking into other wax companies, an EPA spokesperson said simply, "EPA cannot comment since negotiations with the company are enforcement confidential."
Cross Country Skier caught up with Poulin in early September to find out about the impact on Swix and the future of the wax market in general.
XCS: What's the impact of the EPA review to Swix's bottom line, and how has this affected operations?
Poulin: I can't say the impact to the bottom line, but I will tell you—between attorney fees and lost business, because we didn't ship a bunch of our waxes for the past 12 months—I will tell you it's in the millions of dollars. And for the record we quarantined all our waxes. We voluntarily did that. We were not told by the EPA to do that. We wanted to be super cautious, to make sure that we were taking every precautionary move until we got through.
XCS: That was just the high-fluorinated wax though, not all the waxes, correct?
Poulin: At first, we quarantined every wax last June. Some of the waxes were easy to cross-reference against the list. So some of the CH [waxes] were easier. Some of the non-fluoro kick waxes were easy. So we were releasing them in groups. We would release groups at a time as we went through the verification process with our attorneys.
XCS: So you've got the legal counsel to pay for. You have the lack of sales because the product isn't available. What else? What did it mean? The last time we spoke you said you'd shed some tears over this at times over the last 20 months.
Poulin: Oh yeah. Well for us we needed all hands on deck. Once we got into this very deeply last summer, we had to make sure that the waxes that were getting released were shipped. So there were no layoffs. There were no cost adjustments made until this spring. There are some cost adjustments made within the company now. I wouldn't say overly dramatic, because we knew we would get through this. We actually did not lose money. It was amazing that we actually…we made money or broke even.
XCS: Now that you're through the process, do you anticipate any changes in the pricing of wax for winter 2020?
Poulin: It's our responsibility to be in compliance. And there's a cost to it. That's kind of the cost of [doing] business. And that's my philosophy. So I don't anticipate any increases in my wax pricing and for the next…at least a year. I'm not going to pass on the costs.
XCS: Last time we spoke we talked about the widely published environmental impacts at least of the long-chain fluorinated waxes like C8. When will the wax industry move away from this technology or be forced to do so by regulators here or in Europe?
Poulin: I think that [with the] concern the EPA has around the substance, it could push for legislation to ban fluorocarbons. That could happen, not just in the ski industry. I mean automotive, aerospace, pharmaceutical and home goods. They are all different industries. I think [there] would definitely be some time period for adjustment in certain categories. Like you couldn't go to aerospace and say, 'OK, fluorocarbon C8 is all banned.' If they're flying planes and they're making planes they have to provide that service. (Ed. – Fluorocarbons are used widely in aerospace, particularly in fire suppression.) I'm sure the aerospace industry would be given a time period to exit C8 technology because it's just too disruptive to the economy. But for a small category like ski wax or something else I think if there's any policy that comes through Congress, I think it would be almost an immediate thing.
XCS: There have been a few proactive governing bodies here in the States and, notably, in Norway that have banned fluorinated waxes.
Poulin: [That's happening in a lot] of disciplines of skiing, not just cross country but alpine. Different age groups. They've banned fluorocarbons, and it hasn't been done on a consistent national basis or by a governing body of our ski association [U.S. Ski and Snowboard] having created policy for that. But I can anticipate that coming. I've been seeing it and hearing about it for probably four years now. At first there was a lot of reasons for banning fluoro: One was too much time to test wax. The coaches [should] spend more time with the kids instead of going out testing the skis. When you are 12 years old, 13 years old, just put them on CH and let them go have fun. And I'm going to push for a fluoro-free environment. I am going to personally push for it, and our company is going to push it.
Editors' Note: This story originally appeared in Issue 39.1, the 2020 Gear Guide (read it online here). Since the piece initially ran, Swix has announced the launch of their new fluoro-free line of wax, dubbed Swix Pro. Read about the new wax here.