Tara Geraghty-Moats, the 27-year-old athlete from West Fairlee, Vermont, made history last Friday, winning the first-ever women's Nordic Combined World Cup, held in Ramsau am Dachstein, Austria. From her position in sixth after the jumping portion of the event, Geraghty-Moats skied a dominant 5km cross country race, clawing back a 39-second time deficit in the first of two laps to win by just 1.5 seconds.
Geraghty-Moats's win kicked off a notable weekend of World Cup competitions that saw many members of the Davis U.S. Cross Country Ski Team earn points at the World Cup sprints in Dresden, Germany.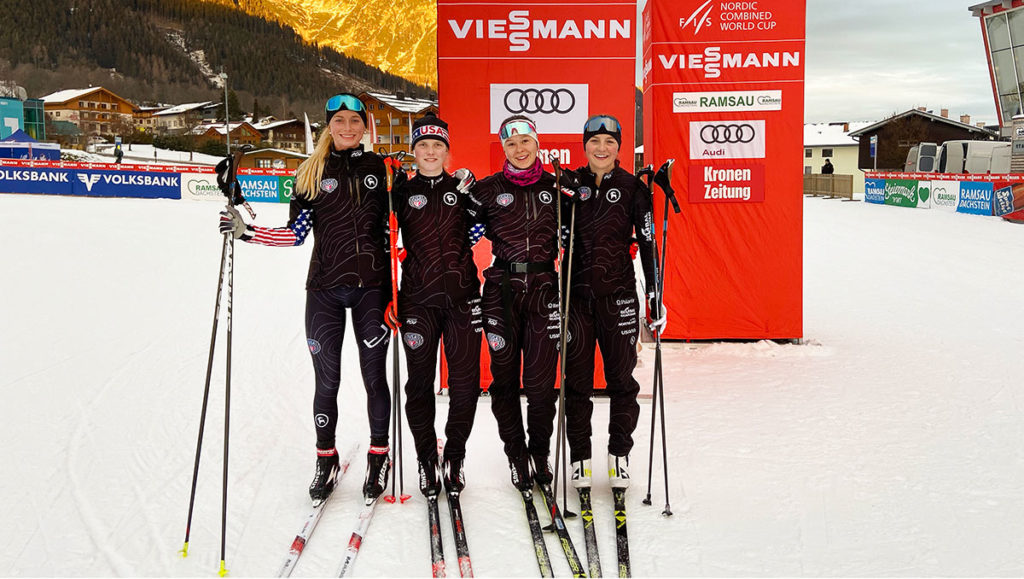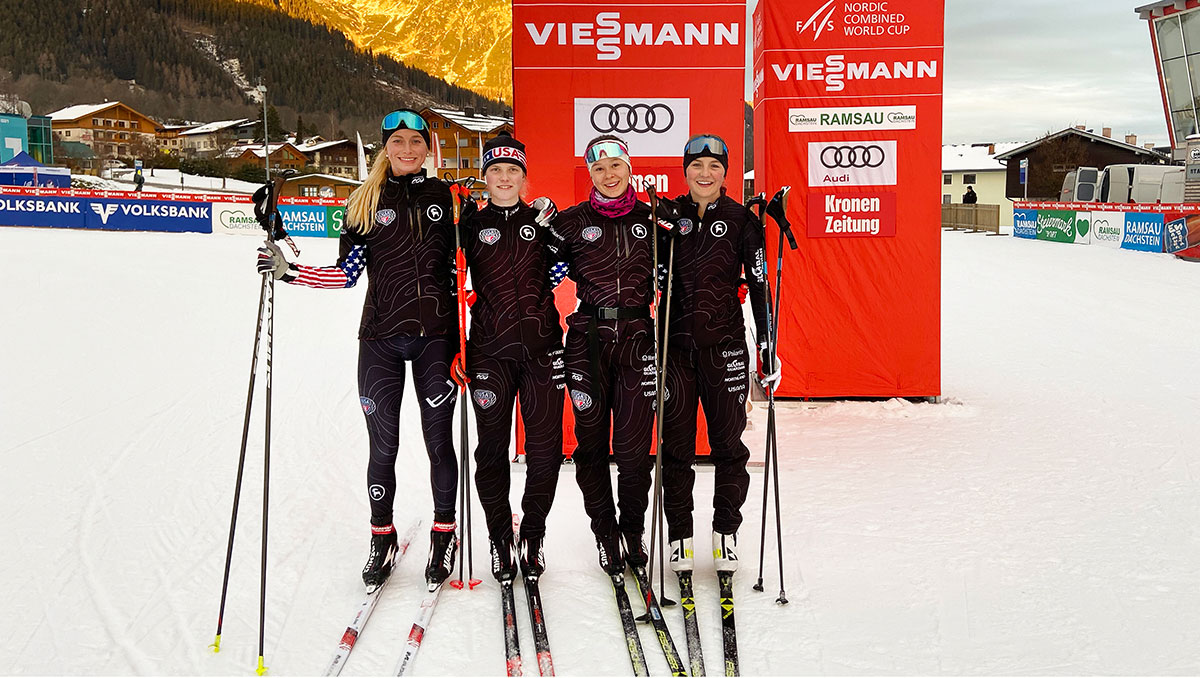 Tara Geraghty-Moats (left) with teammates Alexa Brabec, Annika Malacinski and Tess Arnone in Ramsau am Dachstein, Austria. [Photo] Tomas Matura/USA Nordic
"Today here in Ramsau was a dream come true," Geraghty-Moats, the two-time defending champion of the Nordic Combined Continental Cup, told USA Nordic. "It was something I've dreamed about since I was 10 years old—before it was even a possibility."
Prior to last Friday, the Continental Cup was the highest level of elite international competition available to women's Nordic combined athletes. While Nordic combined has been part of the Olympics since the inaugural Winter Games in Chamonix, France, in 1924, it's the only Olympic sport—summer or winter—that doesn't contest a women's competition. Until Friday, women hadn't had a World Cup, either.
The International Ski Federation (FIS), athletes and national governing bodies have recently been working aggressively toward Olympic inclusion, specifically with the 2018 introduction of the Continental, which is seen as a precursor to World Cup competition. The last two seasons of the women's Nordic Combined Continental Cup welcomed athletes from more than 17 different countries and, in February, FIS announced that the Nordic Combined World Cup would include women during the 2020-21 season. Female athletes will contest their first-ever World Championships on February 27, 2021, in Oberstdorf, Germany.
"A lot of credit has to go to influential countries like Norway and Germany who are really investing in their women's teams and actively working to bring women's Nordic combined to a high level," Geraghty-Moats told USA Nordic following the February announcement. "I'm glad FIS is doing so well at developing women's Nordic combined. It goes without saying that I'm excited to compete on the World Cup and at the World Championships."
This season's FIS Nordic Combined World Cup should have kicked off on early December in Lillehammer, Norway, but, like the Cross Country World Cup, the event was postponed due to concerns over the coronavirus pandemic. The pandemic has strained training and competition, including for Geraghty-Moats, who hadn't donned a bib in 10 months. "I had only 10 percent of my ski jumping training I had hoped to have," she told USA Nordic. "But all day long I just kept telling myself that I could do it—every step at a time."
Geraghty-Moats bested Norway's Gyda Westvold Hansen and Japan's Anju Nakkamura in her World Cup victory. Three other U.S. athletes—Annika Malacinski, Alexa Brabec and Tess Arnone—competed in Ramsau, placing 28th, 29th and 30th respectively. See the official results here.
Following Friday's Nordic combined, members of the Davis U.S. Cross Country Ski Team took to the sprint course in Dresden, Germany. Sophie Caldwell Hamilton headlined the weekend's results, earning second place in Saturday's freestyle sprint, her 10th individual World Cup podium. Jessie Diggins finished fourth, while Rosie Brennan, who won the previous weekend's sprint and 10 km in Davos, Switzerland, did not race.
"I felt better and better as the day went on and was definitely motivated by the success of my teammates throughout the day," Caldwell Hamilton told U.S. Ski and Snowboard. "It was a course filled with turns and bumps and broken poles, which made an exciting day and I was thrilled to land on the podium."
Eight Americans advanced to the heats, four to the finals—Diggins, Caldwell Hamilton, Simi Hamilton and Kevin Bolger. Simi Hamilton placed fifth, while Bolger placed a World Cup-best sixth. Hannah Halvorsen was among the eight qualifiers, advancing to her first-ever World Cup heats in her second race back after a year spent recovering from an accident in which she was hit by a car. See the official results here for men and women.
"What a day!" Diggins told U.S. Ski and Snowboard. "For me, the best part was that I really, truly had fun out there! Seeing Hannah make the heats for the first time brought such an adrenaline rush, and seeing so many of our boys in the (semifinals) and then Sim and Kevin in the final, and of course Sophie skiing like a boss!"