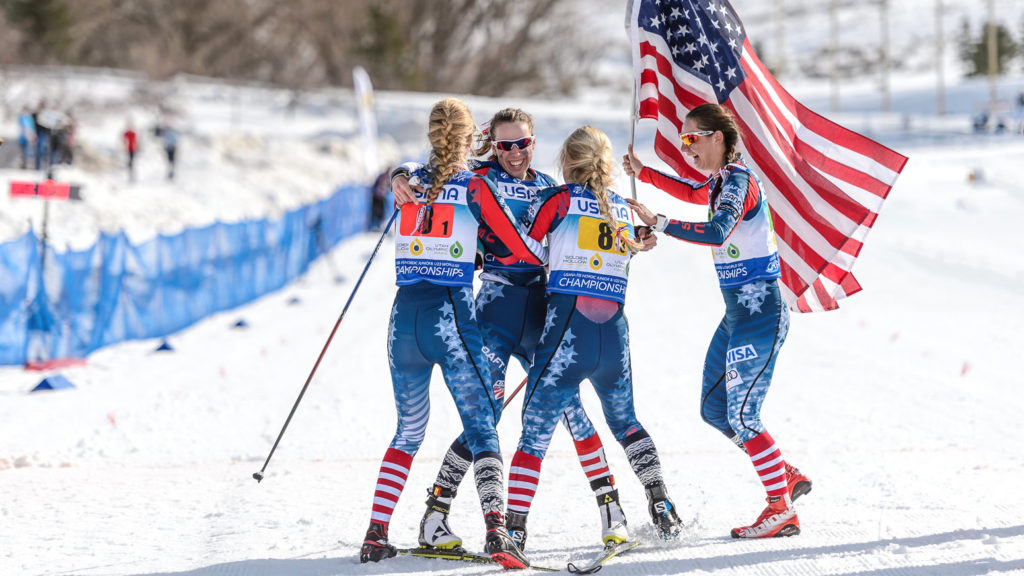 Just over a week ago, four girls secured the first ever relay medal for the U.S. at World Junior Championships in Soldier Hollow, UT.
One day before the historic event, an altogether different story played out in Ketchum, Idaho. The small mountain town of Ketchum has played host to the Boulder Mountain Tour since the inaugural event in 1973. A point-to-point 34km skate ski marathon, the course starts north of Ketchum and winds along the Harriman Trail, dropping some 1100 feet and finishing at Baker Creek, just a few kilometers from downtown. With a break in the SuperTour schedule following our races in Truckee, I decided to jump into my first BMT (as the veterans call it).
I'd actually traveled to Ketchum for the BMT once before as a pre-teen. My parents and their friends plopped us kids in an awesome mountain resort with hot tubs and bowling while they took to the trails and donned a bib for their annual, once-a-year, ski racing trip. At that age I had barely started cross country skiing and 34km of racing seemed like torture. However, my parents and their fellow master skiers loved it, spending hours waxing their skis and preparing their hydration and fueling plans. People love the Boulder Mountain Tour for many reasons (the scenery, great organization, generally sunny weather) but my parents liked it because the course is mostly downhill and the raffle prizes are numerous. If there is one thing I remember besides the awesome hot tub situation at our Sun Valley hotel, it was the enthusiasm with which our parents attended the award ceremony, not because they'd earned a medal, but because they stood a good chance to win some free wax or a new pair of skis. Turns out master skiers LOVE free gear.
I returned to Ketchum this year not for the hot tubs or prizes but for the racing. I joined almost 1,000 elite and novice skiers alike in what is now being called one of the "toughest" Boulder Mountain Tours in recent history. Nearly a foot of fresh, wet snow Saturday morning made for painfully slow conditions and almost zero visibility on much of the course. The volunteers and organizers of the event pulled off a minor miracle by successfully running the event in such challenging conditions (thank you for all your hard work!). The Boulder Mountain Tour starts participants in waves, beginning with the Elite Men and then followed two minutes later by the Elite Women, and subsequent waves of athletes (mixed men and women) whose start time is based on past results. As I stood on the second line, waiting for the Elite Men to kick off the race, one of the organizers made an announcement:
"Elite Men, if you are caught by the Elite Women, move to the side and allow them to pass," she said. "They are racing for money…and they are already beating you."
A few of the men laughed and shortly thereafter the gun went off.
"Hey ladies, I think it's time you took a turn in the back!"
By the 3km mark, I had broken away from the rest of the elite women's field along with three other women, Caitlin Gregg (Team Gregg), Mary Rose (Sun Valley Gold Team) and Veronika Mayerhofer (Austria/formerly University of Utah). We took turns leading and started catching the men from the elite wave just a few kilometers later. By 10 km our group of four had shrunk to three. Despite the dumping snow and challenging conditions, Mary Rose vocalized my thoughts exactly,
"Hey Erika!" she yelled. "This is so fun!"
And it was. Despite feeling like I was attempting to navigate the inside of a jar of marshmallow fluff with two toothpicks strapped to my feet, the race had turned into an adventure. Every few minutes I would attempt to clear the piling snow from my glasses and see another group of men ahead of us on the trail. Most groups we passed moved to one side of the trail or another and some even gave us a rousing cheer. We returned the sentiment, as anyone racing in these conditions deserved a good word of encouragement.
With just over 10 kilometers to go, our group of three skied up to a larger train of men from the Elite Wave. We passed them in a feed zone and proceeded to lead the train through the last, long open field known as "Frostbite Flats" before diving into the trees for the finish. This particular area of the course offered little protection from blowing wind and snow and required careful maneuvering and sharp eyes simply to stay on course. Shortly after passing the train of middle-aged men, the track chatter began…
"My mom always told me never to pass a girl!" one said.
"Just hold the door open for them," said another.
Then, about five minutes later, "Hey ladies," came a voice from an unidentifiable skier in the very back of the master blaster convoy, "I think it's time you took a turn in the back!"
I was speechless and continued skiing silently. Caitlin turned her head back, almost confused, not sure she'd heard correctly, and Mary insisted we just ignore them. No one, male or female, said a word. We skied in silence for a few more minutes, the only sound coming from the compression of snow under our feet. In some ways, the comment didn't seem so egregious…until I put the boot on the other foot, imagining if I'd said the converse to a group of men. With 7km to go, we approached the final sprint preem (mid-race sprint for money) and picked up the pace. Within a few strides we'd dropped the mouthy masters and their comments behind, leaving them to suffer through the powder on their own as we hammered to the finish line.
The great thing about skiing, and any sport really, is that you are judged by your actions and your performance and not your gender or the color of your skin (and yes I got that from the new Nike ad which is amazing and so true). The men we passed on the course that day may not have meant any harm, but their words don't belong in sport, or anywhere for that matter. If I've learned anything as a woman in sport it is that nothing is given, or a given. If you want to make a team, be so good they can't say no. If you want to lead, you better be prepared to work for it. And men take note: If you want to be in front, save your breath and your remarks and ski fast enough in the first 22km of the race that you don't get caught by someone who started two minutes behind you. If you want to win, YOU make that happen for yourself.
I finished second for women that day, behind Caitlin Gregg, and 16th overall, some four plus minutes ahead of the cheeky chase pack. I would guess the older men who threw jeers did not intend to be hostile or degrading. More likely they were feeling pretty good cruising in the draft and wanted to push the pace, or tackle a new personal record or age group place (although in those conditions no one was breaking records). In the heat of the moment, with snow and wind and a finish line close by, competitors say all sorts of things they don't mean, but their words stuck with me the same way old klister sticks in your hair (which, if you've never had this happen to you, does NOT just wash out with soap and water). Perhaps it has something to do with the current political climate and a burning desire to prove the worth of women as equal to men, both on the track and in the office. From marches in pink hats to the glittered faces of young girls at Fast and Female events, I have never seen a stronger community of women come together to demand equal respect, opportunity, and reward as I have in the past weeks. The older man's words rated sharply against my aspirations for empowering women through sport and hit me in a place where I usually feel the most empowered, on the ski trail. The very next day, the U.S. women's junior team took home a bronze medal at World Junior Championships. I know they didn't accomplish that by getting caught up in girl talk from the back.