Racer Hannah Halvorsen, 24, retired this spring from the Davis U.S. Cross Country Ski Team, with a career that culminated at the 2022 Olympic Games in Beijing. Like any racer, Halvorsen faced numerous challenges along the way, but the biggest among them was recovering after being hit by a vehicle in November 2019 while she crossed the street in Anchorage. Halvorsen made a remarkable comeback from serious injuries that included a fractured skull, bleeding in the brain, a broken tibia and a completely torn MCL and PCL (we profiled her resilience in Cross Country Skier 40.3). The Truckee, California, native earned a degree in business and psychology from Alaska Pacific University this past spring. Always willing to share her thoughts with honesty and keen insight—from body positivity to the mental pressures of competition to a behind-the-scenes look at the Olympic Village—Halvorsen recently penned this essay as she stood on the cusp of starting her post-racing life.—The Editors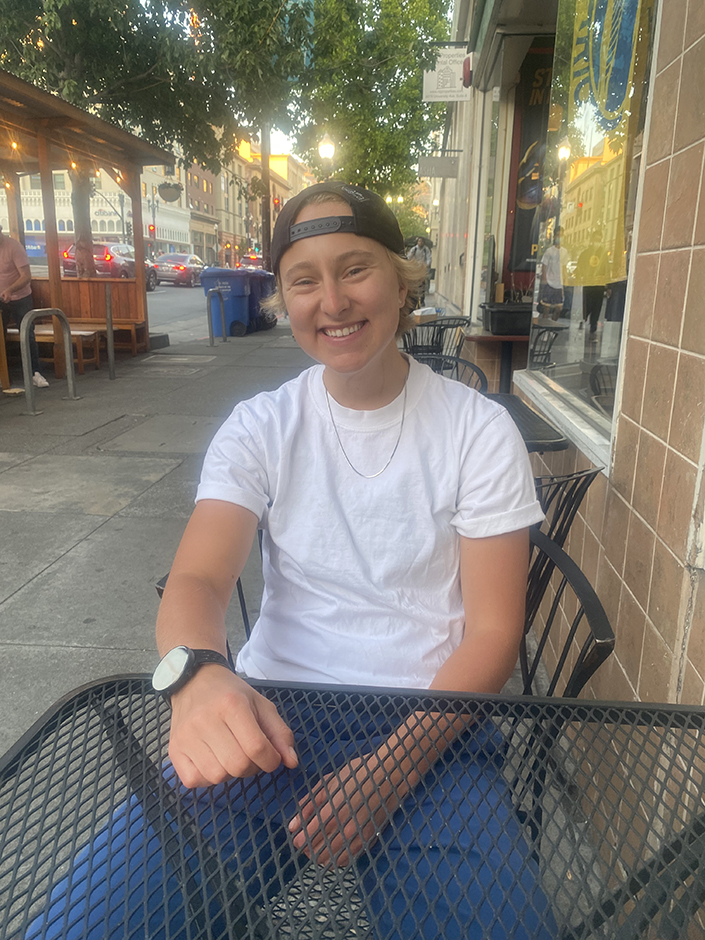 I am writing this article the evening before I start my new job, as a buyer for Grocery Outlet. It's just a 10-week internship, but, all the same, my life has been transformed dramatically.
For one, I'm now living in Berkeley, California, after having spent the past five years living in Anchorage, Alaska, and training year-round at the highest level of cross country skiing. Now I live in an area that doesn't even get snow and spend my free time reading books in the park by my house. I still like to exercise. I road bike and run and even do strength training on the outdoor park apparatus (I have no idea what to call it—it's like a playground for adults to tone their muscles on.)
I spent the last six weeks living with my grandparents in Truckee. So it's not like tomorrow will be the first day I'm no longer a full-time athlete. I chose to retire from ski racing after the 2022 Winter Olympics, a beautiful and celebratory way to finish.
Some people have wondered why I retired now. I am 24 years old and have more potential in the sport. I haven't learned all I can from racing by any means, and I was in no way the best skier, or even the best skier that I believe I still have the potential to become. With continued training, I could quite possibly achieve better results and also become a better teammate.
The reality? I have used up all the energy and passion I have for ski racing to get to this point. So whereas my physical body could keep going, and maybe even get faster, my mind and heart said, "This is enough. We have achieved our dreams, and we want new ones." My heart told me this so definitively that I was blessed with a concise end point. There was no internal back and forth. I just knew.
Now, as I head into new territory, I hope to continue my personal growth with completely different challenges and stimuli. But before I completely close the ski-racing chapter, I want to write about how racing shaped who I am today. And I want to write this tonight, before the rest of my life begins and I can no longer separate who I am because of ski racing and who I am because of my other experiences.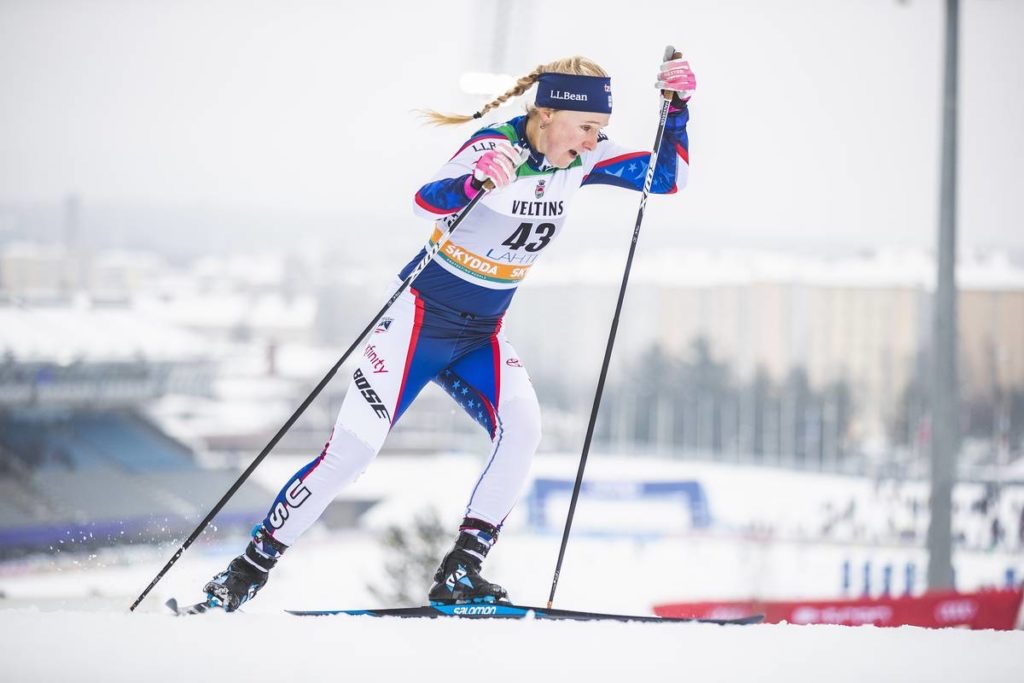 I spent almost my entire time as a ski racer living in extremes. For as long as I remember, anything I've attempted, I had to do with sincerity and with an intensity that borders on excess. And sometimes I cross that border. It's both my strength and my weakness. For instance, if I'm going to stay up late watching a TV show, I'll stay up until 3 a.m. If I'm going to sleep in on my off day, I won't get out of bed until 1 p.m. I could go on with many more examples (and anybody reading this who knows me well can probably think of a few).
The point is, I have been trying to find balance my whole life. If I like something, I want to fully immerse myself in it without any sense of limits or boundaries. And that's why race training was a beautiful canvas for me to learn how to succeed and fail, over and over and over. Many times, I made the mistake of going too hard at the beginning of a training camp and not being able to finish with good form. It might seem like skiing wasn't actually a loud enough voice to teach me anything, because I made the same mistakes time after time. But I promise you it was.
Lesson one from skiing: balance. It's become a buzzword, so I want to outline exactly what I mean by it. Balance is finding the optimal amount of attention and energy to put toward something in order to reap the most in return. For example, the more you train, the fitter you will be—until you tip the scale and train more than your body can absorb. Then you stop responding to the training stimulus. Finding balance isn't a way of justifying why we can't work any harder. It's about realizing that we don't need to value hard work purely for the sake of working hard. We should value it for what it can give us in return. Beyond that, we should put our effort into different areas, like other passions, hobbies, interests or our friends and loved ones.
Lesson number two: it all matters. As I have been enjoying my free time over the past two months, memories from different points in my ski career have surfaced. Some of them are big, and their impact is obvious—like the first time I qualified for the U18 trip (a racing opportunity in Scandinavia based on results at the U.S. Senior Nationals.) It was a moment in my ski career when I thought, "I really have the chance to take this somewhere." I remember the one and only time I won a race at Junior Nationals, the first time I moved past the quarter-finals in a sprint at Senior Nationals, when I made the Youth Olympic Team, when I did better than I expected in a 15K OPA cup race. Results matter because they are undeniable, measurable proof that we can achieve something of value. These are positive memories that built confidence and motivated me to get better. 
But I also remember a lot of moments that had nothing to do with results, like a lot of times at training camps where socially it was like I was drowning. I felt so anxious and uncool, and, unlike with race results, I wasn't motivated to improve my cool factor. I just wanted to get away. At U16 camp, I spent most of my free time reading a book in my dorm room, anxious that someone might come in and encourage me to join in charades or a board game. (I was recently doing a puzzle with my grandpa, and when we were sorting the pieces we found one that belonged to a different puzzle; I immediately thought, "Holy smokes! That's me at training camps and on race trips as a high schooler. I wasn't in the right box.")
I recognize the self-inflicted "I'm different and special" angst that I'm shelling out. I know I'm not the only kid who didn't feel cool enough at training camp. And I'm not trying to paint a story of victimhood. On paper, I check all of the boxes of privilege that make Nordic skiing accessible to me, and others like me. But these experiences shaped my identity and my values in powerful ways, just like results shaped my ski career.
Because of these other memories, I try to make sure that everyone feels included in social settings. When I notice someone who seems shy or overwhelmed, my inner child resonates, and I try to bring them into the circle. I want people to feel that they don't have to prove something in order to deserve an equal voice at the table.
Being on the road a lot during my coming-of-age years helped instill these values. And if I hadn't achieved good skiing results, I wouldn't have been in these social situations to begin with. So I'll say it again: it all matters.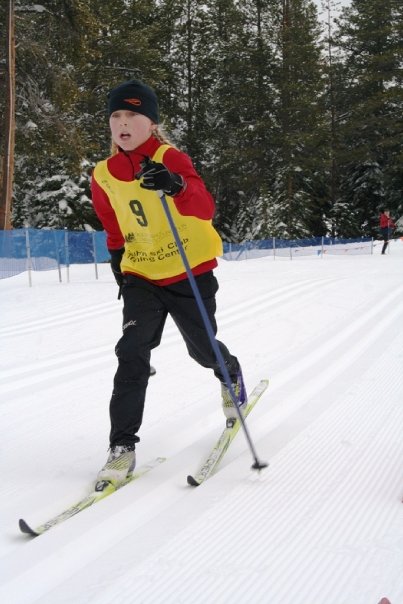 Every moment of my ski career shaped who I am today: the good, the bad and the challenging. And I've left out so much. Like when Bria Riggs and I got the giggles lying on the floor of the kitchen in Soldier Hollow and had to be ordered to bed. The time Julia Kern and I trekked through Germany for a month on our own. The time I got ditched on a run during a training camp at Bend and Bryan Fish found me and navigated me back. Or the many times my flights got delayed and I had to spend 24+ hours in airports. The time I got my hair cut in Lahti by an Estonian women and we took a selfie together for her family. Or the time I took Simi Hamilton's still-damp clothes out of the dryer at camp to dry my own without even thinking about the inconvenience I was causing him. All of these experiences shaped me.
I am still figuring out who I am, who I want to be and where my place is. I want to better know how I can be a positive force in this world, and I am trying to own up to the times and ways in which I have failed to be the person I wanted to be. Skiing has helped me start that lifelong journey, and I'm so grateful for the opportunity to have grown up in the ski world.
Skiing provides endless challenge. No one reaches a point where they've run out of ways to grow and improve. At the same time, it's safe to fail in skiing. The stakes are humane. That is certainly one way of defining privilege; the opportunity to try super-hard things and be completely fine every time you don't succeed at the highest level. In that sense, I am so lucky. Every kid in the world deserves that opportunity. It has been my greatest privilege and honor to be a ski racer, and I will continue to be shaped by the experience and appreciate who it has challenged me to become.